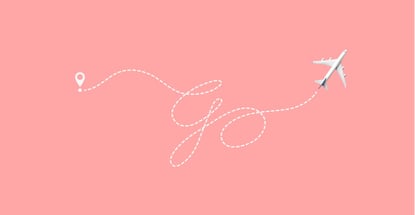 With the pandemic in the rearview mirror and pent-up travel demand, it's a great time to review the best 100K bonus mile credit cards. These cards can save you substantial dollars on airline tickets, car rentals, hotel stays, and related travel expenses.
Our review includes a mix of general-purpose and co-branded bonus mile and points cards. The cards best suited for your lifestyle depend on your airline preferences and how you plan to use your miles or points. You can take advantage of a generous initial bonus to kick-start your miles stash or put you on a flight right away.
100K Miles | 20K+ Miles | FAQs
Best 100K Bonus Mile Cards
The following cards are general-purpose travel cards that can be used for flights on any airline. You use the card's miles (or points) to pay for tickets and other travel expenses. Alternatively, you may be able to transfer your rewards to a particular frequent flyer program, which is often the best way to maximize reward value.
The Platinum Card® is an American Express charge card that lets you save on travel booked via Amex Travel at more than two dozen airlines worldwide. The high annual fee buys you a generous welcome bonus point offer, multiple statement credits, and a flight pass for one or more travel companions. Other benefits include a free additional Gold Card, an online year-end activity summary, account management using the American Express mobile app, and return protection on each eligible purchase.
Chase's Ink Business Preferred® Credit Card is also a points card, but it is clearly an airline credit card with many travel-friendly benefits. It's also a business credit card with valuable perks such as free additional employee cards, extended warranty protection, and cellphone insurance against theft or damage. This card charges no foreign transaction fees and lets you transfer points one for one to several travel loyalty programs.
Best 20K+ Bonus Mile Cards
While the signup rewards aren't quite as generous, nevertheless, these cards are solid choices for travelers. Some cards are co-branded to a single airline, but several are general-purpose cards with miles that can be used on any carrier.
Enjoy a one-time bonus of 75,000 miles once you spend $4,000 on purchases within 3 months from account opening, equal to $750 in travel
Earn unlimited 2X miles on every purchase, every day
Miles won't expire for the life of the account and there's no limit to how many you can earn
Receive up to a $100 credit for Global Entry or TSA PreCheck®
Enjoy two complimentary visits per year to Capital One Lounges or to 100+ Plaza Premium Lounges through the Partner Lounge Network
Earn 5X miles on hotels and rental cars booked through Capital One Travel, where you'll get Capital One's best prices on thousands of trip options
| | | | | |
| --- | --- | --- | --- | --- |
| | | 20.74% - 28.74% (Variable) | | |
The Capital One Venture Rewards Credit Card offers general-purpose miles plus many benefits, including travel accident insurance, around-the-clock travel assistance services, and auto rental collision damage waiver. The Venture card gives you a choice among redemption methods, including the ability to retroactively pay for past travel.
The Capital One VentureOne Rewards Credit Card lets you earn miles that are redeemable for travel-related purchases, including flights, hotels, vacation rentals, and rental cars. In addition, you can transfer your miles to a travel partner, cash them in, use them to buy gift cards, or apply them to purchases at Amazon.com and PayPal. The card protects you with automatic security alerts, $0 fraud liability, and mobile app integration.
The signup bonus reward offered by the Delta SkyMiles® Platinum American Express Card is composed of SkyMiles (which can be redeemed for Delta flights) and Medallion® Qualification Miles (MQMs) that help you earn or improve your Medallion Status. As your status climbs, your miles grow in value. You can use your miles to make travel purchases through Pay with Miles or cash them out for a statement credit, Delta gift cards, or to buy items on the SkyMiles Marketplace.
The Delta SkyMiles® Platinum Business Card offers some nice travel perks, including preferred seating, rebates on in-flight purchases, and a Delta Platinum companion certificate when you renew your membership. You get discounted access to Delta Sky Club lounges and you can use your miles to shop at the Delta SkyMiles Marketplace. Other benefits include guaranteed lowest hotel rates, reimbursed TSA Precheck or Global Entry fees, and free employee cards.
The Delta SkyMiles® Reserve American Express Card rounds out the Delta co-branded airline credit card trio from Amex, featuring premium rewards and an annual fee to match. The welcome bonus reward includes a status boost that increases the value of your SkyMiles. In addition to travel rewards, you can redeem your SkyMiles for Delta gift cards, magazine subscriptions, or gifts to individuals and select charitable organizations.
The Capital One Spark Miles for Business provides many benefits to business owners, such as quarterly and yearly summaries of itemized spending, immediate card lock, and above-limit spending with no penalty fee. Purchase records can be downloaded in various formats, ready for review by your assigned account managers. Other benefits include extended length warranties, free auto rental damage waivers, 90-day purchase security, and roadside assistance.
The Citi® / AAdvantage® Platinum Select® World Elite Mastercard® lets you earn American Airlines frequent flyer miles on every purchase. You never pay a foreign transaction fee, although late and returned payments trigger a penalty APR in addition to fees. And card membership enables access to loans via the Citi Flex Plan that are cheaper than cash advances.
The CitiBusiness® / AAdvantage® Platinum Select® World Elite Mastercard® is a credit card for the professional traveler. Your business will benefit from access to a personal business assistant, free employee cards, and online account summaries. You also get the convenience of contactless pay and digital wallet features.
The FRONTIER Airlines World Mastercard® offers valuable rewards and a modest mix of benefits to fans of Frontier Airlines. For example, you get free online access to your FICO credit score and no fee for foreign transactions, but it lacks some basic benefits like free baggage check. On the plus side, the award redemption fee is waived when you use the card to book an award ticket, including taxes and fees.
What is a Bonus Mile Card?
A mile card offers travel rewards in the form of frequent flyer miles. The miles may be used to pay for travel-related expenses (such as airline tickets, hotel stays, car rentals, etc.) but can also be cashed out or used for other purposes.
Cardmembers often redeem their travel card miles (or points) for airline tickets. Regular, single-branded cards issue card miles that you can use to either pay for tickets on any airline or transfer to a participating travel loyalty program. Conversely, many mile cards are co-branded with a particular airline and issue that airline's frequent flyer miles.
You earn miles as you charge purchases with the credit card. The basic reward is one mile earned for each dollar you spend, referred to as a 1X reward rate. A few cards offer a single flat rate, such as 1.25X or 1.5X, on all purchases.
But many mile cards also offer higher reward tiers, often up to 5X, for purchases you make at specific types of merchants, such as airlines, hotels, restaurants, gas stations, or grocery stores. All other purchases receive the basic 1X reward rate. The merchant categories belonging to higher tiers may be fixed or they may rotate quarterly.
A bonus mile card offers a signup bonus to welcome consumers to a new card membership. These cards often refer to the miles you earn at a rate above the base rate as bonus miles. The miles you earn usually don't expire for as long as the account remains open, but some cards cancel miles if you don't use your card within a set time frame, such as 18 months.
How Do I Earn a Credit Card Signup Bonus?
Bonus mile cards offer a signup (or welcome) bonus in which new cardholders earn extra miles by spending a set amount on purchases during an introductory period — usually the first three months following account opening. The bonus size and the required spending varies by card.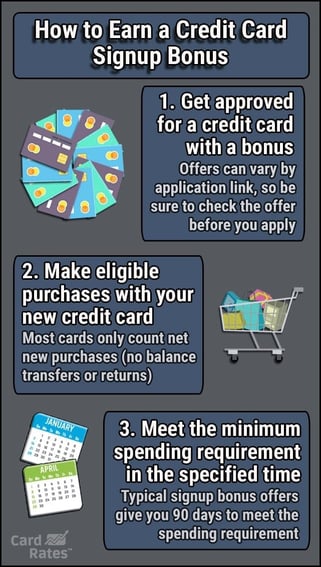 You can satisfy the bonus spending requirement with purchases from any type of merchant, which means you are not limited to purchases from airlines or any specific merchant. You can redeem and use the sign up bonus miles just like any other miles you earn through card usage.
If a card is co-branded by a travel partner, you can redeem your frequent flyer miles through the partner's loyalty program. If your card isn't co-branded, you can redeem your card miles (or points) for travel via the issuer's marketplace website and/or travel agency.
In some cases, you can apply miles retroactively to travel purchases you have already made, as is the case with the Capital One Venture Rewards Credit Card.
Savvy consumers apply for cards with signup bonuses in anticipation of big-ticket purchases. It's a painless way to save money you were going to spend anyway, but be aware that your savings may be eaten up by a high annual fee.
A card's annual fee helps set the size of the sign up bonus. Expect cards with moderate to high annual fees to offer bigger signup bonuses, with more required spending, than cards with a small or no annual fee.
Most card issuers limit the number of their cards you can own at any one time. In addition, the card issuer may disallow a signup bonus if you have already earned one within a set period before account opening. This is how issuers try to suppress credit card churning — the opening of card accounts simply to collect signup bonuses.
What Credit Score Is Needed to Get an Air Miles Card?
The dominant credit scoring system, FICO, uses a score range of 300 (worst) to 850 (best) to indicate a consumer's creditworthiness. Just about all air miles cards require applicants have good, very good, or excellent credit, a range that spans 670 to 850.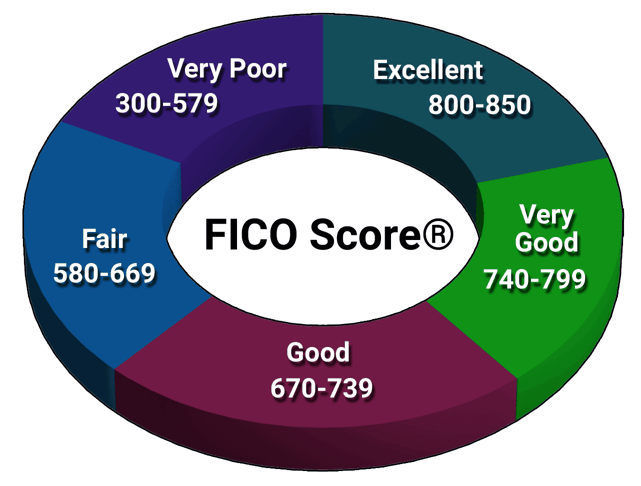 If your score is below 670, keep in mind that the decision to accept your application is somewhat subjective. If you have maintained a relatively clean credit history in recent years, it's quite possible a card issuer will greenlight your application if your score is above 600.
Here are some steps you can take to improve your chances of approval:
Recruit a cosigner: A cosigner is an individual responsible for payments if you fail to make them on time. Not all cards allow cosigners, so check with the issuer first. You need a cosigner with a good credit score who is willing to step in if need be.
Become an authorized user: A friend, colleague, or family member may name you as an authorized user of their card. You can then use the card as if it were your own, but only the primary card owner is responsible for the monthly payments.
Improve your credit score: You can raise your credit score by paying your bill on time and keeping your debt in check. You want your credit utilization ratio (i.e., credit used divided by total credit available) to be below 30% and your debt-to-income ratio not to exceed 36%.
Fix your credit reports: You can have inaccurate information that is depressing your credit score removed from your credit reports. Credit repair agencies can help you with this chore, or you can do it yourself.
Widen your reporting scope: Several companies offer services to add new payment types, such as rent and utilities, to your credit reports. New on-time payments can help boost your credit score.
Your credit score is an important financial resource that should be nurtured by creditworthy behavior. A good credit score unlocks a world of privilege, while a low score can curtail your access to affordable interest rates and benefit-laden credit cards.
What Are 100,000 Bonus Miles Worth?
We pretty much know what $100,000 is worth and what it will buy. We can't say the same for 100,000 credit card bonus miles because there is no fixed relationship between miles and dollars.
It's true that most cards let you earn miles at a rate of 1X to 5X per dollar, but the real question is how much you can get when you redeem those miles.
Many folks assume that miles can be redeemed for $0.01 each. That is, you get a dollar by cashing in 100 miles. At that rate, 100,000 miles would be worth $1,000 if you simply cashed them in. However, the assumption is faulty — your card may redeem miles for well less than a penny a mile.
When you redeem your miles or points for travel rewards, such as airline tickets, their value depends on the price of the tickets, in either dollars or frequent flyer miles. Those prices can vary substantially by date, carrier, flight, and class. If you are transferring card miles to a particular carrier's frequent flyer program, the value also depends on the transfer ratio.
Moreover, some credit cards may augment the value of points used to purchase flights. That's true for the Ink Business Preferred® Credit Card and the Chase Sapphire Preferred® Card, where your rewards are worth an extra 25% when redeemed for travel using Chase Ultimate Rewards points.
Many travel cards allow you to redeem reward points or mile earnings for items offered on the issuer's online reward marketplace. The value of each mile then depends on how many you must redeem to obtain the item you want, and the ratio may vary depending on the item.
How Many Miles Do You Need For a Free Flight?
The number of miles you need to obtain a free flight is laid out in the airline's frequent flyer program award chart, which can generally be found on the program's website. Of course, costlier seats require additional miles. For example, JetBlue may require up to 147,000 miles to get a free first-class ticket.
A recent survey from ValuePenguin revealed the frequent flyer miles needed to get a free economy-class seat one month ahead of time for a one-way flight from New York City to Los Angeles:
Air Canda: 7,500- 12,500
Alaska Airline: 5,000 – 23,000
Amerian Airlines: 12,500 – 30,000
Delta Airlines: 15,000
JetBlue: 10,000 – 20,000
Southwest Airlines: 15,000
United Airlines: 12,500
Virgin America: 8,000 – 13,000
As the data show, there is no simple way to know precisely how many miles you must redeem to get your free flight.
How Do I Transfer Miles to Frequent Flyer Programs?
Normally, the only types of travel cards that permit transfers are non-co-branded ones, denominated in card miles or points. Each mile's value depends on the conversion ratio, which, at best, is one for one.
Be aware that some cards impose a transfer fee. For example, the fine print for the The Platinum Card® reveals, "You'll pay an excise tax offset fee ($0.0006 per point, up to $99) for points transferred to a U.S. airline frequent flyer program." The Gold Card has similar terms.
Your transfers may be limited to partnering frequent flyer programs. That means you may not be able to convert your card miles to the frequent flyer miles you prefer. Some cards offer universal transfer.
Assuming your card permits transfers to your desired airline, you usually can execute the transaction online at the card's website, under your account tab. You can also call the card's customer service number to perform the transfer.
Miles already in an airline's frequent flyer program can't be transferred, but they can be used on the airline's affiliates. For example, American Airlines AAdvantage miles can be used on any airline in the Oneworld network, such as Alaska Airlines and British Airways.
Can I Redeem My Miles For Cash?
Only some miles cards allow you to redeem your miles for cash, and not always as money you can freely spend (such as checks or deposits to your bank account). In some cases, you may have to take the cash in the form of gift cards or statement credits. Some cards allow you to redeem your credit card points or miles for only travel-related items.
Also, you must check a card's terms and conditions to know how much cash you'll get for each mile. The following chart shows how much mile value can vary among three popular card issuers: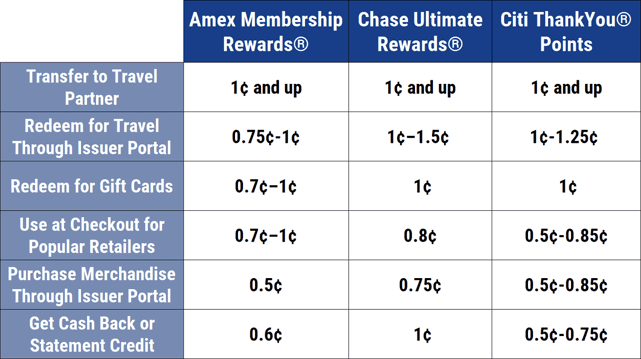 As a case in point, the miles you earn via the Delta SkyMiles® Platinum American Express Card cannot be directly redeemed for cash. You can redeem miles for a Delta gift card, but you need to spend 14,300 SkyMiles to get a $100 gift card. That equates to a cash value of about $0.007 per mile.
Some entrepreneurs have created a market for people who want to sell their unused airline frequent flyer miles or reward miles for cash. You may be able to sell your miles to a third party for a quoted price, but we have no reason to assume you'll be getting a good deal.
Are Airline Miles Worth It?
Certainly, airline miles are valuable, and some of the industry's top credit cards offer miles (or credit card points). The real question is whether they are better than cash back.
When you earn cash back, you know exactly what the reward is worth. It's universally accepted and has no blackout dates. You can use your cash back to buy airline tickets, albeit without any special discounts from the card.
Airline miles are not a replacement for cash back. Often, you can't even convert the miles to cash unless you go through a third party. Where airline miles shine is when they get you a better-than-cash deal on travel expenses.
As described earlier, the value of frequent flyer miles depends on a kaleidoscope of constantly changing factors. In other words, frequent flyer miles are as worthwhile as the airline loyalty program in which they operate.
Our general advice is to use miles for travel only and cash back for everything else. If you are a business person who travels frequently, we recommend Chase's Ink Business Preferred® Credit Card. Although denominated in points, it offers many travel benefits, including a solid initial bonus, points that are worth more when used for travel, trip cancellation insurance, and no foreign transaction fees.
Compare the Best 100K Bonus Mile Credit Cards
We have identified the three best 100K bonus mile credit cards and several runners-up with smaller credit card bonus jackpots. Each is worth consideration and further research, which you can start by clicking on the APPLY NOW button accompanying each summary box.
Most of these cards allow you to prequalify without hurting your credit score. While prequalification doesn't guarantee your application will be accepted, it at least rules out cards beyond your reach, thereby protecting your credit score against fruitless hard inquiries.
Miles cards with good bonuses certainly address the niche of consumers who travel frequently. If that isn't you, consider going with a cash back credit card instead — you may find it more appropriate to your needs.
Advertiser Disclosure
CardRates.com is a free online resource that offers valuable content and comparison services to users. To keep this resource 100% free, we receive compensation for referrals for many of the offers listed on the site. Along with key review factors, this compensation may impact how and where products appear across CardRates.com (including, for example, the order in which they appear). CardRates.com does not include the entire universe of available offers. Editorial opinions expressed on the site are strictly our own and are not provided, endorsed, or approved by advertisers.