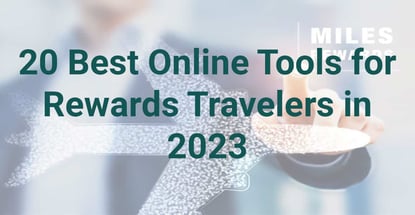 Our experts and industry insiders blog the latest news, studies and current events from inside the credit card industry. Our articles follow strict editorial guidelines.
Those who use credit cards strategically to earn points and cash rewards for travel aren't really travel buffs but aficionados who appreciate the journey and destination enough to make it special. If that sounds like you, you'll absolutely love this list of the 20 best online tools for rewards travelers our team compiled.
Dig in and discover tools — chosen strictly on merit — for all sorts of travelers who want to make their experiences more convenient and memorable as well as more rewarding.
Best for Adventurers: Roadtrippers
Roadtrippers is for folks who enjoy the journey as much as the destination. Just tell the app or website where you're going and a few things you'd like to see and do, and Roadtrippers will help you find the best stops along the way.
It's perfect for behind-the-wheel adventurers who are open to the unexpected along the way, but who would like to know what they're getting into anyway.
More About Roadtrippers
Find camping, attractions, activities, food and drink, stays, fuel, rest stops, and shopping
Trip guides help you get started without stumbling
Best for Travel Options: Booking.com

One of the leading platforms for travel booking, Booking.com covers all the bases, including stays, flights, car rentals, attractions, and even airport taxis. There's also a ton of content to help you familiarize yourself with where you're going.
The team at Booking.com has a mission to make travel easier for everyone, and we're sure you'll find resources and insights on the site or app to make future travel experiences shine.
More About Booking.com
Available in 43 languages and offers nearly 30 million listings
That includes almost 7 million homes, apartments, and other unique travel stays
Best for Live Mapping: Waze

Community is what makes Waze different from the other map apps. It's a Google product, so you know it's comprehensive and accurate. But what Waze does better than the others is invite audience participation in the form of contributors who report what is happening on the road.
Waze also does the other things well, including reminders, navigation, rerouting, and rescheduling. Choose Waze if you can't wait to see what's coming down the pike.
More About Waze
Social interaction tools help keep friends and family in your travel loop
Access real-time alerts for traffic, police, accidents, and other on-the-road happenings
Best for Plant-Based Travelers: HappyCow

If you like to watch what you consume as part of a plant-based or vegan lifestyle, you know how hard travel can be on your best-laid plans. HappyCow is an online hub and community that serves millions of people like you worldwide.
The Happy Cow app ties into mobile location services, so it's easy to find vegan restaurants and retreats to accommodate you, no matter where you are.
More About HappyCow
Forum and chat room offer discussion on veganism, animal rights, and many other plant-friendly topics
Shop for plant-based snacks and accessories to customize your trips
Best for Fuel Savings: GasBuddy

You're already into using rewards to save and experience more with travel, so GasBuddy's right up your alley. The app points you directly to discounts at fuel stations and convenience stores across North America.
Gas Buddy also offers cash back on purchases with brand partners and through the Pay with GasBuddy™ payments card. It's a must-have gas rewards app for rewards travelers who rely on internal combustion engines.
More About GasBuddy
Provides real-time gas price information at 150,000+ stations
Has helped North American drivers save more than $3 billion
Best for European Travel: Rick Steves' Europe

Let's face it: Famed European traveler Rick Steves knows more than practically anybody about travel, so tap into his wealth of experience and his community of fans and followers to optimize your next trip to the continent.
Rick Steves' Europe helps you explore destinations, book tours, learn tips, network with fellow travelers, and review Rick's many programs and videos. He'll help you love your next trip to Europe.
More About Rick Steves' Europe
Travel Center presents copious free information about travel in Europe
Shop on the site for travel content from Rick and his preferred travel accessories
Best for Backpackers: AllTrails

AllTrails is for backpackers, campers, and anyone who prefers off-the-beaten-path, next-to-nature travel. The site and app point to nearby trails — rated and reviewed by community members — to help users get away from it all without getting lost.
Save and organize hiking routes in the app, exchange ideas with community members, contribute photos and reviews, and shop for gear. AllTrails makes taking your next step into the wild all about you.
More About AllTrails
The team lives the values of the hiking community: respect for the land and leave no trace
There's room for bikers, roamers, and strollers in the AllTrails community
Best for Jet-Lag Journeys: Timeshifter

Travel is a privilege, but the body and mind don't handle quick time-zone shifts very well. We have evolved to rise and set with the sun according to our circadian rhythms. That's where the Timeshifter app comes in to help users understand the toll of jet lag and do something about it.
Timeshifter stays in sync with your traveling body to recommend periods of rest, relaxation, and even light exposure to minimize the effects of jet lag and keep you up and running and enjoying your trip.
More About Timeshifter
Elite athletes use Timeshifter to be at their best for big games
Shift workers also use it to combine nighttime work and daytime responsibilities
Best for RVers: Harvest Hosts

RVers are everywhere where there's a road these days, and Harvest Hosts is about connecting recreational vehicle travelers and campers with wineries, farms, breweries, museums, and other unique attractions that offer visits and stays.
Aside from a yearly membership fee, there's no cost to participate in this burgeoning community. However, you'll want to support your volunteer hosts in return for the favor of an experience because that's the RVer's way. If the road beckons, let Harvest Hosts choose your destination.
More About Harvest Hosts
The Harvest Hosts team believes people live happier lives when they get off the couch and onto the open road, and we agree
Pay it forward, become a host, and welcome RVers to your side of the road
Best for Tent Campers: Tentrr

Tentrr connects tent campers who love a little luxury (some call them glampers) to a vast network of fully outfitted, ready-to-go US tent camping sites on public lands. It's a way to get campers, landowners, and communities on the same page about the nature around them, energize the alternative travel economy, and help more people enjoy out-of-the-box travel experiences.
Tentrr provides plenty of support and insurance to help the uninitiated learn to love glamping in places that deserve reverence without the go-it-alone hassle of conventional tent camping.
More About Tentrr
You'll need a few daily-use items to make your experience great, but Tentrr takes care of the nitty-gritty details
Become a host and return the favor to new campers
Best for Hotel Savings: Ratepunk

The top travel platforms each have their own approach to data aggregation, marketing, and surfacing deals depending on their needs, which may vary over time. Savvy rewards travelers use Ratepunk to get a global sense of what the platforms are doing and find the best price on rooms and stays.
Ratepunk takes the guesswork out of saving on stays, which makes it ideal for rewards buffs looking for maximum travel value.
More About Ratepunk
RateScore combines all online reviews of a hotel, which are scattered across all the different booking platforms and review websites, into one single score.
RatePunk helps users quickly compare costs across platforms.
Best for Money Transfers Abroad: Wise
You can't have the time of your life if you run out of money. Unfortunately, national borders often get in the way of travel enjoyment because moving money from one country to another is inconvenient, expensive, and time-consuming.
Wise dispenses with all that by allowing users to create a multicurrency account for managing and exchanging currencies and spending through a convenient international debit card — the Wise card. If borders get in your way, Wise lets you jump over those financial fences.
More About Wise
Works with Google Pay and Apple Pay for maximum convenience
Applicable in 160 countries and works with 40 currencies
Best for Scooter Sharing: Lime
To use a phrase common among the Gen Z cohort, scooters are "blowing up" these days, meaning they're seemingly everywhere. Lime is behind many e-bikes and e-scooters you'll see moving around the cities you visit — more than 200 cities in nearly 30 countries on five continents, in fact.
Download the Lime app to understand where you can count on Lime to power you around when you feel you can't rely on your feet any longer or just because it's a fast and fun way to get around town.
More About Lime
Lime Assist extends the conveniences of scooters to people with varied abilities
Lime designs its vehicles to prioritize safety
Best for Bus and Train Travel: Busbud

Sometimes, it's not about where you want to go but how you want to get there. Bus travel is an attractive option for budget-minded rewards travelers, and trains offer a unique and reasonably priced take on getting from place to place. The problem is connecting buses and trains to your schedule and destination.
Busbud can handle that because it t works like a booking site for buses and trains. Find cheap tickets that work within your plans and move around in an economy-minded mode.
More About Busbud
Works in 80 countries, 21,000 cities, and 2.3 million routes
Helps travelers overcome barriers of language and culture
Best for Car Sharing: Turo

Turo is a car-sharing marketplace, which means it connects vehicle owners with people who want to use those wheels from time to time. It works almost like Uber or Lyft, only you're the driver.
If you're frustrated by the complexities, costs, and limitations conventional vehicle rentals and ride-sharing services impose, Turo is an alternative that keeps you in control.
More About Turo
Find electric, super-cool, and pet-friendly rides
Supports a vibrant community of trusted hosts across the US, UK, Canada, Australia, and France
Best for All Accommodations: Cozycozy

When it comes to rewards travel, there's an app for that — many, in fact. Cozycozy stands out because it pulls from many platforms to find great deals on short-term vacation rentals, apartments, hotels, villas, youth hostels, and bed-and-breakfast establishments to ensure you get where you're going.
The most adventurous will find cottages, cabins, Moroccan riads, and even Spanish Fincas available, so if that's your jam, here's your chance.
More About Cozycozy
Includes free accommodations from home swap providers
Multiple filters help refine your search to find exactly what you're looking for
Best for Expense Sharing: Splitwise

Traveling with friends and family is challenging enough without those awkward exchanges when it comes time to pay the restaurant bill. The Splitwise app dispenses with those inconveniences by organizing shared expenses so everyone understands what to pay and to whom.
It's a neat system for streamlining one of the biggest hassles associated with group travel and transforming it into a pleasure and a way for travel partners to be more generous with each other.
More About Splitwise
Fairness calculators on the app draw on crowdsourced data to create a neutral fairness opinion about financial situations
Pay friends and family directly through the app
Best for Live Flight Tracking: Flightradar24
If you've ever checked your flight path on the seat screen on the plane, you understand how Flightradar24 works. But the Flightradar24 app and website present simultaneous live flight tracking for thousands of global flights, not just the one you're on.
It may sound geeky, but you don't have to be an aviation enthusiast to love this app because it'll give you a sense of what's going on in the sky as you travel from place to place. That can be indispensable information for anticipating delays or missed connections.
More About Flightradar24
Tracks 200,000+ flights per day for more than 4 million daily users
More than 75 million individuals have downloaded the app
Best for Group Travel Planning: Wanderlog

Among the many travel planning apps, Wanderlog stands out because it reduces the complexities of travel planning to a few clicks or taps. Best of all, live syncing and collaborative editing make planning between friends much simpler.
Use Wanderlog to import flight and hotel reservations, add and delete places, optimize routes, receive personalized suggestions, and export the results to Google Maps. It's a one-stop shop for getting everyone and everything on the same travel page.
More About Wanderlog
Offline access helps when there's no wifi
Connects with Wanderlog travel guides to support the planning process
Best for Interstate Travel: iExit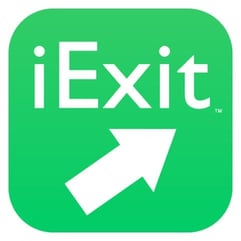 America's interstate highways are nature's way of telling you that travel isn't always what it's cracked up to be. But if you've just got to drive to where you're going and you want to do it as efficiently as possible, use iExit to understand and anticipate the many pleasures to be found on the exits.
The handy app uses mobile location services to find fuel, lodging, and food destinations available at upcoming exits, so if someone in the car craves a certain burger (or one of those fantastic chicken sandwiches from you know who), iExit's got you covered.
More About iExit
Connects users to the best gas prices and offers significant discounts at thousands of hotels nationwide
Integrates with Yelp so users can check restaurant reviews before getting off the road
There you have it. We're proud of our list of the 20 best online tools for rewards travelers, which we're sure has lasting value. Whether you're traveling by train, plane, automobile, or your own two feet, this list is for you if you want to use travel rewards to make lasting travel memories.
You know what to do next: Bookmark or download your choice of these online travel tools, climb out of that easy chair, and go, go, go!