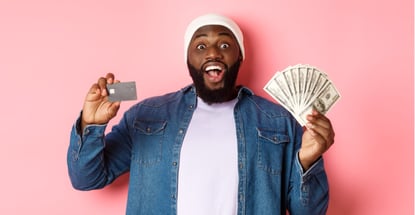 A bank signup bonus is a great incentive to get a new credit card. Whether you regularly spend on your cards or have a big purchase on the horizon, the cards listed below can add some bonus money to your account with little effort.
These cards offer varying bonuses when you reach certain spending thresholds during your first months with the cards or a 100% match of all the cash back you earn during your first year as a cardholder.
And since many of these bank bonus offerings also provide other perks, including a 0% interest promotion for new account holders, you can turn these cards into potential moneymakers.
Best Bank Signup Bonus Credit Cards
Not every credit card offers a signup bonus, and not every account bonus offer is equal. While some cards offer a $200 bonus for reaching specific spending thresholds, others provide the potential to earn thousands in points, miles, or cash back. 
Here's a rundown of our current favorite bank signup bonus card offers and account promotions, in order of largest possible bonus amount:
Discover's Cashback Match program is one of the best account promotions in the credit card space. Discover will match all the cash back you earn during your first year with your Discover it® Cash Back card.
This cash bonus offer puts money into your account in one lump sum shortly after your first anniversary with your card. You can then use your money to pay down your account balance or transfer it directly to your linked checking account, savings account, or another qualified bank account. And there's no limit on how much you can earn. This promotion is only available to new account holders.
As far as bank bonuses go, Chase usually takes the cake. It's known for its profitable bank account bonus offers — especially its business checking account and personal checking account bonus offers — but this bank is also very generous with its credit card bonus deals.
The Chase Sapphire Preferred® Card regularly offers bonus Chase Ultimate Rewards points when you reach a very achievable spending threshold during your first three months with the card. These points are potentially worth more than $1,000 when you redeem them through the Chase Ultimate Rewards portal.
Chase is staking its claim as king of the bank promotions by placing two cards in the top three of this list. With the Chase Sapphire Reserve®, you can offset your annual fee in the first year by earning a generous number of Chase Ultimate Rewards points for meeting specific spending goals after account opening.
This bonus regularly changes but usually hovers around a four-figure value when you redeem your points for travel through the Chase Ultimate Rewards portal. 
With the Capital One Venture Rewards Credit Card, you can earn bonus miles that the bank will deposit into your account as soon as you reach your spending goals. Those miles are often worth more than $500 in travel discounts and reimbursements.
Capital One sets no minimum balance requirements to earn your bonus, and you don't have to pay a monthly maintenance fee for access to the bonus as you would with some bank accounts. While this card does charge an annual fee, you can easily offset the cost with the ongoing perks this card offers.
The Capital One Quicksilver Cash Rewards Credit Card doesn't charge an annual fee for access to a great list of perks and rewards. 
Not only will this card allow you to earn a flat and unlimited rate of cash back on all your purchases, you'll also have the opportunity to earn a great signup bonus that provides a cash bonus for new account holders. You can transfer your earnings directly to your checking account or savings account or apply it to your current balance.
The Capital One VentureOne Rewards Credit Card lets you earn bonus miles for reaching a very achievable spending goal. While Capital One regularly changes its bank bonus offers, this card typically pays out at least $200 in travel reimbursements through bonus miles.
This is especially beneficial considering the card does not charge an annual fee and won't limit your miles earnings. You can redeem your miles to reimburse your account for previous eligible travel purchases.
The Chase Freedom Unlimited® offers an affordable way to earn cash back while enjoying great benefits, including a very achievable signup bonus and a long-term 0% introductory APR offer.
This card also charges no annual fee, monthly maintenance fee, or any other ongoing monthly fee like some cards for bad credit do. 
The Chase Freedom Flex℠ offers great cash back rates with no annual fee. You can also earn bonus cash back when you spend a nominal amount using your card within three months of account opening.
As far as banking bonuses are concerned, this is a very lucrative offer that requires no upfront cost from you. This is because you don't have to pay interest on the charges you make to qualify for your bonus, thanks to the introductory 0% APR on new purchases.
What Is a Bank Signup Bonus?
There are many types of bank signup bonuses. One common type is a bonus given to consumers who sign up for a new checking account or a savings account, which can add money to your account when you maintain a minimum deposit amount and/or a minimum balance.
For example, you can open a TD Bank Account and possibly qualify for a checking bonus or other banking promotions. Another example is the HSBC Premier Checking Account bonus, which you may qualify for when you make a qualifying amount of monthly debit card purchase transactions, among other criteria.
Eligible accounts may include a business checking account, a premier checking account, an investment account, a spend account, or other account types.
A checking bonus may be limited or canceled if you can't maintain a minimum daily balance or don't add a weekly, biweekly, or monthly direct deposit or other qualifying direct deposit to your account. You may also be ineligible to receive a bonus if you've recently received other bank promotions.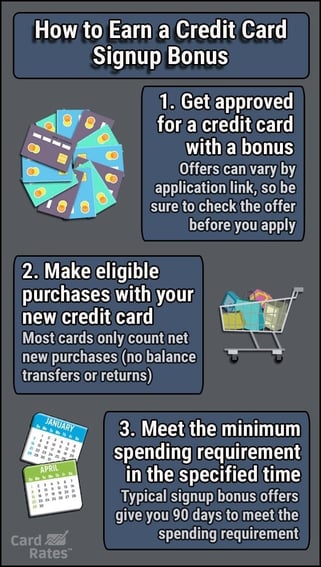 But since we specialize in credit cards here at CardRates.com, we tend to focus more on the bank signup bonus offered to new cardholders.
With these bonuses, you can earn a large sum of cash back, miles, or bonus points when you reach certain spending thresholds during your first few months with a card.
For example, a card may offer $500 in bonus cash back when you spend at least $2,000 using your card within three months — or 90 days — of activation. 
These offers are cut and dried. If you charge that amount (or more) during the specified time frame, the bank will deposit your bonus into your account within 30 to 60 days, but usually much sooner. If you don't reach that mark, you won't receive the bonus and won't have another opportunity to earn the bonus.
Some of these cards also come with other perks, such as a 0% balance transfer offer and/or a 0% introductory interest rate offer for new cardholders. 
Can I Earn More Than One Signup Bonus With a Card?
Banks typically only provide one signup bonus opportunity for every new cardholder. That means you can likely only earn one bonus cash, miles, or points promotion.
The only way to possibly earn a bonus twice on the same card is to cancel the card and open a new account in the distant future. Most banks enforce rules that limit how often a cardholder can receive a bonus. Some cards require you to wait two or so years before you qualify to receive another signup bonus on the same card, but some banks don't allow it at all.
For example, American Express has a "once in a lifetime" policy, which means if you earned a bonus on a specific card, you can never qualify for that card's bonus again.
But your new card will provide you with valuable benefits in addition to a signup bonus.
For instance, the card's issuing bank may give you a 0% balance transfer offer that allows you to transfer an existing balance from a high-interest credit card over to your new card so you can enjoy interest-free financing for a set period. You may also qualify for a 0% interest promotion that gives you interest-free purchases as a new cardholder.
As is the case with a signup bonus, the length and details of any added promotions will vary by the card type and issuer. Some cards may offer both promotional periods at once, while others may only provide one. Some may offer none at all.
Also, the length of your promotion may vary from anywhere between six months to as many as 24 months — meaning you may qualify for a card that offers interest-free financing for your first two years with the card.
Interest-free promotions don't preclude a signup bonus offer. Both can run concurrently, but you still won't qualify for more than one signup bonus with a single card — more on that in the next question.
What Happens If I Don't Meet the Spending Threshold?
Signup bonus rules are pretty straightforward. You must meet certain spending thresholds by a set time to qualify for the bonus offer. If you don't meet those requirements, you won't receive the bonus.
A bank won't extend the offer or let you try again unless you close the account and wait a while before reapplying, as these offers have strict rules and are intended only for new cardholders.
If you don't meet the spending requirements, your account will continue with the same terms and rates. Nothing will change, and you won't receive your signup bonus offer.
Some card issuers will allow you to apply for another card within the bank's portfolio and try for another bonus. This isn't always going to be the case, though. Some banks have rules that govern how many of their cards or bonuses you can earn.
Capital One doesn't allow consumers to have more than two of its cards at a time.
The Chase 5/24 rule states that if you have five or more new bank card accounts (credit or charge cards) opened within the last 24 months, you'll most likely be rejected for a new Chase credit card even if you otherwise qualify.
The American Express 4/4 Rule limits consumers to four of its credit cards and charge cards.
Citibank's 8/65/95 Rule states that you must wait eight days to apply for a second card after applying for a Citi card, 65 days before applying for a third Citi card, and 94 days before applying for a second Citi business card.
These rules may affect your ability to qualify for another card if you're hoping to earn another (or get another chance at earning) a signup bonus. Keep them in mind before you apply for a new card.
How Much of a Bonus Can I Earn?
This depends on which card and card issuer you do business with or which bank account bonus you're signing up for. Some cards offer cash, points, or miles if you meet the required spending amount, such as spending $1,000 within your first three months with the card to earn $200 back.
Cardholders may be required to meet higher spending thresholds or maintain larger minimum bank account balances to earn larger bonuses.
For instance, you may have access to bonuses worth $1,000 or more, but they'll require you to spend upwards of $4,000 and possibly meet other stipulations.
Chase, for example, offers its Chase Ultimate Rewards points as a bonus for new cardholders. Those points have varying values depending on how you redeem them. You will receive far greater value if you redeem your points for travel through the Ultimate Rewards portal, whereas you'll receive far less value if you redeem the same number of points for a statement credit.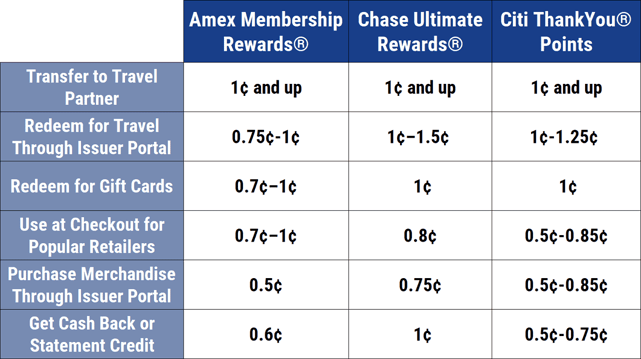 Make sure you understand the rules for any potential signup bonuses before you apply for a card. This will eliminate any surprises when it comes time to cash in your bonus.
How Do I Collect My Bank Signup Bonus?
Your redemption options will vary by the card issuer and bonus type. A cash back bonus is typically easy to redeem through your card's online portal or mobile application. Most banks will allow you to redeem your cash back as a check, direct deposit into a linked checking or savings account, or as a statement credit against your current balance.
Miles bonuses have varying redemption methods based on the card issuer. Capital One and Discover, for example, allow you to use your points to "erase" all or part of a recent travel-related expense. Other miles cards will allow you to use your points to cover all or a portion of future travel costs.
Points cards give you flexibility in how you redeem them. You can typically use your signup bonus points for travel, cash back, merchandise, or experiences through your issuing bank's rewards redemption platform. You can usually find a link to this portal through your credit card online account page or mobile application.
All three types of rewards usually don't expire if you maintain your account in good standing and don't miss payments or default on your debt.
What Credit Score Do I Need to Qualify For a Bank Signup Bonus?
There's no minimum credit score requirement for a bank signup bonus, but each credit card will make itself available to consumers with specific credit scores.
The Chase line of cards, for example, traditionally targets consumers who have good or excellent credit. Capital One has a large portfolio of cards with signup bonuses that may consider your application if you have good credit or better. Some card issuers even offer bonuses for consumers who have bad credit.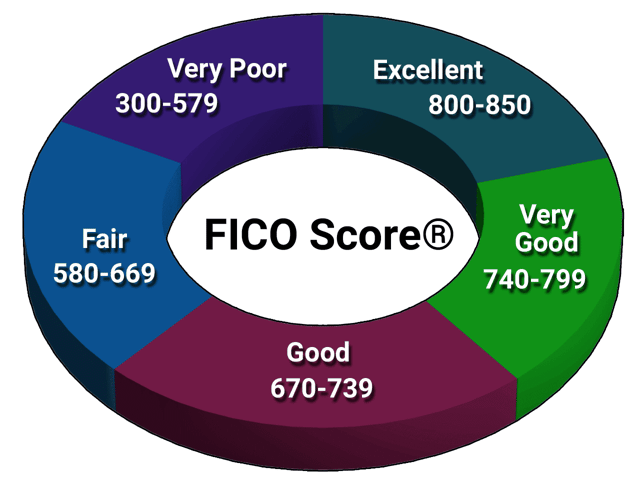 Bonuses for bad credit aren't always traditional signup bonuses. Some bonuses may come from store cards that offer a discount when you shop with that brand or even cash back bonuses from some secured credit cards.
How Much Do I Need to Spend to Earn a Credit Card Signup Bonus?
The amount you'll need to spend to qualify for a bank signup bonus will depend on the bonus you are eligible for. Typically, a large bonus requires more spending than what's required to earn a small bonus amount.
You may qualify for a smaller $200 cash back bonus with as little as $500 of spending within three months after opening your account. Larger bonuses on personal or business credit cards may require anywhere between $4,000 and $10,000 in spending during a three-month period.
These bonuses often have much more value, though, with totals reaching anywhere between $750 and $3,000 or beyond.
Some bonus offers don't have a minimum spending requirement. Discover's line of cards all enroll you into the Cashback Match program. This free program will match all of the cash back or miles you earn during your first year with the card.
There's no minimum or maximum amount you can earn. If you only earn $1.00 in cash back during your first year, the bank will give you an extra $1.00 after your first anniversary. If you spend heavily on your card during your first year and earn $5,000 in cash back, the bank will match that amount.
This successful promotion has helped the bank become one of the most popular credit card issuers.
Can a Bank Revoke a Signup Bonus Offer?
Banks put several rules in place that allow them to rescind your signup bonus offer for various reasons. These may include, but aren't limited to:
paying late
charging over your limit
defaulting on your debt
returning purchases that helped you reach your spending threshold
canceling your card too soon after qualifying for a signup bonus
purchasing several money orders to reach your spending threshold
While issuers may not be sticklers for all of these rules — or they may have unique rules of their own — you're best served by understanding how to qualify for any bonus you sign up for.
What Happens After the Signup Bonus Period Ends?
Life goes back to normal after your signup bonus period ends. If you reach your spending threshold, the bank will pay out your bonus within 30 to 60 days. If you did not reach the spending requirement, there will be no change to your account.
Either way, your account status will not change after your signup bonus period ends. You'll continue to use your card with the same spending limit and balance you had during your promotional time frame.
If your card has other promotions, such as a 0% interest or a balance transfer deal, you'll continue to enjoy those promos during their stated time frame.
Start Earning Your Bank Signup Bonus Today
Credit cards are a great way to access a revolving line of credit that can help pay for a large purchase or cover your monthly bills without needing to carry cash. But a good credit card can also provide a bank signup bonus that makes you money.
With the cards listed above, you can earn bonus cash back, travel miles, or bonus points for reaching certain spending thresholds during your first few months with the card. This is just like a bank account bonus that adds money to your personal or business checking account or another deposit account when you maintain monthly direct deposit amounts or a minimum daily balance.
When you take advantage of these bank signup bonus offers, you maximize your spending power and make it possible to earn money for buying the things you normally buy. That's a great way to build savings, cover the cost of a purchase, or treat yourself to something special.
Advertiser Disclosure
CardRates.com is a free online resource that offers valuable content and comparison services to users. To keep this resource 100% free, we receive compensation for referrals for many of the offers listed on the site. Along with key review factors, this compensation may impact how and where products appear across CardRates.com (including, for example, the order in which they appear). CardRates.com does not include the entire universe of available offers. Editorial opinions expressed on the site are strictly our own and are not provided, endorsed, or approved by advertisers.