More and more credit cards designed for people with limited or bad credit are beginning to offer rewards. And that includes secured credit cards, which we often deem the best credit card option for folks with subprime credit histories. That's because secured cards generally cost less than unsecured cards for bad credit, and your security deposit is fully refundable. 
The secured cards below all offer cash back rewards that refund you a small percentage of every purchase you make. The lowest rate we review is a standard 1% on everything, and the highest card offers a whopping 5% back on select purchases, a characteristic often found on cards for people with good credit scores.
Here are the best secured credit cards with cash back bonuses; use the links to jump ahead to the best category for you:
Best Overall: Discover it® Secured Credit Card
We're big fans of Discover cards. They limit fees and have credit cards for everyone. This particular card is intended to help you build your credit history with regular on-time payments.
It offers cash back rewards on purchases, a balance transfer promotion, and is the only card in this lineup to offer Cashback Match, an unlimited dollar-for-dollar match of all the cash back you earn in your first year of card ownership.
Your rewards never expire, and you can easily apply them as a statement credit toward your balance or to pay for purchases on Amazon or via PayPal. 
Uncomplicated Rewards: Capital One Quicksilver Secured Cash Rewards Credit Card
This card is ideal because it pays the same rate of cash back on every purchase you make. There are no tiered reward structures to concern yourself with, such as remembering whether you earn more rewards on grocery or travel purchases. The rewards are also unlimited, meaning there are no spending caps like those typically imposed by other cards with higher cash back percentages.
You can redeem your cash rewards for a check, apply them as a statement credit to cover previous qualifying purchases, or get gift cards to places you love. This card lets you prequalify on the Capital One website without affecting your credit score, which is helpful if you're worried about being denied.
Most Cash Back: U.S. Bank Cash+® Secured Visa® Card
This card awards the highest cash back rate among the secured cards we review. Eligible 5% categories include fast food, TV, internet, and streaming services, cellphone providers, home utilities, and department and electronic stores, among other options. You can change your 5% category quarterly.
While you can earn unlimited rewards, the 5% categories are capped at $2,000 spent in eligible purchases each quarter. So if you spent $2,500 on some pricey electronics one quarter, $500 of that amount would only earn 1% cash back. Still, this card can be a great choice for earning cash back and is easy to qualify for.
Lowest APR: First Progress Platinum Prestige Mastercard® Secured Credit Card
While this card may only pay 1% cash back on payments made to the card, its ongoing APR is just 15.24% (V). That's a pretty good deal for anyone who tends to carry a balance and needs help mitigating high interest fees. 
Your cash back rewards, earned as one point for every dollar paid toward your balance, can only be redeemed as a statement credit in minimum increments of 500 reward points, or $5. According to First Progress, "Cardholders who keep their balance low and pay their credit card bill on time every month typically do see an increase in their credit score."
No Credit Check: First Progress Platinum Elite Mastercard® Secured Credit Card
This card is nearly identical to its sibling card above; the differences lie in the APRs and annual fees. This card charges a lower annual fee but a higher regular APR. Both cards offer the same 1% cash back rate on eligible net purchases. 
Most everyone who applies for this card is approved if they can fund the $200 minimum security deposit. There's no credit check required for approval, but you cannot be going through bankruptcy proceedings with debts that have not yet been discharged. If you eventually upgrade to another card, remember to redeem your rewards before closing the account so you don't lose them.
What Is a Secured Credit Card?
A secured credit card is a typical credit card that requires a security deposit to open. The deposit amount is commonly equal to the credit limit you receive. So if you deposit $300, you'll receive $300 to spend on the card, minus any initial fees.
The deposit serves as collateral to back the credit card account if the borrower fails to make a payment toward their outstanding balance. Secured cards require collateral because they're designed for folks with no or bad credit, and a bad credit score represents an increased risk of default.
Because the deposit protects the credit card issuer against defaults, issuers can generally offer lower APRs and fees on secured cards than they do on unsecured cards for bad credit. Subprime unsecured cards charge high annual fees and APRs, impose nuisance "monthly" and "set up" fees, and don't usually pay out cash back rewards.
How Do You Get Cash Back On a Secured Card?
Getting cash back on a secured card is as easy as using the card to make purchases and paying your bill. Some issuers pay rewards when the purchase is made, and others credit rewards to your account upon receiving payment.  
Suppose your cash back credit card pays 2% on grocery store purchases. If you spent $150 on groceries this week (and used your card to pay for them, of course), you would get $3 credited to your rewards balance. You can then apply your rewards balance — accessible via the card's mobile app or website — as a statement credit to reduce your outstanding balance. 

Cash back works like a coupon on everything you buy. But this coupon is only good if you pay the full amount due each month and avoid interest fees. 
Most cards have an interest-free grace period that allows you to make purchases without incurring interest. But the period is month to month, so any charges rolled over (such as when you only pay the minimum amount due), will be subject to the card's regular APR. And if you pay late, your balance may be subject to an even higher penalty interest rate. 
Accruing expensive interest fees will negate the value of any rewards you earn.
How Much Can a Secured Card Raise My Credit Score?
How much a secured card can raise your credit score is dependent on the state of your credit reports. Though we can't give you a hard and fast number of how many points your credit score will rise by opening a secured credit card account, we can source some anecdotal evidence. 
"I have 2 secured cards: OpenSky and NFCU Secured nRewards. Both helped me tremendously. OpenSky-I landed a 23-point increase [in] the first month (not sure if that is a common increase.) NFCU Secured was [an increase of] 17 points about 30-60 days after usage. I always keep the balance under 3%. Once again, not sure if these are common results."

myFICO® Forums
It's worth noting that neither of the secured cards this reviewer mentioned offer cash back, though you can see them both here if you want more information on them.
"I had a 540 [credit score] 2 months ago after using a $300 secured card for 2 months and paying before they report[ed] my scores went up 90 points. I [had] no credit card history till this year."

Reddit
If you don't yet have a credit score, applying for your first credit card can help you establish a credit score somewhere in the fair to good range: 
If you have a credit score but not a credit card, getting your first card can help broaden your mix of credit and give you a credit score boost. 
If you have a poor credit score and are looking for ways to improve it, a secured card can help you raise your credit score when you consistently pay your monthly bill on time. That's because payment history (35% of your FICO Score calculation) is the most important credit scoring factor.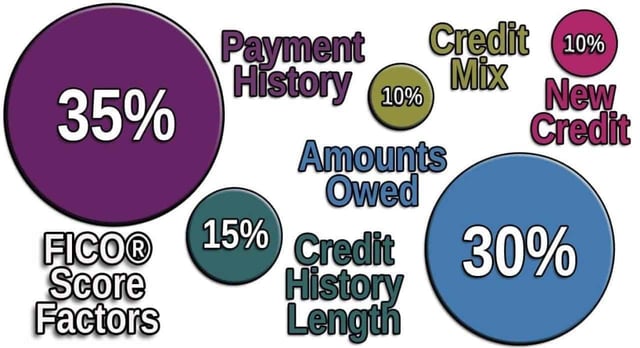 The next-best thing you can do is keep your balance low relative to your available credit. This is called your credit utilization ratio and is a part of the second-most influential credit scoring factor — the amount of debt you owe (30%).
As reviews indicated, opening a card, paying it on time, and maintaining a low balance can generate significant credit score improvements over time and allow you to eventually graduate to an unsecured card.
How Much Can I Deposit On a Secured Card?
The lowest available deposit on a secured card is $49, available from the Capital One Platinum Secured Credit Card. But most cards require a $200 or $300 minimum deposit.
The highest amount you can deposit on a secured card is $10,000, available on the Chime Credit Builder Secured Visa Credit Card. This card requires you to also have a Chime bank account.
Of the reviewed cards, the U.S. Bank Cash+® Secured Visa® Card will allow you to deposit up to $5,000 with a credit limit to match. 
Your deposit does not apply to your balance after you use the card. The bank holds onto the deposit in the event you miss a payment. But if you never miss a payment, your full deposit will be returned to you, and some credit card issuers may refund it as soon as six months after account opening.
What Are the Downsides of Having a Secured Card?
The downsides of having a secured credit card are few. But the biggest is, of course, the deposit. It can be difficult to cough up a couple hundred bucks to open a new credit account, even if you know you can get the money back in a few months. 
The second drawback is that because your credit limit matches the deposit, you may have little initial spending power. If you can only afford to put $200 down, that's all you'll have to spend on the card. And we've already discussed your credit utilization ratio, so you know you'll only want to spend a small portion of your available limit if you can't pay the card off each month.
But when compared to an unsecured credit card for bad credit, the upsides far outweigh the downsides.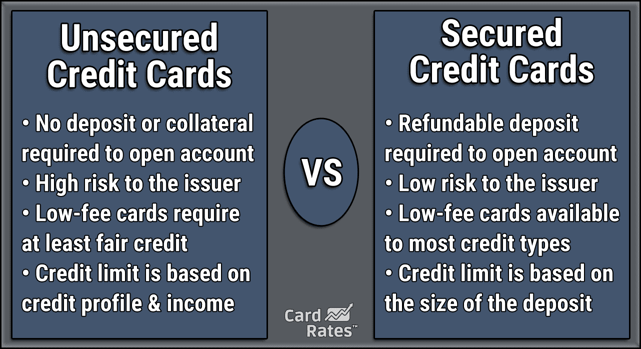 The typical unsecured card charges annual fees, additional fees not found on secured cards, high APRs, and doesn't offer rewards. In fact, these cards have few benefits other than the ability to access a small credit line and build credit with on-time payments. 
Here's a look at the terms and charges for a typical subprime unsecured credit card: 
APR: 36%
Credit Limit: $200*
One-Time Program Fee: $95
Annual Fee: $50 first year, after that, $45 annually
Monthly Fee: $0 for first year, after that, $6.25 per month
Rewards: N/A
*The annual fee is deducted from the initial credit limit, leaving $150 in available credit. 
Now let's look at the terms and charges for a typical secured card: 
APR: 27.74%
Minimum Deposit/Credit Limit: $200*
One-Time Program Fee: N/A
Annual Fee: $0
Monthly Fee: N/A
Rewards: 1% – 2% cash back
*Deposit can be returned and transitioned to an unsecured credit card account in seven months after demonstrating responsible card use.
As you can see, the secured card is much less expensive than the unsecured card and an overall better deal if you can afford the upfront deposit. But even if you opted for the unsecured card in this example, you'd still have to fork over $95 before getting the card, and you'd have a lower available credit limit than you'd have on the secured card. Go figure.
Secured Cards With Cash Back Are Great Deals
To recap, secured cards that offer cash back bonus rewards are:
great tools that can help you build credit with on-time payments.
like having a coupon that saves you a small percentage on everything you buy.
easy to get approved for in exchange for a security deposit.
less expensive than unsecured cards for bad credit.
We've presented five great options, but your local credit union is another great place to look. Cards from credit unions tend to offer lower rates and fees than cards from banks.
Advertiser Disclosure
CardRates.com is a free online resource that offers valuable content and comparison services to users. To keep this resource 100% free, we receive compensation for referrals for many of the offers listed on the site. Along with key review factors, this compensation may impact how and where products appear across CardRates.com (including, for example, the order in which they appear). CardRates.com does not include the entire universe of available offers. Editorial opinions expressed on the site are strictly our own and are not provided, endorsed, or approved by advertisers.