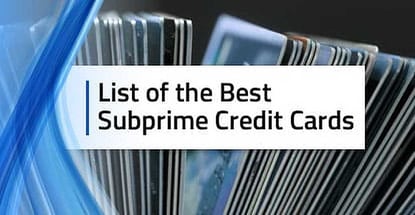 Our rather long list of subprime credit cards proves that you have many potential shopping partners despite your past financial challenges. Some of these cards may be unfamiliar to the average consumer, but we've also included offerings from major league players such as Citibank, Discover, and Capital One. 
These cards build credit when you use them responsibly. Paying your bills on time may help you move up to prime credit cards within a year. This article discusses how (and why) to do that. With a bit of work and patience, you'll soon be reading our articles about cards for good credit. 
List of Unsecured Cards From Subprime Issuers
Unsecured subprime cards offer a certain give and take. They give you access to a credit account without requiring a deposit. They take sizable fees for the privilege due to the heightened risk subprime cardowners pose of defaulting on their credit card debt. 
If your subprime credit score is 500 or higher, you have a pretty good chance of qualifying for these unsecured cards.
Continental Finance Company (CFC)
The Continental Finance Company sponsors several subprime credit cards in association with the issuers Celtic Bank and Bank of Missouri. The company is one of America's leading marketers and servicers of credit cards for consumers with less-than-perfect credit. CFC has serviced more than 2.6 million cards for fair, limited, and poor credit since its founding in 2005.
CFC cards charge average to high interest rates, and some waive a signup fee, although their annual fees are relatively high. All offer to double your credit limit after six months of timely payments. 
As is usual for subprime unsecured credit cards, these don't bill the monthly maintenance fee for the first 12 months, and some cards may waive it (and the foreign transaction fee) for cardmembers with better credit. CFC cards provide a 25-day interest-free grace period. 
Genesis FS Card Services (GFS)
Genesis FS Card Services sponsors credit cards for subprime consumers through a policy it calls second-look financing. The company has two decades of experience and services 200,000 new cardholders monthly.
Celtic Bank and Bank of Missouri issue GFS credit cards, which feature a 25-day grace period and a low foreign transaction fee.

GFS credit cards feature quick prequalification with no impact on your credit score, a free choice of custom card design, and it reports payments to each major credit bureau. Its cards offer multiple agreements with different (potentially high) annual fees and APRs but no monthly 
maintenance fees. Watch out for a higher annual fee after the first year of ownership.
Bank of Missouri (BoM)
The Bank of Missouri offers various personal and business financial products, including subprime credit cards. Some of their cards carry the bank's name and logo, but the cards listed below do not. 
Some cards offer premium designs for a small fee, and one, the Fortiva® Mastercard® Credit Card, lets you earn cash back on your eligible purchases while building credit with responsible use.
These subprime BoM cards reduce their annual fees after the first year. They provide the minimum grace period, 21 days, and report your payments to each major credit bureau. 
List of Secured Cards From Subprime Issuers
Don't let their deposit requirements deter you from applying for these secured subprime cards. For many, paying a refundable deposit makes more sense than shelling out hundreds for unsecured cards that impose setup, annual, and monthly maintenance fees.
Secured credit cards cost less than their unsecured cousins and are easier to get, especially if your subprime credit score is 500 or lower. While secured cards may charge annual fees, the charge is usually much lower than those on unsecured cards. Moreover, they help you build credit, something no prepaid card can do.
Coastal Community Bank
While Coastal Community Bank is technically the issuer of Sable credit cards, the product is really the brainchild of Sable founders Naveen Qureshi and Towers Wilen. The two share a vision of providing financial services to recent immigrants to the United States.
Its main product, the Secured Sable ONE Credit Card, features low interest rates and fees. The secured card supports building credit by not checking applicants' credit and offering a fast graduation path to an unsecured card. It may be the best credit card for quick credit repair.
The company claims a 98% approval rate for new applicants. Its cards pay tiered cash back on eligible purchases, charge no annual fees, and do not require non-citizens to provide a Social Security number. 
Synovus Bank
Synovus Bank of Columbus, Georgia, issues a trio of Mastercards under the First Progress label. These secured cards require no credit check or minimum credit score for approval. Your deposit will be equal to the credit limit you receive. 
The only differences among the three cards are the annual fees and APRs. 
You want to choose the card that will cost you the least each year. For example, if you plan to pay your entire balance every month, choose The First Progress Platinum Elite Mastercard® Secured Credit Card because it has the lowest annual fee.
Capital Bank NA
Not to be confused with Capital One Bank, Capital Bank issues the OpenSky® Secured Visa® Credit Card to consumers with subprime credit. This secured Visa credit card does not check applicant credit and accepts deposits as low as $200. 
The card charges the same, low APR for purchases and cash advances, and the annual fee is modest. Its grace period is 25 days. This card is good for newbies and those with a low credit score.
Cards For Bad Credit From Mainstream Issuers
If you are a brand-name type of person, your bad credit need not stop you from owning a credit card from a well-known issuer. Some people feel a little embarrassed brandishing a no-name credit card, thinking it screams "credit problems" to the public. 
We don't necessarily agree, but if you fall into that camp, these cards will keep your bad credit on the down low. While all these cards are secured, you'd never know by looking at them. They are especially suited to folks with no or limited credit history. 
Discover
We love Discover credit cards. They offer cash back or mile rewards, match the first-year rewards of new cardmembers, and never charge an annual fee. Merchants accept Discover cards at 99% of places that accept the other major payment networks.
The APR on the Discover it® Secured Credit Card is higher than we like to see for a secured card, but you can avoid it by paying your bill in full each month. Unlike the no-name subprime cards, this one supports balance transfer transactions and even may offer a low APR to new members who want to transfer balances from other cards. 
The card does not have a penalty APR or charge a fee for your first late payment. You can receive a refund of your deposit by making timely payments.
Capital One
Capital One Bank shows its commitment to consumers with less than perfect credit by offering two different secured credit cards. Although the bank isn't that old, its memorable television advertising has made it a household name. It provides a full range of cards for consumers of every credit stripe. 
Its secured cards do not charge an annual or foreign transaction fee. Both cards provide $0 fraud liability and offer upgrades to cardowners who pay on time. 
Check out the Capital One Quicksilver Secured Cash Rewards Credit Card if you want to earn cash back from a rewards card. The APRs on these cards are not the best, but the grace period for avoiding interest is a generous 25 days.
Bank of America
Bank of America fans can choose from two secured credit cards. Owning one is a natural choice for the bank's customers, of which there are many, as BoA is the country's second-largest bank. 
These cards' purchase APRs are about average for this group and they don't charge an annual fee. But pay attention to their Schumer Boxes — their fee schedules reveal a couple of unusual wrinkles. 
The Bank of America® Customized Cash Rewards Secured Credit Card is the secured Visa credit card to get if you want to earn cash back. Both cards provide a 25-day grace period on purchases.
Citibank
Citibank traces its origins back 200 years yet remains one of the most technologically advanced banks in the world. Its credit cards favor value over flash, which is undoubtedly true for the Citi® Secured Mastercard®.
The card charges no annual fee, and its APRs (for purchases, cash advances, and balance transfer transactions) are average. The grace period is 23 days, and you don't want to miss a payment — the card has a steep penalty APR in addition to its late fee.
What Is Subprime Credit?
Someone with subprime credit cannot access the best, or prime, interest rates for loans and credit cards. More than a third of the country has subprime credit. 
The Consumer Financial Protection Bureau identifies five credit score categories in prime terms:
Deep subprime (credit scores below 580)
Subprime (credit scores of 580-619)
Near-prime (credit scores of 620-659)
Prime (credit scores of 660-719)
Super-prime (credit scores of 720 or above)
These card levels do not correspond precisely to the more common definitions that apply to FICO and VantageScore credit scores:

It may surprise consumers with fair credit that they have near-prime or subprime credit. But the credit card companies understand these distinctions quite well and pitch some of their subprime cards to fair credit consumers. Very poor FICO scores correspond to deep subprime credit.
Without getting into a numbers game, it's safe to assume that you want your FICO score to exceed 700. The reviewed cards demonstrate that credit becomes harder and more expensive to get below that level. 
Several unsecured cards impose APRs above 30%, and at least one charges the maximum, 36%.
Secured subprime cards charge less interest, typically in the 25% range, although the best secured credit cards have APRs below 20%. If you plan to finance credit card purchases by stretching payments over multiple months, it's worth considering one of the secured cards with an APR below 20%.
What Is an Unsecured Credit Card?
When your credit card is unsecured, only your signature on the credit agreement backs your promise to pay on time. 
The issuers of unsecured cards do not count on collateral to offset losses from cardmembers who default on their accounts. That's far less of a problem when customers have good credit, but subprime credit card companies must take steps to protect themselves by issuing unsecured cards that generally:
Charge high interest rates
Impose steep and numerous fees
Offer modest or no rewards on purchases
Do not provide introductory promotions such as signup bonuses and 0% APRs
Offer only essential benefits, such as fraud protection
You could pay close to $200 in upfront fees to get a subprime unsecured card with a high APR. That's the time to consider secured cards instead.
What Is a Secured Credit Card?
A secured credit card may be your best credit card option when your credit is below prime. You must post a cash deposit to collateralize these cards against default, but that money is refundable, whereas fees aren't. Since secured cards cost less and are easier to obtain, they may be the wisest choice for subprime consumers.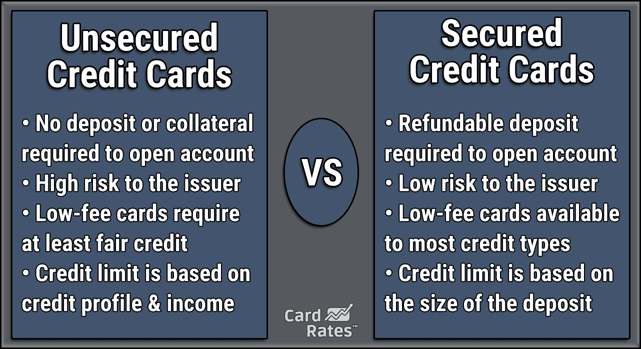 The amount you deposit usually equals your card's credit limit, although the Capital One Platinum Secured Credit Card may require a lower deposit for a slightly higher credit limit. The minimum deposit is generally $200. Some cards do not allow larger initial deposits, but others do. 
All the secured cards allow you to increase your credit limit with additional deposits after a set waiting period. You may be able to increase your credit line to $2,500 or more this way.
Virtually all secured cards can be upgraded to unsecured cards after you make timely payments for a set period of time. In that case, the card company will refund your deposit. Alternatively, a secured card may offer to increase your credit limit without an additional deposit.
Secured cards never charge signup or monthly maintenance fees. Any annual charges they impose are low, and their APRs undercut those of unsecured cards. 
A secured rewards card lets you earn cash back on eligible purchases. They may also provide valuable benefits, such as cellphone insurance or rental car coverage.
Can I Be Denied a Secured Credit Card?
You have a pretty good chance of qualifying for a secured credit card, but it's not guaranteed. Here are three tips to increase the odds in your favor:
Prequalify for the card: You can prequalify for most secured and unsecured credit cards without damaging your credit score since the process doesn't require a hard pull of your credit. Bear in mind that prequalification does not guarantee final approval.
Apply for a no-credit-check card: The Secured Sable ONE Credit Card and OpenSky® Secured Visa® Credit Card don't pull an applicant's credit. These cards offer applicants the best odds of approval.
Recruit a cosigner: Using a cosigner with good credit increases the likelihood that a credit card issuer will approve your application. But if you have a cosigner, you'd be better off applying for a high-quality unsecured card and avoiding a security deposit.
You should receive an Adverse Action Notice if a credit card issuer declines your application. The notice reveals information the credit card issuer used to make its determination. 
You can use the notice to help you improve your chances of being accepted the next time you apply for a card. For example, suppose you learn that you have negative items on your credit report and feel the information is incorrect. In that case, you can attempt to remove it on your own or with the assistance of a credit repair company.
Can I Get A Subprime Card Without a Credit Check?
If you have no, limited, or poor credit, you may find it challenging to get the credit card you want. We know of at least two secured credit cards that do not perform credit checks. Other secured cards may be willing to approve your application if your score is very poor. 
Your security deposit removes much of the risk secured card issuers assume by approving subprime and deep-subprime applicants. If you miss a secured card payment, the issuer will use your deposit for the minimum amount and report your late payment to the bureaus, which can greatly hurt your credit score. It may also charge you a late payment penalty, typically around $40. 
Repeated missed payments may cause the issuer to close your account and return the remainder of your deposit after deducting the money you owe. Expect substantial damage to your credit score if you default on a credit card.
As previously mentioned, most issuers will prequalify you for a credit card without checking your credit. Hard credit checks can lower your credit score by a few points and remain on your credit reports for two years. 
By prequalifying for a credit card, you learn whether you should risk a damaging hard credit check by applying for the card.
How Does Bad Credit Affect Credit Card APRs and Fees?
Unsecured cards for subprime credit have high interest rates and fees, including charges you won't encounter on better-quality cards.

Nuisance fees include an upfront signup charge that may exceed $100 and maintenance fees, usually $6.25/month, waived for the first year. Of course, subprime unsecured cards also impose standard credit card charges such as annual fees, fees for foreign transactions, and late payment fees. 
They have relatively high APRs and may charge an even higher penalty APR if you miss a payment. You can reduce your credit card costs over time when you build credit.
How Can I Rebuild Credit With a Subprime Credit Card?
Subprime credit cards usually report your payments to all three credit bureaus. The bureaus record the information and publish it in credit reports. Credit score models then use it to recalculate your credit score. 
Your score will slowly increase when you pay your bills on time but will quickly drop if you are late by 30 days or more.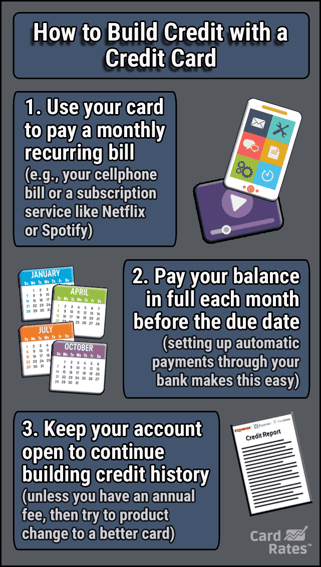 Paying on time is the most critical requirement for rebuilding credit. FICO attributes 35% of your score to this factor. 
Another 30% of your score is based on the amount of money you owe to your credit cards. Your credit utilization ratio is the credit you currently use divided by your credit limit. Ratios above 30% hurt your credit, so you can improve your credit by paying down your credit card debt.
Less significant factors for rebuilding credit include keeping old credit accounts open, refraining from applying for new credit, and broadening the mix of your credit accounts.
As explained earlier, it also helps to remove derogatory inaccuracies from your credit reports.
Subprime Credit Doesn't Have to Last Forever
CardRates.com's list of subprime credit cards helps you in two ways:
It reveals the costs and benefits of the cards that best serve a subprime borrower.
It can help you apply for a credit card through our offer-box links. 
Using your credit card responsibly allows you to join the ranks of consumers with prime or super-prime credit. That's a worthy goal because it will save money and improve your lifestyle. 
The money you save comes from lower interest rates and fees. And your lifestyle improves when you can purchase items without paying for them upfront. 
The bottom line: Whatever your previous mistakes, your credit score is in your own hands. Subprime credit cards can help you build better credit and enjoy its accompanying benefits.
Advertiser Disclosure
CardRates.com is a free online resource that offers valuable content and comparison services to users. To keep this resource 100% free, we receive compensation for referrals for many of the offers listed on the site. Along with key review factors, this compensation may impact how and where products appear across CardRates.com (including, for example, the order in which they appear). CardRates.com does not include the entire universe of available offers. Editorial opinions expressed on the site are strictly our own and are not provided, endorsed, or approved by advertisers.