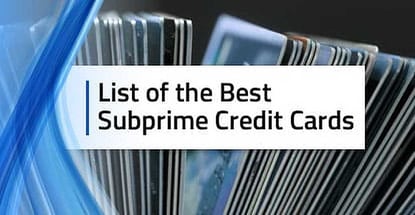 Without knowing another single thing about a product, most people would likely select the "prime" choice over the one labeled "subprime." After all, everyone knows that prime things are simply better, right? We want prime meat, Prime shipping, and Optimus Prime.
While it's not always so cut and dry in finance, prime credit scores still outrank subprime scores for most credit card issuers. But you're not totally out of luck if you have a subprime score and need a card.
A number of credit card issuers specialize in offering cards to consumers with less-than-prime credit scores. Read on for experts' list of subprime credit cards, which includes unsecured cards and secured cards, as well as some other options for you to consider. These subprime credit cards tend to charge more and offer less, but, when used responsibly, they may help you improve your credit so you can start enjoying a prime lifestyle.
Unsecured Issuers | Secured Issuers | Other Options
List of the Best Unsecured Cards from Subprime Issuers
In the world of prime credit cards, most options are unsecured, meaning they don't require a deposit or any other form of collateral. But consumers with low credit scores are seen as high credit risk, making most mainstream issuers wary of offering unsecured credit.
However, subprime credit card issuers are more than happy to offer unsecured credit to a range of credit types (for a fee).
While consumers with a subprime credit score don't have quite as many unsecured options as their better-credit brethren, you should still compare your options before making a choice. This includes researching each issuer, as few are commonly known outside the subprime world.
WebBank/Fingerhut | Credit One Bank | First PREMIER Bank | Bank of Missouri | Genesis FS
WebBank/Fingerhut
Rebuilding your credit score can feel like reinventing your finances, as they'll likely look entirely different when you're done. Fingerhut knows all about reinventing, as what is now a massive online retailer actually started out as a duo selling seat covers for cars.
Today, Fingerhut is used by thousands of consumers who want to build credit while being able to purchase the things they use every day with responsible use of a WebBank/Fingerhut Advantage Credit Account.
While the WebBank/Fingerhut Advantage Credit Account is Fingerhut's main advertised financing product, Fingerhut actually offers two main types of credit accounts, one revolving and one installment.
The WebBank/Fingerhut Advantage Credit Account is the revolving option, and it operates very similarly to a typical store card. It can only be used to make purchases at Fingerhut.com, and it has a fairly high APR. However, it has no annual fee and it offers a standard new-purchase grace period.
Consumers who don't qualify for a WebBank/Fingerhut Advantage Credit Account will be automatically considered for the installment option, the WebBank/Fingerhut FreshStart Installment Loan.
With the WebBank/Fingerhut FreshStart Installment Loan, approved applicants make a minimum $50 purchase with a $30 down payment. The remaining balance is paid off via six equal monthly payments.
Once you've paid off your WebBank/Fingerhut FreshStart Installment Loan, Fingerhut may upgrade you to the revolving WebBank/Fingerhut Advantage Credit Account.
Credit One Bank
Although Credit One is expanding its card options to include a number of fair-credit card options, the bank still issues a range of credit cards for consumers with poor credit.
Credit One is popular among subprime consumers for its flexible credit requirements, but also for its credit card purchase rewards. While your exact rewards program will vary by card and offer, most qualified applicants can earn at least 1% cash back on eligible purchases.
As with the rewards program, most aspects of your Credit One credit card offer will vary depending on your credit profile. For example, potential annual fees range from $0 up to $99, with the specific fee you pay determined when you apply.
Similarly, the APR you are offered if approved will also depend on your creditworthiness. Some Credit One credit cards also may not come with a grace period, so be sure to carefully read the terms and conditions of your offer before you start using your Credit One card.
First PREMIER Bank
First PREMIER has been in business for decades, offering a range of credit cards designed and marketed for consumers with poor credit scores. Though several card variations exist, the main difference seems to be the card art, rather than the cards' terms.
First PREMIER's cards are some of the most expensive subprime options out there — in fact, they have some of the highest APRs on the market — as well as pretty hefty fees.
The one-time program fee must be paid before you can open your account and start using your First PREMIER credit card. After that, you'll be charged an annual fee. Consumers are also charged a monthly fee after the first year.
If approved, your minimum credit limit will be $300, but you could be approved for a credit limit of up to $500, depending on your credit profile. A higher credit limit will mean paying a higher annual and/or monthly fee.
Bank of Missouri
Technically issued by the Bank of Missouri, these credit cards don't look like the bank's other cards. That's because they don't actually carry any of the bank's branding of logos, instead showcasing their own brands.
Regardless of what name is on the cards, the features they offer are the same. Besides having very flexible credit requirements, the cards also have a pretty standard APR — compared to other subprime cards, that is — and a decent new-purchase grace period.
As with other cards of its ilk, this option comes with several fees, starting with the one-time program fee. Approved cardholders will also need to pay an annual fee, as well as a monthly fee after the first year.
One card perk less common among subprime cards is the ability to choose your credit card's design. Cardholders can select from six different design options for each card, with everything from flowers to patriotic flag-inspired art.
Genesis Financial Services
While most credit cards are issued by banks that also offer other traditional bank products, like checking or savings accounts, Genesis Financial Services doesn't have the typical offerings.
Rather than bank accounts and mortgages, Genesis deals in private-label merchant solutions, as well as offering two direct-to-consumer credit card products. Both cards offer remarkably low APRs for subprime cards, while still maintaining a healthy grace period.
While the cards have a very reasonable 24.9% APR, that only holds so long as you pay your bill on time and as agreed each month. If you make a late payment, you could be subject to a much higher penalty APR that could be applied indefinitely.
All approved cardholders will start with the same APR, but the annual fee will vary based on your credit profile and could be as high as $75 the first year, and $99 thereafter. Some applicants may also be required to pay an account opening fee to activate their account.
List of the Best Secured Cards from Subprime Issuers
Unsecured credit cards are often alluring to consumers with poor credit because many of these consumers are also on limited budgets. But, while the idea of forking over a $300 deposit can be intimidating, it may make mathematical sense.
The biggest thing that secured subprime credit cards have over their unsecured counterparts is the fees. Most unsecured subprime cards charge large annual fees, and many also charge processing or account opening fees, the combination of which can add up to $150 or more — nonrefundable.
The deposit required for your secured credit card, on the other hand, is entirely refundable so long as you don't default on your balance. And while many secured subprime cards still charge annual fees, the fees are typically much smaller than those charged by unsecured subprime cards.
Synovus Bank | Capital Bank N.A.
Synovus Bank
Synovus Bank keeps its subprime credit cards separate from its main banking products — so separate, in fact, that the First Progress credit cards below have none of Synovus Bank's branding, instead sporting only the First Progress name and logo on the front of the card.
First Progress secured cards don't have any credit history or minimum credit score requirements for approval, making them accessible to nearly all credit types. A minimum deposit of $200 is required to open and maintain the account.
The size of your credit line will be equal to the size of your deposit, meaning approved applicants who meet the minimum deposit requirement will start out with a $200 credit limit (initial limit will be minus the annual fee, which is charged when you open your account).
Approved cardholders may be able to increase the size of their credit limit by making a larger deposit. Eligible cardholders can deposit up to $2,000 for a matching credit line.
While the First Progress cards do require an annual fee, eligible cardholders can choose to pay a smaller annual fee in exchange for a higher APR.
Since you should always pay off your full credit card balance each month, especially when building credit, opting for a higher APR and lower annual fee can be a good way to save.
Capital Bank N.A.
Formally issued by Capital Bank — which also offers online banking, savings accounts, and home loans — the OpenSky® Secured Visa® Credit Card maintains its own branding across all of its assets, including the card itself, the online banking platform, and the mobile apps.
The OpenSky® Secured Visa® Credit Card can be a good option for any credit type, as it is one of the few cards on the market that doesn't require a credit check to apply. But while it doesn't need a credit check for approval, it will still report to the three major credit bureaus.
The card requires a minimum deposit of $200 to open the account, and the credit line you receive will be based on the size of your deposit. The $35 annual fee is competitive with similar cards — and significantly lower than that charged by most unsecured subprime cards.
Cards for Bad Credit from Mainstream Issuers
The current credit card market is full of options, even for consumers with subprime credit scores. But, simply having a low credit score doesn't necessarily limit you to subprime credit card issuers, especially if you're willing to make a deposit for a secured credit card.
In general, you'll likely have the best chances of finding a prime card issuer with flexible credit requirements by checking your local credit union or community bank. These issuers may even have an entry-level unsecured card with reasonable fees, depending on your credit.
That said, If you have your heart set on a card from a mainstream bank, you're most likely looking at a secured credit card. On the plus side, secured cards from non-subprime issuers tend to have lower fees, and some may even offer perks like purchase rewards.
Discover | Capital One | Bank of America | Citi
Discover
Not only is Discover one of the top U.S. credit card issuers, but the company also does double duty as its own credit card network, processing billions of dollars in transactions around the world each year.
Although all of Discover's credit card products are designed for consumers with fair or average credit and better, a subprime credit score is likely a bit too low for anything but the issuer's secured product. Thankfully, it's a great secured card.
This card is one of the few secured credit cards available to consumers with low credit scores that comes with purchase rewards. This makes the Discover it® Secured Credit Card an easy standout from the secured-card crowd.
What's more, the Discover it® Secured Credit Card is upgradable. Discover will periodically evaluate your credit card use and credit-building progress to see if you qualify for an automatic upgrade to an unsecured Discover credit card.
If you're upgraded — or if you close your account in good standing — your security deposit will be completely refunded. The card requires a small minimum deposit, though a larger deposit will unlock a larger credit line.
Capital One
In business for only a few decades, Capital One is a young bank compared to many of its mainstream competitors. Despite that fact, however, Capital One quickly became a household name — and not just for its humorous Visigoths or A-list celebs.
The Secured Mastercard® from Capital One is a solid choice for consumers who need to build credit, offering an upgradable Mastercard® credit card with no annual fee and a (comparatively) reasonable APR.
Perhaps the most intriguing part of the Secured Mastercard® from Capital One is the variable deposit requirement. Depending on your credit profile, you may only need to make a $49 or $99 deposit to unlock an initial $200 credit limit.
Cardholders who make their first five payments on time can unlock a credit limit increase, no additional deposit required. If you'd like a higher credit limit without waiting, you can make a larger-than-required deposit when you open the account.
Bank of America
In business for over a century, Bank of America is the second-largest bank in the US with over $2.3 trillion in assets. It's also one of the top 10 largest credit card issuers.
Among the bank's many offerings is the BankAmericard® Secured Credit Card, which is designed to help cardholders build credit with responsible use. And while the card does charge an annual fee, it's much lower than the fee for an unsecured subprime credit card, as well as offering a lower APR than is offered by most unsecured subprime cards.
The card requires an upfront deposit of at least $300 to open. Your credit line is equal to your deposit amount, so a larger deposit will unlock a larger credit line. The maximum deposit — and, thus, the maximum credit line — is $4,900.

Card can be used anywhere Visa credit cards are accepted — not a debit or prepaid card
Make a minimum $300 deposit
Pay a $0 annual fee
Similar to other secured cards from mainstream banks, this card has the ability to be automatically upgraded to an unsecured product with sufficient credit score improvement. Upgrades are at the discretion of Bank of America.
Citibank
With a pedigree that stretches back over 200 years, Citi — or, more completely, Citibank, the consumer division of Citigroup — has a long history of helping consumers meet their financial goals. For example, the bank has a broad array of credit cards, with options for nearly any credit type.
The Citi® Secured Mastercard® is the issuer's solution for consumers who need to build (or rebuild) credit. The card has no annual fee, and also has the ability to be automatically upgraded (at Citi's discretion) to an unsecured credit card when your credit improves.
The Citi® Secured Mastercard® card requires a $200 minimum security deposit, with the option to make a deposit up to $2,500. Your credit limit will be equal to the size of your deposit.

Check your balance, view transactions, and make payments using free online and mobile banking tools
Provide a security deposit between $200-$2,500
Pay no annual fee
While the card doesn't have rewards, it does come with standard Citi card benefits that include $0 fraud liability, Citi® Identity Theft Solutions, and 24/7 online account access.
Subprime Credit Doesn't Have to Last Forever
Even if you didn't know what subprime credit is, you probably wouldn't want it, as just the word subprime makes it sound less-than-great. And, once you know what it means, well, having subprime credit can feel like a struggle. Just finding a good subprime credit card can be a challenge.
But subprime credit doesn't have to haunt you forever.
All it takes to move from subprime territory into the prime credit arena is a little hard work and some time. It all starts with an honest evaluation of your credit reports and scores, using FICO's five basic factors as your guide.
Payment History (35%)
Amounts Owed & Utilization (30%)
Credit History Length & Average Account Age (15%)
New Accounts & Hard Inquiries (10%)
Credit Account Diversity (10%)
The best path toward a prime credit score will depend on your individual credit profile. In general, however, you can build credit by ensuring all of your debts are paid on time and as agreed, by maintaining low credit balances, and by being conscientious about the number and frequency of new credit accounts.
Additionally, when it comes to building credit, time can be your ally. Establishing a credit profile early — and managing it responsibly — can help you build your credit history length. Having a long, robust credit history can help offset small mistakes along the way.
Time can also help with more serious negative items and accounts, such as previously missed payments. That's because credit scoring models give more weight to your recent activities, which means older accounts have less impact on your credit scores than newer accounts.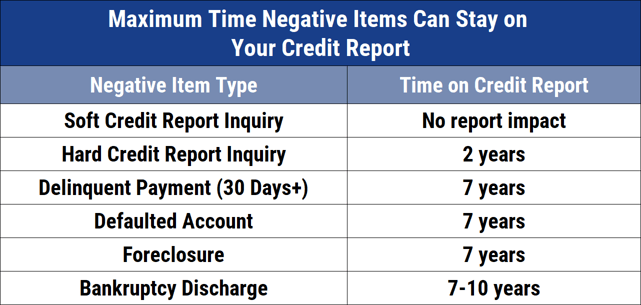 Furthermore, most negative items can only remain on your credit reports for up to seven years (10 years for certain bankruptcies), after which point they should no longer impact your credit scores.
Once you've raised your score out of the subprime trenches, be sure to maintain those responsible credit habits to keep boosting your score. Before too long, you could find yourself with excellent credit, opening doors and making your financial life infinitely better.
Advertiser Disclosure
CardRates.com is a free online resource that offers valuable content and comparison services to users. To keep this resource 100% free, we receive compensation from many of the offers listed on the site. Along with key review factors, this compensation may impact how and where products appear across the site (including, for example, the order in which they appear). CardRates.com does not include the entire universe of available offers. Editorial opinions expressed on the site are strictly our own and are not provided, endorsed, or approved by advertisers.