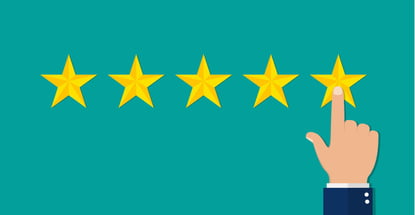 If you have a bad credit score, our review of the best credit repair companies will give you important guidance on how to begin rebuilding your credit profile.
A bad credit score threatens your access to credit, but you can fight back by removing inaccurate information from your credit reports. Credit repair companies can do the heavy lifting for you at prices most can afford.
Top-Rated Credit Repair Services
The following five credit repair companies offer professional services that address questionable information on your credit reports. While not the solution to all credit issues, these companies can clean up your credit history and help raise your credit score.
We've sorted out the best companies so you can get started fixing your credit right away rather than wasting time searching for the best service.
1. Lexington Law: Best Overall
Lexington Law is BadCredit.org's best-rated credit repair company, and for good reason. The company is best overall because of the scope of its services, over a decade of experience, and support from its own staff of accredited lawyers. Founded in 2004, Lexington Law employs experts who understand how to successfully remove questionable and inaccurate information from your credit reports.
Those experts know that challenging bad information on your reports can translate into a credit score boost of more than 100 points. In 2017 alone, this credit expert company removed over 10 million negative items from its clients' credit reports.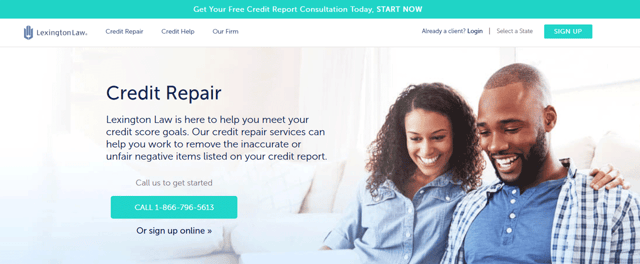 You can choose from three service levels offered by Lexington Law starting at $99.95 per month. All three service levels actively engage with the major credit bureaus to challenge items on your reports that needlessly damage your credit score.
The higher-level services provide additional features such as hard inquiry clean-up, credit score analysis, credit report monitoring, and negative item alerts for new information appearing on your TransUnion credit report.
For $139.95, its top Premier Plus package also includes FICO score tracking, cease and desist orders, financial tools, and identity theft protection.
Many clients continue to use Lexington Law's services for six months or more. This gives the credit bureaus sufficient time to respond to the disputes lodged on your behalf and lift your credit profile, and you can cancel at any time. You can contact Lexington Law for a free online consultation.
2. CreditRepair.com: Best Online Experience
CreditRepair.com went fully digital in 2022. It sent more than 800,000 creditor interventions for its clients in 2021 alone.
CreditRepair.com offers a free, sophisticated mobile app that is easy to use on both iOS and Android devices. Its intuitive design lets you follow your credit repair progress as it occurs.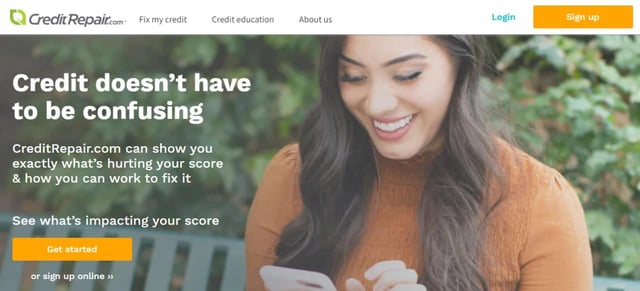 The company's monthly fee starts at $69.95/month and comes with a personal online dashboard, score tracker and analysis, text and email alerts, and TransUnion credit monitoring.
When you subscribe, CreditRepair.com launches a three-step program to check, challenge, and change your credit reports. It claims past customers saw an average 40-point credit score increase in six months.
You can get started with CreditRepair.com today with a free online evaluation.
3. Sky Blue Credit Repair: Best for Simplicity
Sky Blue Credit Repair has just one monthly price for its services — $79 for individuals and $119 for couples. You can pause or cancel your subscription at any time, which makes it a great, straightforward, and simple credit repair option.
The 90-day unconditional guarantee offered by Sky Blue Credit Repair is the best in the credit repair industry. If you are unsatisfied at any point within the first 90 days, simply tell Sky Blue why and receive a refund of every dollar you paid in. The company has been fixing credit reports for more than 30 years.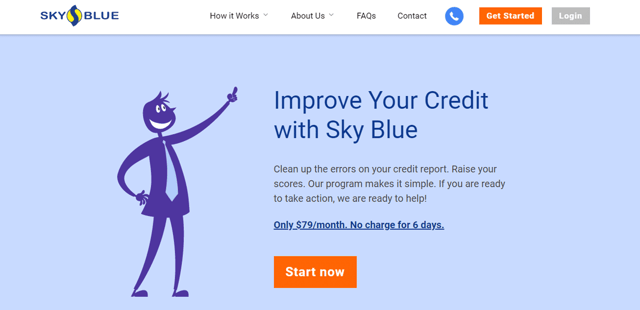 When you subscribe, the company promises to challenge 15 items every 35 days. Sky Blue's service consists of dispute filing, score guidance, and the acquisition of a new credit card.
Additional free services include debt validation, goodwill and cease and desist letters, and debt settlement consultations. You may begin to see results in as few as 30 days.
4. CreditFirm.Net: Best Affordable Full-Service Solution
Credit Firm offers a single monthly plan that's just $49.99/month, or $89.99/month for couples — and there are no upfront or hidden fees.
The plan also includes financial tools to help keep you on track. You can take advantage of unlimited challenge validation letters, creditor goodwill letters, and credit monitoring.
This service is great for anyone who doesn't want to spend a fortune on credit repair services but suspects they have a lot of items that need to be removed from their credit reports. CreditFirm claims its clients see more average removals than from any other credit repair company.
You are assigned a personal credit consultant who is responsible for your case. You'll also have access to an online client portal where you can monitor your progress in real time.
5. Credit Versio: Best Affordable DIY Solution
If you have credit repair experience, consider the Credit Versio software package. This is an economical choice (starting at $19.95/month for the smartcredit® BASIC version) that makes it easier for you to find and dispute errors on each of your credit reports from the three major credit bureaus.
You also get $1 million in identity theft insurance and credit monitoring alerts. The software imports your credit reports, applies AI techniques to identify problem areas, and helps you generate professional dispute letters to remove problematic items.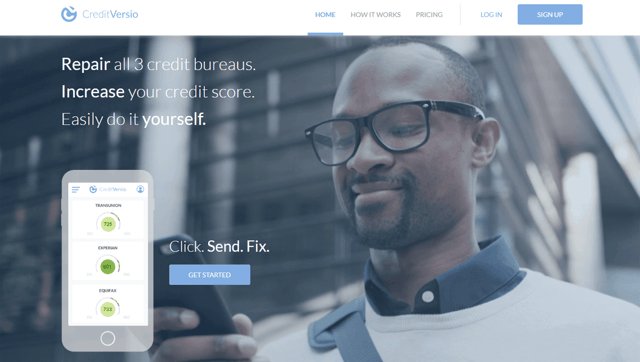 The package lets you lodge either metered or unlimited disputes and tracks the results of your disputes. The basic package provides for two dispute actions and credit reports per month, but for only an additional $5/month, you can upgrade to smartcredit® Premium and get unlimited disputes and credit reports.
If you also want identity-theft monitoring, you can upgrade to IdentityIQ service for $29.95/month. If you're a confident DIY type, Credit Versio is effective and will save you money.
What is the Best Credit Repair Company?
We've identified five credit repair companies that each excel in a particular category. They are:
Whether you are looking for complete service, a solid track record, or a low price, there is something on our list of the best credit repair companies that should fit your needs.
How Does Credit Repair Work?
You pursue credit repair when you want to increase your credit score by fixing errors on your credit reports. If you succeed, you should be rewarded with a higher score and greater access to credit.
While credit repair focuses on fixing your credit history, it needs to be complemented by creditworthy behavior if you want to get the maximum credit score boost.
Credit Repair Details
The credit repair process centers around your credit history, which the three major credit bureaus (Experian, TransUnion, and Equifax) compile, maintain, and use as the basis for your credit score. Whenever you apply for credit, seek out a loan, interview for a job, or search for an apartment, people with power over your future use your credit reports to make important decisions.
Congress recognized that, with so much at stake, credit people deserved some protections in this area, resulting in the passage of the Fair Credit Reporting Act that entitles you to see and correct your credit reports. Inaccurate negative data on your credit reports will almost certainly damage your credit score for no valid reason.
While you could try to repair your credit yourself, you must first reckon whether you have the time and expertise to succeed. That's why many consumers turn to fast credit repair companies that identify questionable items on their credit reports. It also explains why folks look for useful credit counseling.
When you hire a credit repair company, as opposed to a credit counseling organization, you retain a credit professional who helps you identify questionable and inaccurate negative information on your credit reports. This information includes credit inquiries, late payments, defaults, debt collectors, foreclosure events, and bankruptcies.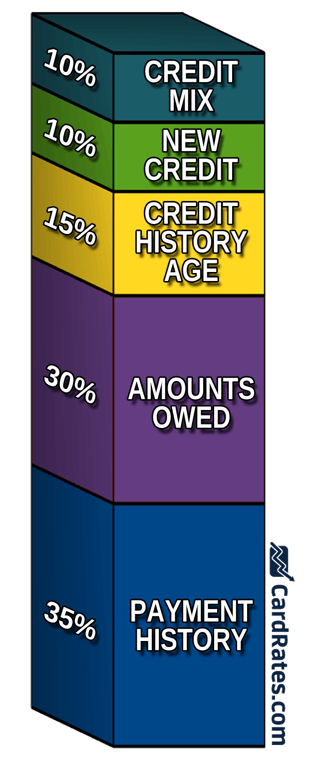 With 35% of your credit score deriving from your credit history, it really pays to weed out the mistakes on your credit reports. A good starting place is to check for an excessive number of hard inquiries placed by creditors as the result of your requests to open credit accounts or take out loans.
Each hard inquiry can cause your score to decline by five to 10 points for up to a year. Too many hard inquiries within a short time period (i.e., 30 to 45 days) count even more against you, as they may indicate you are in financial distress. However, rate shopping within this same period will only count as one hard inquiry.
A one-year listing on your report is mild compared to the longevity of a Chapter 7 bankruptcy that can send your score plummeting by more than 100 points. Although most of the damage occurs in the first two or three years, the bankruptcy will skunk up your credit report for a full decade.
When you hire a credit repair agency, the first order of business is to jointly review issues with your credit history, including hard inquiries. You want to identify inquiries you did not authorize, as well as unrecognized accounts, unapproved transactions, and inaccurate information (such as an incorrect Social Security number, incorrect home address, or errors in your job history).
The credit repair company uses the information to open disputes with the credit bureaus. The goal is to have questionable items corrected or removed.
One of the reasons you may hire a credit repair company is its intimate familiarity with the credit bureaus' dispute procedures. Certain protocols should be followed, including the timing of each dispute letter, the structure of the dispute letter, the evidence required, and the appeal procedures if you initially don't succeed.
In addition to communicating with each credit reporting bureau, credit repair companies can contact the sources of erroneous information, such as the vendor or customer where the transaction originally occurred. A company credit consultant will ask merchants to investigate questionable items and remove the items if they cannot be verified.
Part of the expertise you hire from a credit repair service is discretion — knowing when not to pursue a dispute. For instance, the company credit consultant should be careful disputing write-offs that haven't yet gone past the statute of limitations, lest it trigger a re-opening of the case and the reappearance of debt collectors.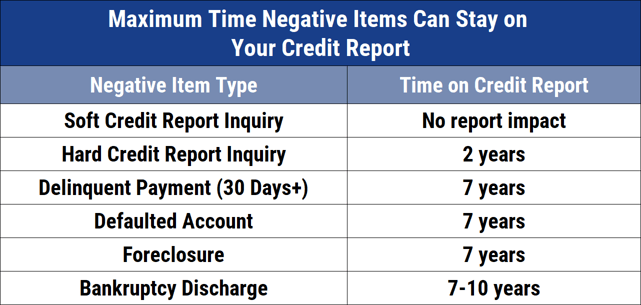 In other words, you don't need to dispute every item on your credit report, just ones that have merit. When you dispute everything, a credit reporting company may designate you as a nuisance and ignore your claims.
Standard practice is for credit repair companies to recommend a six-month subscription to reap the maximum benefits. However, you can cut short or extend your subscription to meet your individual goals.
Some credit repair companies offer credit management plans to drive your score higher. This may be a good adjunct if your credit reports are relatively clean.
A credit counselor can create a credit management plan that helps you take constructive steps to improve your creditworthiness. Examples of action items may include reducing your credit utilization, managing credit cards you tend not to use, and strategizing how to avoid late payments.
A credit management plan from a credit counselor can help increase your FICO scores even when fixing your credit reports isn't enough.
If you decide to go with a credit repair company, understand exactly what you are getting for your money. Services differ within and across different repair companies, both in terms of scope and amount of activity. For example, some repair companies specify the minimum number of disputes and/or interventions they will undertake within a given period.
Preserving and Extending Your Repaired Credit Score
As noted earlier, while fixing up your credit history is a good start, it's only half the battle. The other half is to adopt creditworthy habits that translate into good credit scores and better access to credit.
The bid daddy of credit scores is FICO, the original product of the Fair Isaac Corporation. The scores range from 300 (the worst) to 850 (the best). If you follow FICO's advice, you should see your score slowly recover.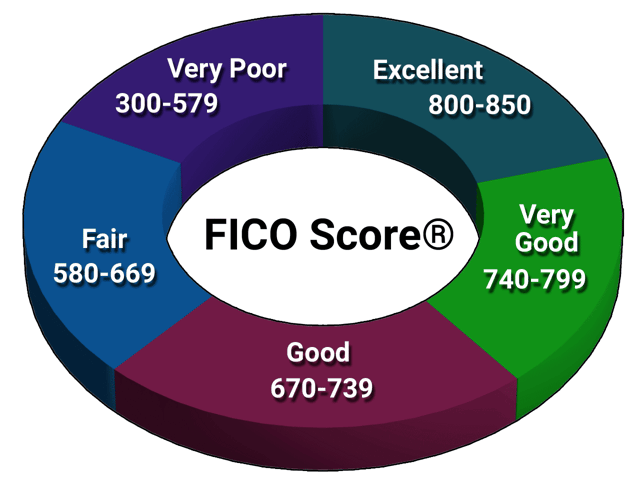 FICO makes no secret of the five factors it considers when calculating a credit score. Here's how it works:
Payment history (35% of score): The most important factor determining your credit score is how lenders regard your likelihood to pay your debts on time and in full. Your record of paying your bills to creditors and lenders is key. Items like collections, charge-offs, bankruptcies, and foreclosures will all count against you, initially sending your credit score down a rabbit hole from which recovery is slow. Major negative items can remain on your reports for seven to 10 years, although the biggest impact to your scores will be seen in the first few years. The key bit of wisdom is to always pay your bills on time. Avoiding delinquent accounts is a sure way to sidestep the more terrible outcomes. Indeed, timely payments over a six-month period should help your FICO score improve.
Amounts owed (30%): The second biggest factor deals with the amount you owe as a percentage of the credit available to you. This is called your credit utilization ratio, or CUR, and it applies to the balances and credit limits on your credit cards. Other revolving credit accounts, such as home equity lines of credit, are not part of the CUR calculation because they are secured by your home. A CUR below 30% is considered good, but you'll see faster improvement if you get your CUR below 20%. One study found that folks with FICO scores of 750 and above have an average CUR of 7%. You can help your score by paying down existing debt and refraining from new debt. In addition, you can help your score by reducing the number of accounts carrying balances and prepaying your installment debt.
Length of credit history (15%): It helps your credit score when you have long-lived accounts because it shows you have experience using credit. FICO looks at the ages of your newest and oldest accounts, as well as the average age of your accounts. Moreover, FICO takes into consideration the age of each individual account and how long since it's been used. You can help your credit score by keeping old accounts open and occasionally using them.
Credit mix (10%): You can improve your credit score by demonstrating the ability to successfully handle several different forms of credit. The mix may include a personal loan, student loan, mortgage, credit card accounts, retail accounts, and finance company accounts. You don't need all these types of accounts and shouldn't open accounts just for the sake of your credit mix. But if you do need different types of accounts, FICO will reward you if you keep them active and you pay them on time.
New credit (10%): Your score can suffer if you open too many accounts within a relatively short period, as creditors may interpret this as a sign of financial distress. A lack of credit history makes matters worse. Part of this factor is the number of hard credit inquiries placed recently — these are inquiries for your credit report resulting from your application for a credit account or loan. Each hard inquiry can reduce your score by five to 10 points. However, if you are rate shopping among competing offers, you'll be charged with only one inquiry as long as the rate shopping takes place within a 30- to 45-day period. The new credit factor also includes how long it's been since you opened a new account and whether you have recovered from previous financial difficulties.
Note that the structure and relative importance of these five factors pertain to the FICO scoring system — other systems like VantageScore may work differently. Nonetheless, FICO dominates the market because it is used in 90% of retail credit transactions, and is the focus of the credit repair industry.
How Long Does the Credit Repair Process Take?
Unfortunately, you can screw up your credit pretty quickly. It takes a little longer to repair it, which is why credit repair companies normally ask you to subscribe for four to six months. For example, CreditRepair.com claims it can raise credit scores by an average of 40 points in four months.
The reason it takes several months has to do with the time constraints under which a credit reporting agency must respond to disputes and the operating pace of the credit repair companies. By law, credit bureaus must investigate disputes and relay their results within 30 days.
As for the pace set by the credit repair companies, it must be rapid enough to appease customers while deliberate enough to maintain a good relationship with each credit reporting bureau, which don't appreciate being drowned in a flurry of disputes from the same person. And, to be frank, the repair companies must balance the amount of service they churn out versus the fees they charge to hit their revenue targets.
Compare the throughput promised by each credit repair company you consider. For example, Sky Blue Credit Repair pledges to submit 15 challenges every 35 days. CreditRepair.com promises to undertake three disputes and 15 targeted challenges every month when you subscribe to its top service.
In general, the top service offered by each credit repair organization will produce the fastest results. However, unless your credit reports are brimming with inaccuracies, your focus should be on the quality of the services you get rather than the pace of work.
How Much Does Credit Repair Cost?
For the most part, credit repair companies offer monthly subscriptions and sometimes also tack on an upfront fee for the first month. The average subscription is six months, but you are free to cancel or extend your subscription at any time.
As the following table summarizes, the reviewed credit repair services cost around $100 per month. Only Credit Versio costs substantially less. That makes sense, as it is software that requires you to do much of the work yourself.

A six-month subscription can cost as much as $779.70 or as little as $119.70, so most consumers should be able to find at least one affordable offering. The most important consideration is to choose a plan that provides the features you want.
You should also make sure you understand how many challenges the plan will issue each month, especially if your goal is to clean up your credit history as quickly as possible. Note that all the credit repair companies offer a free initial consultation, which is a good opportunity to ask questions about the scope and depth of the solutions they provide.
If you are concerned about identity theft protection, you'll find that available on many of the upgraded plans. Although it isn't strictly needed to raise your credit score, ID protection is an excellent idea that's well worth the modest upcharge.
If you prefer a do-it-yourself approach and understand what you're doing, you can clean up your credit reports without spending any money. AnnualCreditReport.com will send you copies of your three credit reports for free, and the credit bureaus all offer online facilities to dispute items on your reports.
If you want to take the DIY route, consider using the Credit Versio software for as little as $19.95 per month. It will save you substantial time and effort yet leave you in complete control of the process. Whichever solution you choose, you will benefit by organizing your effort so you know where you stand and which items require follow-up action.
How Do I Find a Reputable Credit Repair Company?
Our reviews are a good place to begin because anything we recommend has met our standards for integrity and fair dealing. However, as with most purchases, it certainly is a good idea to perform due diligence before spending your money.
Two important sources to reference are the Better Business Bureau and Trustpilot. The former will give you a breakdown of complaints against the company, while the latter provides a numeric score reflecting user experience.
Online forums can be a useful source of user comments, both good and bad. In addition, you can search out news about a company to see whether it's involved in any civil or criminal proceedings.
We give high marks to the 90-day unconditional guarantee offered by Sky Blue Credit Repair. That's something we'd like to see all the reviewed companies offer. Bear in mind that none of them guarantee the size of any increase to your credit score, as that ultimately depends on your unique circumstances.
What is the Fair Credit Reporting Act?
The 1970 Fair Credit Reporting Act (FCRA) was enacted to regulate consumer reporting agencies, including the three major credit bureaus. It is meant to protect consumers from inaccurate information in their credit reports.
The FCRA imposes certain responsibilities on the credit bureaus, including:
Maintain procedures that maximize the accuracy of the information on a consumer's credit reports.

Provide consumers with the information on the credit reports and take steps to verify the accuracy of information disputed by consumers. You can start by ordering your three credit reports from

AnnualCreditReport.com

.

Prevent a credit reporting agency from reinserting disputed items without first notifying the consumer.

Remove negative information after a set number of years (up to 7 to 10 years for bankruptcies).
The three credit bureaus use a system called e-OSCAR to respond to credit report disputes. The system supports Automated Credit Dispute Verification (ACDV), in which a credit reporting company collects data from data furnishers (i.e., merchants, financial companies, etc.) on behalf of consumers who have lodged a dispute with the bureau. ACDV provides a mechanism for the credit bureaus to correct mistakes in their credit reports.
The tasks of identifying and disputing report items should not be taken lightly. You or the credit repair firm have to register each dispute by letter or by entering information on a credit bureau's dispute page. You'll also have to track each dispute and handle appeals for those you lose.
How Do I Spot a Credit Repair Scam?
I recall when my niece was accepted to college. She financed four years in the standard American way, through student loans. Unfortunately, after graduation, she ran into some life problems and became delinquent on her private student loans.
Inevitably, her credit score imploded. For the next seven years, her credit report carried an ugly smudge on her creditworthiness, even though she was able to get back on track within a year. The important point for our purposes here is that no credit repair firm would have been able to shave a day off the delinquency's seven-year lifetime on the report.
In other words, credit restoration is not a cure, and you should reject any credit repair company that tells you it can remove legitimate negative information from your credit report. The credit restoration process can only remove inaccurate and questionable material from your credit history.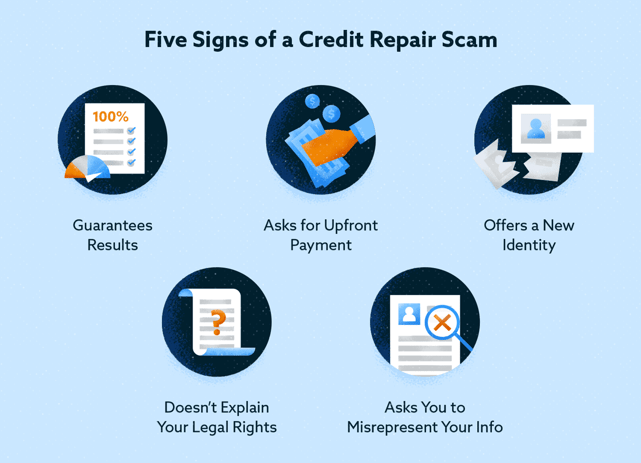 In my niece's case, the information was accurate — and damaging. However, there was a happy ending: Her score recovered after 2 ½ years, and she has since gone on to a blemish-free financial life.
Victims of credit repair scams often don't understand the fundamental truth that no legitimate credit repair organization would ever suggest it had some secret sauce to remove accurate information from your credit reports. At best, they might have helped my niece in two ways:
Monitoring the age of the derogatory information and pursuing its removal once seven years had passed.
Helping her draft and insert a note on her credit file explaining the circumstances surrounding each late payment. While the note wouldn't affect her credit score, it would at least give some context to potential creditors, employers, landlords, and other consumers of her credit report.
Unfortunately, no shortage of internet and telemarketing scams are out there waiting to ensnare folks looking for help. Credit repair scams are particularly brutal because they not only can cost you money but also do further damage to your credit profile. Just think of the harm a scammer could perpetrate by stealing your Social Security number or bank account number.
Forewarned is Forearmed
Fraudulent credit repair companies frequently engage in one or more of these behaviors:
Demanding an upfront payment before taking any action to help you. That, in general, is a no-no. The Credit Repair Organizations Act (CROA) prohibits credit repair companies from requesting payment until they complete their promised service. This applies to monthly payment plans as well.
Advising you not to directly contact the credit bureaus. You have the right to contact the bureaus and doing so shouldn't interfere with the efforts of a legitimate credit repair company.
Encouraging you to dispute credit report items you know to be accurate.
Advising you to lie on applications for a loan or credit account.
Failing to explain your legal rights, including cancellation rights and your right to a written contract, as specified by the CROA. You can cancel for any reason within three business days at no charge.
Guaranteeing a specific point improvement in your credit score. If you were contacted over the phone, the Telemarketing Sales Rule prohibits a credit repair company from receiving an upfront fee until producing a credit report that shows successful results.
Promising to remove negative items from your credit reports even though the items are correct. That is something that no one can do.
One particularly dangerous scam is promising to give you a new credit identity. They convince you that they can remove accurate negative items, such as collections and bankruptcies, from your credit report for a fee. They may provide you with a "substitute Social Security number" – sometimes called a CPN, a credit privacy number, or credit profile number — that is completely bogus.
Alternatively, the scammer may direct you to apply for a legitimate Employer Identification Number (EIN) from the IRS. It's a crime to obtain an EIN under false pretenses.
EINs and CPNs are not a substitute for your Social Security number. You may be directed to apply for credit using the bogus number, which is illegal and, in any event, won't work.
You Can Seek Recourse
The type of recourse you take against a credit repair company will depend on the nature of your grievance. If you are unhappy with the service provided but don't feel like you've been defrauded, you can take steps like the following:
Visit the company website to contact customer service and/or leave feedback. If there is no customer service department — a real red flag — write to the CEO and lay out the nature of your complaint.
Contact the BBB and leave an online complaint.
Post a complaint at the Ripoff Report website, a good antidote to corporate arrogance. Other similar sites include Yelp, Pissed Consumer, and Resolver.
By the way, it's nice to leave positive, constructive feedback when a company earns it.
Complaints about fraud are much more serious. Some steps you can take include:
Lodge a complaint on the Federal Trade Commission's online Complaint Assistant if you can't get satisfaction from a company. It will investigate complaints and take action when it discovers a pattern of suspected law violations.
Contact your state attorney general to file a formal complaint that includes all the relevant details and backup documentation.
File a lawsuit in federal court for the greater of your actual losses or the amount you paid the company. You can also ask for punitive damages to penalize the company for violating the law.
Start or join a class action suit against a shady credit repair company. If you prevail, the company will have to pay your lawyer's fees.
A credit repair scam may steal a few hundred dollars in fees, but the horror show begins when the scammer also steals your identity.
Repairing Identity Theft
When a credit repair fraudster steals your identity, you need to move quickly and aggressively to head off as much damage as possible. These are the steps you should follow if you find your identity has been stolen:
Contact the credit bureaus: Contact the three bureaus, either online or over the phone, and request they place an extended fraud alert on your credit report. A fraud alert means that a business must verify your identity before issuing you new credit. Alternatively, you can freeze all access to your credit report. Without that access, a criminal will not be able to open a credit account or take out a loan under your name. Also, get copies of all three credit reports and review them for unauthorized accounts or other fraudulent activity.
Call the companies where you've been defrauded: Ask to speak to the fraud department and tell them your identity has been stolen. Also, ask for any store accounts to be closed or renumbered. Change all of your passwords and logins.
Contact the Federal Trade Commission: Report identity theft at the FTC's website IdentityTheft.gov. After answering several questions, the site will generate an FTC Identity Theft Report and a Recovery Plan. The FTC will then track your plan's progress and pre-fill forms or letters you may need.
File a police report: Bring a copy of your Identity Theft Report, a government-issued identity card, proof of address, and any proof documenting the theft. Make sure you get a copy of the police report, as you may need it for later steps.
Correct your credit reports: While you could try to do it yourself, consider using a credit repair company that offers ID theft repair services.
Protect your home title: If you own your home, consider getting title lock insurance to safeguard against fraudulent theft.
It may take months to fully recover from identity theft.
The Best Credit Repair Companies for Any Credit Issue
Our review of the best credit repair companies identifies five companies that may help you improve a poor credit score by removing inaccuracies from your credit reports.
The four service-oriented companies work directly with the major credit bureaus to dispute negative items in your credit history. The fifth company provides low-cost software that makes it easier for you to dispute items at the credit bureaus.
Alternatively, you can attempt to clean up your credit reports by yourself despite the time required to manage this complex process. Whether you get assistance or take the DIY route, fixing your credit reports is only part of the solution. To see long-term improvements in your credit scores, you must display creditworthy behavior — pay your bills on time and cut the amount of credit you use.
Advertiser Disclosure
CardRates.com is a free online resource that offers valuable content and comparison services to users. To keep this resource 100% free, we receive compensation for referrals for many of the offers listed on the site. Along with key review factors, this compensation may impact how and where products appear across CardRates.com (including, for example, the order in which they appear). CardRates.com does not include the entire universe of available offers. Editorial opinions expressed on the site are strictly our own and are not provided, endorsed, or approved by advertisers.