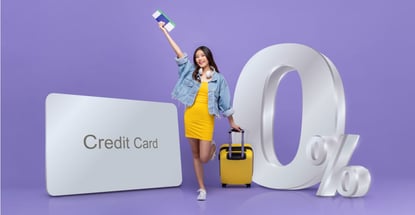 As we review the best credit card interest rates, remember that you always have a 0% APR available to you — if you can pay off your entire balance every month. But in the real world, many folks need to finance purchases over several months, and that's where your card's interest rate bites into your budget.
If you fall into the latter camp, pay close attention to interest rates when you comparison-shop for a new credit card. When your budget is tight, a few percentage points difference in APR can have a significant impact over the course of a year.
0% APR | Travel Cards | Cash Back Cards | Student Cards | Bad Credit | FAQs
These cards offer new cardmembers a 0% introductory APR for a specified number of months following account opening. When combined with a welcome bonus, new cardmembers can save a tidy sum on big-ticket purchases.
Alas, all good things must end, and that means you should pay attention to the regular APR for purchases once the introductory period ends. At that point, some folks simply flip to a new low interest credit card and restart the process.
For you flippers out there, keep in mind any anti-churning policies that could affect your access to promotional rewards if you get another card from the same issuer. In any event, don't cancel your old cards when you replace them — doing so can hurt your credit score.
The Chase Freedom Unlimited® offers a 0% promotional APR for more than a year after opening an account. And the regular APR that kicks in after the promotional rate is not bad for a card with no annual fee.
New cardmembers can combine the 0% interest rate with the card's modest signup bonus to get the biggest reduction in the cost of expensive purchases. The Chase Freedom Flex℠ card offers the same APR and signup bonus features for consumers who prefer quarterly rotating reward categories.
The Capital One Quicksilver Cash Rewards Credit Card offers an APR of 0% for 15 months on purchases made by new cardmembers. The subsequent regular variable APR isn't the lowest we've seen in this card category but is OK nonetheless.
The modest signup bonus is on par with those offered by several of the card's competitors. This rewards card will attract consumers who want a simple cash back card without favored merchant categories.
The U.S. Bank Visa® Platinum Card is offering, for a limited time, an APR of 0% for 20 billing cycles on purchases and balance transfers (fees apply) to new cardmembers. This unusually long introductory period helps compensate for this card's lack of a signup bonus or rewards.
Because this card lacks rewards on your purchases yet requires excellent credit to obtain, it will mainly attract consumers who need a longer period to finance an expensive purchase interest-free.
These credit cards offer excellent rewards and perks to folks who like to travel. They feature regular variable APRs that are among the lowest available following the cards' 0% introductory APR promotions.
The Discover it® Miles is another great option for obtaining a long 0% promotional interest rate, after which the regular purchase APR kicks in. The card's unlimited Miles-for-Miles Match, which doubles the miles new cardmembers earn in the first year after account opening, is offered instead of the more conventional signup bonus.
Because Discover cards offer such low APRs to their best customers, many folks consider them to be worth keeping over the long run, even after reward matching expires. The miles you earn with the card can be redeemed as a statement credit toward previous travel purchases or for cash, among other options.
The Bank of America® Travel Rewards Credit Card offers a relatively short 0% APR for 12 billing cycles to new cardmembers. The regular variable APR that kicks in afterward is in the middle of the pack of the best travel cards, as is the welcome bonus for new cardmembers.
The card's simple flat rewards ratio plays no merchant favorites, which may appeal to you if your spending habits are also eclectic. You can use your points to pay for any travel-related expenses, and the Preferred Rewards program enhances the value of your bonus points.
The Chase Freedom Flex℠, like its sibling Chase Freedom Unlimited®, offers an extended 0% intro APR on new purchases after opening your new account, followed by a variable regular APR. The somewhat underwhelming signup bonus is helpful when you spend the required amount in the first three months.
They call this rewards card Flex because of all the different ways to earn bonus rewards on purchases from specified merchant types. Although denominated in points, it's easy to redeem your rewards for good old cash or as a statement credit.
Who doesn't love cash? Combine it with low interest rates, and you have a marriage made to last. Now, throw in a $0 annual fee, and it's time to honeymoon in Vegas, baby.
You'd be hard-pressed to find better interest rates than those offered by the Discover it® Cash Back card. After the promotional 0% APR expires, the regular variable APR kicks in.
The Cashback Match combines with the 0% intro APR to create a warm welcome to new cardmembers. You'll like this rewards card if you prefer a new bonus merchant category every quarter, but remember that you must activate the category to earn the bonus rewards and those bonus rewards are subject to a spending limit. All other purchases earn 1% cash back.
While the lengthy 0% intro APR on purchases may seduce new cardmembers, Chase Freedom Unlimited® offers a mature, long-lasting relationship through its low variable APRs. The signup bonus, though modest, certainly adds to the first-year excitement.
The card pays rewards in points that are easy to redeem for cash or a statement credit, so you'll often see the Chase Freedom cards lumped in with cash back cards. The rewards are tiered, but they do not rotate each quarter and do not require activation.
The Bank of America® Cash Back Rewards Credit Card starts you off with an APR of 0% for 15 billing cycles on purchases and balance transfers, followed by a regular variable APR that is based on your credit.
The signup bonus is standard for this type of card — easy to obtain but not very large. Cash back card rewards depend on the merchant category and quarterly limits on combined purchases.
When you're a student, every penny counts. The last thing you want to do is waste money on high interest credit cards. Fear not, these three student credit cards have you covered with low interest rates and plenty of other perks for the academically minded.
The Discover it® Student Cash Back card offers a promotional rate of 0% (6 months) to new cardmembers. After that, you'll be charged a variable APR that is dependent on your creditworthiness.
As a student, you can easily handle the required activation of the card's quarterly rotating bonus categories to earn the top cash back rate up to the purchase threshold. All other purchases earn 1% cash back. The Cashback Match feature doubles the rewards posted during the first year of ownership by new cardholders.
The Discover it® Student chrome is for students whose rigorous studies leave no time to mess with quarterly activations of bonus categories. It offers new cardmembers a short 0% promotional rate on new purchases, after which the card's variable purchase APR takes effect.
You get the customary Discover Cashback Match for the first year after account opening, in which new cardmembers receive a dollar-for-dollar match on all cash back rewards posted before the end of the 12th month. There is no signup reward, but you can get a reward for good grades, and really, isn't that more important?
The Bank of America® Cash Rewards Credit Card for Students offers new cardmembers a generous APR of 0% for 15 billing cycles on new purchases and 0% for 15 billing cycles on balance transfers. Afterward, you'll be assigned a variable APR based on your credit profile.
The card offers a signup bonus in which the reward amount is standard, but the required purchases are on the high side. Rewards are tiered and the higher rewards are capped at a set amount spent on combined purchases during the quarter.
The ideal credit card would have a low interest rate, generous rewards, great promotional offers, attractive perks, and minimal fees. This wonderful card is but a pipe dream for consumers with bad credit. However, certain features, such as low interest rates, can be found if you look hard enough.
While the Applied Bank® Secured Visa® Gold Preferred® Credit Card can't deliver fancy rewards and bonuses, it does offer an extremely low fixed credit card APR of 9.99%. It can pull this off because you collateralize this secured credit card with your cash deposit, thereby reducing the issuer's risk and the need for a defensively high APR.
You can get this card no matter what your past financial troubles. By paying your bill on time, your credit score can benefit from the card's monthly credit report schedule to the major credit bureaus — over time, you may be able to repair your credit enough to qualify for an unsecured card, and maybe even one for good credit.
The Savings Secured Platinum Rewards Credit Card demonstrates the advantages of a secured credit card issued by a credit union. You receive a low, fixed APR of 11.99% when you secure this card with a cash deposit to the State Department Federal Credit Union.
Amazingly, this card pays rewards for every dollar spent on purchases. The card also boasts low fees, Visa card benefits, and the possibility of graduating to an unsecured card when you use the card responsibly.
Credit One Bank® Visa® with Free Credit Score Access is your chance to get an unsecured credit card with interest rates that won't give you vertigo. You may have to pay an annual fee to get this card, depending on your credit rating.
The card pays cash back on selected purchases and automatically evaluates whether you've earned a higher credit line. By reporting your credit score, you can monitor your progress on your favorite credit report as you consistently pay your bill on time each month.
That's sort of a trick question. The answer is 0% APR, but only during the introductory period offered by many cards to new cardmembers. The intro period runs a minimum of six months, and at least one card, the U.S. Bank Visa® Platinum Card, is offering a 20-month introductory period.
The winner of the contest for the lowest non-promotional APR is the Applied Bank® Secured Visa® Gold Preferred® Credit Card. Its 9.99% APR blows the competition away and may make you wonder why bother with an unsecured credit card. But there's a catch — the Applied Bank® Secured Visa® Gold Preferred® Credit Card doesn't come with a grace period, meaning you begin to accrue interest the same day a purchase is made.
As we mentioned at the start, a 0% APR is available to any cardholder who always pays the monthly credit card balance in full. But if that were easy to do, you probably wouldn't be reading this article, no matter how sparklingly written.
The issuer of an unsecured credit card makes money through fees and interest. The range of APRs it assigns to each credit card depends on several variables, including the cardmember's credit profile and the costs faced by the card issuer.
The Credit Profile of Target Customers
A card that charges a high annual fee is aimed at affluent consumers. You would expect it to offer a fairly low (below 17%) APR to customers with excellent or good credit scores — in the 670 to 850 range on the FICO credit score range.
On the other hand, a card targeting applicants with subprime credit will charge a higher APR and heavier fees to compensate for the additional default risk among these cardholders.
Paradoxically, consumers with the worst credit may get access to the lowest interest rates — through secured credit cards. These cards represent a low-risk bet by issuers that card owners will pay their bills.
The cards are secured by cash collateral covering the owner's credit line, so any missed payments can be made good by deducting the shortfall from the cardmember's security account and reducing the credit limit accordingly. If this happens to you, you may be able to restore your credit line by depositing additional cash to the security account.
Many issuers of secured cards choose to compete on the basis of interest rate rather than benefits and perks, and we doubt this is just a coincidence.
Perhaps the owners of secured cards are more interested in saving money than in getting rewards and promotions. For one thing, virtually no secured card pays interest on security deposits — would cardmembers feel (and resent) that they were paying for perks with foregone interest?
We're confident that much research goes into how to market secured credit cards to attract the widest swath of consumers, and that issuers assign APRs based on their research results.
Credit Card Costs
Before a credit card company can turn a profit on a credit card, it must pay a number of costs. These include the cost of credit (i.e., the federal funds rate), the physical production and distribution of credit cards, payment network charges, administration of credit card accounts, and customer service. Not to mention card rewards and benefits, collections and defaults, losses due to fraud, and the cost of marketing and advertising.
All these factors are carefully weighed to determine the amount of revenue the card must generate to provide the issuer's required return on investment. The card's ROI is also constrained by the competition from similar cards — if a credit card company charges too much for its card, it may lose market share to a card with lower fees and interest rates.
Issuers must often trade off costs and benefits. For example, suppose a card is not earning enough revenue to generate the required profit margin. The issuer may introduce higher fees and/or raise APRs, but these changes will attract much (unwanted) attention. Perhaps the issuer would be better off jettisoning certain perks judged to be less important to cardmembers.
As a case in point, many issuers quietly slashed perks during the pandemic due to a fall-off in credit card use, especially in the travel credit card category. Rather than raise cardmember fees and interest rates, issuers dropped benefits like extended warranties, rental car coverage, travel insurance, and lost luggage protection.
These cuts affected only those cardmembers who would have taken advantage of the benefit. Whatever that number is, it's a smaller percentage than the 100% of cardmembers who'd be affected by higher APRs and fees.
To figure interest charges, card issuers apply your current annual percentage rate, or APR, to your average daily balance, taking into account interest-free grace periods and promotions.
A grace period is an interval between the last day of a card's billing cycle and the subsequent payment due date for that cycle. If a grace period is available, it must last at least 21 days, although many cards offer 25-day grace periods.
During the grace period, you are not charged interest for purchases you made in the most recent closed billing cycle if your account was up to date. If you always fully pay your credit card balance by the due date, you'll never pay a penny of interest for purchases charged on the card.
However, if you fail to pay the full amount by the due date, you'll start incurring daily interest based on your APR. Subsequent grace periods don't turn off the meter — you can only do that by repaying the balance in full.
Note that balance transfers and cash advances do not have grace periods — you start incurring interest on the very next day following the transaction. The APRs on these transactions may be different from the purchase APR, as can be seen in the following figure:
You can think of a 0% introductory APR offer as an extended grace period — from six months to 12, 15, 18, or more. Once the introductory offer expires, the card's regular APR and grace period take effect.
Most credit cards accrue interest daily. If you wanted to double-check the interest charge on your credit card statement, you can follow these steps:
Determine your average daily balance by tallying your balance for each day of the billing cycle and then dividing by the number of days in the cycle (normally 30 days)
Divide your APR by 365 to compute your daily periodic rate.
Multiply your average daily balance by the daily periodic rate, which gives you the average daily interest charge.
Multiply the average daily interest charge by the number of days in the cycle. This is your interest charge for the period.
For example, if your average daily balance is $2,000, the cycle is 30 days, and your APR is 24.9%, you would calculate your credit card interest charge as ($2,000 x 30 x 0.249 / 365), or $40.93.
Eagle-eyed readers will notice that this method of calculating interest results in daily compounding. In other words, you add today's interest charge to your current balance subject to interest to calculate the new daily balance.
Many credit cards have variable rates, so check your statement each month to see your current APR. Your statement will also tell you how long it will take to pay off your balance if you make only minimum payments. If your interest calculation differs from that on the statement, you can contact the issuer for an explanation.
Our friends over at WalletHub report that "the average credit card interest rate is 18.24% for new offers and 14.75% for existing accounts." While illuminating, the numbers need context if you want to know whether your supposedly low interest credit card is charging you too much.
Figure 1 depicted the impact on the APR based on the cardmember's FICO Score. Thus, a 10% to 13% APR is reasonable if your score exceeds 720, whereas you may expect a 22% to 25% APR if your score is between 580 and 669.
The numbers highlight one of the benefits of improving your credit score — you'll save money! Your exact APR will be tied to your creditworthiness, which is mostly reflected in your credit score.
However, it's quite possible that two individuals with an identical FICO score could receive different APRs when applying for the same credit card.
For example, suppose Jane raised her score from 600 to 700 by consistently paying her bills on time and keeping her credit utilization ratio below 20%. On the other hand, Joe recently saw his score drop from 800 to 700 because of late payments.
Even though they both share a FICO score of 700, Jane is more likely to get a better APR from Credit Card X than Joe. In other words, your credit history can influence the rate decisions that card issuers make.
You can take steps to raise your credit score and lower your interest rate, starting with paying your bills on time. You'll also want to reduce your credit card debt so your credit utilization ratio (i.e., credit used divided by total credit approved) falls below 30%.
Another helpful action is to keep older credit card accounts open and use them at least once a year. This will help preserve the average age of your credit accounts, a positive that accounts for 15% of your FICO score.
When working to raise your credit score, it's best to refrain from applying for new loans and credit accounts. Doing so will cause you to rack up hard inquiries on your credit files, a negative that accounts for 10% of your credit score.
The standard boilerplate found in credit card Schumer boxes recommends how to avoid paying interest on purchases using the card's grace period:
"Your due date is at least xx days after the close of each billing cycle. We will not charge you interest on purchases if you pay your entire balance by the due date each month."
Follow that advice and your APR will remain 0%, at least for purchases. But if your budget doesn't always permit full repayment, you will want to pay the least interest possible.
You can always shop around for a new credit card offering a lower APR. But as mentioned earlier, doing so will trigger hard pulls of your credit, which can damage your score. Moreover, you have no assurance that you'll be able to land a lower interest rate.
If you have high-interest cards with outstanding balances, you may consider getting a new card featuring a 0% introductory APR for balance transfers. This will allow you to consolidate your balances on one card and provide you at least six months to pay down your debt interest-free (fees apply).
Alternatively, you can see if your credit card issuer would be willing to reduce your purchase APR. If you've taken all the steps to improve your creditworthiness, you just may successfully negotiate a lower interest rate, knowing that looking for a replacement card is always an option.
Maintain realistic expectations when negotiating a lower interest rate. Keep your request reasonable by knowing what the competition is offering and remain unfailingly polite — you may want to try again later if your attempt isn't successful.
One of our regular contributors, Erica Sandberg, compiled 17 credit card fees, 14 of which do not involve interest. To summarize, these fees include:
Annual fees: These are one of the favorite ways for issuers to earn revenue, although many credit cards charge a small annual fee or no annual fee at all. Some cards delay charging this fee until the second year of card ownership. Premium cards may charge an annual fee exceeding $500, which helps pay for a boatload of expensive rewards and perks. Frequent travelers can choose among several premium travel credit card offerings to obtain desirable benefits, such as free access to airport lounges and enhanced redemption value of bonus points used to book travel with the issuer's travel agency.
Late payment fees: Most cards tack on a fee in the $28 to $39 range when you miss the due date for your current payment. A few cards waive the fee the first time you miss a payment or charge no late fees whatsoever. For example, the Discover it® Miles card and several of its siblings waive the first late fee. The Citi Simplicity® Card charges no late fees at all.
Over limit fees: Your credit card limit is printed on your monthly statement, indicating how much you can charge on your card before exhausting your credit line. If you attempt to spend beyond your limit, the issuer can charge you a fee, but you must have previously agreed to opt in. If you don't opt in for the fee, your attempted overlimit purchase will probably be declined, perhaps precipitating a mortifying moment of embarrassment as your boss looks on in horror from the table you booked at his favorite restaurant.
Foreign transaction fees: International travelers are rightfully sensitive to this fee, which typically ranges from 1% to 3% of each transaction. If you find this fee offensive, check out travel cards, including certain cards from Discover, Capital One, and American Express — that waive the foreign transaction fee.
Expedited payment fees: This little morsel may cost you an extra $10 to $20 if you almost forgot to pay your bill on time. You can avoid a late payment fee by making the payment due today on an expedited basis and coughing up the fee for the privilege.
Returned payment fees: When your check bounces, all hell can break loose. You'll be slapped with a returned payment fee in the $25 to $40 range by your credit card, plus bank fees and, if you are overdrawn elsewhere, fees from other interested parties as well.
Interchange fees: The interchange fee is paid by the merchant, not you. It allows the card payment to be processed and is unavoidable.
Cash advance fees: The fee for a cash advance is usually 3% to 5% of the requested amount. The APR for a cash advance may be higher than that for a purchase, and you'll be charged interest right away — there is no grace period.
Balance transfer fee: You usually will pay a fee between 3% and 5% for each balance transfer. The APR for a balance transfer may equal that for purchases but is sometimes higher, and interest begins accruing immediately.
Miscellaneous fees: These include a fraudulent usage fee (up to $50 if you don't report unauthorized charges right away), maintenance fees, origination fees, convenience fees charged by merchants, fees for adding authorized users, paper statement fees, and a fee for paying the IRS with your credit card.
Some fees make sense, while others are just excuses for separating you from your money. Avoid the fees you can and stoically pay the others.
We hope you found our review of the best credit card interest rates to be, well, interesting. You now know where to look when you want a card that charges a relatively reasonable APR.
You may be able to avoid interest charges in the short run, but sooner or later, they're likely to catch up with you and siphon some cash from your bank account. Interest is not quite in the same category as death and taxes, but by choosing your credit cards carefully, you may be able to limit their damage.