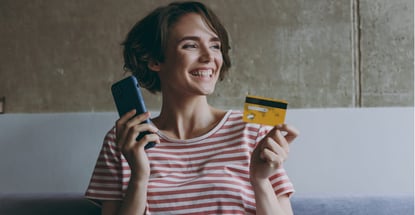 Today, the best subprime credit cards are not difficult to find. But you may have had a hard time qualifying for a new card in the past if your score was less than 620. 
Subprime issuers know that some people may not have the best credit history and still want to offer them a chance to build credit and enjoy the benefits of using a credit card.
It doesn't matter if you've filed bankruptcy in the past, have some negative marks on your credit report, or have no credit history at all. This list of the best subprime credit cards will help match you with the right options for your needs. 
Best Unsecured Cards For Subprime Credit
Credit cards for bad credit are often secured credit cards, but this isn't always the case. There are also unsecured credit cards for subprime credit, which means you won't need to pay a deposit. 
These credit cards have fewer requirements and are geared toward people with lower scores, so it shouldn't be hard to prequalify and open your account. 
The Surge Mastercard® is geared toward consumers with bad credit. Even though it's an unsecured card (meaning you don't have to make an initial deposit), it has a smaller initial credit limit when compared with other cards.
You may be able to increase your credit limit after six months of on-time payments. Applying for this card online is quick and easy, and it reports your account history to the three major credit bureaus to help you build credit.
The Reflex Mastercard® is another unsecured starter credit card to consider. The monthly maintenance fee for this card is often waived for the first year and kicks in during the second year. You'll get free access to your Vantage 3.0 and TransUnion credit scores when you sign up for e-statements.
The Reflex Mastercard® has a high late payment fee, so be sure to make your minimum payments on time each month or set up automatic payments. You can get prequalified for this card in minutes, but you will need an active checking account to apply and open your account.
The Total Visa® Card does not require an excellent credit score for approval. Your initial credit will be low, but it's a start to help you increase your score since all your payments get reported to the three major credit bureaus. The monthly fee is waived for the first year, but you'll be expected to pay it the second year. 
This card also charges a program fee to open your account and access your credit. This is a one-time fee, unlike an annual fee that gets charged each year. If you don't mind paying a program fee, you can apply online for this card and get a response in as little as 60 seconds.
The Milestone® Mastercard® – Less Than Perfect Credit Considered is one of the best subprime credit cards in terms of unsecured cards that don't require a deposit. You can get prequalified online in just minutes by providing a few personal details. While approval is not guaranteed, the card is designed for people with less-than-perfect credit looking to build or rebuild their credit profile. 
That said, there is an annual fee. However, the Milestone® Mastercard® also provides zero liability protection as well as Mastercard identity protection. Once you become a cardholder, you can manage your account online, pay your bill, and enroll in paperless billing on the website.
The Indigo® Mastercard® for Less than Perfect Credit provides 24/7 account management so you can monitor your account activity, pay your bill, and check your balance, among other features.
The annual fee for this card varies based on a review of your credit profile. You can prequalify for the card in seconds, and if you're approved after completing a full application, you can customize your card and activate it online.
The Merrick Bank Double Your Line® Mastercard® will report your payments to the three major credit bureaus to help increase your score with responsible use. And, after a few months of making on-time payments, Merrick Bank will double your credit line automatically. This card also comes with fraud alerts if it gets lost or stolen, 24/7 online access to your account, auto-pay, account alerts, and a free FICO score each month.
Even though the Surge Mastercard® has an annual fee, it may be justifiable if you're able to use this card to establish your credit history and boost your score.
Best Secured Cards For Subprime Credit
If you're looking to build your credit, one of the best options is to sign up for a secured credit card. Your bank, credit union, or an online financial institution may offer them. Yes, you will pay a deposit, but it's usually just a few hundred dollars, and it can help you establish positive financial habits and build a credit history.
Our experts have gathered the best secured cards for subprime credit so you can narrow down the top option for you.
Capital One offers a lot of quality banking and credit card options. The Capital One Platinum Secured Credit Card is ideal if you're looking to build your credit and upgrade to one of its unsecured rewards cards in the future. If you use the card wisely and pay your bill on time, you may be considered for a higher credit limit in just a few months.
Capital One will decide your security deposit amount based on your application details. Once you pay the deposit, you'll receive your card in two to three weeks. You'll also get to take advantage of some of Capital One's signature card benefits, including account alerts, $0 fraud liability, alerts on TransUnion or Experian credit score changes, and no foreign transaction fees.
The Applied Bank® Secured Visa® Gold Preferred® Credit Card has a low fixed APR and a low annual fee. As with most secured credit cards, there is no credit check or minimum credit score required. The major downsides of this card are that it has many fees and doesn't provide an interest-free grace period.
On the bright side, the 100% approval rate makes this card pretty attractive. If you have damaged credit and may not get approved for other cards, you can rest assured knowing you can start working on your credit with the Applied Bank® Secured Visa® Gold Preferred® Credit Card.
If you're looking for a secured credit card that helps you repair your credit and offers rewards, the Savings Secured Platinum Rewards Credit Card is a great option. This card has a lower APR, no annual fee, and provides you with a free credit score — all while reporting your payment history to the major credit bureaus.
You'll also earn rewards points per dollar spent, and these Flexpoints can be redeemed for gift cards, merchandise, hotel stays, and airline tickets, among other options. There's a 25-day grace period on your purchases, and you may be automatically upgraded to a Platinum Rewards Credit Card when you use your secured card wisely. 
The Discover it® Secured Credit Card is one of the best subprime credit cards that offers cash back rewards and charges no annual fee. Secured credit cards can be exceptional tools to help you build your credit, but they also don't have to be cards you use forever. 
Discover will perform automatic account reviews to see whether you qualify for an unsecured card after a few months. In the meantime, you can build credit by keeping your credit limit utilization low and paying off your bill on time each month.
The Bank of America® Customized Cash Rewards Secured Credit Card is another card that helps you build credit while earning cash back. Your security deposit is refundable, and the bank will assess your income and ability to pay the credit line when you apply. Bank of America will provide you with your free FICO score along with helpful education about credit scores and budgeting, among other important topics.
Over time, Bank of America will review your account and overall credit history, including other credit cards and loans you have, to determine if you qualify to have your security deposit returned. 
If you're looking to improve your credit, the Citi® Secured Mastercard® can help you get back on track. You can make a low refundable deposit to open your account and earn your deposit back later after using your card wisely. You can also choose your payment due date, which is helpful if you'd prefer to pay your bill whenever you get paid. 
If you make a late payment or a payment is returned, a higher, variable APR penalty may be applied to your account. Cardholders also receive automatic account alerts, $0 liability on unauthorized charges, and Citi identity theft protection. 
Best Bankruptcy OK Cards For Subprime Credit
If you've filed for bankruptcy, the negative mark can stay on your credit report for up to 10 years. But you can still obtain a credit card with bad credit and a past bankruptcy.
In fact, you'll want to consider a subprime credit card to help you start rebuilding your credit after bankruptcy. These two options are excellent choices. 
It may seem unheard of to find an unsecured card when you've filed for bankruptcy. But Celtic Bank issues the Indigo® Unsecured Mastercard® – Prior Bankruptcy is Okay. This is important to know if you have bad credit and a bankruptcy on your credit report because you likely don't want to waste time applying for a card you won't get approved for. 
You can easily see whether you prequalify online. There are some card fees to consider, including an annual fee that varies based on a review of your credit profile.
The OpenSky® Secured Visa® Credit Card is a subprime credit card that allows you to set your credit limit based on how much you can deposit for your credit line. Your payment due date is 25 days after the billing cycle has closed. 
There's no credit check required to apply, and your payments get reported to not just one credit bureau but all three. 
What Is a Subprime Credit Card? 
A subprime credit card is intended for someone who has a subprime credit score and likely won't qualify for a regular unsecured credit card. A subprime credit score ranges from 580 to 619, according to the Consumer Financial Protection Bureau.
Having a low personal credit score can make it challenging to qualify for a loan or line of credit with a reasonable interest rate. A subprime credit card can come in handy because it's designed to help you rebuild your credit score. 
Both secured and unsecured credit cards are available if you have bad credit. With an unsecured card, your available credit is determined by how much you can afford to deposit. Each monthly payment is reported to the three major credit bureaus to help you develop a positive payment history, ultimately increasing your credit score.
How Do I Apply For a Subprime Credit Card? 
You can apply for a subprime credit card online or via phone. In most cases, it's easier to apply online since you can get preapproved in just a few seconds. 
You may need a bank account and debit card to qualify for the card. Depending on the credit card company, it may pull your credit report or skip this step and only verify your income and ability to make payments. 
Having a bank account is often important for the credit card company to know that you have a way to pay your credit card bill each month.
What Is the Minimum Credit Score Required to Get a Credit Card? 
If you don't have good credit, you may have difficulty qualifying for a regular unsecured credit card. Some of the best rewards cards require excellent credit or a score that's at least in the mid-700s. Subprime card issuers don't have these requirements. 
There is often no minimum credit score required for a subprime credit card. And using one responsibly can help you achieve a prime credit score in the future. 
How Do I Compare Cards For Bad Credit? 
You're taking a great first step by using this article as your guide. To closely compare cards for bad credit, look at the features the card offers to see if any closely align with your spending habits.
But most importantly, review the fees a card charges, including the annual fee, interest rate, and whether there's a balance transfer offer. Does the card allow you to take out a cash advance, and what is the fee for this? You can also find out if the card has a foreign transaction fee. 
Credit card fees can add up quickly, but most fees can be avoided by choosing a card that doesn't charge an annual fee and paying your balance off each month.
Can I Get a Credit Card Without a Credit Check? 
Yes, though it's pretty rare. The Applied Bank® Secured Visa® Gold Preferred® Credit Card and OpenSky® Secured Visa® Credit Card are guaranteed approval credit cards that don't require a credit check when you apply. 
Other subprime card options may check your credit, but they may still approve you with bad credit. Plus, if you already have a bad credit score, getting your credit checked to apply for one of the cards on this list likely won't do a ton of further damage to your credit.
You can view this step as a minor sacrifice necessary to help you start building a positive credit history.
Can I Get a Business Credit Card With Subprime Credit?
Yes, you can get a subprime card if you're a business owner with bad credit. A few secured business credit cards are out there and provide a way for you to build business credit. 
One example is the Wells Fargo Business Secured Credit Card, which provides cash back on qualifying purchases and a credit limit of up to $25,000 (based on how much you deposit) with no annual fee.
Another example is the Business Edition Secured Visa Card from First National Bank of Omaha. This card provides credit limits of up to $100,000 (you must deposit 110% of your credit limit), but it charges an annual fee and doesn't provide rewards.
Using a secured business credit card responsibly can help you establish or rebuild business credit and qualify for prime credit cards in the future. 
How Do I Use the Card to Improve My Credit?
A credit card can be the best way to improve your credit score because you can borrow against your line of credit and pay a recurring monthly bill. While a personal loan may also help, depending on the circumstance, your account will close once you pay the loan off, and you won't be able to continue building a positive payment history. 
The first step in using a card to build credit is to make sure your card issuer reports to each major credit bureau (Equifax, Experian, and TransUnion). If you have a secured credit card, you shouldn't have to worry about this.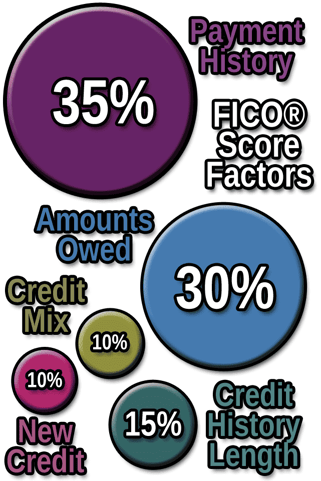 Next, keep your credit utilization below 30% of your credit limit at all times. This means if you open a secured credit card and have a limit of $400, you shouldn't spend more than 30% of that limit — or $120. 
Try only to use your credit card for certain purchases, and keep the balance low so you can pay it off in full each month. If you can't pay it off, make sure to pay at least the minimum payment due.
While it is better to pay the card off to avoid interest and credit card debt, make sure you pay at least the minimum to prevent fees and damage to your credit score. You can set up automatic payment transfers from your checking account to avoid missing a payment. 
Then, just let the card issuer or financial institution report your payments to each major credit bureau to help you build a positive payment history. Your payment history will improve your credit score over time.
Eventually, you may be able to upgrade to a better unsecured credit card with a higher credit limit. 
Compare the Best Subprime Credit Cards Online
As a subprime borrower, your options for credit are limited. Luckily, the best subprime credit cards can help you get back on track. 
While you may have to make an initial security deposit, these cards can help jump-start your journey to good credit. You don't have to have poor credit forever. Take the first step by exploring one of these credit cards that can help give you more financial options in the future.
Advertiser Disclosure
CardRates.com is a free online resource that offers valuable content and comparison services to users. To keep this resource 100% free, we receive compensation for referrals for many of the offers listed on the site. Along with key review factors, this compensation may impact how and where products appear across CardRates.com (including, for example, the order in which they appear). CardRates.com does not include the entire universe of available offers. Editorial opinions expressed on the site are strictly our own and are not provided, endorsed, or approved by advertisers.