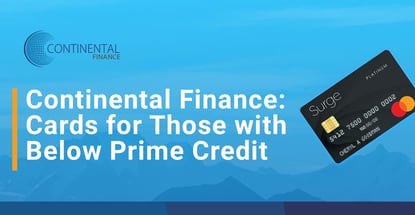 In a Nutshell: Consumers who have stumbled along their financial journey often have trouble regaining their footing because the credit industry tends to overlook subprime and near-prime consumers. But Continental Finance has been servicing this segment for more than 15 years. The company markets a suite of credit products designed for people who have less-than-perfect credit but are ready to demonstrate their creditworthiness and progress in their financial journeys. Continental Finance also understands the importance of everybody having access to credit in today's world, particularly in times like the COVID-19 pandemic when nearly every transaction took place virtually via debit and credit cards.
The credit system in the U.S. can feel like a catch-22 at times. In many cases, you need credit to get credit. So folks with no credit history or low credit scores can be met with serious challenges when they need a credit card.
This can also be an obstacle to rebuilding credit because, if you're unable to obtain a credit card, you won't be able to demonstrate that you are a creditworthy consumer who can make timely payments.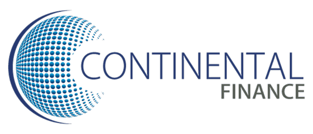 And many card issuers simply look at numbers on an application. They don't consider extenuating circumstances that may have led an otherwise responsible person to falter along their financial journey. Unexpected medical bills, having children with special needs, or being temporarily unemployed are all common scenarios that can present responsible folks with enormous economic challenges.
But companies like Continental Finance are focused on helping consumers with less-than-perfect credit obtain credit cards and prove their creditworthiness.
"The company has been marketing, decisioning, and servicing credit cards in the below- to near-prime credit segment since 2006 and is one of the longest-tenured participants in this market today," said Continental Finance President and Founding Member, Steve McSorley. "Our goal is to provide industry-leading customer service to the credit-challenged market, consistent with the level of service provided by American Express."
We recently spoke with McSorley, along with Chief Administrative Officer and Founding Member, Bill Knotts, to learn more about Continental Finance, the credit products it offers, and why accessing credit is extremely important in today's world.
Launching a Company Aimed at Consumers Who Are Often Overlooked in the Credit Market
"Bill and I — as well as our three other Founding Members — we've all been in the financial services-slash-credit card sector for virtually our entire careers," McSorley said. "I would say each of us has 30-plus years of experience."
McSorley said the vast majority of that experience has been in the subprime and near-prime credit markets.
He explained that the founding members of Continental Finance crossed paths in the financial realm in the late 1990s and began formulating ideas to launch their own business.
"We looked at what we saw some businesses were doing well and identified some areas of opportunity where we thought we could do better than what some others were doing in the marketplace," McSorley said. "We saw where we could really separate ourselves from how others service this particular sector."
He said people who have had credit troubles in the past tend to be left behind when it comes to receiving the quality of service they deserve.
"And they're paying higher rates and higher fees, while not necessarily getting the same level of service they would get if they were in the prime market," McSorley explained. "We set out to treat these customers with the respect they deserve. They've often had a life-altering event that caused their situation."
McSorley acknowledges that a certain number of consumers are habitually poor money managers, and some are simply bad actors.
"But I still believe that most people in this country are good and decent people who want to do the right thing," he said. "And that's what we're here to try and do — help these people, in some cases reestablish credit where they've lost it because of a life-altering event."
Offering a Variety of Cards to Suit Consumer Needs
"Continental Finance is one of America's leading marketers and servicers of credit cards for consumers with less-than-perfect credit," according to the company. "Whether you have fair, poor, or limited credit, we can provide a product that is right for you."
Knotts said that letting subprime and near-prime consumers know they may be able to obtain a credit card via direct mail is one of Continental Finance's main strategies.
"Just like anyone else, we'll go to the credit bureaus and we'll prequalify or preapprove someone for a direct mail piece," Knotts said. "We mail out millions of direct mail pieces per month."
Continental Finance also offers a streamlined online experience for potential customers as well.
"Someone can come in and take a look and see if they prequalify for one of our cards, anywhere from $300 to $1,000 (initial credit limit)," Knotts said. "We'll let them know if they prequalify without doing a hard pull through a bureau. Instead, we do a soft pull, let them know what they qualify for, and once they qualify, that's when a hard pull is done, at the tail end when they accept the actual offer that's presented to them."
He said this approach has been very successful for Continental Finance and customers appreciate that there doesn't have to be a hard pull on their credit every time they want to see if they may qualify.
Continental Finance provides an array of unsecured card market offerings for consumers who are looking to either build or rebuild their credit.
The company currently markets five different Mastercard branded products, and consumers with all credit types are welcome to apply. The relatively low credit limits allow consumers to get their foot back in the door without the possibility of becoming overwhelmed by credit card bills. Continental Finance reports payments to all three credit bureaus and helps clients rebuild their credit.
McSorley said Continental Finance also offers opportunities for customers to increase their credit limits in as little as six months.
"Double-Your-Credit Limit card products are also popular products with consumers as they have the opportunity to double their respective initial credit limit after six consecutive monthly on-time payments after account opening," he said. "For example, if a consumer had an initial $500 credit limit and then proceeded to make six consecutive on-time monthly payments over the next six months, their credit limit would be increased to $1,000."
He said this approach keeps with the company's philosophy of slow and grow, meaning consumers get rewarded based on positive payment histories.
The Importance of Credit Access
One of the underpinnings of Continental Finance's model is providing access to credit to consumers who may not otherwise be able to tap into the credit world.
McSorley discussed just how crucial it is to help people gain this access.
"One important thing that the Covid pandemic has taught us all is that credit access for people with less-than-perfect credit is not simply a luxury, but an essential part of their financial lives," he said.
As the country was in lockdown, nearly all transactions were done virtually through the use of debit or credit cards, McSorley said.
Watch on
"Those without credit were largely left behind. While COVID was one aspect of why people with less-than-perfect credit need such financial tools, there are myriad other reasons," he said. "The responsible use of credit, combined with a positive repayment history can lead to increased credit scores.
"This, in turn, can lead to better rates and fees when it comes to big-ticket purchase items such as cars and homes," McSorley explained.
With respect to judging creditworthiness, consumers are evaluated based on credit bureau and non-credit bureau data, and application information, including income levels, among other factors, he said.
And Continental Finance follows up its commitment to credit accessibility with quality service.
"CFC has a dedicated customer support team that understands the importance of helping customers manage credit responsibly," according to the company. "Our goal is to provide each customer with the highest level of customer support, including providing all the necessary educational tools in order for them to be successful in managing their personal credit."
Developing New Products with Lower Fees
McSorley said Continental Finance is continually refining its products and looking at ways to present new products that will help consumers.
"The company is actively developing credit card products with a lower fee structure, which will help bolster its position in the marketplace," he said. "Testing of these products will occur over the remainder of the year."
In addition to the lower fee products, the company is also embarking on commercializing a higher initial credit limit product of $1,500, which will be marketed to the low prime consumer segment, who have demonstrated their ability to manage credit, as well as expand their credit capabilities," McSorley said.
Advertiser Disclosure
CardRates.com is a free online resource that offers valuable content and comparison services to users. To keep this resource 100% free, we receive compensation for referrals for many of the offers listed on the site. Along with key review factors, this compensation may impact how and where products appear across CardRates.com (including, for example, the order in which they appear). CardRates.com does not include the entire universe of available offers. Editorial opinions expressed on the site are strictly our own and are not provided, endorsed, or approved by advertisers.