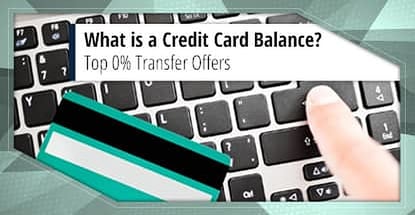 The word "balance" generally represents stability, whether referring to an equal distribution of weight or your mental well-being. This, of course, doesn't have quite the same meaning in regards to your credit card. So, what is a credit card balance?
When you get a new credit card, you'll receive a monthly statement summarizing the previous month's purchases, even if there were none. In bold letters, usually somewhere near the top of the statement, you'll see the word BALANCE — this is what "credit card balance" means – the amount you owe to the credit card company for any transactions made using the card.
While some might not be able to avoid carrying a balance, most can avoid paying interest on a balance with the right card offers, and we'll show you how. In this article, we'll take a closer look at credit card balances, how to transfer balances from one card to another, and explore some of our top choices for balance transfer cards on the market today.
Definition | Balance Transfers | 0% Intro Offers
Your Balance is the Amount You Owe on the Card
Your credit card balance can be positive, negative, or zero. A positive balance reflects any amount owed to the credit card company while a negative balance reflects a balance owed to you. This can happen when you make a payment that is larger than what you owe, for example, having a $1,000 balance and making a $1,200 payment. The remaining $200 will be applied to your next purchase(s) until you've been credited the full $200.
Your balance includes a few things, not just purchases made with the card. There are interest charges — determined by your creditworthiness at the time of applying — and fees, such as an annual fee or late payment fees, that can be added to the amount you owe.
The good news is there are cards that don't charge interest for an extended period when you transfer an existing balance and/or on new purchases; cards with no annual fees; and even cards that charge no interest or annual fees, like the ones we'll cover below.
You Can Transfer Your Balance from One Card to Another
A balance transfer lets you transfer an existing balance from one card to another with a lower – oftentimes 0% — interest rate. This helps you pay off your balance much faster, as more of your payment is going toward the amount you owe rather than continually accruing interest.
The accruing interest is what makes it so difficult to pay off a credit card in the first place if you have a high balance with a high interest rate.
A balance transfer calculator can show you how much you could potentially save by getting a card with a 0% interest rate. These promotional APRs are generally good for 12 to 18 months, though some cards will periodically offer longer terms.
Below are the best balance transfer offers currently available, all with no annual fees and extended 0%-intro APR periods. Some even come with additional perks, like cash back and free FICO scores, but you must have good credit to qualify.
+ See More Balance Transfer Offers
You can save a significant amount of money if you can score up to 18 months paying no interest, particularly if you carry a large balance. Just watch out for balance transfer fees, which are generally 3% to 5% of the amount being transferred.
Also, a balance transfer can be done with more than one card. For example, if you have two cards with balances that are being charged interest, you can request to have both balances transferred to the new card, so long as the credit limit you're approved for accommodates it – just know that you'll be charged a balance transfer fee per balance transferred, and you likely will not earn rewards for transferred balances.
Avoid Interest on New Purchases with a 0% Intro APR Offer Card
Even if you don't have a current balance that would benefit from a 0% interest rate, everyone can benefit from a card that doesn't charge interest on new balances.
Just as balance transfer cards allow for an extended period of interest-free payments, 0%-intro APR cards allow new cardholders to pay no interest on all qualifying purchases for an extended period. It's essentially a free loan, which you certainly can't get from any bank.
Below are our expert's favorite 0%-intro APR offers currently available. The offers include cash back and free FICO scores, among other perks and protections only afforded through a credit card.
Cards with 0% introductory APRs offer a great way to make purchases without having to pay interest fees, but be sure to understand when the 0% APR period ends or else those interest fees will start stacking up.
Always Keep Your Balance Below 30% of Its Limit
One of the most important factors in calculating your credit score is your credit utilization ratio. This ratio represents how much debt you have (your balances) in relation to your credit limits. Most experts recommend keeping your balance below 30% of a card's available limit, so, for example, if you have a credit card with a $3,000 limit, keeping your balance below $900 will help ensure your debt doesn't negatively impact your credit score.
When you're able to keep your credit card balances low, and even pay no interest on said balances, you can keep your credit cards and your financial well-being, well, balanced!
Advertiser Disclosure
CardRates.com is a free online resource that offers valuable content and comparison services to users. To keep this resource 100% free, we receive compensation for referrals for many of the offers listed on the site. Along with key review factors, this compensation may impact how and where products appear across CardRates.com (including, for example, the order in which they appear). CardRates.com does not include the entire universe of available offers. Editorial opinions expressed on the site are strictly our own and are not provided, endorsed, or approved by advertisers.