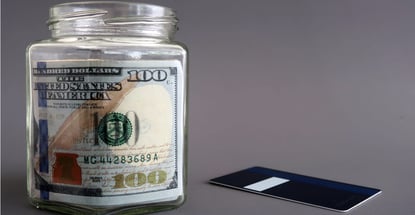 Credit cards offer many perks, from convenient payment options to robust reward programs to multiple layers of protection, including extended warranties and fraud alerts. But carrying even a small balance on your credit card will cost you big thanks to interest charges.  
Paying interest doesn't just make everything you buy more expensive, but it essentially voids any rewards you earned on those purchases. More importantly, interest will quickly accumulate when you carry a balance that can make it increasingly difficult to pay down and create a vicious debt cycle.
Though Americans experienced a decline in credit card debt during the pandemic, it is back on the rise as consumers return to their new normal way of life. The average US household had $8,006 in credit card debt by the end of 2021. With the average credit card interest rate hovering around 16%, carrying a balance will become expensive fast.
Wiping away credit card debt should be a top priority in 2022, and the faster you do it, the more you will save. Here are eight ways to pay down debt quickly.
1. Pay More than the Minimum Due
Credit card companies require cardholders to make a minimum monthly payment based on the total amount of debt they owe. But take a closer look, and you will see that interest charges make up a good portion of this payment amount. 
This means that most of the money you pay goes toward credit card fees rather than paying down your actual balance. 
While the minimum payment makes borrowing money for purchases more affordable, it's wasting your hard-earned dollars that can be going toward other financial goals, such as saving for a big purchase. 
Whatever you do, aim to pay more than the minimum due each month, even if you can only afford to pay a few extra bucks. Aim to pay double or triple the minimum amount due to pay off debt faster and save more on interest in the long run.
2. Automate Payments
Automating your payments keeps you on track to meet your debt payoff goal without having to think about it. The easier you make it to reach a goal, the more likely you are to succeed. This set-it-and-forget-it strategy also ensures you never miss a payment, which prevents additional fees or penalties from accumulating.
In addition to keeping up with your regular monthly payment, making a few small additional payments throughout the month will help chip away at your balance faster. Consider setting up additional weekly payments for an amount of money you won't miss, even if it's just $5 or $10.
3. Negotiate Your Interest Rate
Interest rates aren't set in stone and securing a lower interest rate could be as simple as asking. As long as you have a history of on-time payments and other responsible behavior with your current credit card issuer, you may have luck getting your interest rate lowered. 
Below is an example of how your card's APR impacts your debt payoff goals: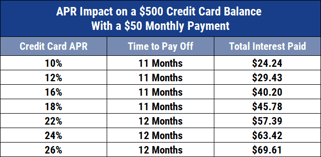 This is especially smart to look into if you have been slapped with a penalty APR in the past for missing payments of 60 days or more since penalty APRs can soar to nearly 30%. As long as you have made timely payments for six consecutive months, you should be able to get the penalty rate removed from your account. 
The worst that can happen is that your credit card company says no, so it's worth a shot. This move will save you a considerable amount in fees paid to the credit card company and will ultimately help you pay off debt faster.
4. Get a Balance Transfer Credit Card
Opening a new credit card while trying to pay off another may seem counterintuitive, but promotional offers can make your goal easier to achieve. Many credit card companies offer 0% interest on balance transfers for up to 18 months or longer. 
A new balance transfer card can give you plenty of time to pay off your debt fast since you won't be on the hook to pay any additional fees. Compare our top-rated balance transfer cards to find one that will work best for you:
0% Intro APR for 21 months on balance transfers from date of first transfer and 0% Intro APR for 12 months on purchases from date of account opening. After that the variable APR will be 18.24% – 28.99%, based on your creditworthiness. Balance transfers must be completed within 4 months of account opening.
There is a balance transfer fee of either $5 or 5% of the amount of each transfer, whichever is greater
Get free access to your FICO® Score online.
With Citi Entertainment®, get special access to purchase tickets to thousands of events, including concerts, sporting events, dining experiences and more.
No Annual Fee – our low intro rates and all the benefits don't come with a yearly charge.
| | | | | |
| --- | --- | --- | --- | --- |
| 0% 12 months on Purchases | 0% 21 months on Balance Transfers | 18.24% – 28.99% (Variable) | | |
Additional Disclosure: Citi is a CardRates advertiser.
No Late Fees, No Penalty Rate, and No Annual Fee… Ever
0% Intro APR for 21 months on balance transfers from date of first transfer and 0% Intro APR for 12 months on purchases from date of account opening. After that the variable APR will be 19.24% – 29.99%, based on your creditworthiness. Balance transfers must be completed within 4 months of account opening.
There is an introductory balance transfer fee of $5 or 3% of the amount of the transfer, whichever is greater for balances transfers completed within 4 months of account opening.
Stay protected with Citi® Quick Lock
| | | | | |
| --- | --- | --- | --- | --- |
| 0% Intro APR Period 12 months on Purchases | 0% Intro APR Period 21 months on Balance Transfers | 19.24% – 29.99% (Variable) | | |
Additional Disclosure: Citi is a CardRates advertiser.

at Discover Card'ssecure website
INTRO OFFER: Unlimited Cashback Match – only from Discover. Discover will automatically match all the cash back you've earned at the end of your first year! There's no minimum spending or maximum rewards. You could turn $150 cash back into $300.
Earn 5% cash back on everyday purchases at different places you shop each quarter like grocery stores, restaurants, gas stations, and more, up to the quarterly maximum when you activate. Plus, earn unlimited 1% cash back on all other purchases—automatically.
Discover could help you reduce exposure of your personal information online by helping you remove it from select people-search sites that could sell your data. It's free, activate with the mobile app.
Every $1 you earn in cash back is $1 you can redeem
No annual fee.
Terms and conditions apply.
| | | | | |
| --- | --- | --- | --- | --- |
| 0% Intro APR for 6 months | 0% Intro APR for 18 months | 17.24% – 28.24% Variable APR | | |
Just make sure you don't rack up charges on the old card or add any more debt to your current credit card balance. A balance transfer will apply to each transfer you make if you have multiple credit cards with balances. Just make sure your new balance transfer card has a credit limit to support the amount of your transfers.
5. Choose the Best Payoff Strategy
Creating a debt payoff plan is key to staying on track to reach your goal. This includes figuring out how much you can realistically afford to pay toward your monthly debt payments and tracking your efforts. 
But deciding which credit cards to pay off first or how much to put toward each balance can be confusing. It's worth exploring two popular payoff plans: the Debt Snowball Method versus the Debt Avalanche Method.
The popular Snowball Method is a debt repayment strategy that focuses on paying down your smallest balance as aggressively as possible while only paying the minimum due on other credit cards. This allows you to experience a quick win early on, which is said to help people feel more motivated and hopeful in their journey to becoming debt-free. 
Once the first credit card balance is paid off, you move on to the credit card with the next-highest balance, which creates a snowball effect that allows you to pay more toward that debt and can help you feel like your goal is within reach.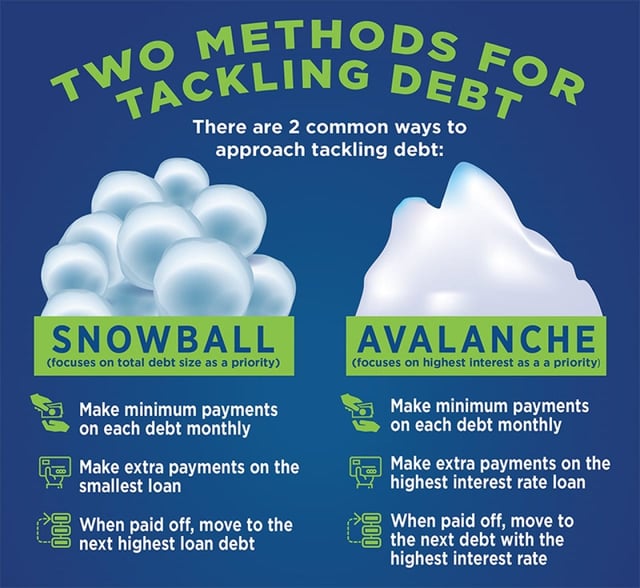 But for some people, these small wins aren't as motivating as the idea of saving money on interest, in which case the Debt Avalanche Method may work better. 
The Avalanche Method focuses on paying down the balance with the highest interest rate first. While this strategy may take longer to pay off your debt, you will save more money in the long run. 
You can use an app such as Debt Payoff to help you figure out which debt repayment strategy will work best for you to reach your goal faster.
6. Apply For a Personal Loan
If you're carrying balances across multiple accounts, consider using a personal loan to consolidate your debt. When applying for a personal loan for the purpose of debt consolidation, otherwise known as a debt consolidation loan, you apply for a lump sum that would cover all your balances. 
The lender will most likely pay your debts directly, leaving you on the hook to make just one monthly payment at a fixed interest rate. Since personal loans typically offer lower interest rates than do credit cards, you can save a considerable amount of money on credit card fees. 
Credit card consolidation makes it easier to manage one monthly payment rather than trying to remember different credit card payment due dates, which may cause you to pay late and get slapped with additional penalty fees.
7. Increase Your Cash Flow
Cutting out discretionary purchases can help free up money to put more toward credit card payments, but it still may not be enough to make big dents in your debt. It's a good idea to go through your monthly expenses and cut the waste from your budget by canceling unnecessary services or unused subscriptions and memberships.
But, sometimes, the only way to get ahead financially is to make more money.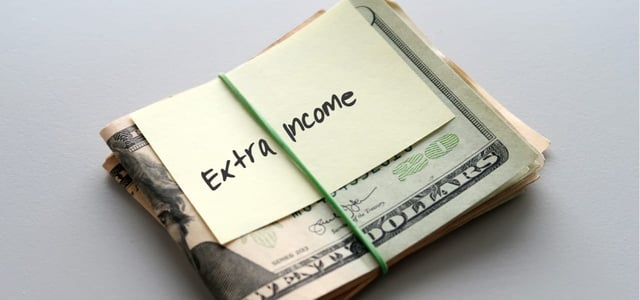 The fastest way to pay down debt is to earn some extra money and put that cash toward your balances. While there are many different jobs you can get to supplement your income and pay off debt faster, finding an opportunity that offers flexibility in how you earn and when you work can make this more feasible, especially if you have a tight schedule or a family to raise. 
You could take on a side hustle in your spare time and work as much or as little as your time allows. Some gigs you can do right from home when your schedule allows. 
For instance, you can offer virtual tutoring services on nights and weekends at Varsity Tutors or Tutors.com, perform drop deliveries through the Roadie app, or make up to $1,000 a month dog sitting on Rover.com.
Any extra money you rake in with these side hustles should go directly toward your credit card balances to help you become debt-free faster.
8. Debt Settlement
If you're in over your head and the amount you owe is just too much to handle right now, you may qualify for debt settlement. Debt settlement usually requires you to have no less than $10,000 in unsecured credit card debt to qualify. You may have to undergo credit counseling, and your credit score will take a hit. 
Debt settlement is a negotiation between you and your card issuer (or a third-party provider) to determine a payoff amount for less than you owe. Your account will be closed, meaning you can no longer use your credit card, and you'll settle on a payment schedule to pay off the lower negotiated amount. 
How to Remain Debt-Free
As you work to pay off debt, consider how you can manage your credit card balances moving forward to avoid falling into the same financial trap in the future. Here are some credit management tips to keep you out of debt.
Set a Budget and Monitor Spending
Credit card balances can grow quickly when you don't pay attention to every purchase. Setting a budget is the first step in controlling where your money goes. But you also have to monitor your spending to ensure you're sticking to the plan and don't overspend.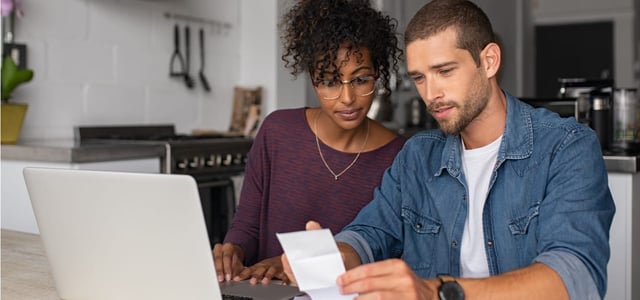 While tracking expenses can be done on paper or with an Excel spreadsheet, several apps make this process effortless by doing the work for you. 
For example, Mint links all your financial accounts in one place, categorizing your spending so you can check in to see whether you're on track. You can even set budget alerts that hold you accountable for your spending limits. Other options include You Need A Budget and PocketGuard.
Pay Off Purchases Immediately
Cutting up your credit cards is one way to prevent revolving debt, but you can benefit from the rewards and payment convenience without taking on debt as long as you pay off your purchases immediately. 
Treat your credit card like a debit card and only charge what you know you can afford based on what's in your bank account. This keeps your balance in check and allows you to take advantage of the perks your card offers.
Identify and Avoid Spending Triggers
As you work toward paying off debt, think about what behaviors got you there in the first place. Did you rack up charges because you couldn't resist a sale, or give in to FOMO by trying to keep up with a lifestyle you couldn't afford? 
Identifying what caused you to overspend can help you come up with a plan to avoid those situations and the temptation to spend in the future and keep debt at bay as you build a more secure financial future. 
Save For Emergencies
Credit card debt isn't always a result of poor spending choices. In many cases, it accumulates fast when a series of unplanned bills or a costly emergency pops up. Unfortunately, many people are not financially prepared for the unexpected. 
In fact, a study from Bankrate.com found that more than half of Americans can't cover a $1,000 emergency expense, and that is a sure way to rack up debt.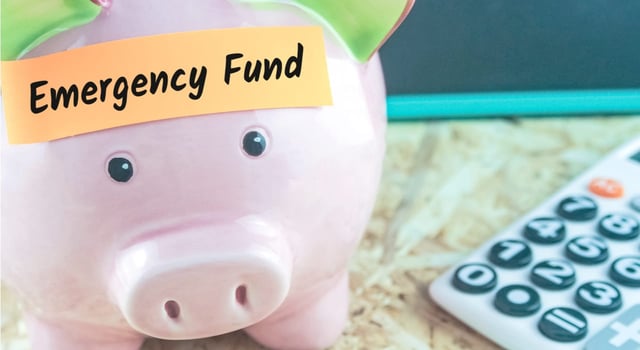 The best defense against using credit cards to cover unexpected expenses is to establish an emergency savings account separate from your regular checking or other savings funds. Aim to put away around three months' worth of living expenses for emergencies.
Choose a Strategy and Stick to the Plan
Paying off debt can be done quickly with proper planning. Do your research to determine which strategy will work best for your personal circumstances and stick to the plan. Becoming debt-free will open many more financial doors in the future and allow you to reach various life goals faster, not to mention the good credit score you'll likely achieve. 
Advertiser Disclosure
CardRates.com is a free online resource that offers valuable content and comparison services to users. To keep this resource 100% free, we receive compensation for referrals for many of the offers listed on the site. Along with key review factors, this compensation may impact how and where products appear across CardRates.com (including, for example, the order in which they appear). CardRates.com does not include the entire universe of available offers. Editorial opinions expressed on the site are strictly our own and are not provided, endorsed, or approved by advertisers.