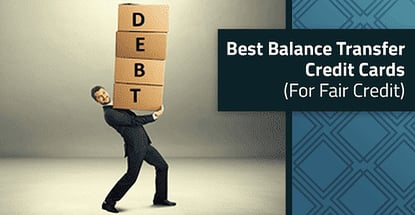 When it comes to balance transfer credit cards, fair credit scores aren't necessarily the most desirable to credit card companies. But there are some options available — read on for our top picks for credit cards that may work well for a fair credit rating.
Imagine you are renting a storage unit for $50 a month. One day you find another company that will rent you a similar storage unit for $30 a month. Since it's obviously a better deal, you move the contents from the pricier storage unit to the less expensive one — and save $20 each month.
Now, replace "storage unit" with "credit card," and you have the essence of a credit card balance transfer. The idea is to move your balance from a card with a higher interest rate to one with a lower interest rate, thus reducing your interest charges.
Unfortunately, when you have fair credit, it isn't always easy to find a cheaper storage unit (metaphorically), as the most valuable balance transfer credit card offers tend to be reserved for those with the best credit. However, your fair credit may still give you a few options.
Intro APR | Low Ongoing APR | Consolidation Loans
Best "Introductory APR" Credit Cards for Fair Credit
The crème de la crème of credit card balance transfers, cards with introductory APR offers can be a great way to obtain a much lower interest rate, at least for a time. Intro-APR deals provide a temporary low APR (or even 0% APR, depending on the offer) for a set period of time, typically at least six months.
Even better, introductory offers typically don't use deferred financing, meaning you won't be charged back interest if you can't pay off your entire balance transfer before your terms expire. Due to the pandemic, however, card issuers have tightened lending restrictions, and 0% offers are hard to come by for any credit rating.
That said, the few offers available for fair credit are only for students:
at Bank Of America'ssecure website
$200 online cash rewards bonus after you make at least $1,000 in purchases in the first 90 days of account opening.
Earn 3% cash back in the category of your choice, automatic 2% at grocery stores and wholesale clubs (up to $2,500 in combined choice category/grocery store/wholesale club quarterly purchases) and unlimited 1% on all other purchases.
No annual fee and no expiration on rewards.
0% Introductory APR for 18 billing cycles for purchases, and for any balance transfers made in the first 60 days. After the intro APR offer ends, 17.49% - 27.49% Variable APR will apply. A 3% fee applies to all balance transfers.
When handled responsibly, a credit card can help you build your credit history, which could be helpful when looking for an apartment, a car loan, and even a job. Access your FICO® Score for free within Online Banking or your Mobile Banking app.
Contactless Cards - The security of a chip card, with the convenience of a tap.
This online only offer may not be available if you leave this page or if you visit a Bank of America financial center. You can take advantage of this offer when you apply now.
| | | | | |
| --- | --- | --- | --- | --- |
| 0% Intro APR for 18 billing cycles for purchases | 0% Intro APR for 18 billing cycles for any balance transfers made in the first 60 days | 17.49% - 27.49% Variable APR on purchases and balance transfers | | |
Additional Disclosure: Bank of America is a CardRates advertiser.
2. Wells Fargo Cash Back College℠ Card
This card is currently not available.
While intro-APR offers can net you a lot of savings, especially if your current interest rate is particularly high, most of these offers will include some type of balance transfer fee. Generally 3% to 5% of the transferred balance, the balance transfer fee can be steep if you have a lot of debt to move.
Additionally, remember that introductory deals are introductory, so they won't last forever. Once your introductory period has ended, your remaining balance will be charged the default balance transfer APR. You can find the default APR for your particular card in your cardholder agreement.
Best "Low Ongoing APR" Credit Cards for Fair Credit
In some cases, an introductory APR deal may not be an option, or it may not provide enough time to pay off your whole balance. Either way, another solid balance transfer solution is to choose a credit card with a low default APR. These cards always have a lower APR than their competition, so you won't have to worry about time running out on your rate.
Since your interest rate is based on your credit profile, of course, the difficult part can be simply finding a card with a low ongoing APR that will accept fair-credit applicants. One way around this is to go for a secured credit card with an initial deposit that mitigates the issuer's risk. The expert-rated options on our list have ongoing APRs as low as 9.99%.
Earn 1% Cash Back Rewards on payments!
No minimum credit history or credit score required.
Past credit issues shouldn't prevent you from getting a credit card with great benefits & rewards!
Accepted wherever Mastercard® is accepted, online and worldwide!
Reports to all 3 major credit bureaus.
Manage your statements, transactions & rewards on-the-go with the First Progress Card Mobile App!
Earn 1% Cash Back Rewards on payments made to your First Progress Secured credit card account.
No minimum credit history or credit score required!
Imagine being rewarded for simply paying your bill each month.  
Accepted wherever Mastercard® is accepted, online and worldwide!
Reports to all 3 major credit bureaus
Manage your statements, transactions & rewards on-the-go with the First Progress Card Mobile App!
at Capital Bank N.A.'ssecure website
No credit check to apply and find out instantly if you are approved
OpenSky gives everyone an opportunity to improve their credit with an 85% average approval rate for the past 5 years
Get considered for a credit line increase after 6 months, with no additional deposit required
You could be eligible for the OpenSky Gold Unsecured Card after as few as 6 months
Reports to all 3 major credit bureaus monthly, unlike a prepaid or debit card
View your FICO® Score through your OpenSky account, an easy way to stay on top of your credit
Although some consumers are hesitant to pursue a secured credit card due to the required deposit, the benefits can often outweigh the immediate inconvenience. For one thing, your credit limit is directly tied to your deposit size (typically equal to 90% to 100% of your deposit), and you can usually increase your deposit — and, thus, your credit limit — at any time.
Furthermore, unlike some unsecured credit card fees, your secured credit card deposit will be returned to you when you close your account (provided your account is in good standing). Not only that, but since the deposit resides in a locked savings account while your credit card is open, you'll often earn a modest interest rate on your deposit, to boot.
Best Credit Card "Consolidation Loans" for Fair Credit
At the end of the day, you may not qualify for a credit card with a lower APR than you're currently paying. Or, worse, you qualify for the card, but the credit limit you're offered falls short of what you need to transfer. In this case, your best option may not be a balance transfer at all but, instead, a consolidation loan.
Ideally, a good consolidation loan not only puts all of your debt in one place, but it does so for a much lower rate than you're currently being charged. Loans are structured to minimize risk, so they tend to have lower average APRs than revolving credit lines. This means your fair credit will likely score a lower rate on a loan than most credit cards offer. Our top loan providers are online lending networks that can provide multiple quotes at once.
Loan amounts range from $1,000 to $35,000
All credit types welcome to apply
Lending partners in all 50 states
Loans can be used for any purpose
Fast online approval
Funding in as few as 24 hours
Loan amounts range from $500 to $10,000
Compare quotes from a network of lenders
Flexible credit requirements
Easy online application & 5-minute approval
Funding in as few as 24 hours
Loan amounts range from $1,000 to $35,000
Flexible credit requirements
Loans can be used for anything
Five minute application
Funding possible in as few as 24 hours
Large lending network with multiple partners
When considering a consolidation loan, always look at each factor of the loan, not solely the monthly payment or APR. For instance, the length of your loan can dramatically impact the cost of your loan, both by influencing your monthly payment and the total amount of interest you pay. Longer loans may provide smaller monthly payments but will usually cost more interest overall.
For example, consider a hypothetical borrower, Jameson, who takes out a loan for $5,000 with a 15% APR. If Jameson takes five years to repay his loan, his monthly payment will be $119, and he'll repay a total of $7,137, including $2,137 in interest fees. If Jameson repays his loan in three years, on the other hand, his monthly payment will be $173, and he'll repay $6,239, including only $1,239 in interest charges.
Improve Your Credit for More Balance Transfer Options
When it comes to finding the best options, having fair credit is a lot like comparison shopping in a small town — your options are limited. Just as there are only so many storage rental businesses in a small town, only so many balance-transfer-worthy credit cards are avilable on the market.
But while the only way to open up your storage unit options is to drive to the next town, you can improve your credit options simply by using your credit responsibly. Positive credit use, including paying all of your bills as agreed upon and on time, being judicious when opening new credit accounts,  and maintaining low balances can typically improve your credit score in just a few months, opening you to many new credit possibilities.
Advertiser Disclosure
CardRates.com is a free online resource that offers valuable content and comparison services to users. To keep this resource 100% free, we receive compensation for referrals for many of the offers listed on the site. Along with key review factors, this compensation may impact how and where products appear across CardRates.com (including, for example, the order in which they appear). CardRates.com does not include the entire universe of available offers. Editorial opinions expressed on the site are strictly our own and are not provided, endorsed, or approved by advertisers.