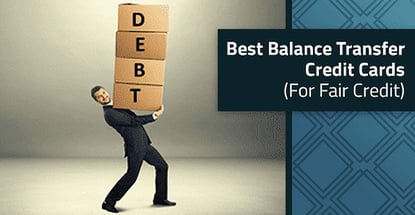 Imagine you are renting a storage unit for $50 a month. One day you find another company that will rent you a similar storage unit for $30 a month. Since it's obviously a better deal, you move the contents from the pricier storage unit to the less expensive one — and save $20 each month.
Now, replace "storage unit" with "credit card," and you have the essence of a credit card balance transfer. The idea is to move your balance from a card with a higher interest rate to one with a lower interest rate, thus reducing your interest charges.
Unfortunately, when you have fair credit, it isn't always easy to find a cheaper storage unit (metaphorically), as the most valuable balance transfer credit card offers tend to be reserved for those with the best credit. However, your fair credit may still give you a few options.
Best "Introductory APR" Credit Cards For Fair Credit
The crème de la crème of credit card balance transfers, cards with introductory APR offers can be a great way to obtain a much lower interest rate, at least for a time. Intro-APR deals provide a temporary low APR (or even 0% APR, depending on the offer) for a set period of time that lasts at least six months.
Even better, introductory offers typically don't use deferred financing, meaning you won't be charged back interest if you can't pay off your entire balance transfer before your terms expire. Due to the pandemic, however, card issuers have tightened lending restrictions, and 0% offers are hard to come by for any credit rating.
That said, the few offers available for fair credit are only for students:
While intro-APR offers can net you a lot of savings, especially if your current interest rate is particularly high, most of these offers will include some type of balance transfer fee. Generally 3% to 5% of the transferred balance, the balance transfer fee can be steep if you have a lot of debt to move.
Additionally, remember that introductory deals are introductory, so they won't last forever. Once your introductory period has ended, your remaining balance will be charged the default balance transfer APR. You can find the default APR for your particular card in your cardholder agreement.
Best "Low Ongoing APR" Credit Cards For Fair Credit
In some cases, an introductory APR deal may not be an option, or it may not provide enough time to pay off your whole balance. Either way, another solid balance transfer solution is to choose a credit card with a low default APR. These cards always have a lower APR than their competition, so you won't have to worry about time running out on your rate.
Since your interest rate is based on your credit profile, of course, the difficult part can be simply finding a card with a low ongoing APR that will accept fair-credit applicants. One way around this is to go for a secured credit card with an initial deposit that mitigates the issuer's risk. The expert-rated options on our list have ongoing APRs as low as 9.99%.
Although some consumers are hesitant to pursue a secured credit card due to the required deposit, the benefits can often outweigh the immediate inconvenience. For one thing, your credit limit is directly tied to your deposit size (typically equal to 90% to 100% of your deposit), and you can usually increase your deposit — and, thus, your credit limit — at any time.
Furthermore, unlike some unsecured credit card fees, your secured credit card deposit will be returned to you when you close your account (provided your account is in good standing). Not only that, but since the deposit resides in a locked savings account while your credit card is open, you'll often earn a modest interest rate on your deposit, to boot.
Best Credit Card "Consolidation Loans" For Fair Credit
At the end of the day, you may not qualify for a credit card with a lower APR than you're currently paying. Or, worse, you qualify for the card, but the credit limit you're offered falls short of what you need to transfer. In this case, your best option may not be a balance transfer at all but, instead, a consolidation loan.
Ideally, a good consolidation loan not only puts all of your debt in one place, but it does so for a much lower rate than you're currently being charged. Loans are structured to minimize risk, so they tend to have lower average APRs than revolving credit lines. This means your fair credit will likely score a lower rate on a loan than most credit cards offer. Our top loan providers are online lending networks that can provide multiple quotes at once.
Loan amounts range from $1,000 to $35,000
All credit types welcome to apply
Lending partners in all 50 states
Loans can be used for any purpose
Fast online approval
Funding in as few as 24 hours
Loan amounts range from $500 to $10,000
Compare quotes from a network of lenders
Flexible credit requirements
Easy online application & 5-minute approval
Funding in as few as 24 hours
Loan amounts range from $1,000 to $35,000
Flexible credit requirements
Loans can be used for anything
Five minute application
Funding possible in as few as 24 hours
Large lending network with multiple partners
When considering a consolidation loan, always look at each factor of the loan, not solely the monthly payment or APR. For instance, the length of your loan can dramatically impact the cost of your loan, both by influencing your monthly payment and the total amount of interest you pay. Longer loans may provide smaller monthly payments but will usually cost more interest overall.
For example, consider a hypothetical borrower, Jameson, who takes out a loan for $5,000 with a 15% APR. If Jameson takes five years to repay his loan, his monthly payment will be $119, and he'll repay a total of $7,137, including $2,137 in interest fees. If Jameson repays his loan in three years, on the other hand, his monthly payment will be $173, and he'll repay $6,239, including only $1,239 in interest charges.
What Is a Balance Transfer Credit Card?
A balance transfer credit card accepts transfers of the existing balances on your other credit cards. You use it to consolidate multiple card balances, often at an introductory 0% annual percentage rate (APR). 
By taking advantage of a 0% APR promotion, you can pay down your remaining balance and reduce your overall debt. Typically, the promotional period runs six to 21 months after opening a new credit card account. This interval is an extended grace period in which you avoid interest charges on your transferred balances.
Once the promotional period ends, you'll pay the regular APR on any remaining transferred balance. By seeking a credit card with a long introductory period (typically 15+ months), you'll have more time to pay off the transferred balances and avoid interest charges.
Balance transfer cards usually charge a 3% to 5% transaction fee for each transfer. Many impose a 60-day deadline to complete the transfers participating at the 0% rate.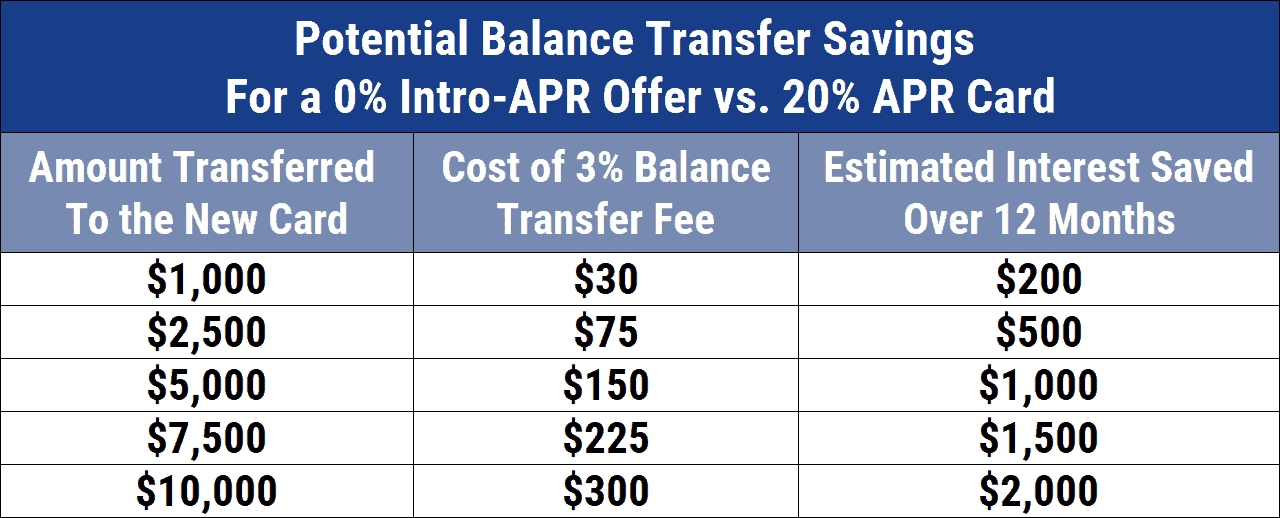 It's crucial to always make at least the minimum monthly payment during an intro 0% APR period. Failure to do so may cause the card to cancel the promotion and begin charging interest on your remaining balance. Moreover, a late payment will cause the card to slap you with a late fee and possibly increase your APR to a penalty rate.
In other respects, balance transfer cards act similarly to any other credit card. Many couple the balance transfer promotion with a 0% intro APR on purchases. If you have fair credit, the card's rewards, benefits, and credit limit will be modest at best.
How Do You Perform a Balance Transfer?
Below are five steps for performing a balance transfer:
Research the best zero-balance-transfer credit cards available for someone with fair credit, such as the ones reviewed in this article.
Apply for the card that suits you best. You should compare each card's balance transfer introductory period, fees, credit limit, and interest rates.
Submit your transfers by entering online the existing credit card numbers and account balances you want to transfer. If the new credit card's issuer approves your application, it will transfer the current balances, subject to your available credit limit.
Transfer non-credit-card debts if you want to, and the issuer allows it. You may have to arrange these transfers by speaking with your credit card's customer service department. Alternatively, you can request and write balance transfer checks to move existing balances under the same promotional terms.
Continue to pay the minimum monthly payments on your existing cards until you receive confirmation of the transfers' success. It may take a week or two to complete the process.
You can accomplish this process online, but feel free to call a customer representative for personalized assistance. Remember to complete your transfers before any issuer-imposed deadline.
How Much of Your Credit Limit Can You Use For a Balance Transfer?
The credit card issuer sets your overall credit limit when you apply for a new credit card. The issuer may allow you to use 100% of your limit for balance transfers or impose a lower cap on the credit available for this purpose. 
Some credit card companies place a limit on the amount you can transfer within a set period. For example, Chase credit cards set a $15,000 limit on balance transfers within a 30-day period.
You need to know the amount of credit you can devote to balance transfers before deciding which card to get. If your balance transfer limit is too low, you won't be able to move all your balances to your new card. 
This limitation defeats one of the main reasons to undertake balance transfers – to reduce the number of monthly credit card payments to one. Since you will pay the regular APR on balances you don't transfer, you'll divert money to pay for interest instead of concentrating solely on paying off the consolidated balance.
Remember to include the impact of transfer fees when determining how much credit you have to support balance transfers.
How Do Balance Transfers Affect My Credit Score?
A balance transfer's impact on your credit score depends on several factors, including your existing card debt, the new balance transfer card's credit limit, and what you do with old credit cards after transferring away their balances.
Credit scoring systems such as FICO and VantageScore consider the balances on your credit card accounts relative to your credit limits. The higher your balances, the higher your credit utilization ratio (CUR). The lower your CUR, the better your credit.
Your CUR will decrease when you get a new credit card since you'll have a new credit limit with no additional balance. Shifting balances among multiple cards will have little or no impact on your CUR. But you'll continue to reduce your CUR by paying down the consolidated balance.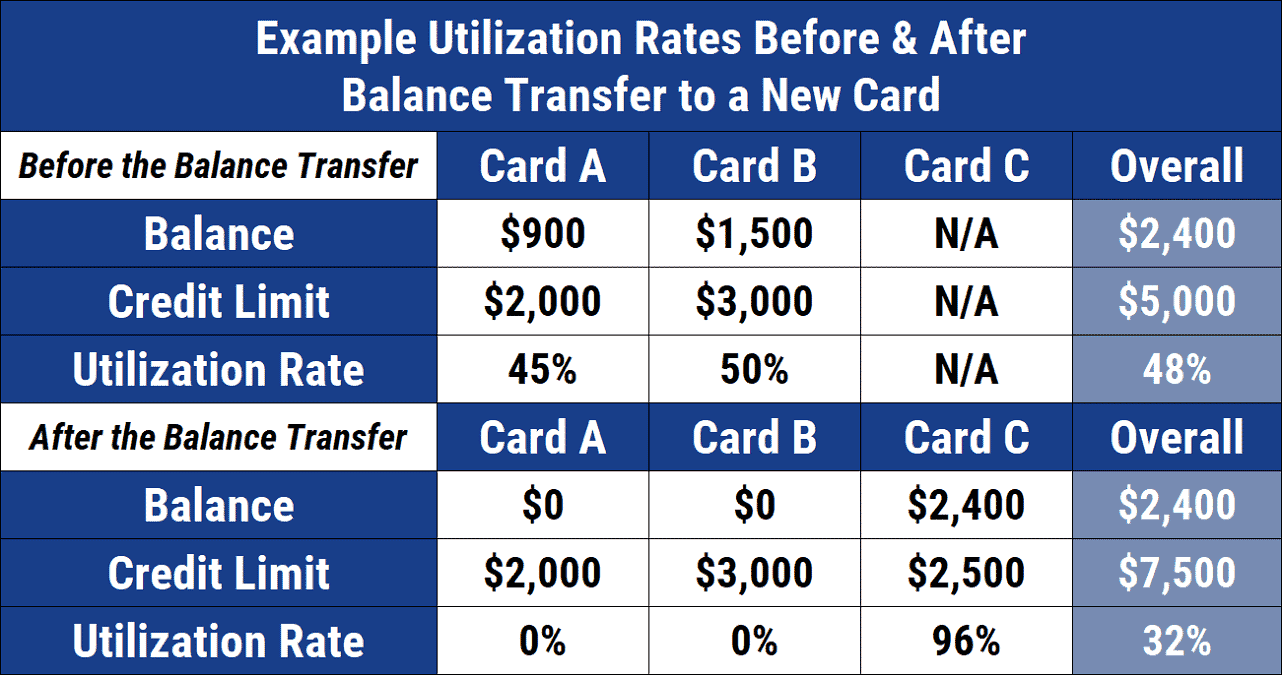 The next step determines the overall impact of your transfer strategy. You must decide whether to put your old cards on the shelf until you repay the entire transferred balance. Placing your old cards on ice prevents you from building up new balances that boost your CUR and hurt your credit score. 
The most efficient strategy for building credit is to only use your new credit card, pay in full for all your credit card purchases every month, and use additional funds to pay down your transferred balance.
Another impact on your credit score is the hard inquiry the new card issuer makes when you apply for a new account. A single hard credit pull will not significantly affect your credit score. But applying for multiple new cards within a short period can negatively affect your score. 
In addition, adding a new card reduces the average age of your credit accounts, another possible blow to your credit score. From a scoring perspective, the older the average age of accounts on your reports, the better it is for your credit score.
Overall, a successful balance transfer strategy has a positive credit score impact if it lowers the amount of your credit card debt.
Are Balance Transfers Better Than Personal Loans For Debt Consolidation?
As helpful as balance transfers are, they are not always the best way to consolidate and reduce debt, as the strategy may encounter one or more stumbling blocks. A personal loan may be a better way to consolidate your existing debt.
Those stumbling blocks include the following:
You may not qualify for a new credit card.
You may not be eligible for a new credit card with a 0% intro APR on balance transfers.
The credit limit on your new balance transfer card may be too low to consolidate all your outstanding balances.
The introductory 0% APR period may expire before you've repaid the transferred balances.
A personal loan is an interesting alternative when your balance transfer strategy faces obstacles. True, a personal loan won't give you a 0% APR grace period. But its APR should be less than the regular APRs on your current credit cards, meaning it can save you money when you use the proceeds to pay off your existing balances.
Also, you may be able to borrow more through a personal loan than with a balance transfer card. You repay personal loans in monthly installments that can extend for five years or more. A longer loan term makes the monthly payments more affordable but will also increase the total interest you pay.
Ideally, you will find the balance between cost savings and affordable monthly payments.
Improve Your Credit for More Balance Transfer Options
When it comes to finding the best options, having fair credit is a lot like comparison shopping in a small town — your options are limited. Just as there are only so many storage rental businesses in a small town, only so many balance-transfer-worthy credit cards are available on the market.
But while the only way to open up your storage unit options is to drive to the next town, you can improve your credit options simply by using your credit responsibly. Positive credit use, including paying all of your bills as agreed upon and on time, being judicious when opening new credit accounts,  and maintaining low balances can typically improve your credit score in just a few months, opening you to many new credit possibilities.
Advertiser Disclosure
CardRates.com is a free online resource that offers valuable content and comparison services to users. To keep this resource 100% free, we receive compensation for referrals for many of the offers listed on the site. Along with key review factors, this compensation may impact how and where products appear across CardRates.com (including, for example, the order in which they appear). CardRates.com does not include the entire universe of available offers. Editorial opinions expressed on the site are strictly our own and are not provided, endorsed, or approved by advertisers.