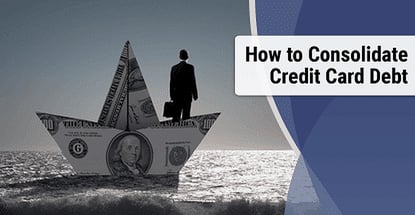 Carrying around high-interest credit card debt can sometimes feel like being in a boat with a leak; if you don't address the problem, you'll find yourself underwater before you know it. But trying to pay down that credit card debt while high interest fees pile on top can start to feel like trying to bail out your boat with a spaghetti strainer. Sure, you may eventually get the water out of the boat — but it's hardly the most effective method.
You may want to look at how to consolidate credit card debt. Whether done through a balance transfer or a loan, credit card consolidation can simplify your life by turning multiple credit card bills into a single payment. And, when done successfully, consolidation can also provide a significantly lower interest rate, making that single payment much easier to afford. So, let's take a closer look at how to consolidate credit card debt using these methods, and explore several tips that may make the consolidation process a bit smoother.
Balance Transfer | Consolidation Loan | Tips for Consolidating
Use a Credit Card Balance Transfer Offer to Consolidate
Just as duct-taping your colander can make bailing out your boat that much easier, lowering — or, better yet, eliminating — your interest fees can make paying down your credit card debt more affordable. And since zero is the most affordable rate of all, the best way to lower your credit card interest fees is through an introductory 0% APR balance transfer credit card offer.
Readily available to most consumers with good to excellent credit, introductory 0% APR offers allow you to enjoy zero-interest balance transfers for the duration of the promotional period, which typically extend 12 months or more. In fact, some of our favorite balance transfer credit card offers provide up to 18 months interest-free on your transferred balance.

at Discover Card'ssecure website
INTRO OFFER: Unlimited Cashback Match – only from Discover. Discover will automatically match all the cash back you've earned at the end of your first year! There's no minimum spending or maximum rewards. You could turn $150 cash back into $300.
Earn 5% cash back on everyday purchases at different places each quarter like Amazon.com, grocery stores, restaurants, and gas stations, up to the quarterly maximum when you activate. Plus, earn unlimited 1% cash back on all other purchases – automatically.
Discover helps remove your personal information from select people-search websites. Activate by mobile app for free.
Every $1 you earn in cash back is $1 you can redeem.
No annual fee.
Click "Apply Now" to see terms and conditions.
| | | | | |
| --- | --- | --- | --- | --- |
| 0% Intro APR for 6 months | 0% Intro APR for 18 months | 16.24% - 27.24% Variable APR | | |
at Bank Of America'ssecure website
New longer intro period! 0% Introductory APR for 21 billing cycles for purchases, and for any balance transfers made in the first 60 days. After the intro APR offer ends, 16.24% - 26.24% Variable APR will apply. A 3% fee (min $10) applies to all balance transfers.
No annual fee.
No penalty APR. Paying late won't automatically raise your interest rate (APR). Other account pricing and terms apply.
Access your FICO® Score for free within Online Banking or your Mobile Banking app.
Contactless Cards - The security of a chip card, with the convenience of a tap.
This online only offer may not be available if you leave this page or if you visit a Bank of America financial center. You can take advantage of this offer when you apply now.
| | | | | |
| --- | --- | --- | --- | --- |
| 0% Intro APR for 21 billing cycles for purchases | 0% Intro APR for 21 billing cycles for any balance transfers made in the first 60 days | 16.24% - 26.24% Variable APR on purchases and balance transfers | | |
Additional Disclosure: Bank of America is a CardRates advertiser.
No Late Fees, No Penalty Rate, and No Annual Fee... Ever
0% Intro APR for 21 months on balance transfers from date of first transfer and 0% Intro APR for 12 months on purchases from date of account opening. After that the variable APR will be 18.49% - 29.24%, based on your creditworthiness. Balance transfers must be completed within 4 months of account opening.
There is an introductory balance transfer fee of $5 or 3% of the amount of the transfer, whichever is greater for balances transfers completed within 4 months of account opening.
Stay protected with Citi® Quick Lock
| | | | | |
| --- | --- | --- | --- | --- |
| 0% Intro APR Period 12 months on Purchases | 0% Intro APR Period 21 months on Balance Transfers | 18.49% - 29.24% (Variable) | | |
Additional Disclosure: Citi is a CardRates advertiser.
+See More Balance Transfer Credit Cards
Although the best balance transfer intro-APR offers are generally reserved for those with the best credit scores, you may still find a quality balance transfer introductory offer with fair credit. Keep in mind that fair-credit balance transfer offers will likely have a shorter duration and/or higher promotional APRs than provided by the offers available to those with good credit.
Additionally, nearly every major credit card will charge a balance transfer fee when you transfer a balance to that card. These fees typically range from 3% to 5% of the total transferred balance, and these fees are usually included in the limits on the total amount you can transfer to a particular card. Most cards without balance transfer fees will also lack extra perks, like credit card rewards.
For the most part, you'll have the option to specify which balances you'd like to transfer to a particular card during the application process for that card. Completion of a balance transfer requested during application will require that you are both approved for that card and have an available credit line large enough to accommodate your transfer and any applicable fees.
You can also transfer a balance to an existing card (providing you have an appropriate credit line on that card), which can usually be completed through your online credit card account. Some introductory balance transfer offers will require qualifying balance transfers to occur within a specific time period after opening the card, most commonly within the first 90 days. Read your cardholder agreement for specific details.
In general, if you can qualify for a good 0% APR offer, it's almost always a good idea to take advantage of it, even if you can't transfer all of your high-interest balances to the card. That's because you'll be hard-pressed to find a personal loan offering 0% APR (or anything close, really), so it's often a better deal even with balance transfer fees.
The main exception to this advice is if you need longer than the introductory period to pay off your balance. The introductory APR will revert to the default APR at the end of the promotional period, so be sure to pay off your transferred balance before then. You may want to set a calendar or email alert to remind you when your introductory APR period is coming to an end so you're not surprised with double-digit interest rates on your remaining balance.
Use a Personal Installment Loan to Consolidate
While balance transfer credit cards can be a great way to consolidate your credit card debt, it isn't always the best option for every consumer. This is particularly true in cases in which your credit won't qualify for a good offer, as well as cases in which your balances are simply too high to transfer to a single card. In both situations, personal installment loans are often the next best option for saving on your credit card debt.
Installment loans are called such because of the repayment method; you'll repay your loan via a series of regular installments across the duration of your loan. Because they're meant to be used as longer-term financing, loans tend to have lower APRs than other financing methods. Using an online lending network, such as our expert-rated picks below, can be an easy way to compare offer terms from multiple lenders.
Loan amounts range from $500 to $35,000
All credit types welcome to apply
Lending partners in all 50 states
Loans can be used for any purpose
Fast online approval
Funding in as few as 24 hours
Loan amounts range from $500 to $10,000
Compare quotes from a network of lenders
Flexible credit requirements
Easy online application & 5-minute approval
Funding in as few as 24 hours
Loan amounts range from $1,000 to $35,000
Flexible credit requirements
Loans can be used for anything
Five minute application
Funding possible in as few as 24 hours
Large lending network with multiple partners
A successful consolidation loan will have a much lower APR than is charged by any of the credit cards you are trying to consolidate, but that isn't the only factor of a good consolidation loan. You should also look to balance an affordable monthly payment with reasonable financing charges to avoid overpaying for your loan and undercutting your consolidation savings.
To determine the actual cost of a loan, you'll need to look at more than the APR and monthly payment. Your loan cost will also depend on the length of your loan. Shorter loans will have higher monthly payments, but lower overall costs due to fewer interest rate fees, while the opposite is also true.
The actual process of consolidating your credit card debt with a personal loan is simple, as most personal loans will be deposited into the bank account of your choice within a few days of approval. At that point, your loan is essentially cash that can be used to pay off any credit card balances you wish to consolidate, using whichever manner in which you typically make your credit card payments (through your online account, in a bank branch, etc.).
Tips for Successful Credit Card Debt Consolidation
All in all, the keys to successful credit card consolidation are fairly basic. You need to obtain a lower APR than you're currently being charged, and you'll likely need a single place to put all of the balances you need to consolidate. So, the first step is to lay out your credit card debts and look at how much you owe and what you're being charged for it.
With a list of your credit card debts in front of you, you can determine how much you owe and what your target APR should be to save money on interest fees. Then, it's simply a matter of finding the credit card or loan that meets your needs.

For example, consider Cindy, who has three credit cards with balances she would like to consolidate, which have the APRs and balances shown in the chart above. The total amount of credit card debt that Cindy needs to consolidate is $7,575, and the lowest APR charged by any of her target credit cards is 16.99%.
Based on her situation, if Cindy chooses to use a consolidation loan, she'll need to take on a loan for $7,575. If she chooses to use a balance transfer offer, Cindy will need to qualify for a credit line equal to $7,575, plus any balance transfer fees, which, if charged, will likely range from $227.25 (3%) to $378.75 (5%).
Additionally, Cindy will need to obtain a balance transfer offer or personal installment loan that charges an APR below 16.99% to see an interest rate savings on all of her balances. Realistically, however, to see an appreciable amount of savings, Cindy will want to find a significantly lower APR, at least several full percentage points lower than her average APR. She'll save the most money by decreasing her APR as much as possible.
Simplify Your Debt — And Your Life
When you're stuck in a boat taking on water, chances are you'll use any tool at hand to help bail your boat out of danger. But while a hole-riddled scoop is better than nothing, it's hardly the best way to keep your boat from sinking.
High interest fees are the holey scoops of the credit card world, making it feel nearly impossible to bail yourself out of credit card debt. Consolidating your debt with a low-interest balance transfer offer or personal installment loan can help you trade your colander for a bucket, making it easier and faster to reach debt freedom.
Of course, all of the time and effort you put into successfully consolidating your credit card debt won't be of much long-term use if you don't address the heart of the problem: overspending. A vital part of taking control of your personal debt is to determine how you got into debt in the first place — and take steps to avoid a repeat performance.
Advertiser Disclosure
CardRates.com is a free online resource that offers valuable content and comparison services to users. To keep this resource 100% free, we receive compensation for referrals for many of the offers listed on the site. Along with key review factors, this compensation may impact how and where products appear across CardRates.com (including, for example, the order in which they appear). CardRates.com does not include the entire universe of available offers. Editorial opinions expressed on the site are strictly our own and are not provided, endorsed, or approved by advertisers.