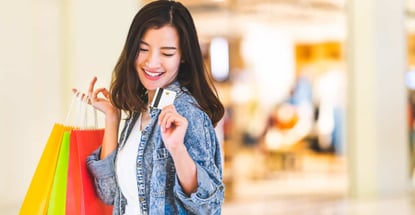 A $2,000 credit limit on a credit card for fair credit is pretty, well, fair, especially if said credit card is unsecured. For example, $2,000 is probably enough to handle your monthly grocery and gasoline purchases or a modest vacation.
Our review examines several fair-credit credit cards that allow you a $2,000+ credit line. If your FICO score lies in the fair range (580-669), one or more of these cards may deserve a slot in your wallet.
Best Credit Cards For Fair Credit Offering a $2,000+ Limit
Credit card limits depend on several factors, such as your creditworthiness, income, and payment history. The following cards for fair credit will likely give you a $2,000 limit, but it may take many months to get there.
According to the issuer, the initial credit limit for the Capital One Platinum Credit Card is typically $300. After you demonstrate responsible credit use and make on-time payments for several months, this unsecured credit card may increase your credit limit to $3,000 or more, according to forum comments. 
Capital One does not guarantee credit limit increases nor the time it will take to achieve them. The issuer periodically reviews accounts and offers credit limit increases at its discretion. Overall, this is the group's best credit card.
Despite the issuer's refusal to reveal credit card limits, our review finds that the initial limit for the Capital One QuicksilverOne Cash Rewards Credit Card is typically between $300 and $1,500. Forum contributors point to periodic increases that can reach $5,000 or more. Indeed, regular account reviews are part of this reward card's marketing spiel.
A forum member reports that the Fortiva® Mastercard® Credit Card allegedly reduced a $2,850 limit to $700, indicating that $2,000+ limits are possible. In this case, Fortiva allegedly explained the cut as a consequence of inactivity in the prior 90 days. We do not know if this is an actual policy, but it may be that you have to use this card regularly to maintain your credit limit.
The Capital One Quicksilver Student Cash Rewards Credit Card credit limit ranges from $750 to an unusually high $10,000. The card's website confirms this high limit through its monthly spending rewards calculator, which tops out at $10,000. We would be astonished if many students received an initial credit limit anywhere near the maximum.
Surge® Platinum Mastercard® will give you a credit limit as high as $2,000 in six months – if you pay your bills on time. It is one of a few unsecured credit cards that double your credit after a set period. But since the initial credit limit can be as low as $300, yours may be only $600 after six months. In that case, your journey to $2,000 will take substantially longer.
The Reflex® Platinum Mastercard® is identical to the Surge Platinum Mastercard in all but name. Their issuer, Celtic Bank, promotes these double-your-limit cards with the promise of up to a $2,000 credit line after six months of timely payments. The only difference between the cards we could suss out is that Reflex doesn't offer Surge's premium card design option.
According to online forums, getting a $2,000 or higher credit limit from the Discover it® Student Cash Back appears quite possible. For example, one forum contributor claims a limit of $2,750. Some parents may question the wisdom of an unsecured credit card for students with high credit limits, but others will welcome the financial cushion it gives their children.
What Is Fair Credit?
"Fair credit" describes a credit score in the 580-to-669 range on the FICO scale. This credit score may limit your ability to qualify for credit products, although the impact is less than that for bad credit. It also may result in a higher interest rate or less favorable terms when compared to individuals with higher credit scores.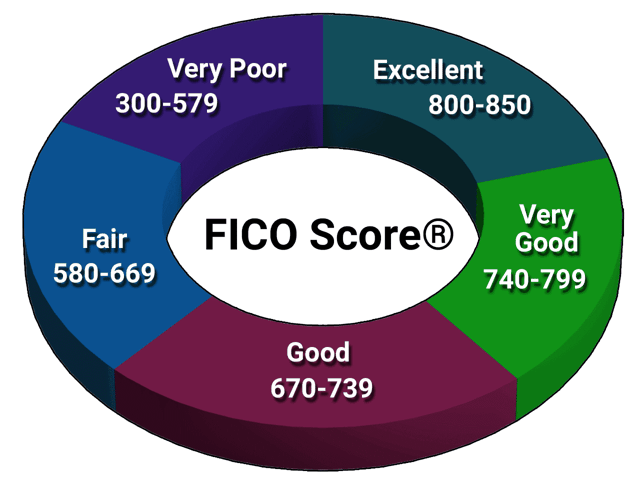 Lenders widely use the FICO scoring model to evaluate an individual's creditworthiness. Fair Isaac Corporation developed this system and labeled it after the company's name. The system accounts for an individual's credit history and uses a mathematical algorithm to generate a credit score ranging from 300 to 850. The higher the credit score, the better the individual's creditworthiness.
The FICO scoring system considers several factors when determining an individual's credit score, including payment history, credit utilization, length of credit history, types of credit used, and recent credit inquiries. The weight of each factor varies by its relative correlation to future defaults.
Creditors use credit scores to assess their risk level and determine whether to approve a loan or credit card application. A higher credit score may result in lower interest rates and better loan terms, while a lower credit score may lead to higher interest rates or even denial of credit.
Having fair credit means you have a moderate risk of defaulting on credit payments, and lenders may view you as a risky borrower. Therefore, monitoring your credit score regularly and taking steps to improve it is vital. 
How Can I Improve My FICO Score?
Just because your credit score is in fair territory is no reason to assume it will stay there. Here are several ways to improve your FICO score:
Remember, everyone's credit profile is different, and what works for one person may not work for another. Focus on adopting good credit habits and monitoring your credit report to track your progress.
What Is a Good Credit Limit For Fair Credit?
The credit limit for an individual with fair credit will depend on several factors, such as income, credit history, debt-to-income ratio, and the credit card issuer's policies. 
Generally, individuals with fair credit may qualify for credit limits ranging from $500 to $2,000, but some credit card issuers may offer lower or higher credit limits.
It's essential to use credit responsibly, make timely payments, and avoid accumulating too much debt. These factors can negatively impact your credit score and limit your future access to credit.
How Much Should I Spend With a $2,000 Credit Limit?
A $2,000 credit limit doesn't necessarily mean you should spend it all. Instead, aim to carry only a small balance over multiple months, ideally below 30% of your available credit. Doing so can help maintain a healthy credit utilization ratio (CUR), an important factor in calculating credit scores.
Your CUR, which is the amount of credit you're using divided by your total available credit, significantly impacts your credit score. Let's say you have one credit card with a credit limit of $5,000, and your current balance is $2,100. Your CUR would be $2,100 ÷ $5,000 = 0.43 or 43%.

Credit scoring models typically consider your overall CUR and the CUR of individual credit accounts. VantageScore recommends you keep your CUR below 30%, but FICO prefers you keep it even lower to maintain a healthy credit score. The lower your CUR, the higher your credit score.
But remember that your CUR can change monthly, depending on your spending and payment habits.
Using your credit card for purchases you can pay off in full each month is an excellent strategy for rebuilding credit and avoiding high debt. 
Remember, your credit limit may be higher than your planned spending limit. It's essential to stay within your budget and only use your credit card for purchases that you can afford to pay back.
How Do I Request a Credit Limit Increase?
If you want to request a credit limit increase, you can follow these general steps:
Review your credit report and score: Ensure you have improved your credit score and history before requesting a credit limit increase. This will significantly improve your approval chances.
Contact your credit card issuer: Call the customer service number on the back of your credit card or log into your online account to request a credit limit increase. Some credit card issuers may also allow you to make this request through their mobile app.
Provide your income and employment information: Your credit card company may ask you to provide your income and employment information to verify your ability to pay back a higher credit limit.
Wait for a response: The issuer may approve or deny your request for a credit limit increase. If it supports your request, it will inform you of the new credit limit, and you can start using your increased credit immediately.
Follow up if needed: If the issuer denies your request, you can ask why and see if there are any steps you can take to improve your future approval chances.
Requesting a credit limit increase may result in a hard inquiry on your credit report, which can temporarily impact your credit score. That's why it's prudent to request a credit limit increase only if you genuinely need it.
Some credit card issuers may automatically review your account and increase your credit limit after a certain period, such as six months or a year, while others may require you to request a credit limit increase. The time it takes for a credit card issuer to increase your credit limit varies and depends on several factors, including your credit history, credit score, income, and usage patterns. 

If you have a fair or better credit score and regularly use your credit card responsibly, the issuer may increase your credit limit unprompted. However, there is no guarantee that the credit card company will boost your credit limit, and it's generally not a good idea to rely on a credit limit increase to manage your finances.
It would be best to wait at least six months after opening an account before making a request. This will allow you to build credit, increasing your chances of getting approved for a higher credit limit.
What Should I Do If the Issuer Denies My Request?
There are several steps you can take if your card issuer denies your request for a credit limit increase, including the following:
Remember that a credit limit increase is not a guarantee, and having a higher credit limit to manage your finances responsibly is not always necessary. Instead, focus on building good credit habits, such as paying your bills on time, keeping your credit utilization low, and monitoring your credit report regularly.
Over time, these habits assist in rebuilding credit and make it easier to qualify for a higher credit limit in the future.
What Are the Advantages of a Credit Limit Increase? 
There are several advantages to a credit limit increase. These include greater purchasing power, a lower credit utilization ratio, improved creditworthiness, better reward ratios and benefits, and access to more emergency funds.
Understand that a credit limit increase is not a license to spend more than you can afford to pay back. You want to stay within your budget and avoid accumulating high-interest debt.
What Are the Disadvantages of a Credit Limit Increase? 
While a credit limit increase can provide several advantages, there are also some possible disadvantages to keep in mind. These include potential overspending, interest charges, credit score impact, limited CUR benefit, and overreliance on credit.
Potential overspending: A higher credit limit can lead to overspending and accumulating debt that may be difficult to pay back.
Interest charges: A higher credit limit means you can carry a higher balance, which can result in interest charges if you don't pay off your balance in full each month.
Credit score impact: Requesting a credit limit increase may result in a hard pull of your credit report, which can temporarily impact your credit score.
Limited CUR benefit: While a lower credit utilization ratio can help improve your credit score, it may not be enough to make a significant impact if other factors, such as late payments or a short credit history, also affect your score.
Overreliance on credit: Although a credit limit increase provides more purchasing power, remember that a credit line is not a substitute for savings or financial responsibility. Relying too heavily on credit can lead to financial hardship if an unexpected expense arises.
It's essential to carefully weigh the potential advantages and disadvantages of a credit limit increase and only request one if you have a real need and can use it responsibly.
What Credit Card Perks Can I Expect With a Fair Score?
Credit cards for fair credit typically don't offer as many perks as credit cards for individuals with excellent credit. But some fair-credit credit cards may still provide various benefits, such as:
The benefits that credit cards for fair credit offer can vary widely, so it's essential to compare the details carefully and choose a card that meets your needs and spending habits.
A $2,000 Credit Limit Can Be Yours Despite Fair Credit
This article should provide reasonable hope that you can get a $2,000 credit card limit despite having only fair credit. A secured credit card that permits deposits of $2,000 or more is undoubtedly the easiest route to your target credit limit. But the reviewed unsecured credit cards will also work. 
Just be mindful of the fees and APRs these cards impose — frankly, some are overpriced. Upfront research can save you hundreds over the course of a year or two.
Advertiser Disclosure
CardRates.com is a free online resource that offers valuable content and comparison services to users. To keep this resource 100% free, we receive compensation for referrals for many of the offers listed on the site. Along with key review factors, this compensation may impact how and where products appear across CardRates.com (including, for example, the order in which they appear). CardRates.com does not include the entire universe of available offers. Editorial opinions expressed on the site are strictly our own and are not provided, endorsed, or approved by advertisers.