If your credit's not exactly the best, but it's not the worst in the world either, you may fall into the fair credit category. This can present some challenges, but in this article we'll take a look at the best credit cards for fair credit, with high limits.
I spent the first hour of a recent trip in a rental car line. While a man nearby taught me a few new interesting words, the customer at the counter struggled to complete a reservation she made months before.
Most companies place credit card holds during a rental period. The security measure is released after the vehicle returns. This lady's hold was $750, but the limit on her credit card was $500. She offered cash or her debit card, but the clerk couldn't accept it. She called the card issuer, but her limit couldn't increase because her account was too new. Eventually, she left without transportation for her trip.
Too often, consumers are locked out of purchases because of low credit limits. In an age where plastic payments are the norm, shouldn't your credit card be as flexible as you are?
Highest Overall | Rewards | No Annual Fee | Business | Student
Best "High-Limit" Credit Card for Fair Credit
The definition of Fair credit varies depending on the credit scoring agency. In most cases, scores in the 600s will fall into the Fair category. Those scores should open borrowers to rates slightly better than subprime, but still a step below consumers with Good credit.
The Capital One QuicksilverOne Cash Rewards Credit Card is a best-of-both-worlds option because it allows higher potential limits (reportedly up to $5,000) with the ability to eventually upgrade to the regular Capital One Quicksilver Cash Rewards Credit Card that sports no annual fee and higher potential limits. And unlimited 1.5% cash back rewards push this card to the front of the fair-credit pack.
Earn unlimited 1.5% cash back on every purchase, every day
Earn cash rewards without signing up for rotating categories
Be automatically considered for a higher credit line in as little as 6 months
Monitor your credit profile with the CreditWise® app, free for everyone
$0 fraud liability if your card is ever lost or stolen
No limit to how much cash back you can earn, and cash back doesn't expire for the life of the account
Initial credit limits vary depending on creditworthiness, but Capital One® reviews all accounts after the first five months of membership. With a clean payment history in that time, limits are typically raised, and continue to increase every six months if you have no late payments or your credit score doesn't decrease from outside factors.
Best "Rewards" Credit Cards for Fair Credit
Rewards cards are all the rage among consumers who want to get the most bang for their buck. Recent surveys show as many as 86% of Americans have a rewards card in their wallet. Those numbers seem to increase each quarter, as issuers challenge each other to increase perks. Benefits are no longer reserved solely for applicants with excellent credit.
Issuers are now making room in the rewards market for fair-credit cardholders with unsecured options for consumers rebuilding their credit history. While these cards offer decent rewards, the exact rates, fees, and credit limits offered will, of course, vary based on your credit profile. Reviews show typical fair-credit applicants for the cards below start with a limit between $300 and $750, but see an increase after regular payments.
Earn unlimited 1.5% cash back on every purchase, every day
Earn cash rewards without signing up for rotating categories
Be automatically considered for a higher credit line in as little as 6 months
Monitor your credit profile with the CreditWise® app, free for everyone
$0 fraud liability if your card is ever lost or stolen
No limit to how much cash back you can earn, and cash back doesn't expire for the life of the account
Enjoy peace of mind with $0 Fraud Liability
Qualified applicants will receive a card with a competitive APR and no annual fee along with 1% cash back rewards on all purchases, terms apply
View updates to your Experian credit score with free online access, terms apply
Make paying your bill easier with the ability to choose your payment due date, terms apply
Access your account on-the-go with the Credit One Bank mobile app
Never miss an account update with customizable text and email alerts
| | | | | |
| --- | --- | --- | --- | --- |
| | | 17.99% to 23.99% Variable | | |
Qualified applicants will receive exclusive benefits such as 1% cash back rewards on all purchases, no annual fee, and a competitive APR. Terms apply.
Manage your account quickly and easily from your mobile device by using the Credit One Bank mobile app.
Use your Apple device to make purchases securely through Apple Pay®. Apple Pay is a registered trademark of Apple, Inc.
Your account is safeguarded against unauthorized charges with Zero Fraud Liability at no additional charge.
Take advantage of free online access to your Experian credit score and credit report summary so you can track the key factors impacting your credit health. Terms apply.
| | | | | |
| --- | --- | --- | --- | --- |
| | | 17.99% to 23.99% Variable | | |
Despite the popularity of rewards cards, 31% of cardholders don't redeem the rewards they earn. Those numbers are alarming when you consider that many of these cards charge an annual fee for access to the benefits. It's like paying for your groceries and leaving them at the register.
Best "No Annual Fee" Credit Cards for Fair Credit
Rewards are great if you make regular charges to your account and pay them off that month. Your day-to-day spending can earn a small stockpile of savings that builds over time — and, hopefully, negates any annual fee. If you're the frugal type and don't use your card outside of emergencies, you're better off skipping the rewards and going with a card that doesn't charge you simply to own it.
Annual fees are an annoying part of being a cardholder. It's hard to remember each year when they're due, and an unexpected $75 charge can dampen your plans for the weekend really fast. Our expert-rated picks below won't charge you an annual fee for the pleasure of being a cardholder.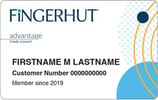 at Fingerhut'ssecure website
Easy application! Get a credit decision in seconds.
Build your credit history – Fingerhut reports to all 3 major credit bureaus
Use your line of credit to shop thousands of items from great brands like Samsung, KitchenAid, and DeWalt
Not an access card
Pay no annual fee
Be automatically considered for a higher credit line in as little as 6 months
Fraud coverage if your card is lost or stolen
Use online banking to access your account, even from your smartphone, with our mobile app
Check out quickly and securely with a contactless card, without touching a terminal or handing your card to a cashier. Just hover your card over a contactless reader, wait for the confirmation, and you're all set.
Pay by check, online or at a local branch, all with no fee - and pick the monthly due date that works best for you
Through the Fingerhut Fresh Start program, consumers that typically wouldn't qualify have the ability to earn a line of credit through the company with no annual fee and regular credit limit increases. While many fair-credit consumers won't need this program, it's a handy offering for anyone teetering on the fine line between Fair credit and Poor credit. (See complete WebBank/Fingerhut Advantage Credit Account Terms and Conditions.)
Reviews from Capital One Platinum Credit Card cardholders report multiple credit limit increases — some by as much as $1,000 at a time — within the first year of membership.
Best "Business" Credit Card for Fair Credit
A revolving line of credit is paramount to the functioning of any business today. Unexpected expenses arise that tight budgets don't always account for. Lower credit limits won't cut it when a computer dies or a last-second meeting is called three thousand miles away.
Don't fall into the thinking that your business has to be a large corporation to qualify for a business card. Some cardholders of the Capital One® Spark® Classic for Business say they had low expectations for approval, due to their business being new and their credit score in the low end of the Fair range. Despite those hurdles, reports of credit limits that start between $1,000 and $2,000 are common.
7. Capital One® Spark® Classic for Business
This card is currently not available.
Access to credit not only helps you with emergencies, it can take your business to the next level with the ability to purchase upgrades or new equipment to keep things running smooth. For most businesses, a low credit limit just won't cut it. Make sure that any card you apply for meets your needs and offers the flexibility to grow alongside your enterprise.
Best "Student" Credit Cards for Fair Credit
Nothing is worse than showing up on the first day of class to find a professor that requires multiple books that you know you'll never use. Still, the expense won't go away. Students spend, on average, $1,168 on textbooks and materials each year. Most of those expenses happen early each semester, which boosts the need for credit at certain times of the year.
Several issuers offer student-based cards that provide features young consumers need. For example, some offer APR breaks based on GPA, while others offer discounts on cellphones or cash back rewards for everyday necessities. Examine each card closely and decide which is best for your needs.
Earn 1% cash back on all your purchases. Pay on time to boost your cash back to a total of 1.25% for that month
Earn $5 per month for 12 months on Select Streaming Subscriptions when you pay on time. *Exclusions Apply
Enjoy no annual fee and no foreign transaction fees
You can help build your credit with responsible use of a card like this
Pick the monthly due date that works best for you
Be automatically considered for a higher credit line in as little as 6 months
Earn a $200 cash rewards bonus after making at least $1,000 in purchases in the first 90 days of your account opening
Earn 3% cash back in the category of your choice: gas, online shopping, dining, travel, drug stores, or home improvement/furnishings and 2% cash back at grocery stores and wholesale clubs on the first $2,500 in combined choice category/grocery store/wholesale club purchases each quarter, then earn 1%
Unlimited 1% cash back on all other purchases
0% introductory APR on new purchases and balance transfers for 12 billing cycles (3% balance transfer fee applies)
Optional overdraft protection option helps prevent declined purchases, returned checks or other overdrafts when you link your eligible Bank of America® checking account to your credit card. Transfer fees may apply.
$0 annual fee
Earn 25,000 bonus points ($250 value) if you make at least $1,000 in purchases in the first 90 days of account opening
Earn unlimited 1.5 points for every $1 you spend on all purchases everywhere
No blackout dates or restrictions apply, and points never expire
0% introductory APR on new purchases for 12 billing cycles
No foreign transaction fees
$0 annual fee
Higher education is expensive. Besides the in-class costs, pizza, beer, and Pop Tarts can get really expensive over a four-year period. Student credit limits often start small but can increase quickly with responsible usage. The most important step in building your credit score is to make on-time payments and keep your expenses limited to what you can afford to pay off each month.
Higher Credit Scores Mean Higher Limits
It's easy for many consumers to think they're stuck with lower credit limits because they have a limited or tarnished credit profile. Moving up to good — and eventually excellent — credit takes time, but it's achievable. Credit card issuers face steep competition from banks and outside companies, like Paypal. In an effort to earn your business, cards are created that meet the needs of the full gamut of credit-seekers.
Higher limits also increase your purchasing power and help you improve your credit standing over time. Issuers like Capital One® make requesting credit limit increases easy with a simple questionnaire in the online portal that can be filled out as often as you'd like. Limit increases, though, are typically only granted about once every six months after an introductory increase, and often require a hard credit inquiry.
If you've read to this point, it's obvious you're serious about improving your financial well being. That dedication will pay off over the long haul with credit limit increases that give you the security and peace of mind that you'll need when emergencies pop up. It'll also protect you from grumbling old men that invent new curse words every time the line at the rental car counter slows down.
Advertiser Disclosure
CardRates.com is a free online resource that offers valuable content and comparison services to users. To keep this resource 100% free, we receive compensation from many of the offers listed on the site. Along with key review factors, this compensation may impact how and where products appear across the site (including, for example, the order in which they appear). CardRates.com does not include the entire universe of available offers. Editorial opinions expressed on the site are strictly our own and are not provided, endorsed, or approved by advertisers.