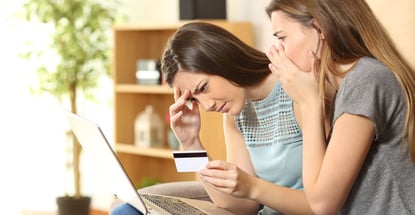 No one is born knowing how to manage credit, and the topic is rarely taught in high schools and colleges. If you didn't learn about it at home, odds are you did through trial and error.
But why not avoid problems before they happen? Here are eight of the most common credit mistakes that you should — and can — avoid.
1. Pursuing the Wrong Account
Excellent credit use begins with getting the right card for your circumstances, but many people apply for credit cards randomly. If you do this, you may end up with an unnecessary rejection (which shows up on your credit report and dings your credit score) or settle for an account that's missing the best features.
Before applying, check your FICO Scores so you understand where your credit stands. Scores in the 300 to 669 range are bad to fair, respectively, and those in the 670 to 850 range are good to exceptional.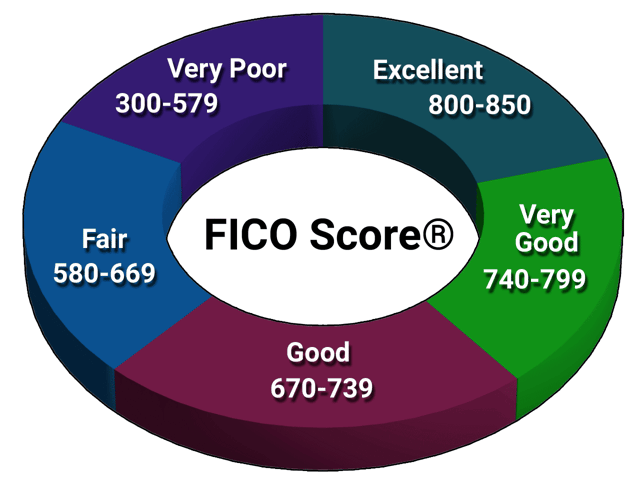 Look for the credit cards that match your scores and have the qualities you want, such as 0% APR for 12 months, cash back, or travel perks. When you're ready, apply for the most attractive card in your scoring category.
2. Using Credit Cards as Extra Income
The 2020 Financial Planning Survey by First National Bank of Omaha found that 49% of Americans are living paycheck to paycheck. If this is you, you'll have to be extra careful to not use credit cards to make up the difference when you're short on funds. If you don't, you'll descend into expensive and overwhelming credit card debt.
Instead, treat your credit card as a payment tool, not as additional income. Before you charge anything, conduct a quick review of your checking account to make sure you will have enough money to cover the entire bill by the due date.
3. Using Credit Cards as Long-Term Debt Instruments
There may come a time when you want to charge a high-ticket item and pay it off over time. However, consumer debt should be deleted in the short term — preferably in a few months, but no more than a year. If you extend the liability for longer, you'll end up paying far too much in interest.
For example, let's say you want to buy an $1,800 laptop. If you use a card with an 18% APR and pay it off in four months, the interest would be $68. Not bad.
But if you were to finance it over three years, the interest would be $542 — over a third of the purchase price.
4. Skipping a Billing Cycle
Paying loans and credit cards late is a terrible habit to acquire. Miss a due date and you'll be hit with a late fee, but if you let it go for 30 days, a delinquency will be noted on your credit report.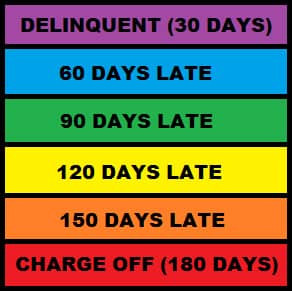 Payment history is the most important factor in a credit score, so even one recent delinquency will hurt your credit scores. Subsequent or more severe delinquencies will cause those numbers to further tumble.
Commit to paying on time, using whatever strategy works best for you. Have your creditors automatically paid via your bank or credit union's bill pay program, mark your calendar with your due dates, ask your creditors to send you text or email notifications before the bills are due, or use any of the budgeting apps that will alert you to upcoming payments.
5. Overcharging for Rewards
Rewards cards are fantastic because you can earn points, miles, or cash back each time you make a purchase. It can also be tempting to overspend with the card to obtain those rewards and then carry over debt.
You may get 5X the points when you charge that $3,000 vacation to your card, but you have to zero out the balance to come out ahead. The value of the rewards won't outpace the interest added to your balance.
Always track your charges as you go, and don't use the card when you can't afford to pay the balance in full.
6. Ignoring Your Credit Report
All kinds of negative and erroneous data can end up on your credit report, but you'll never know if you don't check. A Federal Trade Commission study found that 1 in 5  people have at least one error on their credit report that could lead to lower credit scores and impact their ability to qualify for desired loans and credit cards.
Go to annualcreditreport.com to pull your reports for free from the three major credit reporting agencies, Experian, TransUnion, and Equifax. Inspect your reports carefully to make sure that everything is correct. If it's not, dispute the errors immediately.
7. Cosigning with Someone Who is Untrustworthy
Maybe your daughter in college is having trouble obtaining a credit card on her own because she's young, or you have a close friend who comes to you to help her qualify for a loan. So you jump in as a cosigner and sign your name to the documents.
When you become a cosigner, you're not only liable for the monthly payments if your daughter or your friend don't pay on time, but the entire debt will fall into your lap if the account becomes delinquent.
In fact, you can even be sued for damages. And the damage will end up on your credit report as well as on that of the other person. Proceed with extreme caution to any cosigning request.
8. Extracting Cash from Your Credit Card
Although you can withdraw cash from your credit card's credit line at any time, it's going to cost you — a lot.
First, you'll be charged a cash advance fee of anywhere between 1% and 5% of the amount you take out. That fee will be tacked on to the debt and then interest will be calculated on the balance, but without the finance-free grace period you get when charging items and services.
Worse, the interest rate for cash advances is often higher than it is for purchases. Credit card cash advances should never be used unless all better options have been exhausted.
Follow these Tips to Keep Your Credit Scores Up
Follow these tips and you won't pay too much for the privilege of borrowing money and you'll keep your credit report and scores in great shape.
Does it take dedication to the process? Sure. But it's worth the effort.
Advertiser Disclosure
CardRates.com is a free online resource that offers valuable content and comparison services to users. To keep this resource 100% free, we receive compensation for referrals for many of the offers listed on the site. Along with key review factors, this compensation may impact how and where products appear across CardRates.com (including, for example, the order in which they appear). CardRates.com does not include the entire universe of available offers. Editorial opinions expressed on the site are strictly our own and are not provided, endorsed, or approved by advertisers.