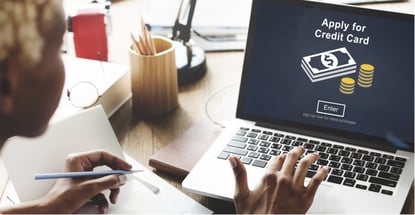 Credit card companies don't have one simple formula they use to make a decision when you apply for a new credit card. Instead, card companies consider a variety of factors.
Among them are your income and, more importantly, whether it's high enough to manage your current debt obligations, and an additional monthly card payment. What follows are answers to common questions about annual income on credit card applications.
1. What Income is Needed for a Credit Card Approval?
Card companies typically don't disclose a specific income you need to have to be approved for a card. One reason is that your income as a raw figure usually isn't as important as your debt-to-income ratio, or DTI.
Your DTI shows how much of your income you use every month to make your minimum debt payments. Examples of debt payments include your home mortgage, car loan, student loan, personal loan, and credit cards. Rent isn't considered to be debt.
DTI is shown as a percentage. Here's an example:
Monthly income: $4,000
Student loan payment: $400
Car payment: $400
Total payments: $800
DTI: $800 / $4,000 = .20 = 20%
Following their stance on income, card companies don't require applicants to have a specific DTI for card approval. But keeping your DTI as low as possible is a good guideline, with 36% frequently suggested as the maximum DTI.
2. Why Do Credit Card Companies Check Income?
The federal Credit Card Accountability Responsibility and Disclosure Act of 2009, known as the CARD Act, requires credit card companies to take into account a person's ability to make monthly card payments before they give you a card.
Of course, there's no guarantee that your income will continue or you won't charge more on your card than you can afford to repay. The CARD Act aims to protect you from card offers that you clearly cannot afford by reasonable income standards.
Your income and DTI aren't the only factors that determine whether you'll be approved for a card. One other important factor is your credit score, a three-digit number that measures how well you've managed your debt payments.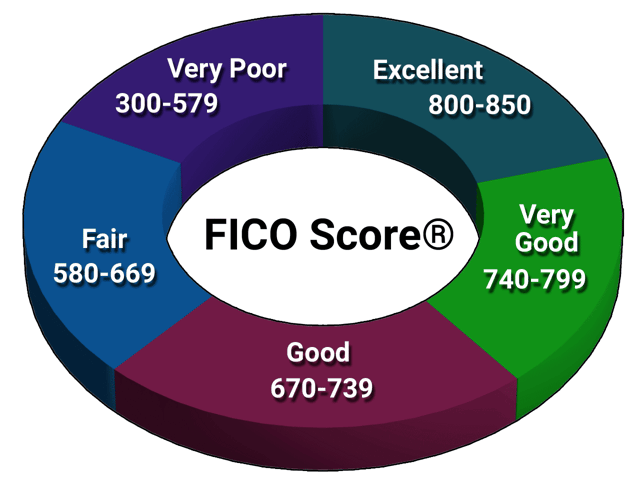 Your employment status, whether you own a home, and other factors related to your personal finances may also be considered.
Personal characteristics, such as your gender, race, or religion, aren't considered in card approval.
3. Do Credit Card Companies Verify Your Income?
A credit card issuer may request proof of income documents to verify your stated income. But a lender won't typically call your employer or the IRS to verify your income.
Proof of income documents may include, but aren't limited to:
Pay stubs
Tax documents
Annuity statement
Pension distribution statement
Unemployment benefits
Bank statements
Profit and loss statements for business credit card applications
If you don't have the requested documents, don't panic. You'll only need to provide them if you have them, and they may not be required to be approved for a card you want.
4. Can You Include Your Spouse's Income on a Credit Application?
If you're 21 or older and you can reasonably expect to have access to your spouse's income, then yes, you can include it on your credit card application.
If you're not yet 21, you don't have access to your spouse's income, or you can't reasonably expect that access to continue, then no, you shouldn't include that income when you apply for a credit card.
"Spouse" in this context can include a life partner as well as someone you're legally married to.
5. Can I Lie About My Income on a Credit Card Application?
A more important question is not can you, but should you? The answer is no, you shouldn't.
Lying on an application for credit may lead to fraud charges. The maximum penalties if you're caught lying include a fine of up to $1 million and a prison term of up to 30 years.
Though you shouldn't lie about your personal income, you don't need to calculate an exact dollar figure. You can report your best estimate based on how much you expect to earn and receive during the year.
If you make an honest mistake or your income changes in a way you couldn't have anticipated, that's generally not considered fraud.
6. How Do You Calculate Annual Income?
You can use your best estimate of how much you expect to earn.
If you're paid monthly, multiple your monthly income by 12. If you're paid weekly, multiple by 52. If you're paid weekly, but the credit card application asks for your monthly income, multiply your weekly income by 52 and then divide the result by 12. You can use a calculator to convert hourly wages into a salaried amount.
As discussed above, you can include all household income on an application if you have reasonable access to money from a spouse or other person you live with.
7. Will a High Income Help My Approval Odds?
Maybe yes. Maybe no. Approval depends not just on your income, but on your other financial obligations and whether you have enough income to manage an added payment.
If you have a high income and your monthly minimum debt payments are relatively low, then yes, your income could help you get approved because it will boost your DTI. If you have a high income and your monthly minimum debt payments are also relatively high, your income may not necessarily help you get approved for a card.
The best combination for card approval is a high income and relatively low monthly minimum debt payments. That boosts your DTI and improves your approval odds.
A high income may also help you get approved for an exclusive card or any card with a higher credit limit. A higher limit means you can charge more purchases with your card before you max it out. If that happens, you'll typically have to pay off some of your balance before you can charge more.

If you're struggling to get approved for a card, earning more may help as long as you don't also add more debts and obligations. Another option may be to apply for a card for low-income earners.
8. What Types of Income Can You Include on an Application?
Generally, you can include any income you receive regularly, and that you expect to continue to receive regularly.
Examples include:
Salary or hourly wages from a full-time, part-time, or seasonal job
Self-employment income
Income from gig work
Scholarships
Grants
Regular distributions from a trust
Regular distributions from a retirement account
Social Security or other regular government benefits
Alimony or child support
If you're 21 or older, married, and reasonably confident that you'll have access to your spouse's income to help you make your credit card payment, you can include your spouse's income with your own. That's true for a life partner as well as a spouse and is referred to as household income.
If you're 18, 19, or 20, you can apply for a card on your own, but you'll have to have your own income to be approved. If you're under 21, you shouldn't include your partner's income when you apply even if you meet the reasonable access test.
You can include funds you receive from your parents on a regular basis to pay your expenses. You should never include proceeds from a loan, such as student loans, in your income. A loan isn't income — it's debt.
If you're not sure whether you can include a specific type of income, contact the credit card company and ask whether you can include that type of income when you complete your application.
9. Can I Get a Credit Card if I Have No Income?
The answer depends in part on how you define income.
If you don't earn a salary or wages from a job, but you have another source of money that qualifies as income, you may be able to get a card. Examples include scholarships, grants, Social Security checks, or distributions from a trust or retirement account that you receive regularly.
Getting a personal credit card of your own may be difficult if you don't have any source of income to show the credit card company you can make a payment each billing cycle. But you still have options.
Apply for a secured card. A secured card is one that requires you to make a refundable security deposit, which the issuer holds as colalteral. Your deposit is an amount of money that you agree to keep in a specified account that's tied to your card. If you don't make your payment, your card company can collect it from that amount along with any interest, fees, or penalties you owe.
A secured card can be a good choice when you apply for your very first credit card. Here are some to consider:
No annual fee
Unlike a prepaid card, there is regular reporting to the 3 major credit bureaus
Accepted at millions of locations worldwide
Make the minimum required security deposit and you'll get an initial credit line of $200. Plus, deposit more money before your account opens to get a higher credit line
Access to an authorized bank account is required to make your $49, $99 or $200 refundable security deposit
Be automatically considered for a higher credit line in as little as 6 months with no additional deposit needed
Better than Prepaid...Go with a Secured Card! Load One Time - Keep On Using
Absolutely No Credit Check or Minimum Credit Score Required
Automatic Reporting to All Three National Credit Bureaus
9.99% Low Fixed APR - Your Rate Won't Go Up Even if You Are Late
Activate Today with a $200 Minimum Deposit - Maximum $1,000. * Increase Your Credit Limit up to $5,000 by Adding Additional Deposits Anytime
| | | | | |
| --- | --- | --- | --- | --- |
| | | | | Poor/Fair/Limited/Damaged |
at Capital Bank'ssecure website
No credit check necessary to apply. OpenSky believes in giving an opportunity to everyone.
The refundable* deposit you provide becomes your credit line limit on your Visa card. Choose it yourself, from as low as $200.
Build credit quickly. OpenSky reports to all 3 major credit bureaus.
99% of our customers who started without a credit score earned a credit score record with the credit bureaus in as little as 6 months.
We have a Facebook community of people just like you; there is a forum for shared experiences, and insights from others on our Facebook Fan page. (Search "OpenSky Card" in Facebook.)
OpenSky provides credit tips and a dedicated credit education page on our website to support you along the way.
Get a cosigner. A cosigner is a second person who applies for a card with you. A cosigner with adequate income and a good credit score can help you get approved. Your cosigner will be responsible for your debt if you don't repay it yourself. Paying late could hurt your cosigner's credit as well as your own.
Apply for a starter card. A starter card is one designed by a card company for young people, students, and other first-time or inexperienced card users. You may need to make a deposit to secure a starter card or obtain a cosigner to help you get approved.
Become an authorized user. An authorized user is a person who's allowed to use someone else's card. If you know someone who has a card and trusts you to use it, you can become an authorized user on that person's card and use it as if it were your own. Unlike a cosigner, an authorized user isn't responsible for the monthly payment.
10. What is the Difference Between Net and Gross Income?
The differences are as follows:
Gross income: Your gross annual income is the amount you earn before any deductions, such as income tax withholding, employee benefit costs, or retirement plan contributions, are deducted from your pay. If your annual salary is $48,000, your gross monthly income would be $48,000 / 12 = $4,000.
Net income: Your net income is the amount you earn after deductions are taken from your pay. If your monthly income was $4,000 and your deductions totaled $950, your net income would be $3,050.
11. How Does My Debt-to-Income Ratio Affect Approval?
Your DTI ratio likely will affect whether you'll be approved for a card. A low DTI suggests that you have enough income to manage your credit card debt.
If that's the case, card companies may be more likely to approve your application since you should be able to make regular payments.
A high DTI suggests that you may not have enough income to manage your debt. If that's the case, card companies may be less likely to approve your application since you may not be able to make future payments.
Having a high or low DTI are, of course, relative terms. A good general guideline is to try to keep your DTI below 36%. If your DTI is high, you may still be approved, but with a lower credit limit.

While DTI is important, it's not the only factor card companies consider. Your income and credit score are other factors that matter.
12. Does My Income Affect My Credit Score?
Your income doesn't directly affect your credit score, but there could be a relationship between your score and your income.
Your credit scores — most people have more than one — don't measure how much money you have or how much you earn. Instead, your scores measure whether you're responsible with credit and able to manage the debt you have. Your credit score is determined from the information contained within your credit report.
The top five factors that affect your credit scores are:
Your payment history. A perfect record of on-time payments can help your scores. Missed or late payments can bring your scores down.
Your credit utilization. Using a lower percentage of the total credit you have available to you could boost your scores. Maxing out your credit could hurt your scores."Using more than 30% of your available credit is a negative to creditors," according to Experian.
How long you've had your credit accounts. A long credit history with older credit accounts can boost your scores. Being inexperienced with credit or churning through a lot of short-term credit accounts could lower your scores.
Your credit mix. Using a mix of different types of credit accounts can give your scores a boost. Examples of credit accounts include a mortgage, car loan, student loans, or a personal loan as well as credit cards. Don't apply for a credit card account just to add another type of loan to your credit mix.
New accounts and hard inquiries. Opening more credit accounts or having several hard credit inquiries appear on your credit report may suggest you're struggling with debt. That could hurt your scores.
13. How Does My Income Affect My Credit Limit?
When you get approved for a new card, your card company may use your income as a factor to determine your initial credit limit. Your income probably won't be the only factor in that decision.
Other factors may include:
Your credit score.
How long you've had and used credit.
Your existing card debt.
Your DTI.
Your mortgage or rent payment.
The type of card you were approved for.
The typical credit limit band for the card you were approved for.
Whether you have other cards with the same company.
How strong the U.S. economy is.
Generally, you may get a higher limit if:
Your income is high.
Your credit scores are high.
You've used credit for a longer time period.
Your existing card debt is low.
Your DTI is low.
Your mortgage or rent payment is low.
You're approved for a premium card that comes with a high limit.
You don't have another card with the same company.
The U.S. economy is strong and growing.
"If an individual has a high salary with a relatively low rent or mortgage, odds are they have more discretionary income and thus may qualify for a higher spending limit," according to Discover.
14. Can a College Student with No Income Get a Credit Card?
College students who don't earn income can get credit cards. In fact, most credit card companies offer student cards designed specifically for students who don't have a credit history. A student card can help you establish and build your credit history. Some of our top-rated student cards are listed below:
Earn 1% cash back on all your purchases. Pay on time to boost your cash back to a total of 1.25% for that month
Earn $5 per month for 12 months on Select Streaming Subscriptions when you pay on time. *Exclusions Apply
Enjoy no annual fee and no foreign transaction fees
You can help build your credit with responsible use of a card like this
Pick the monthly due date that works best for you
Be automatically considered for a higher credit line in as little as 6 months
Earn a $200 cash rewards bonus after making at least $1,000 in purchases in the first 90 days of your account opening
Earn 3% cash back in the category of your choice: gas, online shopping, dining, travel, drug stores, or home improvement/furnishings and 2% cash back at grocery stores and wholesale clubs on the first $2,500 in combined choice category/grocery store/wholesale club purchases each quarter, then earn 1%
Unlimited 1% cash back on all other purchases
0% Introductory APR on new purchases and balance transfers for 12 billing cycles (3% balance transfer fee applies)
Optional overdraft protection option helps prevent declined purchases, returned checks or other overdrafts when you link your eligible Bank of America® checking account to your credit card. Transfer fees may apply.
$0 Annual fee
Earn 3% cash back for up to $2,500 spent on gas, grocery, and drugstore purchases for the first 6 months
Earn 1% cash rewards for all other purchases
0% Intro APR offers on purchases and balance transfers (balance transfer fee applies)
Flexibility to use cash rewards toward travel, gift cards, merchandise, cash redemption options , and more
Access your FICO® Credit Score, credit education, and tools with Wells Fargo Online
$0 Annual fee
You'll need to be at least 18 years old and have a regular source of income you can access to make your card payment to be approved for a card without a cosigner.
For example, you may have a scholarship or grant money you can use as a source of income to apply for a credit card. If you're 21 or older and married, you can use the income earned by your spouse (or life partner) to apply for a card if you're reasonably certain you'll be able to access that money.
15. What is the Best Credit Card for Low Income?
There's no one credit card that's best for low-income earners. In fact, you can apply for a number of secured and unsecured cards even if you don't earn much money.
Your income isn't the only factor credit card companies consider when determining your application. If you have a good credit score, low DTI, steady employment, and/or other positive factors in your credit report, your low income may not be essential to get approved for a credit card.
Advertiser Disclosure
CardRates.com is a free online resource that offers valuable content and comparison services to users. To keep this resource 100% free, we receive compensation from many of the offers listed on the site. Along with key review factors, this compensation may impact how and where products appear across the site (including, for example, the order in which they appear). CardRates.com does not include the entire universe of available offers. Editorial opinions expressed on the site are strictly our own and are not provided, endorsed, or approved by advertisers.