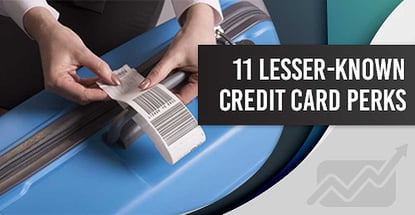 You know that the credit card in your wallet helps you make purchases safely and conveniently, but there are other advantages it could have. In fact, many credit card issuers have created an entire menu filled with various perks for their customers.
While not all will be relevant to your lifestyle, odds are at least a few of these little-known benefits will work to your financial advantage. We'll take a look at some of those lesser-known credit card perks and how you can use them to your benefit.
1. Extended Warranty Protection
If you buy something with a warranty and then the item breaks soon after, you may not be out of luck and money.
Many credit card issuers, such as Chase, offer extended warranty protection on select cards that enables you to extend the manufacturer's own warranty. It could give you up to an additional year's worth of protection so long as you report the claim within 90 days of the product's failure. You may be offered up to $10,000 per claim with a maximum of $50,000 per account. Check out the terms on the credit card company's website for details.
Here are a few cards that offer extended warranty protection:
Of course, you have to meet the terms and conditions of this benefit, but if it works, great. File the claim online or by calling your credit card company.
2. Price Protection
Not all credit cards come with price protection benefits, but if yours does, you're in luck.
In short, this benefit refunds you the difference in price after a retailer lowers the cost of an item that you recently charged. So, if you bought a dress for $100 and it went on sale for $70, you could be eligible for $30 back in your account. Even better, it may not have to be at the same store to enjoy his perk. Here are popular cards that come with price protection on purchases:
All you have to do is file a claim with your credit card company over the phone and see what happens. But beware of limitations: For instance, most issuers limit the time from the date of purchase to do file a claim, such as 60-90 days, and cardholders are limited in how many claims they can file each year.
3. Return Protection
If you have attempted to return something at a store but were denied, a couple of issuers, such as American Express, offer return protection. If your credit card company does, you may be able to get reimbursed for the item anyway.
There are restrictions, of course. Small and large electronics, jewelry, and books are often excluded, and American Express limits this benefit to $300 per item, $1,000 per cardmember account per calendar year. Here are a few of the top cards with return protection benefits:
If your item fits within the list of what is eligible to return you'll have to send it back (and you may have to cover that cost). Supply the credit card issuer with documentation that you did try to return the item but the store refused, as well as your original receipt, a copy of your statement proving that you charged it, and the retailer's return policy information. If all goes according to plan, that money will be credited back into your account.
4. Purchase Protection
If your package didn't show up — or it did, but the contents were damaged — your credit card company may come to the rescue.
Embedded purchase protection gives you the opportunity to file a claim and if approved, you won't be financially responsible for the item you bought with the card. Most credit cards come with some level of purchase protection, but policies vary considerably by network.
Contact your credit card company to understand exactly what is covered. As with the extended warranty, you can complete the claim online or over the phone. In the case of theft, a police report is required by most credit card companies to file a claim.
5. Cellphone Insurance
Yet another type of insurance you may have with your credit card, like all consumer cards issued by Wells Fargo, is cellphone insurance coverage. It can really come in handy if your phone is broken, damaged, lost, or stolen. If your outside insurance doesn't cover it or you have none to start with, it's a good supplemental policy.
Here are a few of our favorite credit cards with cellphone insurance:
You do have to pay your monthly cellphone bill with the card to qualify and there are plenty of exceptions. As always, check the policy's restrictions. But if it works, you'll save a bundle by not having to buy a new device. In general, you will need to file a claim within a couple of months of the incident, then complete and send the documents within three months.
6. Rental Car Insurance
Pay for a rental car with your rewards credit card, like the Chase Sapphire Reserve®, and chances are the car rental insurance is covered. With this benefit, you may avoid having to pay for the expensive waivers, such as Collision Damage and Loss Damage. Those extras can cost up to $50 a day, which will really add up if you're going on an extended trip. The cards below provide rental car insurance so you don't have to incur the extra cost.
Make sure you're properly covered, though. Contact the credit card issuer first and talk it out or visit the website and read over the coverage details. In the event that something goes wrong with the car and the insurance covers the damage, just file a claim with your credit card company.
7. Concierge Service
Want help reserving a table at a popular restaurant, procuring entertainment or sporting event tickets, or booking a flight or hotel room? What about recommendations for unique spots to visit while you're in a foreign city? Although you can do all these things yourself, it's nice to have a helpful professional at the ready.
If you have a premium credit card, it probably includes concierge service, which means you can get that assistance — all it takes is a phone call to the company's concierge line. The following cards, among other premium travel cards like The Platinum Card from Amex, offer concierge services to its cardholders:
Concierge service is a free, convenient, time-saving perk that can be utilized for a variety of wants and needs, just be sure to check your issuer's website for complete offerings and details.
8. Free Checked Bags
You may have applied for that travel card for all the points you can accumulate when you buy things and turn them into free airfare (among other things). But don't forget what else the card can do for you, including picking up tabs for checked bags.
Checking your luggage in at the airport can cost up to $70 for your first checked bag, but if you used the right credit card to purchase your ticket — even if you bought it with points — the cost for at least one bag is waived. It may even include the fee for one or more people who are on the same reservation.
To use this benefit, just book the flight and select the number of bags you'll be checking. You'll see that you won't be charged the checked bag fee. Most cards that offer this perk are co-branded airline credit cards, such as the JetBlue Plus Card issued by Barclays, the Alaska Airlines Visa Credit Card issued by Bank of America, or the United MileagePlus cards.
9. Travel Protection
Before buying travel protection, contact your credit card issuer to see if it already covers it. If yours does, you will have at least a basic level of protection against the cost of a trip being canceled and lost or stolen luggage. Here are our favorite cards with travel protection:
To be eligible for this benefit, you have to put the cost of the flight on your card and file a claim with the credit card company. Just be sure you understand what it covers — if it's not enough, you'll want to increase it with a separate insurance policy.
10. Free Credit Scores
Reviewing your credit scores on a regular basis is important since it will give you valuable insight into your ever-changing creditworthiness. Getting the scores can be a pain though, and some, like FICO, come at a cost.
Want an easy, fast, and free way to get them? Head over to your credit card company's website. Many of the major issuers from American Express to Wells Fargo offer complimentary FICO scores to their cardholders, including the three below:
Capital One, however, gives out VantageScores.
11. Discounts on Goods and Services
You may be able to get all kinds of cool things for less if you take advantage of card-linked offer programs. Retailers partner with credit card companies to give cardholders special discounts or cash back rewards on purchases.
For example, Bank of America offers BankAmeriDeals, American Express has Amex Offers, and Chase recently launched Chase Offers. What is available at any given time will be advertised on the credit card company's app, website, or it will be emailed to you.
Taking advantage of this benefit is easy: identify what you're interested in by activating the offer on the card's app and then charge the purchase to the card. At check-out, the discount or extra cash back points will be immediately applied.
Make the Most of Your Rewards Card
All of these "hidden" benefits can help you get the most out of your credit card. Use them wisely, and if you ever have any questions about how it works, many of the full policies are provided online or you can reach out to your credit card company and ask for clarification. It's always best to familiarize yourself with the perk before you attempt to use it.
Advertiser Disclosure
CardRates.com is a free online resource that offers valuable content and comparison services to users. To keep this resource 100% free, we receive compensation for referrals for many of the offers listed on the site. Along with key review factors, this compensation may impact how and where products appear across CardRates.com (including, for example, the order in which they appear). CardRates.com does not include the entire universe of available offers. Editorial opinions expressed on the site are strictly our own and are not provided, endorsed, or approved by advertisers.