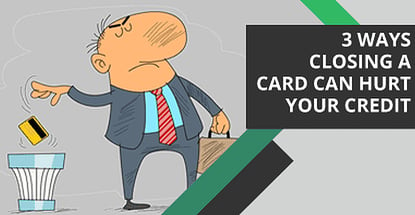 Closing a credit card account can be tricky — will it damage your credit score? Will you benefit in any way from having one less open account on your report?
I still remember getting my first credit card in the mail. I can recall the feelings of wonder and excitement as I thought about everything I could now do and the huge sense of awe that such a little piece of plastic could hold so much financial power.
No matter how fantastic your initial experience, of course, the novelty of a new card starts to wear off after a while. And when fancier cards — ones sporting higher limits and better rewards — come knocking, many of us start to think about an upgrade, and about closing those old accounts once and for all.
Before you turn your unused credit cards into colorful confetti, however, it's important to consider the possible consequences that decision will have on your credit score. Just as opening a new credit account can impact your score, so, too, can closing an old one — and rarely for the better.
1. Closing High-Limit Cards Can Increase Your Utilization Rate
Whether talking about your FICO credit score or a number from VantageScore, the same general factors are going to go into your credit score calculation. While your payment history has the biggest influence on either score (it's 35% of your FICO score), the amount of debt you owe — and how much you could owe — will also play a big role (30%-of-your-FICO big).
When considering your revolving credit lines, scoring models will look at what's called your utilization rate, which is the ratio of your credit card balance over your total credit line. For example, if imaginary cardholder, Leonardo, has a credit card with a balance of $500 and a total credit limit of $2,000, then Leonardo's utilization for that card is: $500 / $2,000 = 0.25 = 25%.
In addition to the utilization rate of each card, the model will also look at your overall utilization rate. In Leonardo's case, suppose he has two other credit cards, each with balances as described in the table below. Taking all of his credit card balances and credit lines into account, his overall utilization rate would be equal to about 0.27, or 27%.

Although there are no hard-and-fast rules on the perfect utilization rate, in general, a lower utilization rate will always be better. While individual utilization rates are important, your overall utilization tells the bigger story about your credit risk. A common rule of thumb is that an overall utilization rate above 30% will start to have negative impacts on your credit score.
And that's where closing a credit card account can have a big impact on your credit score — a big, negative impact. That's because, depending on the size of the credit line associated with that card, you could potentially be decreasing your overall available credit fairly significantly by closing the account and losing the added credit.
Unless you pay down your existing balances, decreasing your available credit will increase your utilization rate. If your utilization gets too high, your credit score will respond — in the other direction. In Leonardo's case, closing his unused credit card, Card B, would increase his overall utilization rate well past 30% and likely drop his score by a dozen points or more.
2. Eliminating Old Cards Can Lower Your Average Account Age
Another important factor in both major credit scoring models is the length of your credit history and the average age of your accounts, which jointly contribute to 15% of your FICO score. So far as scoring agencies — and future lenders — are concerned, old accounts are the best accounts (so long as they're in good standing), as they show you can maintain credit in the long term, not just for a little while.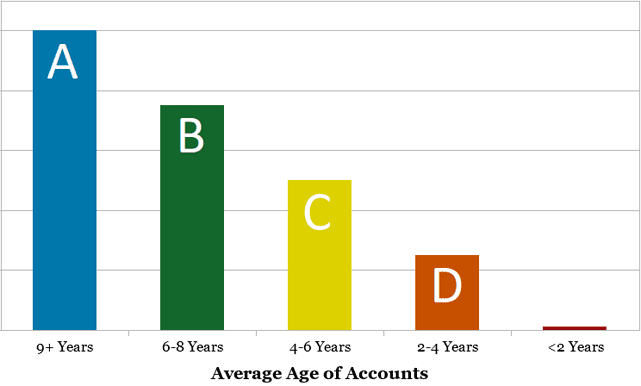 In fact, consumers with the highest credit scores tend to have long credit histories and high average account ages. According to FICO, the average consumer in the 800 to 850 range has a credit history more than a quarter century and an average account age over a decade.
So, given the importance of letting your accounts age, if the credit card account you intend to close is one of your longer-lived credit accounts, then closing it could be a hit to your credit score. Well, alright, not right away, necessarily.
In general, closing a credit card in good standing won't immediately impact your average account age. Most closed positive credit accounts can remain on your credit reports for up to 10 years. However, a closed credit account no longer ages, and it will fall off of your credit report entirely after the 10 years are up, potentially dropping your average age when it does so.
All in all, open accounts in good standing are better than closed ones. If your credit card has no annual fee, you're likely best to leave it open so it continues to positively contribute to your average account age.
3. Canceling Cards Can Decrease Your Credit Diversity
Finally, closing your credit card could impact one of the lesser-known credit-scoring factors: your credit mix. Worth 10% of your FICO score and also considered by VantageScore models, your credit mix — the different types of credit products you have in your profile — can show lenders whether you can (responsibly) handle different kinds of credit.
Essentially, doing well in this factor means showing a diverse mix of credit, such as having a combination of revolving credit lines, like credit cards, and installment products, including student, auto, and mortgage loans. While you don't need every type of credit product out there to do well, only sporting a single type of credit is hardly diverse.
All in all, if your current credit profile is very limited, perhaps consisting of just one or two credit cards, then closing one of those cards can have a significant impact on your credit mix factor. On the other hand, if you have a healthy combination of credit products, all in good standing, then closing a single card may not cause much (if any) damage to this particular factor.
For instance, in Leonardo's case, his credit profile has several revolving credit lines as well as a couple of installment loans — a fairly diverse mix. Were Leonardo to close a single credit card account, the impact to his credit mix factor would be fairly small. However, he may see some damage were he to close multiple credit card accounts.
You May Reduce the Credit Damage with a New, Better Card
Despite the potential negative consequences, there are plenty of good reasons to close a credit card account. The last card I canceled, for example, didn't offer enough perks and benefits to cover its hefty annual fee, so Mr. Card met Ms. Shredder — and that was all she wrote.
On the plus side, you may be able to reduce the damage done when you cancel a credit card. How? Well, simply by replacing it with a newer, better card.
Alright, so a new card won't help you with your average account age, particularly if you cancel one of your older cards. That being said, however, a new card can provide a boost to your available credit (and, thus, to your utilization rate), as well as help maintain diversity in the types of credit present in your credit profile.
Of course, the thing to remember when opening a new credit card is that each credit application results in a hard credit inquiry, and each hard inquiry may drop your credit score by a few points. At the same time, the damage from a single inquiry is generally minimal and it will likely have little to no impact after six months or so.
To avoid collecting a series of hard inquiries, be sure you pick the card for which you are most qualified. If you're not sure about your chances of approval, you can check for pre-qualification offers before applying.
Pre-qualification relies on a soft credit inquiry, which won't impact your credit score, to get a general idea of your credit risk and determine the card for which you are most likely to be approved. Although pre-qualification doesn't guarantee approval, it can be a good way to estimate your chances without hurting your credit.
Good Credit | Fair Credit | Bad Credit
Best Cards for Good Credit
One of the more confusing aspects of consumer credit is that there are so many definitions for different types of credit. The exact credit score range for "good" credit, for instance, will vary based on the model used. For FICO, scores above 670 are considered "good" or better. In the VantageScore model, "good" scores are over 700.
In the consumer credit world, having good credit is the key to unlocking great credit card rewards and awesome interest deals. For instance, some of our favorite credit cards for good credit, listed below, include options for killer cash back rewards, awesome air miles programs, and intro 0% APR offers that'll make your new card your go-to card.
+See More Cards for Good Credit
Best Cards for Fair Credit
Consumers with "fair" credit tend to be those currently building their credit, perhaps as a student or someone rebuilding from past mistakes. Consumers in this category will have FICO scores from 580 to 669 and/or a VantageScore between 650 and 699.
Although the card options for those with "fair" credit aren't quite as appealing as those for consumers with "good" credit, there are still good deals to be had, and the interest you pay will still likely be better than a subprime, bad-credit card. Our top-rated picks even include options for earning cash back rewards.
+See More Cards for Fair Credit
Best Cards for Bad Credit
At the bottom of the pack, those with "bad" credit have likely made a few financial blunders, such as missing payments, defaulting on an account, or even bankruptcy. FICO score considers "bad" scores to be anything under 579, and you'll have a "poor" or "bad" VantageScore if you're below 649.
With "bad" credit, you'll probably be stuck choosing between a secured credit card (which will require a deposit) or an unsecured subprime card — which will likely come with a high interest rate and big fees. Be sure to select a card that reports to all three credit bureaus, as do our options below, so that your new card can help you build your credit score.
+See More Cards for Bad Credit
Consider All the Impacts Before You Close a Card
Overall, the credit impacts from closing a credit account depend strongly on your individual credit profile and the specific account in question. The older the account, or the higher the credit limit, the larger the impact to your credit score from closing the account. You should carefully consider all the potential consequences before closing any credit accounts, even those you no longer use.
Refraining from closing old accounts can be particularly important if you intend to apply for major financing, such as a mortgage or auto loan, in the near future. Even if the impacts from closing the account are minimal, any sudden decrease in your score before a big loan application can be considered a warning sign by potential lenders and impact your rate offer or general approval chances.
Fortunately for me, I chose my first card well, selecting one without annual fees or other costs that would make it expensive to carry. Since it doesn't cost me anything to keep it open — and it would definitely cost me credit points to close it — that card has a permanent place in my wallet (and a warm place in my memories).
Final Notes on "3 Ways Closing a Credit Card Can Hurt Credit (Sep. 2023)"
We hope this guide "3 Ways Closing a Credit Card Can Hurt Credit (Sep. 2023)" has been a helpful resource for you in learning more about your financial options. In this guide, we've covered:
1. Closing High-Limit Cards Can Increase Your Utilization Rate
2. Eliminating Old Cards Can Lower Your Average Account Age
3. Canceling Cards Can Decrease Your Credit Diversity
You May Reduce the Credit Damage with a New, Better Card
Consider All the Impacts Before You Close a Card
To learn more about options not mentioned here, be sure to check out other popular reviews from our team of experts:
We also encourage you to check back at this URL regularly, as we update the offers listed in "3 Ways Closing a Credit Card Can Hurt Credit (Sep. 2023)" and other guides on a daily basis.
Advertiser Disclosure
CardRates.com is a free online resource that offers valuable content and comparison services to users. To keep this resource 100% free, we receive compensation for referrals for many of the offers listed on the site. Along with key review factors, this compensation may impact how and where products appear across CardRates.com (including, for example, the order in which they appear). CardRates.com does not include the entire universe of available offers. Editorial opinions expressed on the site are strictly our own and are not provided, endorsed, or approved by advertisers.