In the third decade of the 21st century, waiting is not an option. Amazon can deliver some orders in four hours, and you take your life in your hands if you get between that Grubhub guy and a hungry customer.
We are nothing if not attuned to the current vibe, which is why we are reviewing same-day credit cards for poor credit. If you want your credit card fast and your approval even faster, keep reading for the 411 on these speedy cards.
Same-Day Cards | Next-Day Loans | FAQs
Cards for Poor Credit with Same-Day Approval
The following cards offer a same-day approval decision unless they require additional documentation. Unfortunately, you will usually have to wait to receive the card in the mail before it can be used to make purchases.
You can, however, request expedited shipping or even a temporary number to make card-not-present (CNP) transactions before your card arrives, but these features are not generally available from all issuers.
No annual fee
Unlike a prepaid card, there is regular reporting to the 3 major credit bureaus
Accepted at millions of locations worldwide
Make the minimum required security deposit and you'll get an initial credit line of $200. Plus, deposit more money before your account opens to get a higher credit line
Access to an authorized bank account is required to make your $49, $99 or $200 refundable security deposit
Be automatically considered for a higher credit line in as little as 6 months with no additional deposit needed
The Secured Mastercard® from Capital One offers fast approval, which is not unusual for secured cards. But you can't use the card until you fund the security deposit.
Making your security deposit requires access to an authorized bank. Unfortunately, Capital One doesn't provide expedited shipping on new cards, although you can get a replacement card in a day or two.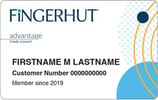 at Fingerhut'ssecure website
Easy application! Get a credit decision in seconds.
Build your credit history – Fingerhut reports to all 3 major credit bureaus
Use your line of credit to shop thousands of items from great brands like Samsung, KitchenAid, and DeWalt
Not an access card
As with many store cards, the Fingerhut Credit Account is easy to get, even with bad credit. Normally, you can receive same-day approval for this account or for the Fingerhut® Fresh Start Installment Loan.
Once approved, you can use the account immediately because there is no physical card. The account is strictly for online purchases from Fingerhut and its affiliates.
Prequalify for a card today and it will not impact your credit score
Less than perfect credit is okay
Mobile account access at any time
Protection from fraud if your card is stolen
Account history is reported to the three major credit bureaus in the U.S.
*Dependent on credit worthiness
The Milestone® Mastercard® offers instant prequalification and same-day approval. It is geared to consumers with below-average credit, but unlike similar cards, this one charges no maintenance or application fees.
It does, however, charge an annual fee. The amount you're charged depends on your credit profile. The card also charges a cash advance fee, but it's waived for the first year.
Checking Account Required
Fast and easy application process; response provided in seconds
A genuine Visa credit card accepted by merchants nationwide across the USA and online
Manageable monthly payments
$300 credit limit (subject to available credit)
Reports monthly to all three major credit bureaus
The Total Visa® Card is aimed at consumers with less-than-perfect credit. The application process is fast, and you'll receive a decision in seconds. If approved, you'll pay a one-time application fee and an annual fee. There is also a monthly processing fee that kicks in after the first year.
On the plus side, you can choose from six different card designs. The card reports your payments to all three credit bureaus.
The Indigo® Mastercard® markets itself to folks with less-than-perfect credit. You can instantly prequalify with no impact on your credit score. You then receive an approval decision within 60 seconds.
Your credit profile determines your annual fee, if any. You can choose from among five card designs at no additional charge.
Perfect credit is not required to obtain the First Access Visa® Card. You fill out the card's easy online application for a decision in as little as 60 seconds. The card offers six different designs at no extra cost.
Upon approval, you'll be charged setup and annual fees that will be deducted from your deposit and ultimate credit line. Monthly servicing fees are waived for the first year.
The Credit One Bank® Unsecured Platinum Visa® card allows you to prequalify in less than a minute without impacting your credit score. If you prequalify, you will then fill out an application to open the account.
You do not need a security deposit to get this card. Your credit profile determines your annual fee (if any) and your cash back rewards program.
The Credit One Bank® Visa® with Free Credit Score Tracking has a streamlined prequalification and application process that will give you a quick approval decision.
The card provides online access to your free monthly Experian ScoreX credit score and credit report summary. Credit One evaluates your credit profile to determine your annual fee, grace period, and cash back rewards.
The Credit One Bank® Platinum Visa® for Rebuilding Credit gives you the opportunity to rebuild your credit by reporting your transactions to the major credit bureaus. Credit One provides regular account reviews for credit line increases.
Prequalification and an approval decision take only minutes. Your cash back rewards program, annual fee, and grace period depend on your credit profile.
The Discover it® Secured Credit Card offers quick approval, but you must make a refundable security deposit before receiving the card. You get free access to your FICO credit score, and your payments are reported to the three major credit bureaus.
Next-Day Loans for Poor Credit
If you need money quickly and can't wait several days for a credit card to arrive in the mail, you may want to apply for a next-day loan. The following four loan networks facilitate loans for poor credit that can be funded as quickly as the next business day.
Short-term loans up to $2,500
Online marketplace of lenders
Funds available in as few as 24 hours
Simple online form takes less than 5 minutes
Trusted by more than 2 million customers
Not available in NY or CT
MoneyMutual preapproves your loan request of up to $2,500 if you meet its criteria, including having a monthly income of at least $800. It then matches you on its network to a direct lender that finishes the application process.
If approved by the lender, expect your loan proceeds to appear in your checking account on the next business day.
Loans from $500 to $10,000
All credit types accepted
Receive a loan decision in minutes
Get funds directly to your bank account
Use the loan for any purpose
CashUSA.com can match you to direct lenders for loans of $500 or more. To prequalify, you must be a U.S. citizen, age 18+, with a monthly income of at least $1,000.
The direct lender recommended by CashUSA.com can preapprove the loan within a few minutes after gathering additional information and deposit your money the next business day in your checking account.
Loan amounts range from $500 to $5,000
Experienced provider established in 1998
Compare quotes from a network of lenders
Flexible credit requirements
Easy online application & 5-minute approval
Funding in as few as 24 hours
To prequalify for a loan facilitated by Bad Credit Loans, you must be 18 or older and a U.S. citizen with a checking account, regular income, and a valid email address. You'll be matched to a direct lender that can offer loans of up to $5,000 and repayment terms up to 60 months.
Once approved, your checking account will receive funding as soon as one business day.
Loan amounts range from $500 to $35,000
All credit types welcome to apply
Lending partners in all 50 states
Loans can be used for anything
Fast online approval
Funding in as few as 24 hours
To prequalify for a loan arranged by PersonalLoans.com, you must be a U.S. citizen or resident of age 18 or older and have a regular monthly income and a bank account. If you prequalify, you'll be linked to a direct lender for loans of up to $35,000 and terms up to 72 months.
Direct lenders from the PersonalLoans network will deposit your money into your checking as soon as one business day.
What is the Easiest Credit Card to Get Approved For?
Although not included in this review, the OpenSky® Secured Visa® card from Capital Bank makes every effort to approve applicants. It does so by not performing credit checks on applicants.
It's able to avoid credit checks by requiring a security deposit, which can range from $200 to $3,000. Your credit line reflects the amount you deposit.
The card reports your payments to the three major credit bureaus to help you build credit with responsible use.
at Capital Bank'ssecure website
No credit check necessary to apply. OpenSky believes in giving an opportunity to everyone.
The refundable* deposit you provide becomes your credit line limit on your Visa card. Choose it yourself, from as low as $200.
Build credit quickly. OpenSky reports to all 3 major credit bureaus.
99% of our customers who started without a credit score earned a credit score record with the credit bureaus in as little as 6 months.
We have a Facebook community of people just like you; there is a forum for shared experiences, and insights from others on our Facebook Fan page. (Search "OpenSky Card" in Facebook.)
OpenSky provides credit tips and a dedicated credit education page on our website to support you along the way.
Qualified applicants for the OpenSky® Secured Visa® card must be U.S. citizens or permanent residents, age 18+, with a valid Social Security number or Individual Taxpayer Identification Number. You need to receive enough monthly income to pay all expenses.
Do not apply for this card again if you've already applied four or more times in the last 60 days. You can have only one credit card from Capital Bank.
The secured cards reviewed above (Secured Mastercard® from Capital One and Discover it® Secured Credit Card) are easy to obtain provided you can make a security deposit.
Another easy source of credit is the Fingerhut Credit Account, but you can only use the account for online purchases at Fingerhut and its affiliates.
What Credit Cards Can You Use Instantly?
If you don't have a credit card and want to make an online purchase now, you can get a card that supports card-not-present transactions. Typically, CNP transactions utilize virtual credit cards to deter fraud.
While you wait for the delivery of your physical credit card, a virtual credit card allows you to complete online purchases using a randomly generated account number provided by the card issuer.
The major providers of virtual credit card accounts include American Express, Bank of America, Citibank, Barclays, and USAA. Some issuers give you a new virtual number for each transaction, while others provide reusable virtual numbers.

You can use virtual account numbers for CNP transactions even after you receive a physical card, as this helps reduce credit card fraud. For example, select cards from Citibank provide randomly generated virtual account numbers that are almost impossible to steal.
American Express offers the most extensive virtual account program that covers all of the cards it issues. You can get an instant card number to use for CNP transactions until you receive your physical card.
Bank of America takes a different approach, allowing you to use its mobile wallet app for card-present and card-not-present transactions. The app does not store your actual card number. In 2019, BoA ended its ShopSafe virtual card number service.
Upon request, USAA will issue a temporary virtual card number and a three-digit security code. The virtual card has a $1,000 credit limit.
How Can I Get a Credit Card Fast?
There are times when you need a credit card really fast. Typically, it takes about seven to 10 business days to receive a credit card in the mail once it's approved.
If the card does not offer instant use, your best bet is to speak with customer service and see if you can arrange expedited shipping.
The following issuers offer faster shipping:
American Express: Free expedited shipping for Platinum and Delta-branded Amex cards.
Bank of America: Provides expedited shipping for special situations.
Capital One: Approves some requests for expedited shipping but may require pleading.
Chase: You can request free expedited shipping on most of its cards with a delivery time of three to five business days.
Discover: Uses USPS Priority Mail as a standard feature with delivery in three to five business days after approval.
If you can't get your credit card fast enough, consider a next-day loan. The lending networks in this review can deposit loan proceeds in your checking account in as little as one business day after approval.
Access Cards and Loans Quickly
When you need quick access to credit despite having bad credit, the 10 cards in this review offer same-day approval. Some credit cards let you make purchases on the day of approval without waiting for the card to be delivered.
Lacking this instant-use feature, you may be able to arrange expedited shipping for your new card. If you can't arrange fast access to a credit card, you can apply for a next-day personal loan from one of the four lending networks reviewed above.
Advertiser Disclosure
CardRates.com is a free online resource that offers valuable content and comparison services to users. To keep this resource 100% free, we receive compensation from many of the offers listed on the site. Along with key review factors, this compensation may impact how and where products appear across the site (including, for example, the order in which they appear). CardRates.com does not include the entire universe of available offers. Editorial opinions expressed on the site are strictly our own and are not provided, endorsed, or approved by advertisers.