One of the most compelling benefits of becoming an authorized user on another person's credit card is that the account and all its activity shows up on your credit report. If you are trying to build or repair your credit rating, a well-managed account can add a steady stream of data to your reports and help your credit scores rise. 
Major and minor credit card issuers report information to authorized users' credit reports, though some less prominent financial institutions may not. So if building credit is your primary reason for piggybacking on somebody else's account, make sure that the credit card issuer takes that action. 
Here are the most common credit card issuers — major banks, credit unions, and smaller and online banks — that do share the primary cardholder's account activity to authorized users' credit reports:
American Express – authorized user must be at least 18 years old
Bank of America
Barclays – authorized user must be at least 13 years old
Discover – authorized user must be at least 15 years old
Capital One
Citi
Chase
U.S. Bank – authorized user must be at least 16 years old
Wells Fargo – authorized user must be at least 18 years old
Navy Federal
PenFed
Patelco
USAA
Credit One – authorized user must be the cardholder's spouse
PREMIER Bankcard – authorized user must be at least 13 years old
Synchrony Bank
How to Become an Authorized User
You wouldn't make yourself an authorized user; that is up to the primary cardholder. The primary cardholder would contact the credit issuer to make the request, which can be done online or over the phone.
The primary cardholder supplies the issuer with your name, address, date of birth, and Social Security number. The issuer will not check your credit reports or credit scores because the account already exists, and you have no ownership of the card account. You are a guest with spending privileges.
There is no charge to make somebody an authorized user in most cases. But if the account offers a very generous rewards program, there may be a fee for each authorized user.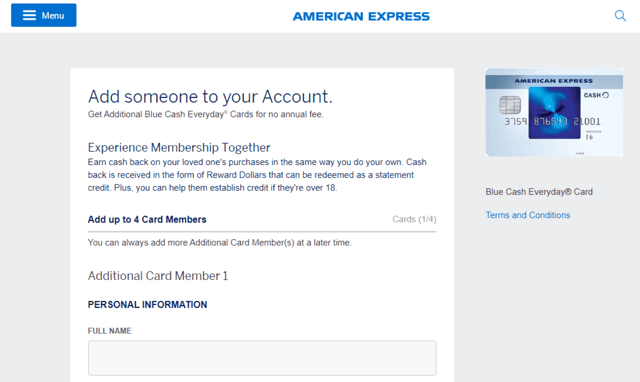 Once the request is granted, the bank will send you — or to the primary cardholder — a credit card with your name on it to the address provided. 
Some credit card issuers allow the primary cardholder to limit the amount authorized users can charge. For example, the credit card may have a $5,000 credit line, but the card owner may only allow you to charge $1,000.
However, the bank will not report that voluntary limitation to your credit file. You will see the full history of that account, including the date it was opened, the current balance, monthly payments, and the total credit line, with no mention of the amount you are permitted to charge if it's less than the actual line. 
After the primary account holder makes you an authorized user, the lender will start to report to the credit reporting bureaus within about 30 to 45 days. It is a good idea to check your credit reports regularly to make sure everything is going according to plan. 
How Being an Authorized User Affects Your Credit 
As soon as the credit card is listed on your consumer credit reports, anyone who reviews your credit reports will see the account history. Credit scoring systems, including FICO and VantageScore, compute credit scores monthly from the information listed on your credit reports. 
If this is your first and only credit account, you will earn a FICO Score within three to six months. VantageScores are posted after a single account is listed in as little as one or two months. 

The credit card issuer does not deem you responsible for making the payments to this card, so how card payment is handled is up to the primary cardholder. But your credit standing will benefit if that person manages the account responsibly by making all payments on time and keeping the balance under 30% of the credit line. That's because payment history and credit utilization are the two most important factors in credit score development. 
Risks to the Primary Account Holder
There is a lot of trust involved in making somebody an authorized user. Because you have permission to use the credit card, you can run up debt and not be liable to the credit card issuer for payment. If the primary account holder expects you to pay them for the amount you charge, it can be difficult to force the issue if you choose not to pay. 
Consequently, both parties need to be clear on the expectations regarding how you use the credit card. For example, you may only be allowed to use the card for emergencies or necessities, such as groceries and gas. 
The agreement may be to check with the primary account holder before using the card. This way, you can avoid not being able to complete the transaction if the card has reached its limit, or the primary account holder simply wants a say regarding what you're buying. 
Risks to the Authorized User
Some credit card issuers will only report positive account history to authorized users' credit reports while others may also report negative information. Either way, check your credit reports frequently for late payments or other credit problems because you will not have access to the statements. Those go to the primary cardholder. 
If you see evidence of delinquencies or a high credit utilization ratio on your reports, you may want to ask the authorized user to take you off the account. You can also remove yourself from the account at any point by calling the company and making the request.
What Happens to Your Credit When You Stop Being an Authorized User 
Your credit will benefit by having an account on your credit report for several years because the age of your credit history is also a substantial credit reporting factor.
There may come a time when you will want to break free. In that case, apply for your own credit card or loan while that well-managed account still appears on your reports and works in your credit favor. 
After you are removed — or you remove yourself — from the account, not only will you not have access to the credit card, but the issuer will no longer report that account to your credit files. 
The age of your credit history may be shortened once you're removed from the account, which will take 30 to 45 days to appear on your reports. Two other credit scoring factors affected when you are no longer an authorized user are the types of credit in use, which is also a credit scoring consideration, and your credit utilization ratio if you have other credit cards with high balances and this card has no or a very low balance. 
Most Banks Report Authorized Users, But Double-Check With Smaller Issuers
As you can see, most credit card issuers report authorized user accounts to the three major credit reporting agencies. If the primary cardholder has a credit card with a much smaller financial institution that allows authorized users, call the issuer to make sure the account will be listed on your credit reports. 
In the end, becoming an authorized user on somebody else's credit card account can be a mutually beneficial experience. Your extra charges on the card may add to the rewards the primary cardholder accrues. 
Another benefit, if that person is a parent, is the peace of mind that their child has the ability to charge a necessity in a crisis. Meanwhile, the authorized user can jump-start or reestablish a positive credit rating, all without the responsibility of having their own credit card. 
Advertiser Disclosure
CardRates.com is a free online resource that offers valuable content and comparison services to users. To keep this resource 100% free, we receive compensation for referrals for many of the offers listed on the site. Along with key review factors, this compensation may impact how and where products appear across CardRates.com (including, for example, the order in which they appear). CardRates.com does not include the entire universe of available offers. Editorial opinions expressed on the site are strictly our own and are not provided, endorsed, or approved by advertisers.