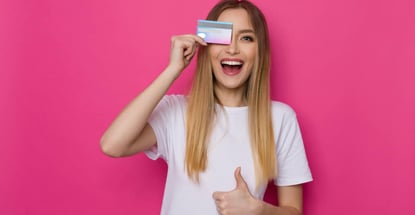 A credit card that does not require a deposit is unsecured. Many unsecured cards are available, but not all provide instant approval. Instant approval means the issuer will give an immediate decision and, if favorable, will mail the card soon after approving the account.
We review below the best unsecured credit cards with instant approval, grouping them by their required credit scores. 
Best Instant Approval Unsecured Cards For Good Credit
Most credit card issuers use the FICO Score system to gauge applicants' creditworthiness. FICO scores range from 300 to 850; those greater than 669 are good, very good, or excellent.
The following instant-approval unsecured cards require applicants to have good credit. A high credit score may improve your chances of approval, but no card issuer approves all applicants.
The Discover it® Cash Back card has quarterly rotating bonus cash back categories that include grocery stores, restaurants, gas stations, and warehouse stores. Cardowners must activate the new category each quarter to receive the bonus rate.
The card provides new cardmembers with a Cashback Match on all rewards posted in the first year, making it the best unsecured credit card in this group. It offers a 0% introductory APR promotion for purchases and balance transfer transactions. The promotion runs for a specified period following account opening, after which the card's APRs revert to its regular rates.
The Capital One VentureOne Rewards Credit Card never imposes black-out dates when cardmembers use their miles to reimburse the costs of trips they have already taken or book future trips through Capital One Travel.
This no-annual-fee card lets cardmembers convert their miles to cash or transfer them to more than 15 loyalty programs. It offers a modest signup bonus and an introductory 0% APR promotion on purchases and balance transfer transactions.
The Capital One Quicksilver Cash Rewards Credit Card provides cash back on every eligible purchase, every day. Cardmembers can earn unlimited cash back and can redeem rewards anytime without minimums.
Cardmembers can redeem their rewards in several ways, including a statement credit, gift card, or mailed check. The 0% introductory APR promotion applies to purchases and balance transfers. New cardmembers can earn a cash bonus by spending a set amount within a specified period.
Best Instant Approval Unsecured Cards For Fair Credit
Fair FICO scores range from 580 to 669. Although fair credit may disqualify consumers from owning top-quality cards, they can still get approved for several attractive cards, including the following three.
The Capital One Platinum Credit Card caters to consumers who want to improve their credit. It reports payments to all three major credit bureaus, which is the most efficient method for building credit. The card does not charge an annual fee or offer rewards. It is the best unsecured credit card for fair credit.
It takes only a few seconds to determine if an applicant is pre-approved with no risk to their credit score. Cardowners can choose their monthly payment due dates and set up autopay to ensure timeliness. Periodic credit line reviews automatically consider cardowners for higher limits.
The Discover it® Student Cash Back credit card is available to undergraduates with fair or no credit. The card does not charge an annual fee — or late fee on the first missed payment. Late payments also do not trigger a penalty APR.
The card provides Cashback Match, a feature for new cardmembers that automatically doubles all the cash back posted during the first year. Cardmembers earn bonus cash rewards up to a spend limit on quarterly rotating merchant categories they can activate.
The Capital One QuicksilverOne Cash Rewards Credit Card caters to consumers with fair credit who want to earn cash back. This instant-approval card provides unlimited flat-rate cash back on all eligible purchases. 
Rewards never expire, and cardowners can redeem them at any time, in any amount. They can use Capital One's Credit Steps to raise their credit lines by making their first six payments on time. The card charges a modest annual fee and does not offer a signup bonus.
Best Instant Approval Unsecured Cards For Bad Credit
The following three unsecured cards welcome applicants with bad credit. Each provides an instant approval decision and offers prequalification without impacting credit scores.
The Mission Lane Visa® Credit Card may provide a lower initial credit limit than the other cards in this group but will consider a higher limit after seven months. It promises an instant decision (but not guaranteed approval) when consumers attempt to prequalify or apply. We consider it the best credit card in this group because it allows cardholders access to Visa card benefits.
The card reports account activity to all three credit bureaus, which can help cardmembers concerned with rebuilding credit when they use the card responsibly. And cardowners can take up to 25% of their credit lines in cash advances. 
The Revvi Card is an unusual subprime credit card because it offers cash back rewards. It provides $0 fraud liability, a mobile app, and monthly reporting to the three major credit bureaus. Cardmembers can avoid the card's high APR by paying their monthly balance.
The card waives its fees for cash advances and maintenance for the first year, and its annual fee drops after the first 12 months. The initial credit limit is low, but cardowners can request an increase after 12 months. Consumers must have a checking account to apply.
The Milestone® Mastercard® is designed for consumers with poor credit, who will receive an instant decision when they apply for the card. Applicants can prequalify in a few steps, or the sponsor, Concora Credit Card Services, may redirect consumers to another credit card if it cannot match them to one of its own.
This Mastercard charges an annual and foreign transaction fee but no monthly maintenance fees. It automatically protects owners from loss or theft and provides an app for mobile access. The card will usually arrive five to 10 business days after approval.
What Is a Credit Card With Instant Approval?
Advances in financial technology enable credit card companies to offer instant application decisions. Systems scan applicant information and pull the data necessary to make split-second decisions.
Sometimes, an issuer will require more information from an applicant. When this happens, the issuer will provide the applicant a window — typically between seven and 30 days — to submit the data required for a definitive decision.

While issuers can advertise an instant approval credit decision, it is impossible to know whether they will approve an application until the consumer submits it. Many credit card issuers send letters and emails with pre-approval offers. However, these do not guarantee final approval because issuers must do a hard pull of an applicant's latest credit report before deciding.
Consumers can visit an issuer's website to prequalify for a credit card. They must submit much of the same information as that on a formal application. However, prequalification does not require a hard credit inquiry and will not impact the consumer's credit score. Prequalification reveals whether final approval is feasible — there is no such thing as a guaranteed approval credit card.
How Do I Get an Instant Approval Credit Card With No Deposit?
The easiest way to obtain an instant-approval unsecured card is to apply online. Card websites provide dialogs or forms to collect the required applicant data, including:
Contact information
Citizenship
Social Security Number
Employment details
Income 
Debts
Housing costs
The issuer pulls an applicant's credit report to verify the submitted information. In most cases, the issuer can immediately decide whether to approve or deny the application. Sometimes, further research is necessary.
Upon approval, the issuer will create the card and dispatch it for delivery. However, applicants must prepay any signup fees before receiving the card.
What Are the Difference Between Deposit and No-Deposit Credit Cards?
The most significant difference between secured credit cards and unsecured cards is that secured cards require an upfront cash deposit while unsecured cards do not. The security deposit is usually a few hundred dollars, although the size can range from $49 to $10,000. 
A security deposit is cash collateral that backs the cardholder's credit line. Consumers with bad credit can usually obtain secured cards quickly because the deposit shifts the costs of default from the issuer to the cardowner. 
An approved applicant must remit the deposit in advance. Issuers place security deposits into escrow accounts and use the money only when a cardholder fails to make the minimum payment on time. 
Should this happen, the issuer will siphon the necessary funds from the escrow account and reduce the cardholder's credit line accordingly. The cardowner can reestablish the full credit line by repaying the card balance. Repeated late payments may prompt issuers to cancel the credit card, confiscate the deposit, pay any outstanding balances, and remit any leftover funds to the former cardowner.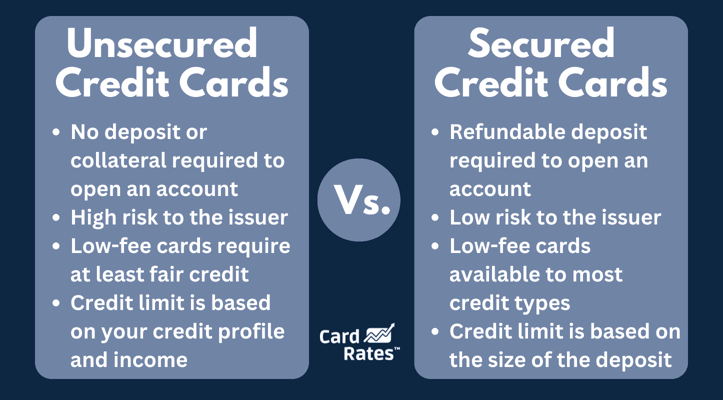 Secured cards can charge relatively low interest rates and fees because the deposits guarantee the issuers will receive their money when a cardmember defaults.
Unsecured card issuers trust cardholders to make minimum payments on time. These issuers do not have a deposit to cushion the cost of defaults, making unsecured cards riskier than secured ones. 
That risk explains why consumers usually need at least fair credit to qualify for an unsecured card. Consumers with poor credit can get an unsecured card, but it likely will charge high interest rates and fees.
Issuers often convert secured cards into unsecured ones by refunding the deposit after a cardmember establishes a record of on-time payments (which usually takes about six months). Alternatively, a secured credit card issuer may increase a creditworthy cardmember's spending limit without requiring an additional deposit.
A secured card's credit limit usually equals the deposit size. However, a few cards are semi-secured, offering a limit greater than the deposit. The card's credit limit is the maximum amount the owner can charge to the account. 
At any given time, the available credit is the card's credit limit minus the current outstanding balance. A card's credit utilization ratio is the available credit divided by the credit limit. CURs above 30% can harm a cardholder's credit score, and FICO scores benefit the most when a consumer's CUR is 1%.
Despite their differences, secured and unsecured cards share specific characteristics, including the following: 
Both can impact credit scores: Both types usually report payments to one or more credit bureaus (i.e., Experian, Equifax, and TransUnion). Timely payments can help scores; payments more than 30 days late can damage them. Debit cards do not report payments and do not affect credit scores.
Both provide revolving debt: Cardmembers can carry a balance, pay off some or all outstanding charges, and reuse the credit line. Unlike a loan, this allows borrowers to access the repaid principal.
Both have potential costs: Both card types charge fees and interest on unpaid balances.
Both may offer rewards: They may provide a rewards program that gives cardmembers cash back, miles, or points redeemable for cash, merchandise, or gift cards. Cardowners accumulate rewards based on spending volume. Unsecured cards are more likely to offer signup bonuses.
Consumers should compare cards before selecting one. Each card has advantages and disadvantages. The best card for an individual will depend on their credit requirements and spending habits.
What Credit Cards Can I Get With No Credit And No Deposit?
Two types of unsecured credit cards are good candidates for consumers with no, limited, or fair credit — student credit cards and subprime cards from Capital One.
Student Credit Cards
Unsecured student credit cards are generally easy to qualify for because financial institutions view undergraduates as low-risk consumers likely to become long-term clients. 
Issuers expect students to have limited credit histories and tailor their offerings to be a person's first credit card. Student cards usually offer lower credit limits, which minimizes the issuer's risk. The cards often charge relatively high interest rates, earning the issuer a higher return on its risk.
Being in an educational setting implies responsibility and stability, which aligns with issuers' interests. Moreover, issuers often consider students to have high future earning potential, making them good candidates for long-term financial relationships.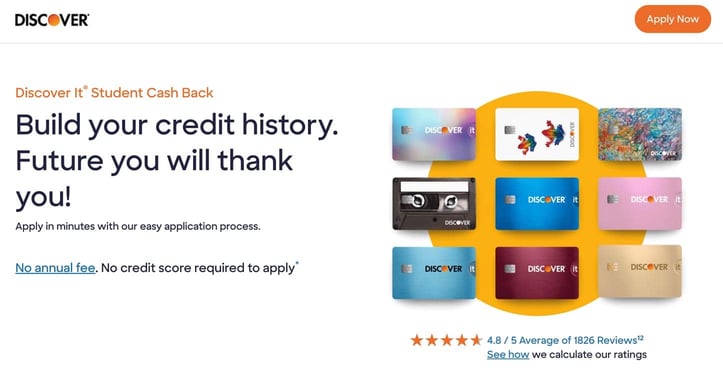 Attracting customers during their college years increases the chances they will remain loyal to the issuer. Many colleges partner with financial institutions, making it easier for students to get credit cards through special campus promotions.
Issuers may assume undergraduates have some form of family financial support, reducing the risk of default. Indeed, some student credit cards require a cosigner, which provides the issuer with an extra layer of security.
Capital One Unsecured Cards
Capital One offers a few unsecured cards for consumers with limited credit for several reasons. 
To start with, Capital One aims for a broad customer base, including consumers with little or no credit history. This strategy is part of its business model to acquire customers early and maintain long-term relationships.
This issuer employs sophisticated models and risk-assessment tools to evaluate an applicant's creditworthiness beyond just a credit score. It may consider other factors such as income and employment history.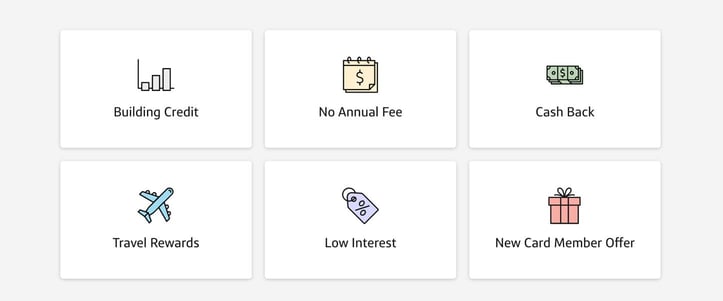 Capital One subprime cards usually offer lower initial credit limits and higher interest rates to reduce the risk of lending to those with limited credit. Customers may become eligible for a higher credit limit through responsible card use.
Additionally, Capital One provides various educational resources to help customers understand how to manage credit, a valuable aid for credit newbies.
Can I Use My Credit Card Before I Receive It?
Sometimes, consumers can use their new credit cards shortly after approval, but with some restrictions.
Several big banks, including American Express and Chase, let customers immediately add a new card account to a digital wallet through their mobile apps. New cardholders can use their card to purchase items from any merchant or service provider that accepts digital wallets.
Some issuers offer temporary virtual credit cards to new cardholders before they receive their physical cards. A virtual card is a digital version of a traditional credit card, created for secure online transactions. Unlike a physical card, a virtual card exists only in electronic form.
Issuers link a virtual card to a real credit card account and bill transactions from the virtual account to the actual one. Some virtual cards are single-use, expiring after one transaction. Others are multi-use and expire after a set period or event, including physical card activation.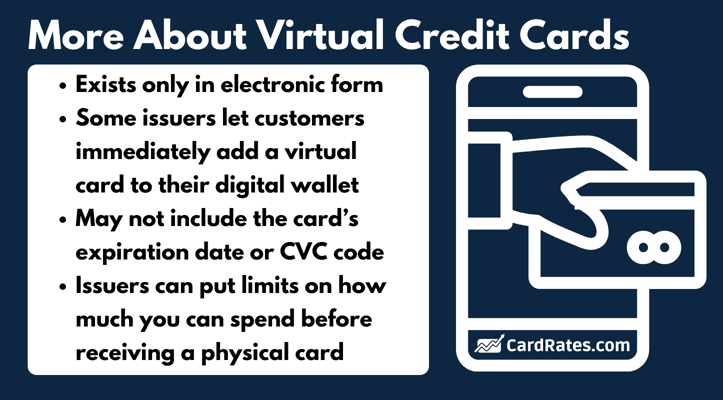 When a customer requests a virtual card for immediate use, the issuer securely provides the card's details through its online portal, mobile app, or secure email. Customers receive the complete card details and can immediately make online purchases, reservations, or any other transaction that does not require a physical card.
Some co-branded cards, such as the American Airlines credit cards from Barclays, let consumers sign up for a card when purchasing tickets from the American Airlines website and use the new card account to cover the cost.
A few issuers provide an instant card number but not the expiration date or CVC security code. Customers must wait for their card to arrive in the mail to get that information.
A card issuer may provide instant access to all the credit card data but prevent new cardholders from charging more than a set amount before the physical card arrives.
How Long Does It Take to Receive a Physical Credit Card?
A growing number of bank branches can print physical credit cards on demand (although some limit this service to debit cards). Customers who open a credit card account at a suitably equipped brick-and-mortar bank can obtain their card within minutes. 
A card applicant can receive an instant decision when applying online. However, it is nearly impossible for an issuer to approve the application, print the card, and get it to the customer on the same day.
Here are some examples of issuers who offer expedited shipping: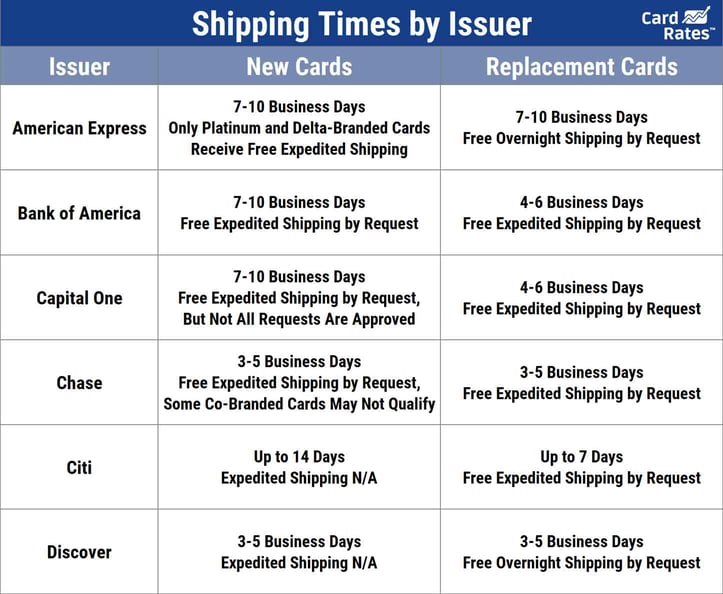 If an issuer does not provide on-demand printing and you urgently need access to a credit card that same day, you should consider buying a prepaid debit card at a local grocery or convenience store.
Prepaid cards require buyers to fund their accounts with cash or debit deposits at the register to receive their new cards instantly. While prepaid debit cards are not traditional, merchants that welcome credit cards also accept prepaid cards. 
Which Credit Card Companies Issue Instant-Use Unsecured Cards?
Several credit card companies offer instant-use unsecured cards, allowing customers to use their new credit accounts immediately after approval, usually through a virtual card. Here are some companies that provide this feature:
American Express: Known for its quick approval process, American Express provides instant access to card account information, allowing customers to add cards to a mobile wallet for immediate use.
Bank of America: Some of its credit card options give existing bank customers temporary card information upon approval, enabling immediate online purchases.
Barclays: Although not as common, some co-branded cards provide the instant-use feature.
Capital One: Upon card approval, existing customers may receive immediate access to a virtual card through the issuer's mobile app.
Chase: Some Chase cards offer an instant card number upon approval, especially for those who apply through the mobile app or online.
Citi: Some Citi cards offer this feature, providing a temporary card number for instant use, especially for online shopping.
Discover: Although famous for its customer-friendly features, Discover does not offer instant access to new card details, preventing customers from making immediate purchases.
Goldman Sachs (Apple Card): Customers manage this card entirely on their iPhones, enabling immediate use with Apple Pay.
U.S. Bank: The issuer offers instant credit card numbers on selected credit cards, subject to the customer's identity verification.
Wells Fargo: Instant credit card access is available to some applicants.
Always check with the credit card issuer to confirm whether they offer instant-use unsecured cards, as this policy can change over time.
What Happens If I Do Not Get Instant Approval?
A delayed decision is not necessarily a sign that the issuer will deny an application. Here are three scenarios to consider in the absence of instant approval.
Eventual Approvals
Issuers may still approve applicants after a manual review process, which can take a few days to several weeks. The issuer may need additional time to verify the submitted information, obtain missing data, or assess the applicant's creditworthiness (especially if the credit history is uncommon or complex). 
Rigorous identity verification procedures can cause delays, especially if there is a discrepancy between the application and public records. The credit card company may ask for additional documents, including proof of income or identity.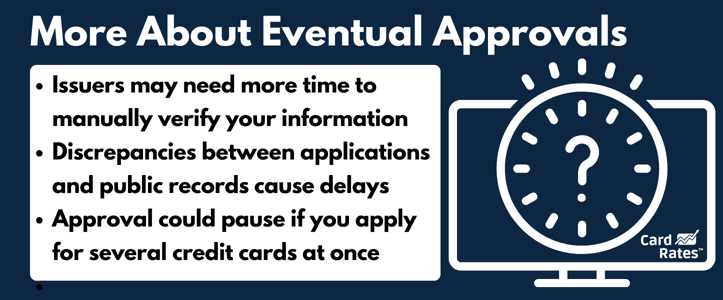 Another source of delay may be that a consumer applied for several lines of credit recently, taxing the issuer's risk assessment process. Sometimes, issuers experience high application volumes, which can slow down the approval process for everyone. 
Applications that the issuer cannot automatically approve often trigger a manual review, which takes longer. Issuers also screen for fraudulent applications, which can lead to delays if any red flags appear.
Contacting the issuer after a significant delay is reasonable. A customer service agent may provide more information and expedite the process if there has been an undue holdup.
Disapprovals
A denied credit card application is disappointing, but it need not be the end of the road. First, you should understand the reasons for denial.
Applicants should receive a formal notification, often called an Adverse Action Notice, explaining the reasons for the denial. These reasons often stem from information supplied by a credit bureau. 
The letter entitles applicants to a free credit report. Reviewing the report for any errors or discrepancies that might have led to the denial is a good idea. Consumers can dispute inaccuracies with the credit bureaus, either independently or through a credit repair specialist.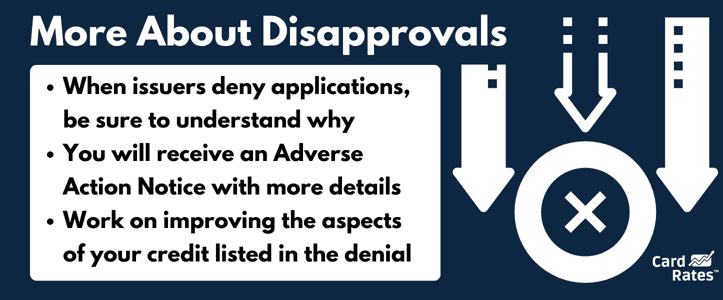 Consumers should work on improving the aspects of their credit profile that led to the denial, including high credit utilization, late payments, or a short credit history.
Applying for another credit card with lower credit requirements may be a good idea for consumers with bad credit. Unfortunately, most major credit card issuers no longer allow cosigners, but most accept authorized users. 
An authorized user is someone with permission to use another person's credit card account. Authorized users receive their own card bearing their name and can use it to make purchases. They are not the primary account holders and are not responsible for paying off the credit card balance.
Becoming an authorized user is a reasonable strategy for rejected credit card applicants because issuers do not perform a credit check on authorized users. Credit bureaus assign a credit card's payment information to primary and authorized users, potentially helping both parties succeed at building credit. 
Prepaid Debit Cards
Consumers can use prepaid debit cards to pay for purchases without accruing debt, overdraft fees, or interest payments. Prepaid cards do not require a credit check because they do not extend credit, making them a suitable substitute for consumers who are ineligible for (or do not want) a credit card. 
Prepaid debit cards help with budget control because cardowners can spend only the money they have loaded onto the card. Consumers can easily use them to make purchases in stores and online. The cards are a safer alternative to carrying cash, and some provide fraud protection.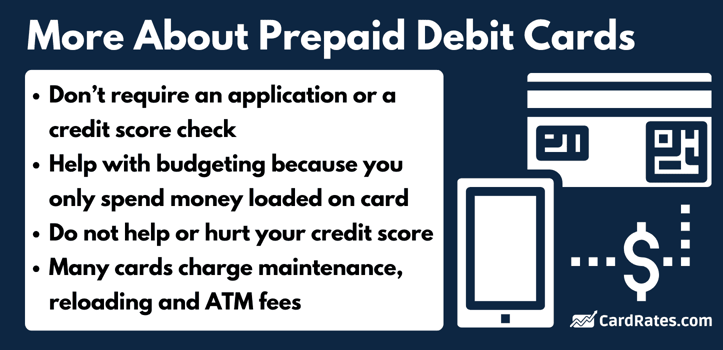 The cards have a few limitations. They do not report to credit bureaus and will not help cardowners interested in rebuilding credit. Many prepaid cards come with various charges, including monthly maintenance, reloading, and ATM fees. The cards often lack the perks and protections available from credit cards, such as reward points or travel insurance.
Some consumers prefer prepaid debit cards to bank accounts or credit cards. Folks with poor credit who are currently ineligible for credit cards can turn to debit cards as a temporary stopgap or a long-term financial tool.
Can I Build Credit With an Unsecured Credit Card?
Consumers can build credit using an unsecured credit card, provided they carefully manage the account. Here are some ways to use no-deposit credit cards to rebuild credit:
Timely payments: Payment history is the most crucial factor in credit scoring. Paying a credit card bill when due every month can significantly grow credit over time.
Low credit utilization ratio: Cardholders should keep their balances low compared to their credit limit. Credit bureaus favor a lower credit utilization ratio.
Long-Term Relationship: Keeping an account open for an extended period can lengthen a cardowner's credit history, another positive factor.
Diverse Credit Mix: Having different types of credit can benefit credit scores. Unsecured cards add to the credit diversity of consumers with other types of credit, such as a secured credit card or installment loan.
Regular monitoring: Keeping an eye on credit reports helps consumers ensure that their information is accurate. Incorrect derogatory data can hurt credit scores.
Consumers must manage their credit cards responsibly to rebuild credit successfully.
Do Not Wait For a No-Deposit Credit Card
Slow service is a popular complaint from consumers in many situations, and credit card issuers know it. That is one reason they strive to provide instant decisions to applicants. 
Technology enables this, allowing consumers to apply for a no-deposit credit card and receive approval in a minute or two. Our reviewed unsecured cards guarantee a fast response, and any of them will make an excellent addition to a consumer's wallet.
Advertiser Disclosure
CardRates.com is a free online resource that offers valuable content and comparison services to users. To keep this resource 100% free, we receive compensation for referrals for many of the offers listed on the site. Along with key review factors, this compensation may impact how and where products appear across CardRates.com (including, for example, the order in which they appear). CardRates.com does not include the entire universe of available offers. Editorial opinions expressed on the site are strictly our own and are not provided, endorsed, or approved by advertisers.