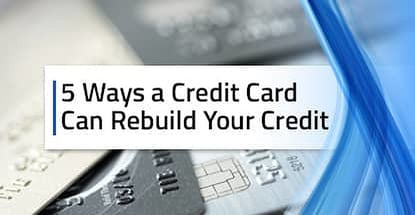 Making a few financial mistakes along your journey to good credit is not uncommon and often repairable, and demonstrating that you can use credit responsibly is one of the ways a credit card can rebuild your credit.
But remember, simply owning a credit card is just one component in your overall credit health. To reestablish yourself as a worthwhile credit risk, there are some factors you need to keep in mind.
A credit card is a tool, and when used properly and responsibly, it can help to show you're developing good credit habits. Here are some of the ways you can use a credit card to rebuild your credit, as well as six of the best cards for getting started. Our list includes both secured and unsecured cards, and we'll provide some valuable information to help you decide which type of card may be best suited to your unique financial situation.
1. Pay Your Bills on Time
The single most important factor in calculating your credit score is whether you pay your bills in a timely manner. That's because 35% of your FICO score is based on your payment history. No other single factor can have as much negative impact on your credit score, as being labeled a late payer.
And it's not just credit card payments that get reported to the credit bureaus; your cable and cellphone bills, loan payments, even your rent — all of these can have an impact and need to be paid on time.
2. Use 25% or Less of Your Credit Limit
Another factor in rebuilding your score is the total amount of credit you're using, compared to how much you have available. This factor accounts for 30% of your overall score and can do a lot of damage if it's too high.
So, how much is too high? Let's say you have a single card with a $1,000 credit limit. If you owe $800 on that card, it means you have a credit utilization ratio of 80%. Most creditors want to see a utilization ratio closer to 25% or less. That's because anyone "maxing out" their credit cards may be in financial hardship, and therefore not a good credit risk.
3. Keep Your Old Credit Cards Active
The length of your credit history is also an important component in calculating your FICO score. In fact, credit history makes up 15% of your total credit score. Even if you don't use that old credit card with its high interest rate and no rewards points, it could still be helping your score.
Keeping it in an active status will make your length of credit history look more attractive, and may also help contribute to your credit utilization ratio.
Some companies will cancel a credit card if it is inactive for too long, so you may want to use the card occasionally and pay it off immediately just to keep the account alive.
4. Have a Healthy Mix of Credit Accounts
Believe it or not, your credit score is also impacted by the types of credit you have. A mix of revolving and installment accounts is more desirable than only having credit cards, and counts for 10% of your total credit score. Adding an installment account, like a car loan or even financing that new TV purchase, will look better to creditors and can help to increase your credit score.
5. Be Mindful of Credit Inquiries
An inquiry is made into your credit history each time you apply for a loan or credit card. If you apply for multiple credit cards or loans in a short period of time, these inquiries or credit checks can negatively impact your FICO score. That's because to creditors it may seem like you are in desperate need of cash, and therefore are not a good credit risk.
There are two types of credit inquiries — a soft inquiry and a hard inquiry. Soft inquiries are used for things like an employment background check or when you open a cellphone account, and these won't trigger a hit on your credit score. A hard inquiry is when you apply for a loan or mortgage, or apply for a credit card. These do make it onto your credit report, and too many of them can cause your credit score to drop.
Secured Vs. Unsecured Credit Cards
There are two types of credit cards you can get, and each type can help your credit score if you use it responsibly. A secured credit card is one that uses money you deposit into an account as the available credit line. These are some of the easiest credit cards to get and are usually for people with poor credit or fair credit.
The second type, an unsecured credit card, requires no deposit. This is a true revolving credit account, where the money is lent to you by the issuer and you repay it in increments over time (plus interest of course). Since both secured and unsecured credit card payment information is shared with the credit bureaus, they can both help to rebuild your credit.
3 Best Unsecured Credit Cards for Bad Credit
The upsides to having an unsecured card include no security deposit and perks like cash back or rewards points, depending on the card. The better your credit, the better the rewards card you'll be approved for. For credit scores above 650, you may benefit from checking out our card reviews for fair credit, good credit, and excellent credit, as these cards offer the best rewards and APRs.
Do your research to find the card that fits your needs. You can start by checking out our top three best unsecured cards for people with bad credit.
+See more unsecured credit cards
3 Best Secured Credit Cards for Bad Credit
In general, a secured card will be easier for people with bad credit to get approved for. If issuers view lending to you as more of a risk, using a secured credit card responsibly is a great way to build your credit and work toward a solid financial history.
Below, our experts have picked out the top three secured credit cards for anyone with bad credit.
+See more secured credit cards
How You Use the Card Makes the Difference
Keep in mind that credit cards aren't inherently good or bad — it's how you use them that makes the difference. Staying mindful about maintaining your budget, making the payments on time, and using your cards responsibly is the key to credit card success. And the more you know about how your score is calculated, the more control you have over your credit.
Final Notes on "5 Ways a Credit Card Can Rebuild Your Credit (Sep. 2023)"
We hope this guide "5 Ways a Credit Card Can Rebuild Your Credit (Sep. 2023)" has been a helpful resource for you in learning more about your financial options. In this guide, we've covered:
1. Pay Your Bills on Time
2. Use 25% or Less of Your Credit Limit
3. Keep Your Old Credit Cards Active
4. Have a Healthy Mix of Credit Accounts
5. Be Mindful of Credit Inquiries
Secured Vs. Unsecured Credit Cards
How You Use the Card Makes the Difference
To learn more about options not mentioned here, be sure to check out other popular reviews from our team of experts:
We also encourage you to check back at this URL regularly, as we update the offers listed in "5 Ways a Credit Card Can Rebuild Your Credit (Sep. 2023)" and other guides on a daily basis.
Advertiser Disclosure
CardRates.com is a free online resource that offers valuable content and comparison services to users. To keep this resource 100% free, we receive compensation for referrals for many of the offers listed on the site. Along with key review factors, this compensation may impact how and where products appear across CardRates.com (including, for example, the order in which they appear). CardRates.com does not include the entire universe of available offers. Editorial opinions expressed on the site are strictly our own and are not provided, endorsed, or approved by advertisers.