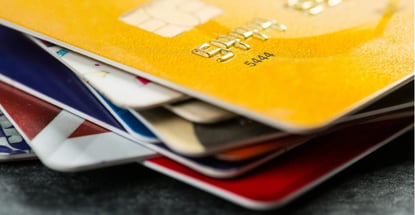 The key to finding easy credit cards to get approved for with no deposit is to only look for unsecured credit cards. Just as with traditional loans, an unsecured credit card requires no deposit or upfront cash for approval.
Like a secured loan, a secured credit card requires collateral to secure your account against default. In this case, your collateral is a cash security deposit that typically determines your card's spending limit.
We've compiled a list below of unsecured credit cards you can likely qualify for, even if you have fair credit, limited credit, or poor credit. These cards don't require a deposit, and you can apply for the card of your choice and receive a credit decision in a matter of minutes.
Unsecured Credit Cards With No Deposit Required
You can access the online application for every unsecured card below by clicking on the card's name or the Apply Now button. Each application takes only minutes to complete, and you can receive instant approval from the card issuer if you qualify.
Some cards charge an annual fee that's deducted from your available credit limit when you activate your card, but none require a security deposit for approval.
Up to $1,000 credit limit doubles up to $2,000! (Simply make your first 6 monthly minimum payments on time)
All credit types welcome to apply!
Monthly Credit Score – Sign up for electronic statements, and get your Vantage 3.0 Score Credit Score From Experian
Initial Credit Limit of $300 – $1,000 (subject to available credit)
Monthly reporting to the three major credit bureaus
See if you're Pre-Qualified without impacting your credit score
Many consumers choose the Surge® Platinum Mastercard® because it has flexible acceptance standards and typically offers higher initial credit limits than the average credit card for bad or limited credit history.
With this card, you can potentially double your credit limit simply by making your first several payments on time. You can easily submit your payment via your online dashboard by linking your checking account or other bank account.
Up to $1,000 credit limit doubles up to $2,000! (Simply make your first 6 monthly minimum payments on time)
See if you're Pre-Qualified with no impact to your credit score
All credit types welcome to apply
Access to your Vantage 3.0 score from Experian (When you sign up for e-statements)
Initial Credit Limit of $300 – $1,000 (subject to available credit)
Monthly reporting to the three major credit bureaus
The Reflex® Platinum Mastercard® also allows new cardholders to double their available credit line when they make multiple consecutive on-time payments after opening their account. This is a great way to build credit with a reputable credit card company.
Reflex also allows you to prequalify for any of its credit cards without harming your credit score or leaving a hard inquiry on your credit report with any of the major credit bureaus. This provides peace of mind that you'll likely qualify before you apply for the card.
3. Indigo® Unsecured Mastercard® – Prior Bankruptcy is Okay
This card is currently not available.
The Indigo® Unsecured Mastercard® – Prior Bankruptcy is Okay has very forgiving approval standards — even going so far as to approve applicants with recent bankruptcies on their credit report. Whether you're looking for a good starter credit card or you're building credit after previous financial mistakes, this card may be right for you.
Not only will Indigo provide a competitive interest rate on its cards, but it will report your account history to the three major credit bureaus. This helps you build credit faster without worrying about paying for a pricey security deposit with a secured card.
at Milestone Mastercard®'ssecure website
Greater access to credit than before – $700 credit limit
Get a Mastercard accepted online, in store and in app
Account history is reported to the three major credit bureaus in the U.S.
$0 liability* for unauthorized use
Access your account online or from your mobile device 24/7
*Fraud protection provided by Mastercard Zero Liability Protection. If approved, you'll receive the Mastercard Guide to Benefits that details the complete terms with your card.
The Milestone® Mastercard® is one of three offerings the card issuer has for consumers with a less-than-perfect credit history. By submitting a single application on the bank's website, you can get a better idea of which card fits your needs.
If you apply for this card, you'll receive an instant decision and, if approved, get access to your full credit line — minus the annual fee — once your card arrives in the mail within seven to 10 business days.
5. Indigo® Mastercard® for Less than Perfect Credit
This card is currently not available.
Indigo's second appearance on this list shows how the card issuer truly specializes in creating unsecured credit card products for consumers who are focused on building credit without the upfront costs of a secured card.
The Indigo® Mastercard® for Less than Perfect Credit comes with a variable annual fee that's based on your credit history. If your credit score falls within Indigo's acceptable range, you may not have to pay an annual fee. 
6. Merrick Bank Double Your Line® Mastercard®
This card is currently not available.
The Merrick Bank Double Your Line® Mastercard® is a great tool for helping you build credit when you keep a low balance and credit utilization ratio. In less than a year, this card will potentially double your credit line once you make your first several payments on time.
This credit card company will also report your account information monthly to each credit bureau, which helps you work toward good credit with responsible use over time.
$400 credit limit doubles to $800! (Simply make your first 6 monthly minimum payments on time)
All credit types welcome to apply
Monthly reporting to the three major credit bureaus
Initial Credit Limit of $400.00 (Subject to available credit)
Fast and easy application process; results in seconds
Use your card at locations everywhere Mastercard® is accepted
The FIT™ Platinum Mastercard® is a good starter credit card because it offers a lower initial credit limit that allows you to get comfortable using credit without accruing a large amount of credit card debt. 
This unsecured card may double your credit limit after you make consecutive payments on time — a common feature among the cards on this list. 
What Makes a Credit Card Easy to Get Approved For?
Every credit card has different approval requirements. Some cards are designed solely for consumers who have perfect credit while others consider applications from people who have bad credit.
But, generally, cards that are "easy to get" have low income and credit score requirements.
The cards listed above are designed for consumers who have poor credit, limited credit, or are building credit. That means they're more flexible when reviewing an applicant's credit history and still approve people with past credit mistakes.
The easiest type of card to get approved for is generally a secured credit card that requires a refundable security deposit. Many secured credit cards don't require a credit check to open your account. This is because your deposit acts as security in case you default on your credit card debt.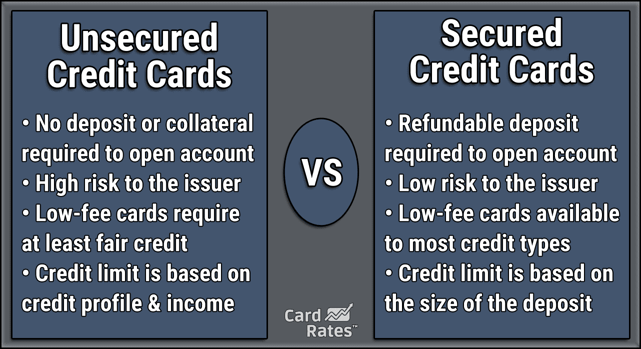 There are several types of secured cards — including secured Visa, secured Mastercard, and secured business credit card offerings. Most major banks offer secured cards, including Capital One, Citi, Discover, and Bank of America.
You may also want to consider secured cards from large banks that offer a portfolio of unsecured cards. That way you can build your credit score with the same bank and eventually graduate to an unsecured card that won't require a new application or account change.
How Do I Apply For a Credit Card Online?
For customer convenience, banks offer online applications that take only minutes to complete and offer instant credit decisions for most consumers.
You can access the application for each card listed above by clicking on the link attached to the card name or the Apply Now button. The application will require basic identifying information — including your name, Social Security number, address (physical and email), phone number, and income.
Once you submit your application, the bank will use automated underwriting to make a credit decision within seconds.
If you're approved, your screen will update with your new account information, which will include your account number and credit line. The bank will then invite you to create an online profile to manage your account. You can link your checking account or another bank account at that time to make future payments.
The bank will immediately process your account and print your new card. It will arrive in the mail within seven to 10 business days.
If the bank denies your application, it will mail you an adverse action notice that outlines the reasons why you were denied.
How Do I Use a Credit Card to Rebuild Credit?
Credit cards provide a great way to build credit because they help you develop a reputation for responsible financial behavior, which can replace previous negative items on your credit report.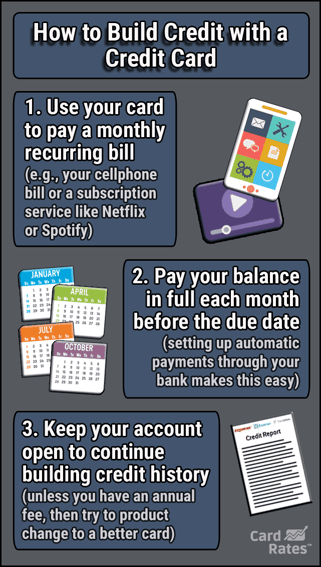 Your credit card issuer will report your balance and payment information to at least one credit bureau every month. The bureau collects all of this information and creates a profile under your name and Social Security number. 
This is your credit history, and credit scoring models (e.g., FICO and VantageScore) use this data to calculate your credit scores.
You may have a bad credit score if you've made past financial mistakes that left negative marks on your credit report. Adding new, positive data to your report pushes the negative items further down your credit report. Your credit score favors more recent data over older information — so current credit card data will carry more weight than older data.
If you keep your balance low and make all of your payments on time, you'll continue to add positive information to your credit report. Over time, this will overtake the negative items and leave you with a more favorable credit report and an improved credit score.
But just one little slip up, such as a single late payment, can quickly shave as many as 100 points off your credit score and undo all of your hard work to rebuild your credit score.
What Credit Score Do I Need to Get a Credit Card?
There's no magical credit score number that you need to get guaranteed approval credit cards. That's because every credit card company has its own standards for acceptance — and none will publicize what those standards are.
Remember that your credit score is just one of several factors that determine your creditworthiness. Someone who has very good credit may still have their application rejected if they have too much debt and too little income to afford a new loan.
On the other hand, someone with bad credit may have no trouble finding approval if they have little debt and enough income to support the added credit card debt.

A credit card company will also look more closely at your recent financial history than it will at past information. For example, a late payment from three months ago will cause far more damage to your credit score than one from three years ago.
Before you apply for a credit card, you should access your free annual credit report to see any recent and potentially damaging data listed. If so, you may want to hold off on your application until you can push those items further down your history and replace them with positive information.
What Credit Limit Will I Get With a New Card?
Your credit limit will vary based on the card you qualify for and your credit score.
Some cards start all new cardholders with the same credit limit. The FIT™ Platinum Mastercard®, for example, starts with a $400 credit line. There's no way around that.
Other cards offer a range that's based on your credit history. Consumers with very good credit will often qualify for a higher credit line compared with someone who has bad credit and poses a greater risk.
Most credit cards also have a maximum allowed credit line that typically is not publicized. Rarely does a bank start a new cardholder with the maximum allowable credit line. 
Based on your credit history and the bank you qualify with, you may find that your initial credit line can range anywhere between $250 and $100,000 or more.
Can I Get a Credit Card Without a Credit Check? 
You'll need to submit to a credit check when applying for an unsecured credit card that requires no deposit. Without a deposit, the issuing bank has no recourse if you default on your debt. As a result, the bank will require a look at your credit history to gauge your level of risk.
A few secured credit card offerings won't require a credit check. Instead, the issuing bank will use your refundable security deposit as a backup in case you don't repay your debt. The OpenSky® Secured Visa® Credit Card and Applied Bank® Secured Visa® Gold Preferred® Credit Card are two options that currently do not require a credit check during the application process.
at Capital Bank N.A.'ssecure website
Limited Time Offer: $51 funding voucher applied for all new accounts. Get a $200 credit line for $149. Click "Apply Now" to see additional terms and conditions.
No credit check to apply. Zero credit risk to apply!
Looking to build or rebuild your credit? 2/3 of cardholders receive a 48+ point improvement after making 3 on-time payments
Extend your $200 credit line by getting considered for an unsecured credit line increase after 6 months – no additional deposit required!
Get free monthly access to your FICO score in our mobile application
Build your credit history across 3 major credit reporting agencies: Experian, Equifax, and Transunion
at the issuer'ssecure website
Better than Prepaid…Go with a Secured Card! Load One Time – Keep On Using
Absolutely No Credit Check or Minimum Credit Score Required
Automatic Reporting to All Three National Credit Bureaus
9.99% Low Fixed APR – Your Rate Won't Go Up Even if You Are Late
Activate Today with a $200 Minimum Deposit – Maximum $1,000.
Increase Your Credit Limit up to $5,000 by Adding Additional Deposits Anytime
| | | | | |
| --- | --- | --- | --- | --- |
| | | | | Poor/Fair/Limited/Damaged |
While these guaranteed approval credit cards may seem more convenient during the application process, they come with drawbacks. For example, a card that doesn't require a credit check may also charge higher fees and interest to offset any risks associated with extending credit to someone who has bad credit. 
Your credit score seldom affects your approval odds with most secured card issuers. That means you shouldn't choose a card simply because it skips the credit check process. Instead, you should always look at a card's fee structure and interest rate to determine which offering is best for you.
How Long Does it Take To Get a New Credit Card in the Mail?
Once approved, you'll typically receive your new credit card in the mail within seven to 10 business days. Banks need this time to finalize your account, print your new card, and send it to you.
Few cards allow you access to your credit line before your card arrives. But once you retrieve your card from your mailbox, you can activate it online or over the phone and begin using your credit line right away.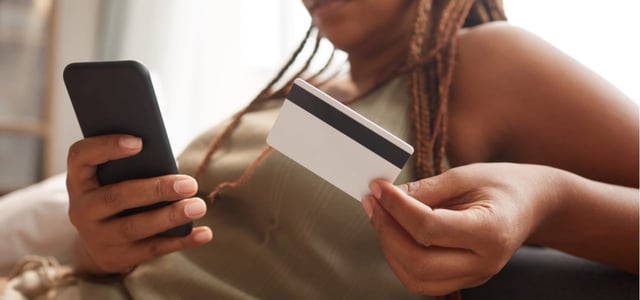 Keep in mind that the issuing bank will likely charge your annual fee or any setup fees to your card as soon as you activate the account. This means your initial credit line may decrease by the amount of the fees charged.
How Many Credit Cards Can I Have?
No rule limits how many credit cards you can have in your name — but some banks may limit the number of cards it will issue to an individual consumer.
This means you can have a couple — or a couple of dozen — credit cards in your wallet. The number of cards you have depends on your qualifications and whether a bank will accept your application for new credit.
The exception to this rule is Capital One, which limits consumers to having only two of its branded cards at a time. This rule does not apply to its co-branded cards, such as those with Saks and other department stores.
This rule went into effect in 2011. Anyone who had more than one Capital One card in their name at that time was grandfathered into the rule.
The Chase 5/24 rule also limits the number of cards you can have from the bank. This rule states that if you have five or more new bank card accounts (credit or charge cards) opened within the last 24 months, you'll most likely be rejected for a new Chase credit card even if you otherwise qualify.
Other banks may have rules that limit your eligibility for multiple cards. Other known policies include:
According to Wallethub, you can have an unlimited number of Citi credit cards, as long as you're approved for each card.
According to UpgradedPoints.com, you can have up to five American Express credit cards at a time. This includes business credit cards but does not include charge cards, such as the The Platinum Card®.
Multiple sources report that you can have an unlimited number of Bank of America credit cards.
According to ValuePenguin, Discover limits consumers to no more than two of its cards at a time.
Remember that you can often work around this rule by canceling a card account and applying for a new card with the same issuing bank. Just keep in mind that canceling a card account may impact your credit score, and some banks make you wait for a while after canceling an account before you can apply for a new one.
Check with the bank to clarify its rules before you apply for, or cancel, any card account.
How Do I Choose the Best Card For Me?
There's so much more that goes into a credit card beyond the interest rate and credit limit. Although those are important details, it's often the only thing that consumers look at when comparing cards.
That would be like buying a car and only checking the oil level to determine whether it's in good working condition.
A card may advertise high potential credit limits but only offer lower limits to new cardholders. On the other hand, a card may sport a very low interest rate, but tack on a sky-high annual fee, setup fee, or other charges.
If you frequently travel overseas, you may want to consider a card's foreign transaction fee that will increase the total cost of any purchase you make with the card in another currency.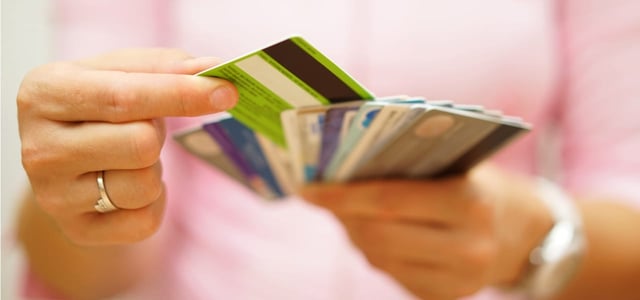 You should also inspect the balance transfer fee if you're looking to move over any existing debt from a card that has a higher interest rate. Your cash advance fee and interest rate are important if you regularly withdraw cash from your card account at a bank teller window or through an ATM.
If you have a large purchase looming in the near future, consider a card that offers a 0% APR promotion for new cardholders. You can also consider any cash back, bonus points, or miles rewards that your card may give you for eligible purchases. But the best rewards and APRs are reserved for consumers with good credit.
These are the makings of a great credit card. But what's good for one consumer may not work with another person. Make a list of what matters to you, and then narrow down your list of potential cards based on those factors.
Find Easy Credit Cards To Get Approved For With No Deposit Online
It's great to avoid a security deposit when you're adding a new credit card to your wallet. But sometimes you avoid a security deposit but still run into other fees —  including an annual fee, a high interest rate, or other charges — that cost you just as much. 
Make sure that your card limits its fees so you don't end up paying more than you should for access to credit. With the easy credit cards to get approved for with no deposit listed above, you'll keep your fees at a minimum while helping increase your credit score. 
Advertiser Disclosure
CardRates.com is a free online resource that offers valuable content and comparison services to users. To keep this resource 100% free, we receive compensation for referrals for many of the offers listed on the site. Along with key review factors, this compensation may impact how and where products appear across CardRates.com (including, for example, the order in which they appear). CardRates.com does not include the entire universe of available offers. Editorial opinions expressed on the site are strictly our own and are not provided, endorsed, or approved by advertisers.