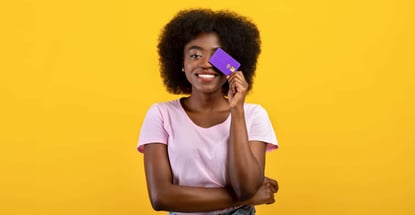 Plenty of people have bad credit for all sorts of reasons. It's neither a moral failing nor a permanent condition. Moreover, an extensive industry provides financial products and services to folks with fair or bad credit. 
The credit card marketplace is in this vanguard, offering dozens of choices to those with below-average credit. This article reviews credit cards with no security deposit that compete head-to-head with some outstanding secured credit cards for consumers with imperfect credit. 
Best Unsecured Cards For Fair or Worse Credit
As you'll see, the best cards provide benefits similar to those from secured cards without the need to shell out a $200+ deposit. 
Pros: The Capital One Platinum Credit Card comes from a major bank and charges no annual fee. You'll get free perks such as credit monitoring and fraud protection and may receive a higher credit limit in as few as six months. You may be able to upgrade to a better Capital One card in the future when you use the card responsibly.
Cons: The regular APR on this Platinum Mastercard is a bit high, and you face a steep fee for a single late payment.
Pros: Capital One aims this card at folks who want the simplicity of a flat cash back rewards rate on all eligible purchases. It offers a bonus rate when you book hotels and rental cars through Capital One Travel. The card protects against unauthorized usage and may raise your credit limit after six months of responsible use.
Cons: The card charges an annual fee, a relatively high interest rate, and a large late payment fee.
Pros: You can prequalify for the Surge® Platinum Mastercard® without damaging your credit. Six months of on-time payments will double your credit limit. You get Mastercard Zero Liability Protection and reporting to all three major credit bureaus.
Cons: The annual fee is high, and you may have to pay a monthly maintenance fee after the first year.
Pros: The Reflex® Platinum Mastercard® provides free credit scores if you receive your statements electronically. Your credit line will double to as much as $2,000 after six months of timely payments. At its top end, the initial credit line is relatively high.
Cons: Steep costs include annual, maintenance, and penalty fees.
Pros: This card offers cash back rewards on all purchases. You can manage the card from its full-featured mobile app. Mastercard liability protection and triple credit bureau reporting are standard features.
Cons: High annual fee, and the maximum credit limit is $1,000.
Pros: The Fortiva® Mastercard® Credit Card pays a high cash back rate on eligible gas, grocery, and utility purchases/payments. You get free credit scores and transaction alerts. Prequalification will not impact your credit history. 
Cons: The APR and membership fees are high, and the card charges foreign transaction fees if you need to make international purchases.
Pros: The card accepts applicants with poor credit. The annual fee and APR are lower than that of some competitors, and there's no monthly maintenance charge. The Milestone Mastercard reports to all three credit bureaus.
Cons: Cash advances are expensive, and a foreign transaction fee applies to international purchases.
Pros: New cardholders can qualify for a credit line without minimum credit requirements. The Total Visa® Card provides TransUnion credit monitoring for free. Quick account access is available through a mobile app.
Cons: Very high fees, including one for signing up, and you can't use the card for international purchases.
How Do I Get a Credit Card Without a Deposit?
You can start the process by prequalifying for a credit card. Most unsecured credit cards for bad credit offer a prequalification step that won't hurt your credit.
You can fill out the prequalification form on the card's webpage by providing your name, address, Social Security number, and other data (e.g., income, housing expenses, etc.). You'll receive an instant response, but remember that prequalification does not guarantee final approval.
If you prequalify, you can click a link to complete the application process and provide any additional information the bank may require. Most credit card issuers will do a credit check electronically with one of the three major credit bureaus. 
If the credit card issuer approves your application, it will disclose your APR, annual fee, and initial credit line. E-sign the cardmember agreement if you agree to the card's terms.
If your card has a setup fee, you may have to submit the payment before the issuer will send you the card, or it may be deducted from your initial credit limit. When the card arrives in seven to 10 days, contact the issuer online, by phone, or via the mobile app to activate the card. Sign the back, and you're ready to go. 
Any annual fee will appear on your first statement, reducing your available credit until paid. Several cards charge a monthly maintenance fee, but it won't kick in until the second year of ownership.
What Is the Difference Between Unsecured and Secured Cards?
Secured credit cards serve consumers with limited or poor credit looking for credit card functionality — the ability to charge purchases and make payments — and a chance to improve their credit scores. Their significant advantage over unsecured cards is that they will accept just about any applicant, regardless of credit score (or lack thereof). 
The sole difference between secured and unsecured credit cards is that secured cards require a deposit upon approval. The money is collateral that protects card issuers against defaults from consumers with shaky or unproven credit. In all other respects, unsecured and secured cards operate in the same way.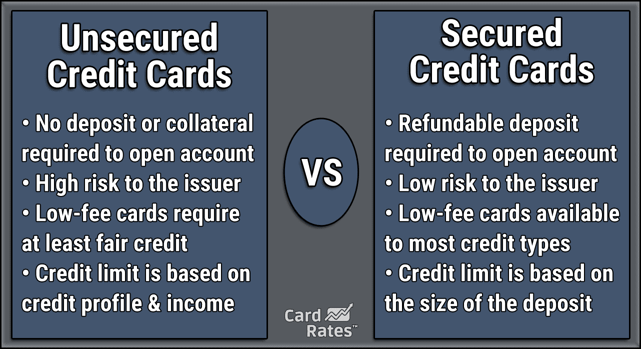 The issuer will park your security deposit in an FDIC-insured account, but don't expect even the best secured credit card to pay interest on it. The money is refundable if you should close the account.
Getting a secured credit card is usually the first step toward obtaining an unsecured card. Most secured cards will graduate cardowners with a clean payment record to an unsecured card by returning the security deposit, usually within a year.
The security deposit does not pay for your monthly charges. The only time the issuer will use the money is if you miss a payment, at which time the issuer will charge a late fee, siphon off the minimum amount due, and reduce your credit limit accordingly. The issuer will likely close your account if you miss more than one payment. 
Although they operate similarly, unsecured cards are strikingly different from secured cards in their costs and benefits. Subprime unsecured card membership is typically expensive, with high fees and APRs. Secured cards are likely to cost considerably less and often provide perks usually associated with cards for borrowers with good credit.
How Do I Build Credit With an Unsecured Credit Card?
The two most effective methods to build credit using any credit card are to pay your bills on time and to keep your unpaid balance in check.
Pay Your Bill on Time
FICO, the predominant credit scoring system, assigns 35% of your score to your payment history. Every month, card issuers report your card activity to one or more of the three major credit bureaus (Experian, TransUnion, and Equifax).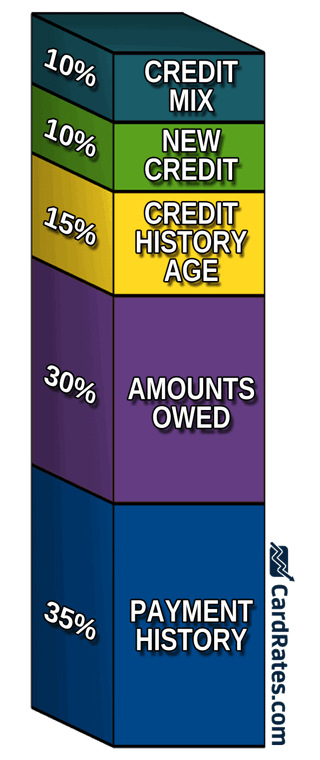 If you miss a payment by more than 30 days, the bureaus will reduce your credit score and add the incident to your credit report (where it will remain for seven years). You may also face a late fee and penalty APR.
When rebuilding credit, pay at least the minimum amount each month before the payment due date. For most unsecured cards, that date is at least 21 days after the close of the billing period, an interval known as the grace period. 
You don't pay interest on purchases that you pay for before the grace period ends. But once you run an unpaid balance beyond the due date, even the best credit card will suspend the grace period until you repay your entire balance (unless you have a promotional 0% APR).
Timely payments will slowly boost your credit score. It may take up to a year to see meaningful improvement if your credit score is low. It would be best if you didn't break your momentum by missing a payment, as it could undo all your progress. 
One way to ensure you never miss a payment is to sign up for autopayments on the card's website. This arrangement allows the issuer to withdraw the minimum payment amount from your bank account on the due date or another date of your choosing. You can do the same using personal finance software such as Quicken to issue automatic monthly payments.
Keep Your Balance in Check
Another 30% of your FICO score derives from your credit utilization ratio (CUR), which is the amount of card credit spent divided by your total available credit. You can improve your credit score by keeping your credit utilization below 30% because FICO associates a high CUR with possible financial distress.
For example, if you have a $1,000 credit line, an unpaid balance below $300 is required to build credit. The same rule applies to each credit card you own and the aggregate of all your cards. 
If possible, pay down your balance so your CUR is below 30% as of the statement date (the end date of the billing period) — that is when the card issuer sends a snapshot of your account to the credit bureaus. 
The most frugal practice is to pay your entire balance each month. This will:
Keep your CUR at or near 0%
Avoid interest charges and late fees
Improve your credit score
Leave the maximum credit available for emergencies
If you chronically cannot pay more than the minimum amount each month, you may want to consider revamping your budget and possibly replacing your credit card with a prepaid debit card. The latter will never charge you interest, and you can't use it to make purchases with money you don't have. 
Do Unsecured Cards For Bad Credit Offer Rewards?
Only a few unsecured cards for bad credit let you earn rewards. You'll have better luck qualifying for one if you raise your score into fair credit territory. Alternatively, you may prefer a secured credit card since many offer cash back or point rewards.
Secured credit cards are more likely to offer rewards, sometimes on par with those offered by unsecured cards for good credit. This perk is another reason to start with a secured credit card, often called a second chance credit card, when establishing or rebuilding credit.
We know of two unsecured cards for bad credit that provide rewards, both of which charge hefty fees and interest rates to offset the rewards and risk associated with lending to subprime consumers. The cards are the Revvi Card and Destiny Mastercard® Cashback Rewards card.
Among the reviewed cards, only two — the Capital One QuicksilverOne Cash Rewards Credit Card and Fortiva® Mastercard® Credit Card — provide rewards. But these cards aren't for consumers with bad credit; they are for those who have fair credit (~600+ FICO) or a limited credit history.
None of the reviewed cards offer signup bonuses. Conversely, several collect a signup fee from new cardholders.
What Fees Do Credit Cards Charge?
Unsecured cards for poor credit make up the costliest credit card segment. All credit cards must disclose their rates and fees before asking you to sign a cardmember agreement. Look for the following items:
APR: Typical interest rates for purchases range from 23% to 36%. APRs for cash advances are frequently 29.99%. Some cards impose a penalty APR of 29.99% if you miss a payment.
Program fee: If present, this one-time signup fee typically ranges from $79 to $149.
Annual fee: The best cards in this group do not charge an annual fee. The rest impose a yearly charge that can exceed $100.
Maintenance fee: If present, you'll pay around $10/month beginning in the second year of ownership.
Cash advance fee: Typically, these cards charge a 1% to 5% cash advance fee with a $10 minimum. Some cards waive the charge for the first year.
Balance transfer fee: Few cards in this segment support balance transfers. Those that do will impose transaction fees typically in the 3% to 5% range.
Foreign transaction fee: The foreign transaction fee is typically 3%. Some cards prohibit international purchases.
Penalty fees: These may include fees for late payments, returned payments, and overlimit balances. The typical charge is about $40.
Miscellaneous fees: Cards may charge various fees for items such as additional cards, custom designs, and expedited handling. 
Subprime unsecured cards are the most likely to charge all the listed fees (and then some).
In contrast, secured credit cards often waive the annual fee and never charge program or maintenance fees. Their APRs are usually lower than those for subprime unsecured cards. Typically, the minimum security deposit is $200, but at least it is refundable. 
What Credit Score Do I Need to Get an Unsecured Card?
Not surprisingly, the credit cards with the highest costs are the most welcoming. At least one subprime unsecured card accepts all credit scores, and most will approve applicants with FICO scores as low as 500 (and occasionally less). 
The two reviewed Capital One cards require fair credit (FICO scores between 580 and 669). They are higher-quality credit cards and harder to get approved for.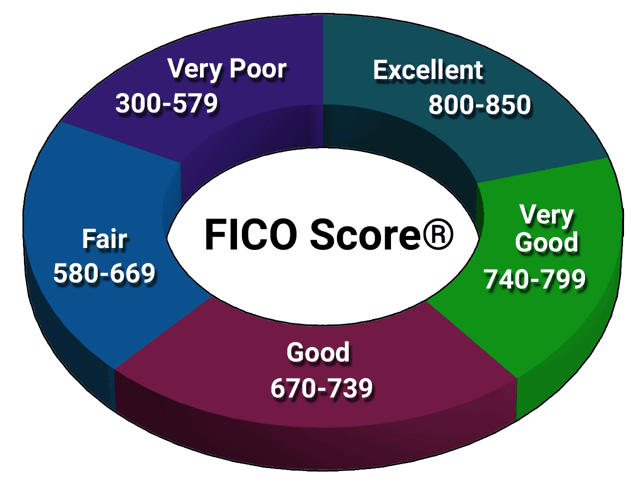 It won't hurt your credit score to prequalify for a credit card. If your score is low, prequalifying first will tell you whether card ownership is feasible. But you won't know for sure until you apply for the card, which may drain a few points from your credit score.
Alternatively, you can usually get a secured credit card despite your low score. Some secured cards do not check credit, and most others have relaxed standards. A secured card makes a lot of sense, considering the uncertainty of approval and the high costs associated with subprime unsecured cards.
Can I Be Denied an Unsecured Credit Card?
Yes, anyone can be denied an unsecured credit card. Approval is at the issuer's discretion and is based on several factors, including your credit history and income.
Poor credit may be a barrier to some of the reviewed credit cards, but there are also other reasons why a credit card issuer may deny your application:
Low income: The issuer may require a minimum household income to help ensure you can pay your credit card bills on time.
High debt: A high debt-to-income (DTI) ratio (i.e., 36% or higher) may ruin your approval chances.
Too many cards: Some issuers will decline your application if your credit card count exceeds their limit. 
Previous problems: Issuers have long memories. They may decline your application if you previously owned one of their cards and ran into trouble, such as missed payments, unpaid fees, collections, or charge-offs. 
Bankruptcy: Most card issuers will withhold approval while you are in active bankruptcy proceedings. It's best to wait to apply until the court discharges your case.
Unverifiable information: Card issuers won't give you a card if they can't verify your identity or other critical data items.
Failure to pay program fee: Several reviewed cards charge a one-time program fee that you must pay before you can get the card. The issuer will withdraw its approval if you don't pay the charge within the deadline period (typically 30 to 60 days).
If the issuer reviews your credit reports or scores and doesn't approve your application, it must send you an Adverse Action Notice disclosing pertinent information, including:
The reasons (and reason codes) for your denial
Which credit bureau supplied your credit information
How to request a free credit report within 60 days of your application denial
A copy of the credit score the issuer used to evaluate your application
Sometimes, an issuer will offer you a credit card on terms less favorable than those advertised. If so, it must send you a Risk-Based Pricing Notice, similar to an Adverse Action Notice. 
If you receive a notice, it will help you understand what you must fix before reapplying.
What Should I Do If I Can't Pay My Credit Card Bill?
The worst thing you can do if you can't make your card payments is nothing. You will trigger late fees, and after 30 days, your card issuer will notify the credit bureaus of your delinquency. This will hurt your credit score and remain on your credit reports for seven years. 
If you find yourself in a cash squeeze and can't pay your credit card bill, consider one of the options:
Use the card's grace period: As mentioned earlier, your credit card probably provides a grace period extending at least 21 days after the statement date at the end of the last billing period. You won't accrue interest on your purchases during this period if you pay your entire balance each billing cycle. For example, the following terms and conditions indicate a 23-day grace period. That gives you more than three weeks to make a payment.
Make a minimum payment: Each month, your billing statement will disclose the minimum payment you must make by the due date. The typical minimum amount is about 5% of your outstanding balance. Occasionally paying the minimum amount may be handy, but doing so will deepen your debt due to the accrued interest.
Request an accommodation: If you are undergoing financial hardship, your card issuer may agree to defer your payment, lower the amount due, waive fees and penalty APRs, or provide other accommodations to help you get back on track. You'll have to contact your card issuer and speak with a representative to arrange any of these concessions.
Consolidate your card debt: If you owe money to multiple credit cards, you can reduce your minimum monthly payments (and maybe your interest rate) by consolidating your balances. You can do this by taking a personal loan or arranging to transfer balances to a new credit card offering a 0% intro APR promotion. Either way, your goal is to have just one debt to pay down and eliminate. 
Depending on how much you owe, the issuer may put your account into collection, cancel your card, and perhaps even take you to court if you ignore the problem. It's better to confront the problem head-on and work out a suitable arrangement with your creditors.
You Don't Need a Deposit to Get Approved For a Card
Credit cards with no security deposit are readily available, even if you have fair or bad credit. But deciding to go with an unsecured card instead of a secured one isn't so clear-cut. Secured cards may require a higher initial outlay, but the deposit is refundable, whereas card fees are not. 
Nonetheless, if you don't mind paying signup or maintenance fees, there's probably an unsecured card among those this article reviews that will suit your needs. Always read the cardmember agreement before signing up for a credit card — you want to avoid unpleasant surprises down the line.
Advertiser Disclosure
CardRates.com is a free online resource that offers valuable content and comparison services to users. To keep this resource 100% free, we receive compensation for referrals for many of the offers listed on the site. Along with key review factors, this compensation may impact how and where products appear across CardRates.com (including, for example, the order in which they appear). CardRates.com does not include the entire universe of available offers. Editorial opinions expressed on the site are strictly our own and are not provided, endorsed, or approved by advertisers.