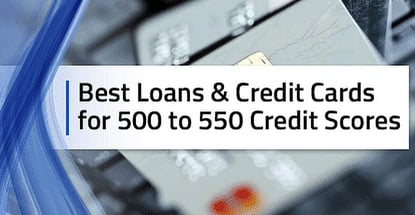 Despite the fact that it's often referred to in the singular, you actually have dozens of credit scores. That said, the most prevalent credit scoring model currently used is FICO Score 8.
The FICO Score 8 model operates on a scale of 300 to 850, with 850 being the best possible score. While this may make it seem as though a 500 to 550 credit score puts you near the middle, the average FICO Score in the US is actually above 700 — and everything under 580 is firmly in "bad credit" category.
Having bad credit can make finding new credit more difficult. But difficult doesn't mean impossible, and several credit cards exist for people with scores below 550. Keep reading for some of our top choices for credit cards that may be suitable for those with less-than-ideal credit, as well as other options to consider.
Credit Cards | Personal Loans | Auto Loan | Home Loan
Credit Cards: 500-550 Credit Score
A ubiquitous part of everyday American life, credit cards not only make online shopping easier and more secure, but they can also help improve your credit when you use them responsibly.
Most cards available to people with low credit scores are unsecured credit cards that have low credit limits and high APRs, secured credit cards that require a deposit, or closed-loop store credit cards that can only be used at a specific retailer.
1. Surge® Platinum Mastercard®
The Surge® Platinum Mastercard® offers robust credit lines and quick pre-approval decisions for those with poor credit scores.  Applying online is simple, and pre-approval will not hurt your credit score.
at Continental Finance'ssecure website
Up to $1,000 credit limit doubles up to $2,000! (Simply make your first 6 monthly minimum payments on time)
All credit types welcome to apply!
Monthly Credit Score – Sign up for electronic statements, and get your Vantage 3.0 Score Credit Score From Experian
Initial Credit Limit of $300 – $1,000 (subject to available credit)
Monthly reporting to the three major credit bureaus
See if you're Pre-Qualified without impacting your credit score
In addition to receiving free access to your credit score from Experian, you'll also have your payment activity reported to the major credit bureaus, which can help you rebuild credit over time when you manage your account well.
2. Capital One Platinum Secured Credit Card
If you're willing to put down a deposit in exchange for lower rates and fees, then the may be a good credit-building option.
Depending on your credit profile, you'll need to make either a $49, $99, or $200 deposit to open a Capital One Platinum Secured Credit Card account with an initial $200 limit. For that deposit, you'll receive a credit card with a competitive interest rate and no annual fee.
No annual or hidden fees. See if you're approved in seconds
Building your credit? Using the Capital One Platinum Secured card responsibly could help
Put down a refundable security deposit starting at $49 to get a $200 initial credit line
You could earn back your security deposit as a statement credit when you use your card responsibly, like making payments on time
Be automatically considered for a higher credit line in as little as 6 months with no additional deposit needed
Enjoy peace of mind with $0 Fraud Liability so that you won't be responsible for unauthorized charges
You can receive a credit limit increase after making your first six payments on time with no additional deposit needed. Capital One will periodically check on your credit score progress and payment history to determine if you're eligible for an upgrade to an unsecured credit card. If so, you'll be automatically upgraded to the new product, and your deposit will be refunded.
If you wish to reclaim your deposit without an upgrade, you can request to close your credit card account. Make sure you pay off your balance in full before closing your account to recover your full deposit amount.
3. Capital One Quicksilver Secured Cash Rewards Credit Card
The Capital One Quicksilver Secured Cash Rewards Credit Card is a real diamond in the rough. This is a secured credit card with the benefits and fees of a card for someone with a good credit score. It offers cash back rewards, a moderate APR, and no annual fee.
No annual or hidden fees, and you can earn unlimited 1.5% cash back on every purchase, every day. See if you're approved in seconds
Put down a refundable $200 security deposit to get a $200 initial credit line
Building your credit? Using a card like this responsibly could help
Enjoy peace of mind with $0 Fraud Liability so that you won't be responsible for unauthorized charges
You could earn back your security deposit as a statement credit when you use your card responsibly, like making payments on time
Be automatically considered for a higher credit line in as little as 6 months with no additional deposit needed
The card requires a $200 minimum deposit amount and may consider you for a higher credit line — with no additional deposit necessary — in as soon as six months.
It's also loaded with account benefits that include elevated rewards on select travel purchases made through Capital One Travel, $0 fraud liability, and access to a free credit score.
4. Brink's Armored™ Account
Prepaid cards are ideal for consumers with poor credit who want access to digital payments but don't want their credit history involved.
With a prepaid card, you can add money to your account and use it to make purchases anywhere the card's network (Visa, Mastercard, Amex, etc.) is accepted. The Brinks Prepaid Mastercard can be loaded via a bank transfer, mobile check load, or direct deposit.
This card is currently not available.
Because prepaid credit cards aren't associated with a credit line, you don't need a credit check to open a prepaid card, and applying for a prepaid card doesn't affect your credit score.
But at the same time, prepaid cards don't report your account to the credit bureaus, which means they can't be used to establish or improve your credit score. If you want to improve your credit, you'll need an unsecured or secured credit card that reports to the bureaus.
5. First Progress Platinum Prestige Mastercard® Secured Credit Card
The First Progress Platinum Prestige Mastercard® Secured Credit Card is a solid option for consumers who may occasionally carry a balance on their credit card, as it has a low purchase APR that will help keep interest charges low (though it's always best to pay in full each month to avoid interest fees).
The size of your deposit will equal the amount of your credit line, and you can open a First Progress Platinum Prestige Mastercard® Secured Credit Card account with a $200 deposit (but deposits of up to $2,000 are allowed).
at First Progress'ssecure website
1% Cash Back Rewards on payments
Choose your own credit line - $200 to $2000 – based on your security deposit
Build your credit score.¹ Reports to all 3 credit bureaus
No minimum credit score required for approval!
¹ Cardholders who keep their balance low and pay their credit card bill on time every month typically do see an increase in their credit score.
Your secured credit card deposit is fully refundable, and you can reclaim your deposit at any time by closing your credit card account in good standing.
Any balance you have remaining when you close your account will need to be paid in full to recover your security deposit. If left unpaid, your account could enter default and cost you part or all of your deposit and cause severe credit score damage.
If you are someone who pays off their credit card balance each month, the First Progress Platinum Prestige Mastercard® Secured Credit Card's annual fee may make it a less-than-ideal choice. Consider a card without an annual fee if you won't be carrying a balance.
Personal Loans: 500-550 Credit Score
Although credit cards are typically among the easiest types of credit to get with a lower credit score, it can also be fairly simple to obtain a personal loan, including both short-term and installment loans.
Overall, short-term loans will have less stringent credit requirements than installment loans, but short-term loans charge much higher interest rates and usually must be repaid within seven to 90 days.
6. MoneyMutual
Short-term loans are typically used by poor-credit borrowers who need quick financing, as short-term lenders tend to have very flexible credit requirements and a quick turnaround. That said, short-term loans, also called cash advances or payday loans, often charge large finance fees with three-digit APRs.
If you really need a quick personal loan, using an online lending network, like MoneyMutual.com, can be an easy way to find and compare multiple loan offers at once. MoneyMutual.com is an online marketplace with dozens of lenders that can help you find the best fit.
Short-term loans up to $5,000
Online marketplace of lenders
Funds available in as few as 24 hours
Simple online form takes less than 5 minutes
Trusted by more than 2 million customers
Not available in NY or CT
MoneyMutual.com's lending partners can provide short-term loans of up to $5,000 for qualified borrowers, though individual loan amounts vary by lender and credit profile.
While MoneyMutual.com can connect you with a lender, MoneyMutual.com doesn't actually provide the loan. Once you choose an offer on the MoneyMutual.com website, you'll be directed to the lender's independent website to complete the loan process.
7. CashUSA
Personal installment loans are designed to be long-term financing that you repay in fixed monthly payments, or "installments." Installment loans generally extend from three months up to six years.
CashUSA.com is an online lending network that connects borrowers with potential lenders from across the country with a single application. Borrowers can easily compare bad credit loan options from up to four lenders at a time to find the best match.
Loans from $500 to $10,000
All credit types accepted
Receive a loan decision in minutes
Get funds directly to your bank account
Use the loan for any purpose
Although CashUSA specializes in helping poor credit borrowers find loans, the network's lending partners will still set their own credit score and income requirements.
The maximum loan amount borrowers can receive from a CashUSA lender is $10,000. But according to CashUSA's website, consumers with the lowest credit scores are unlikely to receive a loan greater than $1,000.
Auto Loan: 500-550 Credit Score
When you have a 500 to 550 credit score, it can be hard to find any kind of financing, let alone a car loan. But auto loans are typically secured by the vehicle they finance, so they're less risky to the lender than unsecured loans.
This means you may have decent luck finding a lender willing to provide you with an auto loan, particularly if you have a sizable down payment (or valuable trade-in vehicle) to further reduce the overall risk to the lender.
8. Auto Credit Express
For the most part, major banks are unwilling to work with consumers with very low credit scores. For auto loans, the better bet to find financing with poor credit is usually to finance through the dealer from which you purchase your vehicle.
Given that dealer financing isn't always the most affordable option, it's important to compare your options. Auto Credit Express is an online dealer network that can help you find and compare auto loan quotes from dealers around the country to get the best rates.
Dealer partner network has closed over $1 billion in auto loans
Can help those with bad credit, no credit, bankruptcy, and repossession
Established in 1999
Easy, 30-second pre-qualification form
Bad-credit applicants must have $1500/month income to qualify
While specific credit requirements will vary by dealer partner, you'll need a monthly income of at least $1,500 to qualify for a loan through an Auto Credit Express dealer.
You can get an idea of what kind of loans you'll qualify for by filling out the Auto Credit Express pre-qualification form. Once you're matched with a dealer, you'll work directly with the dealer to find a vehicle and finalize your loan.
Home Loan: 500-550 Credit Score
One of the most difficult types of financing to obtain with a low credit score is a mortgage loan, both because of the typical mortgage amount and loan term of up to 30 years.
That said, some options do exist for potential home buyers with low credit scores, particularly if they can qualify for a mortgage insured by the FHA, VA, or USDA.
9. eMortgage
Although most government-insured housing programs don't impose minimum credit score requirements for approval, individual lenders have the leeway to set their own requirements. This can make it difficult to find a mortgage lender even if you qualify for a particular type of mortgage.
As an online lending network, eMortgage can connect borrowers with dozens of lenders from around the country, increasing the chance of finding a lender with flexible credit requirements for someone with a bad credit score.
Refinance loans, new home purchase, and reverse mortgages
Compare lenders with no obligations or fees
Simple and secure form
Receive up to 5 free rate quotes in 2 minutes and see what you can save on your payment.
Rates are at historic lows
One of the most important aspects of finding a mortgage with bad credit, especially if you wish to use an FHA-insured mortgage, is to ensure you have an adequate down payment.
While the FHA only requires a 10% down payment for sub-580 borrowers, a larger down payment will increase your attractiveness to a potential mortgage lender and can help offset some of the financial risk of having a low credit score.
Options Exist — Even With Poor Credit
Although the FICO Score 8 credit score range goes from 300 up to 850, only those in the top 25% are considered to have good credit. And those consumers with scores below 580 are automatically considered to have bad credit.
But while bad credit can be a hindrance to qualifying for credit cards and loans, a low score won't always mean an instant rejection from every creditor. Options for new credit are out there, you just need to do a little research to find them.
Range of credit scores covered in this article: 500, 501, 502, 503, 504, 505, 506, 507, 508, 509, 510, 511, 512, 513, 514, 515, 516, 517, 518, 519, 520, 521, 522, 523, 524, 525, 526, 527, 528, 529, 530, 531, 532, 533, 534, 535, 536, 537, 538, 539, 540, 541, 542, 543, 544, 545, 546, 547, 548, 549, 550
Advertiser Disclosure
CardRates.com is a free online resource that offers valuable content and comparison services to users. To keep this resource 100% free, we receive compensation for referrals for many of the offers listed on the site. Along with key review factors, this compensation may impact how and where products appear across CardRates.com (including, for example, the order in which they appear). CardRates.com does not include the entire universe of available offers. Editorial opinions expressed on the site are strictly our own and are not provided, endorsed, or approved by advertisers.