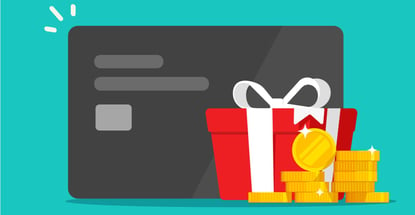 Secured cards with rewards can be a big help when you want to rebuild your credit and need an accessible credit card with guaranteed approval. Secured credit cards can give you the chance to start building back your credit history. 
Over time, many secured cardholders graduate to an unsecured credit card after rebuilding their credit score.
Our experts have reviewed a variety of secured credit cards, and these are the best secured cards that offer rewards programs. When deciding on a credit card, take time to compare the benefits and potential pitfalls, such as high interest rates, low initial lines of credit, and a possible annual fee. 
The cards on this list all offer strong rewards and can help you rebuild credit.
Best Overall Secured Card With Rewards
Because secured credit card products use a deposit as collateral, most credit card companies that offer them don't hold a bad credit history against you. Our experts have found the best secured card with rewards to be the Capital One Quicksilver Secured Cash Rewards Credit Card. 
This rewards card combines unique features and benefits with the credit building opportunity that comes with a secured account and credit terms that can help make it easier to keep your account current.
No annual or hidden fees, and you can earn unlimited 1.5% cash back on every purchase, every day. See if you're approved in seconds
Put down a refundable $200 security deposit to get a $200 initial credit line
Building your credit? Using a card like this responsibly could help
Enjoy peace of mind with $0 Fraud Liability so that you won't be responsible for unauthorized charges
You could earn back your security deposit as a statement credit when you use your card responsibly, like making payments on time
Be automatically considered for a higher credit line in as little as 6 months with no additional deposit needed
Capital One offers many credit cards for bad credit and fair credit borrowers, but the Capital One Quicksilver Secured Cash Rewards Credit Card stands apart from the rest. The card offers unlimited cash back on eligible purchases and no rotating categories to worry about. 
The refundable deposit goes further than just providing your initial credit limit, too — Capital One offers the chance to eventually use it to help pay your balance. The Capital One Quicksilver Secured Cash Rewards Credit Card also helps you build credit by giving you access to CreditWise to keep track of your credit score and report. 
The application process is easy, and you can find out whether you're preapproved in a matter of minutes. Best of all, there's no annual fee, and Capital One welcomes people with limited or bad credit history to apply to become a cardmember.
More Secured Cards With Rewards
While our experts agree that the Capital One Quicksilver Secured Cash Rewards Credit Card is the best overall secured card, a few other secured credit cards also offer strong rewards for your spending habits. The best secured credit cards offer different benefits and features that make them competitive with our top pick.
2. Surge® Platinum Secured Mastercard®
This card is currently not available.
The Surge® Platinum Secured Mastercard® offers cash back on eligible net purchases and is a slightly more standard secured credit card account that still rewards your card use. While the cash back rewards don't accumulate as quickly as some other cards, you also don't have to figure out spending categories or how much your cash back rewards are worth.
In addition to the cash back rebate, the Surge® Platinum Secured Mastercard® offers access to your Vantage 3.0 Score from Experian and reports your payments to the major credit bureaus to help you build credit history and improve your credit score. There is an annual fee and some other fees associated with the account, but the Surge® Platinum Secured Mastercard® is a solid option for simplicity and ease of use.
3. Bank of America® Customized Cash Rewards Secured Credit Card
This card is currently not available.
Additional Disclosure: The information related to Bank of America® Customized Cash Rewards Secured Credit Card has been collected by CardRates.com and has not been reviewed or provided by the issuer or provider of this product or service.
For existing Bank of America customers, the Bank of America® Customized Cash Rewards Secured Credit Card is a particularly good deal. However, even if you don't already bank with this financial institution, this secured Visa offers strong features and benefits, and a cash rewards program that rivals any unsecured card you may find.
The high maximum security deposit makes it a possible option as a business credit card, especially with the offered rewards categories. If you're a Bank of America customer, you can link your existing account to your card to benefit from overdraft protection. This secured Visa credit card offers the highest cash reward rate of any card on this list.
at Discover Card'ssecure website
No credit score required to apply.
No Annual Fee, earn cash back, and build your credit history.
Your secured credit card requires a refundable security deposit, and your credit line will equal your deposit amount, starting at $200. Bank information must be provided when submitting your deposit.
Automatic reviews starting at 7 months to see if we can transition you to an unsecured line of credit and return your deposit.
Earn 2% cash back at Gas Stations and Restaurants on up to $1,000 in combined purchases each quarter. Plus, earn unlimited 1% cash back on all other purchases – automatically.
Discover could help you reduce exposure of your personal information online by helping you remove it from select people-search sites that could sell your data. It's free, activate with the mobile app.
Get an alert if we find your Social Security number on any of thousands of Dark Web sites. Activate for free.
Terms and conditions apply.
| | | | | |
| --- | --- | --- | --- | --- |
| | 10.99% Intro APR for 6 months | | | |
With no annual fee and a straightforward cash back rewards program, the Discover it® Secured Credit Card helps you build credit history while keeping things simple. This secured credit card helps you build credit by reporting your payments and credit usage to each credit bureau and monitors your Social Security number on the Dark Web and other suspicious sites, with your permission.
Another perk of this secured card account is an automatic review for a credit line increase. Discover begins monitoring your credit report as your credit history improves. As a Discover cardmember, you can use your card with confidence: 99% of vendors that accept credit cards take Discover, and fraud protection covers any unauthorized charges made with your card.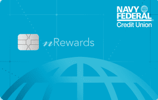 at the issuer'ssecure website
Earn 1X points per dollar spent with no limit on the amount of rewards you can earn; rewards expire after 4 years.
Deposit at least $200 into your membership savings account (before submitting your application) to back your spending. If approved, we'll hold your deposit in your account as your card's credit limit. As you use your card, you'll earn rewards just like any other credit card, while also earning dividends on your deposit—just like any other savings account.
No annual fees, no balance transfer fees, no foreign transaction fees, and no cash advance fees.
After just 3 months, you could be eligible for an upgrade. If you qualify, we'll provide you with additional credit to allow for spending beyond your deposit. Then, at 6 months, we'll review your account monthly to see if you're eligible to have your hold removed and be upgraded to a cashRewards unsecured card.
Rental car coverage
Must be a member of Navy Federal Credit Union to qualify
Slightly different from the other secured credit card options on this list, the nRewards® Secured Credit Card offers member rewards points instead of cash back. It's also only available to Navy Federal Credit Union members, which includes members of the military and their families. 
However, if you fit the criteria, the nRewards® Secured Credit Card offers unique benefits and features. Your refundable security deposit goes into your Navy Federal Credit Union savings account and provides you with an initial credit limit of at least $200. The credit union will periodically check whether you're eligible for a higher credit limit or an account upgrade to an unsecured card. 
How Does a Secured Card Work?
Secured credit cards work a lot like the standard mainstream credit card products most people know. You can use your secured card the same way you would use an unsecured card to buy products and services online or in person. Any merchant that accepts cards in your credit card issuer's network (Visa, Mastercard, Discover, or American Express) will accept your card. 
The differences are behind the scenes in the credit terms and conditions. Since your card is secured, you pay a refundable security deposit to guarantee your credit limit.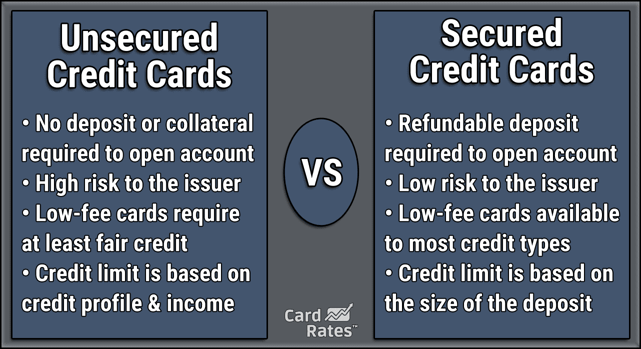 Your deposit isn't a payment — a secured card isn't like a prepaid card, branded gift card, or debit card, but instead is a credit card that has collateral, like some loans.
As you make on-time payments and establish a good credit history with the credit card company, you can earn the right to get your security deposit back: either by graduating to an unsecured card or closing your account. 
Some cards, including the Capital One Quicksilver Secured Cash Rewards Credit Card, may give you the option to use your deposit as a statement credit after establishing a positive payment history.
Secured credit card products have strong advantages for people with bad credit: They may not have to undergo a credit check, and some secured credit cards offer guaranteed approval, subject to specific terms. 
As long as you have your security deposit and a bank account with which to pay your bill, it's much easier to get a secured card than it is to get many other unsecured credit products.
What Kind of Rewards Can I Earn With a Secured Card? 
Not every secured credit card offers a rewards program, but several of them do, including all of the cards in this article. The most common reward type is cash back rewards, but some cards also offer points that can be redeemed for cash back and other things. 
Cash back rewards accumulate based on a percentage of your spending. Some secured credit card products generate cash back based on spending categories such as groceries, entertainment, or streaming services. Other credit builder secured cards generate a lower percentage of cash back rewards, but across all net purchases. 

Your cash back grows as you use your card for everyday purchases and then pay back the balance. Some cards have a limit on how much cash back you can earn in a year, but others allow unlimited cash back. 
Once you've earned your cash back, you can use it a few different ways, depending on the card issuer and the program. Most cash back rewards programs allow you to use your reward as a statement credit, which lowers the balance due and can offset your annual fee. Other programs may allow you to reimburse specific types of charges or use your cash back toward gift cards.
The cards that offer points also base the points you accumulate on your spending. The usual exchange rate is 1 point for every dollar spent, but different programs offer different rates. Once you've accumulated your points, you can use them in a variety of ways: as statement credits, to purchase products, services, or experiences outright, and so on. 
Similar to cash back, you must pay off your charges before you can receive rewards points.
How Do I Apply For a Secured Credit Card?
Applying for a secured credit card is easy. The safest way to begin the process is with preapproval. Choose the credit card product with the terms that work best for you and then see if you can prequalify with the credit card issuer. The prequalification process uses a soft credit check that doesn't affect your credit score.
Preapproval doesn't guarantee you'll get the card you apply for, but it does make it more likely. The prequalification form will ask for basic details, including your Social Security number, monthly income, name, and address. 
Fortunately, you don't have to wait long for an answer, because most credit card companies offer an instant decision (usually a minute or two) after reviewing your information.
From there, you'll have to provide more detailed information for the credit card company to decide whether to approve your credit card application.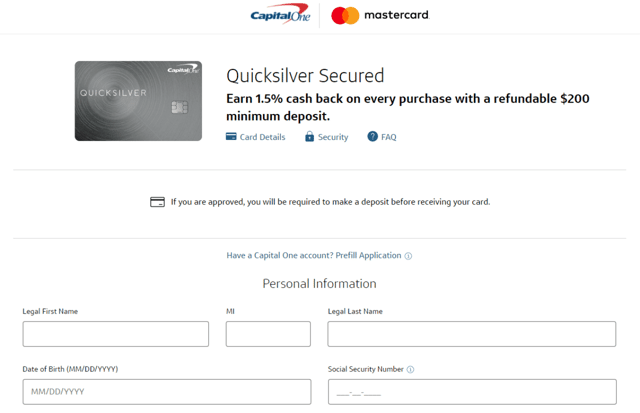 Many banks and credit card companies don't look too deeply into your credit history thanks to the refundable security deposit that sets the credit limit for your secured card. A few companies don't check your credit report at all. In general, even if you have poor credit, you're still likely to be approved.
If you are approved, however, you can expect to make your deposit and receive your new credit builder card within about a week. A few banks issue an instant card number that allows you to use your line of credit right away, and others may offer expedited shipping by request. 
Once you have your card, you can activate it and use it just like any other credit card.
Do Secured Credit Cards Have Perks? 
While the secured card products on this list offer rewards, not all secured credit cards have such strong perks. Many secured cards are simpler products, including the card offered by Citi. 
The Citi® Secured Mastercard® is a basic product, with standard credit terms and features and no rewards points or cash back program attached to it. Citi isn't alone in that; most secured card products are fairly basic.
Beyond cash back rewards, some secured credit cards offer unique perks from the credit card issuer. Some offer perks like early access to concerts, movies, and product launches. Other cards offer purchase protection, travel insurance, and credit report access.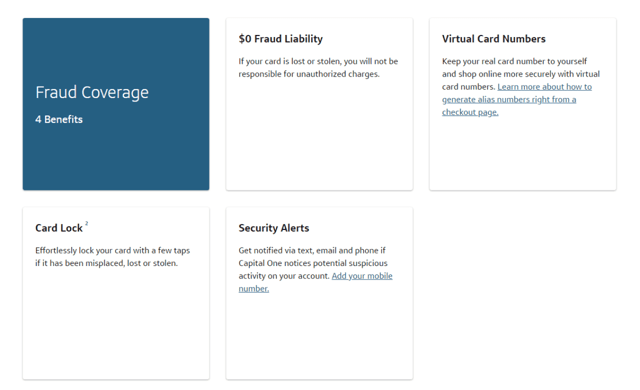 Do your research and find the secured card product that will give you the best benefits depending on your lifestyle and needs. Watch for potential fees, such as an annual fee, and make sure your card benefits are worth the cost.
When Will I Get My Security Deposit Back? 
You can get your security deposit back in a few ways, depending on the secured card you choose and the terms you agree to. As a general rule, when you close your secured card account, you'll get your deposit back no matter which card you choose. 
But this depends on your account being in good standing. If you don't make at least the minimum payment on your card and become delinquent, the credit card company may hold onto your deposit to clear your debt.
In some cases, you can also get your deposit back upon "graduating" to an unsecured credit card. Depending on how the credit card issuer processes the upgrade, you may just receive a new card and a refund check, or you may receive an invitation to apply for a new, unsecured credit card. 
A few secured credit card products will give your deposit back after a certain number of months of on-time payments, like the Capital One Quicksilver Secured Cash Rewards Credit Card. You'll receive the security deposit as a statement credit, which may help lower your monthly payments and reduce the amount of interest you pay, or even reimburse any annual fee that may come with a card. 
What Credit Score Do I Need For a Secured Card? 
There is no minimum credit score required for a secured credit card. Some secured card products don't check your credit report at all, though they have other requirements to lower the bank's risk. 
Some credit card companies require you to have a bank account or credit union account with the card issuer, as an example.  
Although a low credit score won't disqualify you on its own, there is still a small risk for your application to be declined based on other factors. A few reasons you may not be approved for a secured card include:
A recent or active bankruptcy case
Recent foreclosures, collection accounts, or similar issues
No way to verify your identity
No way to verify your income
Errors on the application
If your secured credit card application isn't approved due to factors including errors or inability to verify income, you can contact the credit card issuer and see if there's a way to clear things up. 
However, if the issue is bankruptcy or a foreclosure in progress, you'll have to wait until more time elapses and the issues are resolved. 
How Can a Secured Card Help Build Credit? 
A secured credit card helps you build credit by helping the bank trust you with a credit card account despite your credit score. Having an open credit account in good standing looks better to other creditors than not having any open credit accounts reporting to each credit bureau.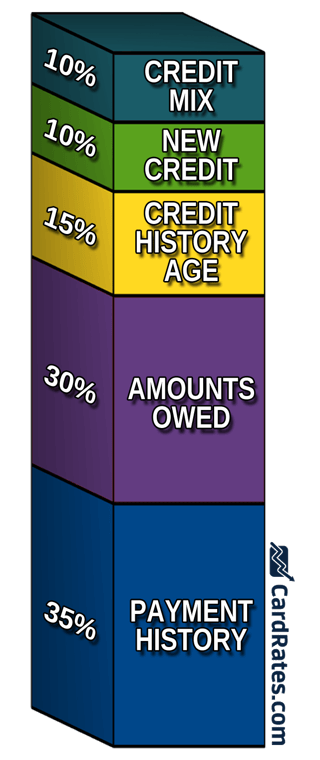 The most important way that a secured card can help you build credit is by reporting to each of the major credit bureaus. Your credit report includes a lot of information, including your current and previous addresses, open and closed loan and credit accounts, account balances, credit inquiries, and your payment history, which plays a major role in determining your credit score. 
The most important steps for building credit with a secured card are to keep your credit utilization at or below 30% and make your payments on time. It helps if you can pay in full every month, but if you can't, prioritize making the minimum monthly payment due before the due date. 
It usually takes about three to six months to build a credit score from scratch, but by using your secured card responsibly and making sure to pay on time, you'll start to see the positive reporting from your credit card issuer paying off. 
As your credit improves, you may receive offers for other credit products, such as loans and business credit. Try not to take on more debt than you can afford, and keep in mind that balance transfer offers can help you reduce the interest fees on existing debts, which can help you pay them off faster.
Is a Secured Card Worth It?
A secured credit card can offer you a lifeline if you have bad credit or no credit and need a safety net that will help you build your credit history. Secured cards make it easier to access credit via a refundable security deposit that serves as a guarantee to the bank and forms your initial credit limit. 
And the fees and rates associated with secured cards are usually less than those of unsecured credit cards because secured cards pose less risk to the issuer. But some fees to look out for with secured cards include:
Annual fee or membership fee: Not every secured card requires a membership fee, but for those that do, consider whether the perks and benefits are worth the hit to your credit limit.
Maintenance fees: While this type of fee is unusual for secured cards, the cards specifically for the very worst credit scores sometimes include them. These monthly fees eat away at the available credit, which may make it harder to keep your credit utilization under 30% of your credit limit.
Foreign transaction fees: These fees can vary widely from one secured card to another, so if you often travel outside of the U.S., make sure to verify whether your card charges a fee and how high the fee is. It's usually a small percentage of the transaction amount.
Cash advance fees: A cash advance from a credit card often carries a much higher interest rate than the interest rate for purchases and often charges an additional fee for the service.
Unexpected fees: Always check your credit card's terms so you aren't surprised by any fees assessed by the credit card issuer.
These are just a few of the fees that may be charged by your issuer — locate the Schumer Box within the card's terms for a full list of fees.
Secured Cards With Rewards Incentivize Credit-Building
If you need to build or rebuild credit but want a little more from the card you use, secured cards with rewards add a nice perk for your spending. Secured credit card products like the Capital One Quicksilver Secured Cash Rewards Credit Card help bolster your credit-building efforts by paying you back for everyday purchases.
Secured credit cards help you develop a credit history by giving you access to credit even if you have made mistakes in the past. By paying on time and using your credit card responsibly, you can gain access to better credit and loan offers and improve your life all around. 
Using a secured card that includes rewards gives you more reasons to keep your card in use and paid off. Make sure to compare the perks and benefits, as well as fees and credit terms to get the best fit for your needs.
Advertiser Disclosure
CardRates.com is a free online resource that offers valuable content and comparison services to users. To keep this resource 100% free, we receive compensation for referrals for many of the offers listed on the site. Along with key review factors, this compensation may impact how and where products appear across CardRates.com (including, for example, the order in which they appear). CardRates.com does not include the entire universe of available offers. Editorial opinions expressed on the site are strictly our own and are not provided, endorsed, or approved by advertisers.