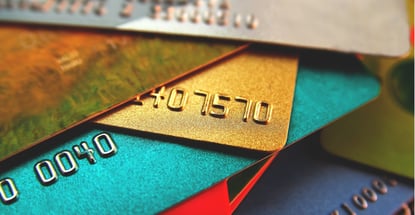 If you have bad credit, you may have run into an issue where you've been declined for a card when applying. This can be frustrating because having a credit card and using it properly can be a great credit-building tool. It may seem like you are at a loss in your search for a credit card, but don't worry — options are out there for you.
Bad credit scores may hinder your ability to be approved for some unsecured credit cards, but you may still be approved for some cards without having to put down a security deposit.
Top 5 Cards For Bad Credit With No Deposit
If an unsecured credit card for bad credit best fits your needs, we've compiled a list of some top cards below and why we think they are good options. Be sure to check out the rates and fees for each, keeping note of the APRs, annual fees, and any other fees the card may have before you apply.
The Surge Mastercard® is issued by Continental Finance, one of America's leading marketers and servicers of credit cards for consumers with bad credit. This card will report your account activity to all three major credit bureaus to help you reestablish your credit history.
You will be assessed an annual fee and a variable APR at the time of approval. Your credit limit will range between $300 and $750, and you may be eligible for a credit limit increase after six months of on-time payments, subject to credit review.
Up to $1,000 credit limit doubles up to $2,000! (Simply make your first 6 monthly minimum payments on time)
See if you're Pre-Qualified with no impact to your credit score
All credit types welcome to apply
Free access to your Vantage 3.0 score from Experian* (When you sign up for e-statements)
Initial Credit Limit of $300 – $1,000* (subject to available credit)
Monthly reporting to the three major credit bureaus
| | | | | |
| --- | --- | --- | --- | --- |
| | | 24.99% - 29.99% (Variable) | | |
The Reflex Mastercard® is a great card if you have bad credit and want to avoid putting down a full deposit on a secured card. It offers a prequalification form so you can get an idea of your approval odds before you apply. If you are not approved for the fully unsecured version of the card, you may be asked to put down a portion of your credit line as a deposit.
As with many unsecured credit cards for bad credit, the Reflex Mastercard® does have its fair share of fees, but that is part of the process for rebuilding your credit. Be sure to review the rates and fees of any card before applying so you understand the associated fees. But this card is a good option to help you build your credit.
The Indigo® Unsecured Mastercard® – Prior Bankruptcy is Okay allows you to prequalify for a card without impacting your credit score. It offers a fixed APR and charges an annual fee that is based on your creditworthiness.
Perks of the card include fraud protection for lost or stolen cards and mobile account access. Your account history is also reported to the three major credit bureaus.
The Milestone® Mastercard® – Less Than Perfect Credit Considered is offered to applicants with bad credit and has very reasonable terms for a product of this type. Cardholders receive all the benefits of the Mastercard including the Mastercard Global Service program, which is available 24 hours a day, 365 days a year. It offers emergency replacement of lost or stolen cards, emergency cash advances, ATM location services, and account-related information including any applicable card benefits.
There is a 25-day grace period after the close of each billing cycle, during which cardholders can avoid interest by paying their balance in full. The annual fee you are assessed will depend on your creditworthiness.
The Total Visa® Card is an unsecured card that doesn't require perfect credit for approval. You can prequalify on the issuer's website to see whether you qualify for the card.
The card is issued by The Bank of Missouri, which charges a one-time program fee to open an account and an annual fee that is deducted from your initial credit limit. Use the card to make small purchases and always pay your bill on time to build credit and avoid the hefty interest rate.
Which Cards Require a Security Deposit?
If you've done any searching for credit cards, you may have seen the term secured card pop up in your research and wondered what that really meant. A secured credit card is one that requires you to put a security deposit down to open your account. This amount can range from a couple of hundred dollars up to a few thousand, depending on the card.
The amount that you put down for your security deposit becomes your credit line. From there, you can use your card just as any other credit card on the market. Secured cards also report your credit usage to the credit bureaus, so it is important to use your card responsibly.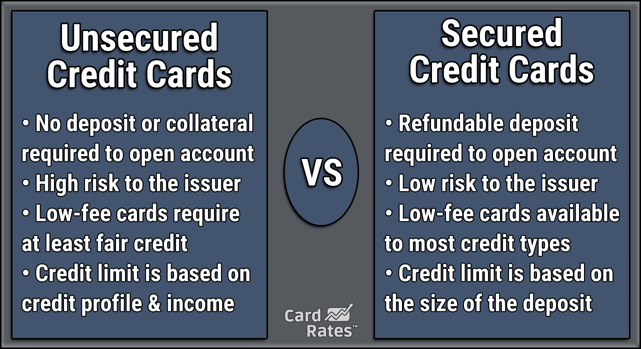 Some secured cards have fairly low interest rates. This is because the risk level for the bank is lower since you must provide a deposit upfront to open your card account.
This is great if you are trying to build your credit score, especially if you plan to carry a balance on the card month to month. The lower interest rates will mean you will pay less in interest payments, which will save you money in the long term if you do end up with a monthly balance.
You may be in a situation where you do not have the cash on hand to put a security deposit down to open a credit card. Luckily, some credit cards are meant for people with bad or limited credit that do not require a security deposit.
What If I Can't Afford a Security Deposit?
If you can't afford a security deposit required by secured cards, you may be able to get an unsecured credit card designed for those with bad credit. These cards don't require you to put down a security deposit but typically come with higher interest rates.
You'll have to assess your needs and spending habits to decide whether a secured or unsecured card is better for you. If you plan to carry a balance month to month, the interest payments on an unsecured credit card could end up costing you much more in the long run. If you do not plan to carry a balance at any time, then you may not have to worry about the interest rate on the card.
Some credit cards for people with bad credit offer the ability to see whether you prequalify before officially applying. When you go through a prequalification process, you give the bank access to conduct a soft inquiry on your credit history. Soft inquiries do not show up on your credit score, which is great if you are unsure whether you would qualify for a card.
Prequalifying allows you to get an idea of your ability to get approved for the card without actually applying. Prequalifying does not guarantee your approval if you apply, though. Once you apply, the bank will conduct a hard inquiry on your credit history and get a full assessment of your qualifications.
At that time, the bank will make the decision on whether to approve you for the card. Even though prequalification does not guarantee approval for the card, it is still a great tool to use if you want to apply for a card but are unsure whether you will be approved.
If you fill out the prequalification form and you are not prequalified, you know not to apply for the card, which saves you from a hard inquiry on your credit history for a card you would not likely be approved for.
How Do I Use My Card to Build Credit?
If you have bad credit, you need to make sure you use that card to build your credit. If used improperly, your credit card can make your credit worse than it already is.
Below are a few ways to ensure you are using your credit as a tool to help you build your credit: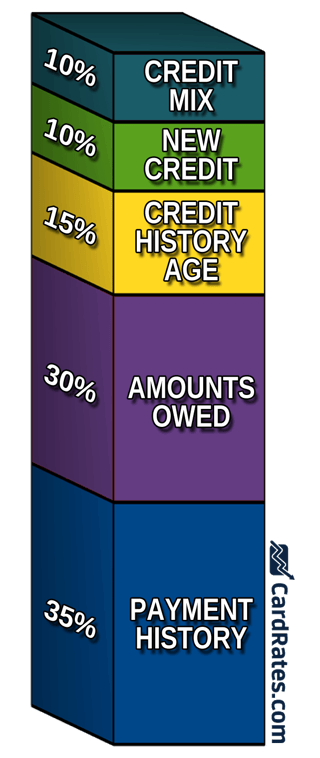 Make On-Time Monthly Payments. You should always aim to pay your monthly bill on time, even if all you pay is the minimum payment. Late payments can hurt your credit and make it more difficult to get approval on other loans in the future.
Depending on your card, you may be able to set up an automatic payment every month. This can help ensure that you never miss a payment.
Keep Your Balance Low. If you have bad credit and get approved for a credit card, use it as a tool to better your credit. Only make purchases that you know you would normally make, such as gas for your car, and pay it off every month. Creditors like to see that you keep your balance below 30% of your available credit, and only making small necessary purchases should keep you below that percentage.
Don't Apply for Multiple Credit Lines at One Time. When you apply for credit, the creditor completes a hard inquiry on your credit. Only having one or two hard inquiries may not hurt your credit, but if you apply for a handful of credit cards and personal loans at the same time, it can have a negative effect on your credit score.
Instead of applying for numerous things all at once, narrow down your options to the ones that best fit your credit needs and only apply for your top one or two options.
Have a Good Credit Mix. Creditors like to see that you know how to manage different types of credit. Having a car loan, mortgage, and a credit card may be better for your credit score than only having three credit cards.
This does not mean you should go out and get different types of credit just to better your credit mix. Subjecting yourself to more credit payments on a monthly basis is not a good plan if you are trying to better your credit score.
Using your credit card as a credit-building tool can set you up for better loans and credit card opportunities in the future.
Use the Card Responsibly to Improve Your Credit
While it is possible to get a credit card without putting any money down, a bad credit score will limit you to card options with low credit limits and high interest rates. That's why these products are recommended as tools to build credit — not for covering an emergency expense.
Using a card responsibly means always paying your bill on time and keeping your balance low. Use the card to cover a small expense, such as a recurring subscription service like Netflix, and set it to autopay each month. You should see your credit score improve within a couple of months to a year, after which you can upgrade to cards with better terms.
Advertiser Disclosure
CardRates.com is a free online resource that offers valuable content and comparison services to users. To keep this resource 100% free, we receive compensation for referrals for many of the offers listed on the site. Along with key review factors, this compensation may impact how and where products appear across CardRates.com (including, for example, the order in which they appear). CardRates.com does not include the entire universe of available offers. Editorial opinions expressed on the site are strictly our own and are not provided, endorsed, or approved by advertisers.