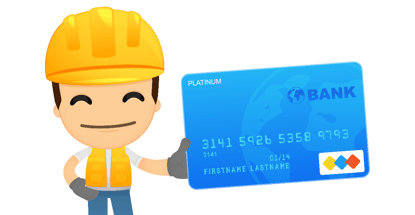 It's true that the best secured credit cards to build credit carry some upfront costs. But for folks with bad credit, they are cheaper and generally better than subprime unsecured credit cards. In many respects, secured cards are very similar to unsecured cards. 
They allow you to charge in-store purchases without carrying around cash or a checkbook. Unlike debit cards, they let you stretch your payments over several months, a helpful feature for big-ticket purchases. Crucially, they give you a way to build or rebuild credit through responsible usage.
Secured cards also support online and in-app purchases, cash advances, and fraud protection. And they do so anonymously — the word "secured" appears nowhere on the card. If this intro has your juices flowing, keep reading to find out everything you need to know about secured credit cards.
Best Overall Secured Credit Card to Build Credit
Capital One has long issued credit cards, and many of its cards provide a fair cost/benefit tradeoff and are relatively easy to obtain. The issuer offers two secured credit cards for people with average credit or worse, and we rank the following as the best secured card for rebuilding credit.
The Capital One Quicksilver Secured Cash Rewards Credit Card is the best credit card in this group for rebuilding credit because it pays you cash back rewards (as a statement credit) without charging you an annual fee. The card offers credit limit increases and may refund your deposit and upgrade you to an unsecured account when you use it responsibly.
Other Secured Credit Cards to Build Credit
No one credit card can be all things to all people. That's why we've rounded up this collection of worthy secured cards. Each has its charms, and any of them would make a fine addition to your wallet. 
If Job One is to rebuild your credit, these cards have the right stuff to accomplish the mission. Any one of them may be the best credit card for you.
The Capital One Platinum Secured Credit Card is available to consumers with fair, bad, or limited credit. It features a variable minimum deposit that is based on your credit profile, which is uncommon. All approved applicants begin with a $200 minimum credit line, but you can increase your credit limit by making your payments on time.
The Discover it® Secured Credit Card is an excellent choice for consumers with poor or no credit. In addition to cash back rewards, the card gives new cardmembers a Cashback Match at the end of the first year after account opening. It offers an introductory balance transfer promotion, free FICO Score tracking, and the ability to upgrade to an unsecured card.
The OpenSky® Secured Visa® Credit Card is highly unusual in that it does not require applicants to undergo a hard credit check. This Visa secured card features a low APR, a minimum deposit, and an annual fee. By reporting your payments to all three credit bureaus, this secured Visa credit card helps you build credit as quickly as possible. 
Check out the U.S. Bank Cash+® Secured Visa® Card if you want to earn up to 5% cash back on eligible purchases and are confident you can pay the balance off each month to avoid the high APR. The rewards are unlimited, and you don't have to pay an annual fee.
What Is a Secured Credit Card?
Secured credit cards help consumers build or rebuild their credit scores. You can use them to make purchases, pay bills, shop online, and finance your debt over several months.
This type of credit card requires a security deposit. The deposit is not a fee or a payment and does not relieve you of your responsibility to pay at least the minimum amount due each month. Instead, it protects the card issuer and covers your debt if you fail to make timely payments. 
A secured card's deposit is refundable. The credit card issuer will return your entire deposit if you close your account and pay off your outstanding balance. You'll also receive a refund if the issuer upgrades you to an unsecured credit card.

Secured cards are relatively easy to get because your security deposit collateralizes your credit line and cushions the credit card issuer against delinquencies and defaults. At least two secured cards do not check an applicant's credit, including the Secured Sable ONE Credit Card and the OpenSky® Secured Visa® Credit Card, and many others have relatively liberal credit requirements.
Issuers of secured credit cards usually reward cardmembers who pay their bills on time. You may be upgraded to an unsecured card or receive a higher credit limit after a set period of timely payments. 
Also, secured cards usually report your payments to all three credit bureaus, rapidly helping build your credit. Otherwise, a secured card operates like an unsecured card.
How Does A Secured Credit Work?
Secured credit cards look and work the same as unsecured cards. Both have a payment network logo — Discover, Visa, or Mastercard — on the front. You can use these cards anywhere that accepts the network's cards. 
The fourth major US payment network, American Express, does not offer secured credit cards.
Creditors and service providers widely use deposits to protect from losses when customers fail to pay their bills. For example, landlords collect deposits from new tenants to defray the expenses of late rents, property damage, and surprise vacancies. Deposits perform the same protective function for issuers of secured credit cards.
Credit card issuers provide cardowners with account statements at the end of each billing cycle (typically, a period of about a month). Each statement provides essential data, including:
The billing cycle dates and number of days in the cycle
The end date of the billing cycle (i.e., the statement date)
All activity for the cycle, including purchases, balance transfers, cash advances, payments, and fees
Your opening and closing balances
Your credit line and the amount available
Your APR
Interest charges due
Your payment due date and minimum payment amount
Secured card statements also report your deposit balance and whether you need to restore it after the issuer has used part of the deposit to cover a missed payment.
You usually have at least 21 days after the end of each billing cycle to pay at least the minimum required amount due. This grace period lets you avoid interest charges if you pay your entire balance before the due date.
What Fees Are Associated With Secured Credit Cards?
Secured credit cards have a good story to tell regarding fees. They do not impose the signup or maintenance fees that are common among subprime unsecured cards. They charge fees that are no worse and often better than the typical fees on unsecured cards for bad credit, including:
Interest Rate Charges: The annual percentage rate (APR) for eligible purchases. This charge typically ranges from 9.99% to 29.99%, although most are below 25%. You can avoid this fee altogether by paying your balance in full each month. Different APRs may apply to cash advance and balance transfer balances.
Annual Fee: A yearly charge for card ownership. Some secured credit cards charge this fee (typically between $35 and $99), and some don't. In rare cases, the card may waive the charge for the first year.
Cash Advance Fee: A transaction fee, usually 3% to 5% of the advance amount, on secured credit cards that offer cash advances.
Foreign Transaction Fee: This is a transaction fee for purchases outside the United States, typically 3% of the purchase total. Some secured cards waive this fee. 
Balance Transfer Fee: Only some secured cards offer balance transfers, charging a transaction fee between 3% and 5% of the total transferred amount.
Late Fee: Most cards assess a late fee (typically around $40) when you fail to meet the payment deadline. The cards report missed payments after a 30-day waiting period. Returned payments trigger a similar fee.
Miscellaneous Fees: Some secured credit cards may impose fees to replace a lost card, add another user to your account, or change your card's design.
We do not include security deposits in the fee list because they are refundable. That's an important consideration when comparing secured credit cards with subprime unsecured cards. 
Suppose a secured card with no annual fee (for example, the Capital One Quicksilver Secured Cash Rewards Credit Card) requires a $200 deposit. Further, suppose that an unsecured card for poor credit has no deposit requirement but does charge a signup fee of $99, an annual fee of $79, and, after the first year, a maintenance fee of $6.25 per month. 
Once you pay a fee, that money is gone forever. But you'll get back the security deposit you pay with a secured card, which makes it a much better deal. 
Do Secured Credit Cards Offer Rewards?
Most secured credit cards offer rewards. Secured card rewards usually take the form of cash back, with a flat rate on all purchases or tiered rewards. Tiered rewards pay a higher rate, usually capped quarterly or annually, for purchases from select merchant types and pay 1% on all other purchases. 
Of the reviewed secured cards, the following pay rewards:
Surge® Platinum Secured Mastercard®
By contrast, subprime unsecured cards rarely offer rewards.
What's the Difference Between Secured and Unsecured Credit Cards?
When you apply for an unsecured card, the issuer relies mainly on your credit score to approve or reject your application. A poor credit score limits you to cards designed for consumers who've made financial mistakes. These subprime cards are expensive and have few perks.
The audience for secured cards consists of consumers with bad, limited, or no credit. Secured cards usually have lower costs and more significant benefits than subprime unsecured cards. 
Your deposit will usually determine the credit limit on your secured card. For example, a $200 security deposit will get you a $200 credit limit, although the Capital One Platinum Secured Credit Card may allow a lower deposit amount. Secured card Issuers determine the minimum and maximum deposit amounts.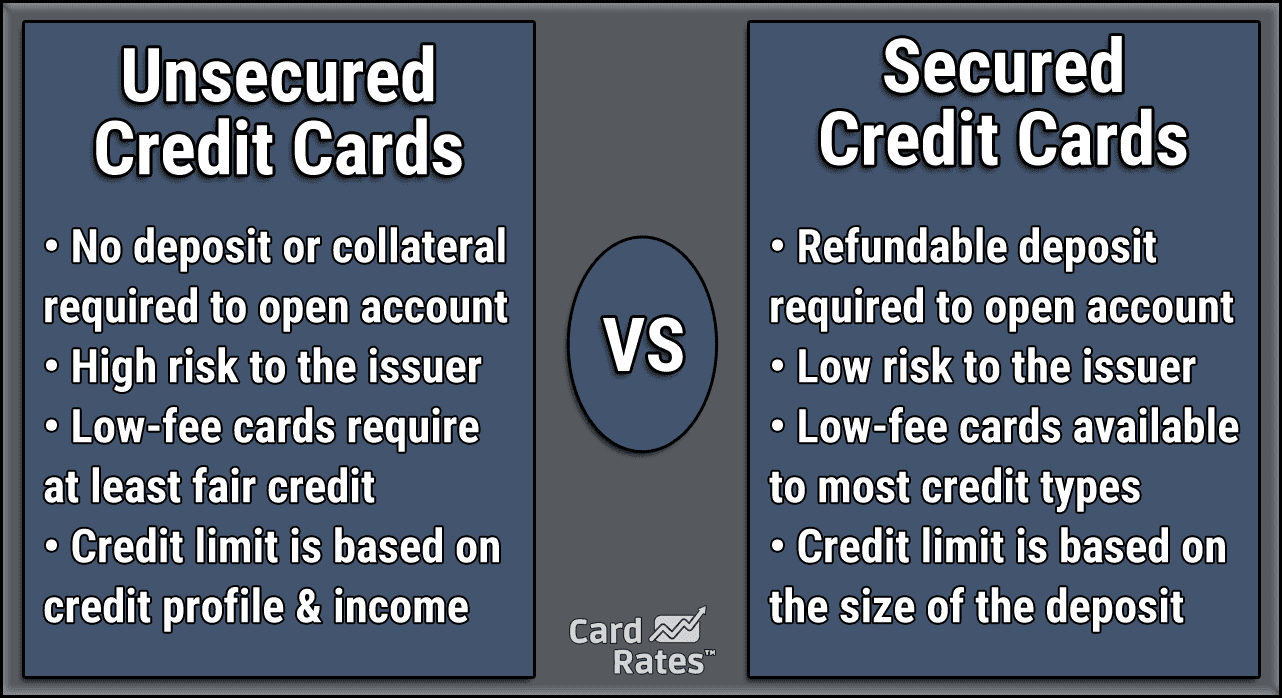 In some cases, secured cards enforce an initial minimum credit limit but allow cardholders to add funds after a set period. Other secured cards let you make an initial deposit that exceeds the minimum. 
Many secured credit cards charge a lower APR (annual percentage rate) and smaller fees than what you'd pay with similar unsecured credit cards because your deposit reduces the issuer's risk of late and missed payments. Although the upfront deposit may seem an unattractive feature, it is refundable, facilitates access to the card, and reduces your costs. 
Most unsecured credit cards report your payment history to at least one major credit bureau. Secured cards almost always send your payment data to all three bureaus, helping you improve your credit scores when you consistently make on-time payments and keep your unpaid balances low. 
Creditworthy behavior helps you earn a deposit refund and an upgrade to an unsecured credit card.
How Do I Choose a Secured Credit Card?
When choosing a secured credit card, focus on interest rates, fees, and perks (i.e., rewards and benefits), and prioritize your most need from a card. For example, a card's low APR may not be as important as its rewards if you plan to pay the entire balance each billing cycle.
While you'll avoid interest charges by paying your total monthly balance, low-APR credit cards are helpful when you can't avoid carrying a balance. APRs evaluate the potential costs and the time it takes you to repay credit card balances and other loans.
Card fees are important, and secured credit cards usually charge fewer fees than similar unsecured cards. Pay attention to the card's annual fee and how much it charges for late or returned payments. If you travel abroad, you'll want a card that doesn't charge a foreign transaction fee. 
All things being equal, a secured card that pays rewards on your eligible purchases is more, well, rewarding. Rewards, in the form of cash back, points, or miles can save you money in several ways. 
You can use rewards to reimburse existing purchases and pay for new ones. Credit card benefits may reduce travel expenses, such as plane tickets and baggage check fees. Other available card benefits include price protection, purchase protection, FICO score tracking, and extended warranties.
You'll want to consider a secured card's maximum deposit amount if you plan to make big-ticket purchases. Some folks prefer cards from credit unions because of the lower rates and fees those institutions typically charge. The nRewards® Secured Credit Card is from the Navy Federal Credit Union but is only available to applicants who have a military affiliation.
How Do Secured Cards Build Credit?
Secured and unsecured credit cards report your payments to the credit bureaus. You'll build credit by ensuring your payments are on time. Making timely payments every month will improve your credit standing because 35% of your FICO score depends on your credit history.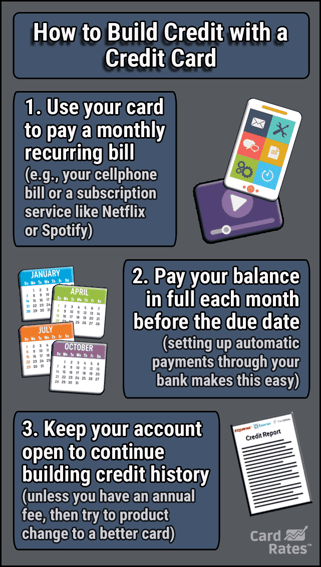 Secured cards usually report to all three credit bureaus, which means your creditworthy behavior will be evident to all lenders and creditors, regardless of the bureau they use. 
It helps to pay as many bills as possible on your credit cards to get the maximum benefit from timely payments. Using auto-payment makes this task easier. Consider using services such as Experian Boost to expand your payment history on your Experian credit report. 
In addition, FICO derives 30% of your credit score from the amounts you owe. A credit utilization ratio (i.e., card balances divided by your total credit limits) below 30% helps build credit. 
Secured cards may allow credit limits that are higher than those of unsecured subprime cards, which provide more spending power for any given CUR.
FICO factors in account ages when calculating your score, and you'll receive a slight benefit by keeping old credit accounts open. One advantage of secured cards is that your account number usually remains the same when the issuer promotes you to an unsecured card, thereby avoiding an interruption in your account age. 
How Many Secured Credit Cards Should I Have to Build Credit?
You don't need more than one secured card to build credit. One reason to own multiple secured cards is if the issuers tightly restrict the size of your security deposits. 
Holding numerous cards will let you split large purchases. But using multiple secured cards requires making more than one minimum monthly payment. That's an extra hassle, and you'll face a late charge if you accidentally forget a payment.
If you're concerned about your credit limit, choose a secured card that allows you to make a larger deposit. Some cards allow deposits of up to $5,000 or more. Remember, the deposit is refundable, and you may get your money back in as little as four months by graduating to an unsecured card.
Which Secured Credit Card Is the Easiest to Get?
The difference in the ease of application approval among the reviewed secured cards doesn't vary much. Credit unions are supportive and friendly, so you may prefer their cards. 
But you'll first have to join the credit union, which sometimes may be difficult. Look for a credit union that doesn't restrict who can join.
The Capital One Platinum Secured Credit Card may be easiest on your wallet since you can establish a $200 credit line for a deposit as small as $49, depending on your credit rating. Your wallet will also benefit from secured cards that do not charge an annual fee.
Can I Put $10,000 On a Secured Credit Card?
Several secured credit cards allow security deposits of $2,500 or more, but $10,000 isn't readily available.
Laying out $10,000 may be beyond the reach of many consumers with bad credit. Yes, you will get your money back (without interest!) when you upgrade or close the account, but you still have to scrape up the deposit first. The primary justification for such a large limit is that you're planning some expensive purchases, and you want to earn credit card rewards and/or a signup bonus.
But that strategy only makes financial sense if you can afford to pay your total monthly balance and avoid interest charges. Reward cards with introductory 0% APR promotions offer an excellent way to save money when financing large purchases but are generally only available to applicants with good credit.
Some merchants may offer you a discount on cash purchases. When that's the case, you may get more for your money by paying for an expensive item using the $10,000 instead of depositing the money to a secured credit card. 
Otherwise, the security deposit will tie up your money, and you'll need even more cash to pay for expensive credit card purchases without triggering interest charges.
Can I Be Denied a Secured Credit Card?
The chances that a secured card will approve your application are pretty good but not guaranteed. If you are concerned about qualifying for a secured card, consider these three tips:
Prequalify for the card: Most issuers allow you to prequalify for their secured credit cards. This step doesn't require a hard pull of your credit and won't hurt your credit score. But prequalification does not guarantee final acceptance.
Apply for a no-credit-check card: The OpenSky® Secured Visa® Credit Card doesn't check applicants' credit. They are the most likely to approve the applications of subprime consumers.
Recruit a cosigner: Your chances of acceptance are excellent if you use a cosigner with good credit. But if you line up a cosigner, you may as well apply for a high-quality unsecured card and avoid security deposits.
If an issuer declines your application, it will send you an Adverse Action Notice describing the reasons behind the decision and the information on which it based that decision. The notice can identify what you need to do to improve your acceptability. 
For example, you may have negative items on your credit report. If you suspect some of these items are incorrect, you can fix your reports on your own or with the help of a credit repair company.
Are There Secured Business Cards?
It can be hard to find a secured business credit card. We know of one from Bank of America, the Business Advantage Unlimited Cash Rewards Secured credit card. It requires cardowners to personally guarantee payments. 
If you own a small business or are self-employed, you may prefer to get a secured personal credit card, such as the cards reviewed in this article, instead of a secured business credit card. You can use a secured personal credit card for business purchases and several offer rewards. 
How Long Does It Take For a Secured Card to Become Unsecured?
It typically takes at least six months to graduate to an unsecured card, assuming all your payments are made on time. A few secured cards make no promises about upgrades, instead offering higher credit limits without additional deposits.
You'll receive a refund of your security deposit if you earn an upgrade to an unsecured card. If the issuer sends you a new card, read all the fine print in the accompanying disclosure documents. The unsecured card may have higher fees and benefits than those that come with the secured card it replaces.
Build Your Credit With a Secured Credit Card
When no unsecured cards will approve you, turn to the best secured credit cards to build credit. They are much easier to get and pack special features, such as reporting your payments to all three credit bureaus, which helps build your credit.
Once you obtain the best secured card you can, make sure you pay your bills on time, every time. Failure to do so can lower your credit score. Also, keep your credit balances low — a CUR below 30% will boost your score. 
A secured credit card offers you a chance to recover from past financial mistakes. Use it wisely, and you should see your credit score rise within six months.
Advertiser Disclosure
CardRates.com is a free online resource that offers valuable content and comparison services to users. To keep this resource 100% free, we receive compensation for referrals for many of the offers listed on the site. Along with key review factors, this compensation may impact how and where products appear across CardRates.com (including, for example, the order in which they appear). CardRates.com does not include the entire universe of available offers. Editorial opinions expressed on the site are strictly our own and are not provided, endorsed, or approved by advertisers.