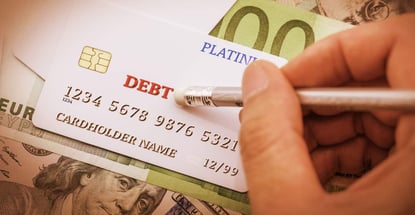 Personal loans for credit card debt can rescue anyone who's racked up unpaid balances on multiple credit cards. An unsecured personal loan can replace all those credit card bills with one monthly fixed payment. 
In addition to the logistical advantages of a consolidation loan, you should also see your FICO score improve after you pay off your credit card debt. Best of all, personal loans for consolidation purposes are available whether you have good credit or poor credit. 
Keep reading to learn about the best consolidation loan providers, all eager to help you reestablish dominion over your credit cards.
Best Networks For Credit Card Debt Consolidation Loans
The following five loan networks can help you arrange a personal loan of up to $10,000 or more. They aren't direct lenders but rather online services that prequalify borrowers and match them to one or more loan providers. These loan finders charge you nothing for their service, and you're under no obligation to accept any loan offers that come your way.
Loans from $500 to $10,000
All credit types accepted
Receive a loan decision in minutes
Get funds directly to your bank account
Use the loan for any purpose
You must have a monthly income of at least $1,000 after taxes to prequalify for a personal loan from CashUSA.com. The website provides a personal loan calculator to help you budget your payments.
After you prequalify, a personal loan lender may offer you a medium- to long-term bad credit loan that you repay in monthly installments. You choose a repayment term that fits your budget and use the loan proceeds to pay off your credit cards.
Loan amounts range from $500 to $10,000
Compare quotes from a network of lenders
Flexible credit requirements
Easy online application & 5-minute approval
Funding in as few as 24 hours
BadCreditLoans.com is an excellent choice for folks who need a bad credit loan. The direct lenders on its network work with borrowers who have had credit problems and those without a credit history. 
You can apply for a substantial installment loan through BadCreditLoans.com. The service may find you multiple unsecured loan offers in only a few minutes. The company also advises borrowers on the timing, budgeting, and responsible use of a loan. 
Loan amounts range from $1,000 to $35,000
All credit types welcome to apply
Lending partners in all 50 states
Loans can be used for any purpose
Fast online approval
Funding in as few as 24 hours
PersonalLoans.com can quickly arrange a large loan. It will attempt to connect you to a direct lender of loans you can repay over as many as 72 months. 
Because of its $35,000 loan ceiling for consumers with good credit, PersonalLoans.com may be the best debt consolidation loan source for sizable borrowings. Still, poor credit may limit the available unsecured loan amount you qualify for. The company can also show you other credit-related products or services you may find helpful.
Personal loans from $500 to $35,000
All credit types are considered and welcome
Simple, no credit impact form
Helping consumers since 2001
4.7 out of 5 Trustpilot rating with 2,000+ reviews!
If credit woes keep you awake at night, you can go online to 24/7 Lending Group anytime to arrange a large consolidation loan. You may receive multiple offers within minutes when you submit the company's short loan request form. Consumers with good credit will receive more loan offers than those with fair credit or worse. 
Trustpilot awards this loan-finding service an Excellent rating. 24/7 Lending Group demonstrates its commitment to fairness by working exclusively with lenders that comply with the Fair Debt Collection Practices Act.
Personal loans from $100 to $20,000
Receive an approval decision in as little as 2 minutes
Funds can be deposited into your account in one business day and used for any purpose
No hidden fees
SmartAdvances.com is an intelligent alternative that can rapidly hook you up with one or more direct lenders. You must collect at least $1,000 a month to prequalify for a personal loan. 
You can use the website's personal loan calculator to determine the best repayment schedule. As a member of the Online Lenders Alliance (OLA), SmartAdvances.com is committed to a fair credit policy that complies with federal law.
Other Providers Of Credit Card Debt Consolidation Loans
These four websites are a mix of direct and indirect lenders that can offer you a large debt consolidation loan. They all have solid reputations for honest service and quick results.
6. SoFi
SoFi is well known for student loan consolidation, but it also offers personal loans of up to $100,000 you can use to pay off your credit card debt. Its lenders can provide low fixed APRs and loan terms of three to seven years, making it one of the best debt consolidation loan sources for credit card and student loan debt.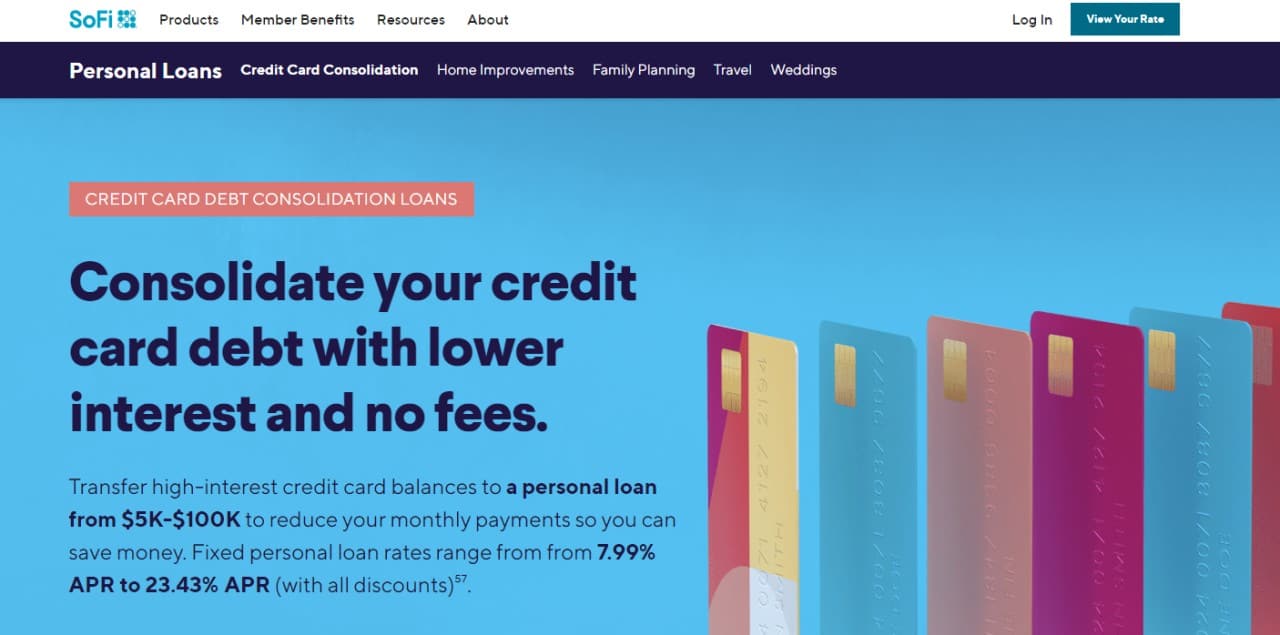 The company offers unemployment protection that will temporarily pause your payments and help you find a new job. SoFi attracts consumers with good credit but may accept applicants with low scores. 
7. LendingClub
LendingClub is a direct lender of loans as large as $40,000. It may offer you one or more loan options with varying monthly payment amounts and interest rates. The company can fund your unsecured or secured loan in as little as four days.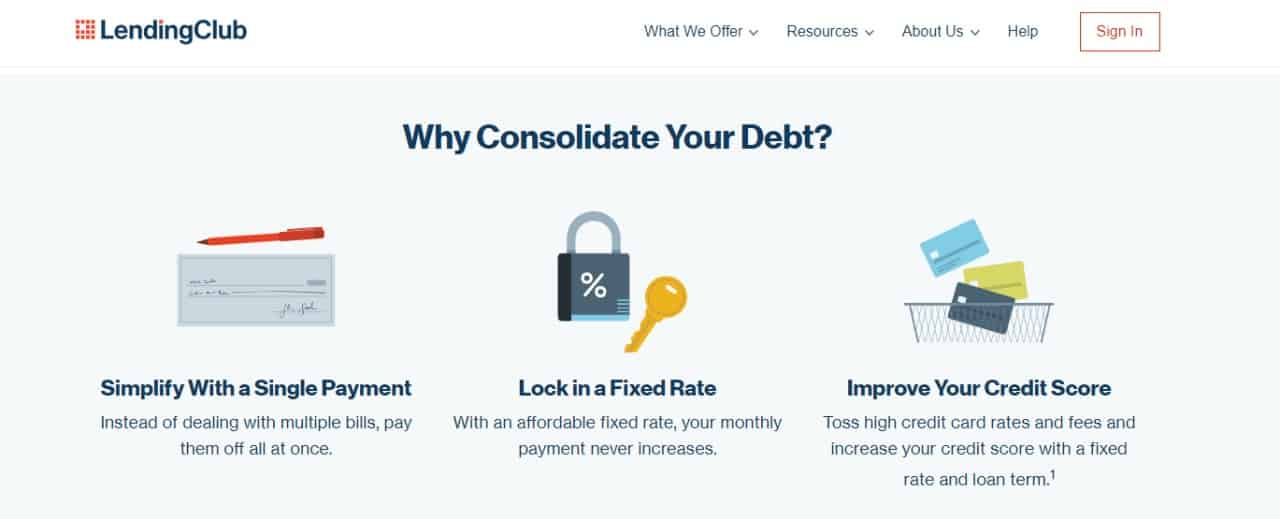 Submitting a short request form can prequalify you for a loan without damaging your credit score. All loans carry a fixed interest rate, with three- or five-year repayment periods and no prepayment penalty (origination and late fees apply).
8. Upstart
Upstart and its partners directly fund installment loans using traditional and non-traditional underwriting criteria, including education and experience. You may qualify for a $1,000 to $50,000 loan with APRs from 5.59% for good credit to 35.99% for poor.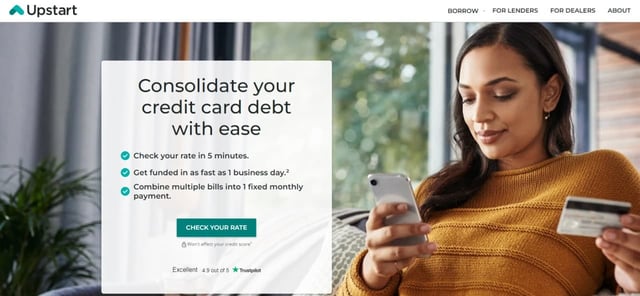 Upstart can approve your loan in just five minutes, subject to verification. The lender may deposit the proceeds into your bank account by the next business day. You can set up automated repayments, and there's no early repayment penalty. Loans are not available in West Virginia or Iowa. 
9. Credit Unions
Credit unions are not-for-profit, member-owned financial institutions. They offer the usual products you find at a bank, including personal loans. But credit unions offer lower interest rates on loans and more personalized service than national banks. They can also arrange a secured loan if you prefer.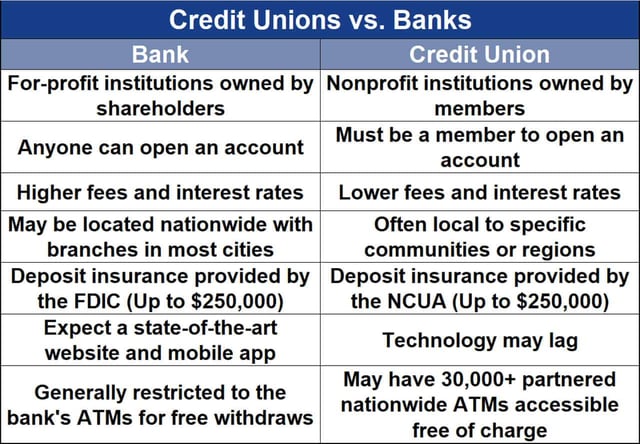 You must be a member before you can borrow from a credit union. Some credit unions limit membership based on various criteria, while others are open to anyone. 
What Is a Credit Card Debt Consolidation Loan?
The purpose of a credit card consolidation loan is to replace multiple card balances with a single installment loan. While this article focuses on personal consolidation loans, you may be able to use a home equity loan for the same purpose.
Personal loans charge interest on your unpaid balance, with APRs ranging from about 6% to 36%, depending on your credit rating. The loans usually have repayment terms of three months to five or more years. You repay the loan in fixed monthly installments, and you can prepay the loan to save on interest costs. 
With a consolidation loan, you apply the proceeds to the outstanding balances on all your credit cards. This has a few positive effects:
You'll stop accruing interest on your credit card debt.
You'll re-establish the grace periods on your credit card purchases. Issuers suspend grace periods (i.e., the interest-free intervals between the statement and payment due dates) when you have an unpaid balance at the start of a billing cycle.
If you ice the cards while repaying the consolidation loan, you won't have to make any minimum payments. 
Your credit utilization ratio (i.e., credit spent divided by total credit available) will immediately drop to 0%, dramatically improving your credit score. Keeping your CUR below 30% boosts your score, while higher values will hurt your score. If you give your credit cards a holiday following consolidation, your CUR will remain at 0%.
You can apply for an unsecured personal loan by completing a short loan request form or dialog on any of the reviewed lender-finding network websites. A lending service will prequalify your loan request by verifying that you:
Are at least 18 years old
Are a US citizen or permanent resident
Have a Social Security Number or equivalent ID
Have a dependable source of income, such as a job or government benefits
Have an active banking account in your name
Have a valid phone number and email address
Once prequalified, the finder service will share your loan request with its direct lender network. It will either transfer you to the website of an interested direct lender or provide links to multiple loan providers. 
You can then complete the application process by submitting any additional required information to a direct lender. You should get an immediate decision, and if it's affirmative, your money should arrive in your bank account by the next business day. 
Does Loan Consolidation Hurt Your Credit Score?
A consolidation loan shouldn't hurt your credit score and may even help it. Initially, there are two offsetting effects:
You'll reduce your credit utilization ratio, which is positive for your credit score.
The lender will perform a hard credit check, which may cause your score to drop by a few points for up to one year.
The result, however, should be positive if your pre-consolidation CUR was above 30%.
Much depends on what you do with your credit cards after you repay the balances. If you are serious about controlling your debt and improving your credit score, you'll stick your credit cards into a deep freeze until you've repaid your consolidation loan. With this method, your total debt will only decrease as you repay the loan. 
On the other hand, if you go on a credit card spending spree, you will end up in worse condition than before you consolidated your debt. Your CUR will rise, your credit score will drop, your interest expense will increase, and you'll once again be making more than one monthly payment. 
As your total debt rises, you may find it challenging to pay your bills on time, leading to possibly dire outcomes, including bankruptcy. This can send your credit score into a tailspin, and you may lose property and/or income.
What Are the Different Methods of Debt Consolidation?
Debt consolidation through a personal loan is a good idea in many situations. But you have a couple of alternatives that you may prefer — credit card balance transfers and debt settlement.
The Balance Transfer Method
Many credit cards allow you to transfer the balances from other cards to create a single large open balance. The best way to execute credit card consolidation through balance transfers is to get a new card with an introductory 0% APR on transfers for a set period, typically six to 18 months or more. 
The following cards earn our top ratings for having the longest 0% intro rates available from major issuers:

at Discover Card'ssecure website
INTRO OFFER: Unlimited Cashback Match – only from Discover. Discover will automatically match all the cash back you've earned at the end of your first year! There's no minimum spending or maximum rewards. You could turn $150 cash back into $300.
Earn 5% cash back on everyday purchases at different places each quarter like Amazon.com, grocery stores, restaurants, and gas stations, up to the quarterly maximum when you activate. Plus, earn unlimited 1% cash back on all other purchases – automatically.
Discover could help you reduce exposure of your personal information online by helping you remove it from select people-search sites that could sell your data. It's free, activate with the mobile app.
Every $1 you earn in cash back is $1 you can redeem.
No annual fee.
Click through to Discover's website to see terms and conditions.
| | | | | |
| --- | --- | --- | --- | --- |
| 0% Intro APR for 6 months | 0% Intro APR for 18 months | 16.49% – 27.49% Variable APR | | |
at Bank Of America'ssecure website
0% Introductory APR for 21 billing cycles for purchases, and for any balance transfers made in the first 60 days. After the intro APR offer ends, 15.49% – 25.49% Variable APR will apply. A 3% fee applies to all balance transfers.
No annual fee.
No penalty APR. Paying late won't automatically raise your interest rate (APR). Other account pricing and terms apply.
Access your FICO® Score for free within Online Banking or your Mobile Banking app.
Contactless Cards – The security of a chip card, with the convenience of a tap.
This online only offer may not be available if you leave this page or if you visit a Bank of America financial center. You can take advantage of this offer when you apply now.
| | | | | |
| --- | --- | --- | --- | --- |
| 0% Intro APR for 21 billing cycles for purchases | 0% Intro APR for 21 billing cycles for any balance transfers made in the first 60 days | 15.49% – 25.49% Variable APR on purchases and balance transfers | | |
Additional Disclosure: Bank of America is a CardRates advertiser.
at Chase'ssecure website
Start off strong with 0% Intro APR for 18 months from account opening on purchases and balance transfers. A variable APR of 19.49% – 28.24% on balance transfers and purchases after the introductory period ends.
Lower your interest rate by 2% each year. Automatically be considered for an APR reduction when you pay on time, and spend at least $1000 on your card by your next account anniversary.
Raise your credit limit. Get an automatic, one-time review for a higher credit limit when you pay on time, and spend $500 in your first six months.
All for no annual fee – You won't have to pay an annual fee for all the great features that come with your Slate Edge℠ card
Keep tabs on your credit health – Chase Credit Journey helps you monitor your credit with free access to your latest score, real-time alerts, and more
| | | | | |
| --- | --- | --- | --- | --- |
| 0% Intro APR on Purchases 18 months | 0% Intro APR on Balance Transfers 18 months | | | |
+ See More Balance Transfer Offers
Only new cardmembers can take advantage of this lower interest rate. You won't accrue any interest on your transferred credit card balance during the interest-free period. But be aware that each transfer triggers a one-time fee, usually between 3% and 5%. 
After the intro period ends, the 0% interest rate will give way to the card's regular APR on any remaining balances.
Consider the following before transferring balances:
Your new credit card must give you a big enough credit limit to absorb all the transferred balances. Otherwise, you will have to make multiple card payments each month, defeating the benefits of consolidation.
The issuer of the new credit card will pull your credit, which means a hard inquiry will be on your credit report for two years. New credit is responsible for 10% of your credit score. And opening a new credit card will lower the average age of your credit history, which accounts for another 15% of your credit score. 
The balance transfer method of consolidation may be your preferred method if you can get a new card with a long intro 0% APR promotion and a high credit limit. If you don't think you can fully repay the balance before the promotion ends, you may prefer to take a personal consolidation loan because it supports longer payback periods.
Sometimes, you may do best by combining the personal loan and balance transfer consolidation methods. This will let you repay at least part of your balances interest-free, and you'll have enough time to complete the consolidation even after the new card's promotion period ends.
The Debt Settlement Method
Debt settlement (or debt relief) is a more aggressive form of credit card consolidation. Its success rests upon the willingness of your creditors to forgive part of your debt. 
In return, you pledge not to file for bankruptcy, in which case your creditors may have to charge off your entire debt. 
When you work with a debt settlement company, a credit counselor creates an escrow account into which you funnel your credit card payments. The counselor then negotiates with your creditors. If they can reach a consensus, your creditors will forgive part of your debt, and you'll pay the remainder through the escrow account. 
Debt settlement is a risky business:
You have no assurance your creditors will relieve your debt. They may instead decide to put your account into collection or sue you.
The debt relief company collects a sizable fee for its services.
Settled accounts remain on your credit report for seven years and cause substantial damage to your credit score.
Debt settlement is the only alternative that can actually save you money. Be aware that the IRS will tax forgiven debt as regular income.
What Are the Negative Effects of Debt Consolidation?
The only substantial negative impact of debt consolidation occurs if your discipline waivers. Specifically, you want to avoid creating new debts until you repay your old ones. Otherwise, your total debt will mushroom, leaving you in a far worse financial condition. 
Comparing Debt Consolidation Methods:
| | | |
| --- | --- | --- |
| Balance Transfer | Personal Loan | Debt Settlement |
| Low or 0% intro APR | Low fixed APR | Debts are negotiated with creditors |
| Minimum monthly payment | Fixed monthly payment | Monthly payment |
| Balance transfer fee | Loan origination fee | Service fees |
| For small to moderate debts | For small to large debts | For large unsecured debts |
| Average 670+ FICO | Average 600+ FICO | Scores below 600 OK |
Another possible negative would be failing to repay your consolidation loan on time. You will probably have to pay a late fee, and your lender may try to raise your interest rate. 
If you fall behind by 30 or more days, your lender will report you to the major credit bureaus. Missed payments remain on your reports for seven years and can significantly hurt your credit score if they occur more than once.
While debt consolidation will reduce your CUR, it won't initially help your debt-to-income (DTI) ratio. DTI values above 43% limit your access to credit. Only by repaying the loan will your DTI improve and permit you to access new credit.
Debt consolidation shouldn't harm your credit score and may even boost it when executed effectively. It will put you on a sounder financial footing and make it easier to access credit in the future.
How Do I Pay Off My Credit Cards Without Consolidating?
You don't need to consolidate your credit card debt to repay it. You can instead plan a strategy to pay off one card at a time while making only the minimum payments to your other cards.
The two standard techniques for serially repaying credit cards are:
Avalanche: You pay off your credit cards in order of descending interest rates. That is, you repay the card with the highest APR first, then move on to the next highest interest rate. This method minimizes your interest costs but doesn't necessarily provide an immediate pop of positive reinforcement to help you stick to the program.
Snowball: In this method, you repay the card with the smallest balance first and then move on to the next smallest balance. While this may increase your overall interest costs, it promises faster success which can be psychologically motivating. 
If you can't decide which method to pursue, try alternating them until you know the one that better suits your needs.
Choose the Best Personal Loan to Consolidate Your Credit Card Debt
In this review, we've identified sources of personal loans for credit card debt that you can use to pay off your card balances and consolidate your debt into a single loan. You can then attack that loan with all your resolve until your debt is no more. 
By performing debt consolidation and avoiding new card debt, you can raise your credit score, reduce your monthly bills, and gain access to new credit with more attractive loan terms. 
Advertiser Disclosure
CardRates.com is a free online resource that offers valuable content and comparison services to users. To keep this resource 100% free, we receive compensation for referrals for many of the offers listed on the site. Along with key review factors, this compensation may impact how and where products appear across CardRates.com (including, for example, the order in which they appear). CardRates.com does not include the entire universe of available offers. Editorial opinions expressed on the site are strictly our own and are not provided, endorsed, or approved by advertisers.