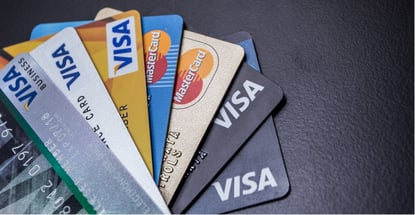 Most consumers prefer unsecured credit cards for fair credit because they don't require a large upfront deposit to secure the line of credit.
If you have a fair credit score — a FICO score between 580 and 669 — you shouldn't have to accept terms associated with bad credit when shopping for a credit card. That means skipping the secured credit card listings that call for large deposits and heading straight for the unsecured card offers.
We've compiled a list of the best unsecured credit cards for fair credit that can not only help you build credit, but they can also help you obtain a higher credit limit and lower annual fee.
Best Overall | Other Recommendations | How to Build Credit | FAQs
Best Overall Unsecured Card For Fair Credit
The Capital One Platinum Credit Card has everything that someone with average credit could want in a card. And while your initial credit limit may be lower than you'd like, you can earn quick credit limit increases with consecutive on-time payments.
No annual or hidden fees. See if you're approved in seconds
Be automatically considered for a higher credit line in as little as 6 months
Help build your credit through responsible use of a card like this
Enjoy peace of mind with $0 Fraud Liability so that you won't be responsible for unauthorized charges
Monitor your credit score with CreditWise from Capital One. It's free for everyone
Get access to your account 24 hours a day, 7 days a week with online banking from your desktop or smartphone, with Capital One's mobile app
Capital One actively monitors your account and will automatically increase your credit limit after you make your first six monthly payments on time. This card also features a competitive interest rate, no penalty APR for late payments, fraud protection, and unlimited access to the issuer's CreditWise program that monitors your credit report.
And, since Capital One reports your payment history to every major credit bureau, you may quickly earn an improved credit score by using your card responsibly.
Other Top-Rated Unsecured Cards For Fair Credit
While the Capital One Platinum Credit Card tops our list, it's by no means the only option you should consider. The cards below offer unsecured credit with no need for large security deposits or overwhelming fees.
Earn unlimited 1.5% cash back on every purchase, every day
No rotating categories or limits to how much you can earn, and cash back doesn't expire for the life of the account. It's that simple
Be automatically considered for a higher credit line in as little as 6 months
Enjoy peace of mind with $0 Fraud Liability so that you won't be responsible for unauthorized charges
Help strengthen your credit for the future with responsible card use
Enjoy up to 6 months of complimentary Uber One membership statement credits through 11/14/2024
The Capital One QuicksilverOne Cash Rewards Credit Card quickly makes up for the annual cost of the card with its cash rewards.
By charging $500 each month to your card — which you can likely do simply by paying some of your monthly bills through your account — you can earn a profit each year with the card. Just be sure to pay off every charge you make right away. Otherwise, the interest charges will negate the earnings potential.
The Surge® Platinum Mastercard® has one of the highest initial credit limit offerings for someone with average credit. But don't expect that higher limit to come cheap.
The Surge® Platinum Mastercard® has rather high annual fees that get higher after the first year. A higher-than-average interest rate doesn't make the charges any lighter on your bank account. But if you need a higher limit, and don't mind paying for the privilege, this card may cover you nicely.
The Fortiva® Mastercard® Credit Card is a cash back card that bases its annual fee and interest rate on your creditworthiness. The better your credit, the lower your fees.
If you're on the higher end of fair credit (a FICO score closer to 650 than 600), you could pay no annual fee and have a competitive interest rate to match. You can prequalify for this card without affecting your credit score.
The Aspire® Cash Back Reward Card charges a slightly higher interest rate than the market average for fair credit scores, but don't let that scare you away from this card.
Cardholders can earn cash back on eligible purchases. If you pay your bill in full each month, you can avoid the interest charges and make a little money on the side with the cash back.
The Merrick Bank Double Your Line® Mastercard® offers a high initial credit limit and the opportunity to double it when you manage the account responsibly. Qualified applicants receive a competitive APR, and the annual fee you pay is determined by your creditworthiness.
You can manage your account via its mobile app, enjoy $0 fraud liability, and use your card at all locations that accept Mastercard, which is basically everywhere, all without putting up a security deposit.
Milestone makes it easy to find the best credit card to match your credit history. The Milestone® Mastercard® – Less Than Perfect Credit Considered is one of several cards in the issuer's portfolio. You can find which card you're most likely qualified for by prequalifying before you officially apply.
This allows you to research your options before adding a hard inquiry to your credit report. Plus, you'll have the peace of mind that you likely won't face the dreaded rejection screen.
A student credit card helps young adults build a credit history before heading into the real world, and the Journey Student Rewards from Capital One is one of the best options on the market.
Whether you have fair credit or limited credit, this card offers the ability to earn cash back rewards that increase when you pay your bill by the due date. It also has no foreign transaction fee, which makes this card a great companion if you study abroad.
You can prequalify for the Indigo® Mastercard® for Less than Perfect Credit without impacting your credit score. You may be approved for an account that has no annual fee for the first year, depending on your credit history.
Just keep in mind that after the first year, every cardholder pays the same annual fee. Since this card charges a higher-than-average interest rate, you may want to consider the other options above and consider this card as a last resort.
The Total Visa® Card works with consumers who have bad credit and fair credit — but the card's fee structure leans toward the bad credit end. New cardholders must pay a one-time program fee and an annual fee when they activate their card.
Since the initial credit limits remain low, these two fees will eat up almost half of the credit limit before you even use your card. Still, this card does provide a credit building opportunity if you're struggling to find approval for an unsecured credit card elsewhere.
The Fingerhut Credit Account technically isn't an open-loop credit card. Instead, this account offers access to an unsecured credit line you can use to purchase name-brand merchandise through Fingerhut and its online retail partners.
And since Fingerhut reports your payment history to each major credit bureau, you can improve your credit history — and upgrade to a traditional unsecured credit card — with responsible use.
How to Go From Fair to Good Credit Using a Credit Card
As with most important things in life, building a credit history — or rebuilding credit from past mistakes — takes time and patience. Banks like to lend money and extend credit to someone who has a long track record of paying off debts on time and in full. A limited credit history doesn't prove much in their eyes.
You may not find success if you're looking to jump from bad credit to good credit in a matter of a few weeks. But after a few months, you could see your score improve from fair to good if you properly use your new credit card.
The first step in preparing your credit-building plan is reviewing and understanding the state of your credit report. That means figuring out what's holding your score down and learning how to fix the issues.
Several factors come into play when calculating your FICO credit score. The most important are your payment history and amounts currently owed. Those two alone make up 65% of your score.
The other 35% of your credit score is determined by the length of your credit history, the types of credit listed on your report (also known as your credit mix), and the number of new accounts on your credit reports.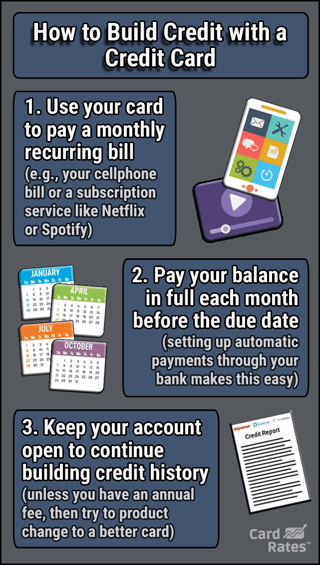 A credit card can positively impact all of these categories if you're financially responsible. For one, opening a new card will increase your available credit, which helps your amounts owed.
Your available credit plays almost as important a role as the amount you owe. This is also known as your credit utilization. For example, if you have $1,000 in total credit and a $250 balance, you have a 25% credit utilization.
That looks OK to a bank, which may start to flinch once you surpass 30% in credit utilization. If you add a new credit card with a $0 balance, you're increasing your total available credit, which in turn lowers your utilization.
For example, imagine a person with 25% utilization. If he or she adds a new card with a $500 limit and $0 balance, their total credit jumps to $1,500. That $250 balance is now 16.6% utilization. Banks love that.
A credit card can also combine with a personal loan, auto loan, or other loan product to improve your credit mix. Most lenders want to see that you've responsibly made payments on different types of loans.
But make sure you don't take on too many loans simply to look good to lenders. While lenders may want to see that you can successfully pay different types of loans, they won't be anxious to approve you for more financing if you're already weighed down by debt.
Also, since most credit card issuers report your payment history to each credit reporting bureau, you can improve your credit score by adding on-time payments and low balances to your credit report.
This solves one of the biggest issues most people have with their credit score. In many cases, a poor credit or fair credit score hinges on payment history or current debt load. One single late payment can drop your score by as much as 100 points. That late payment will live on your credit report for two years, but its importance weakens over time.
If you have recent late payments, the only way to lessen their impact on your credit report is to make all of your current payments on time while waiting for your late payments to get a little older. Your negative marks will have less impact on your credit score over time.
If you have a lot of current debt, you could easily sink your debt-to-income ratio, which can decrease your credit score quickly. The only real way to fix this is to pay down your existing debts as much as possible.
Credit card issuers and lenders typically report your balances to each credit bureau each month. Depending on when you pay a chunk of your balance down, you may have to wait up to one month to see an impact on your credit score.
But if you're patient, persistent, and responsible with your new credit card, you could leverage that piece of plastic to catapult you from fair credit into the good credit range. Once that happens, you could find a whole new world of cards available to you.
What Is an Unsecured Credit Card?
There are two distinct types of credit card and loan products — unsecured and secured — and knowing the difference can save you some money.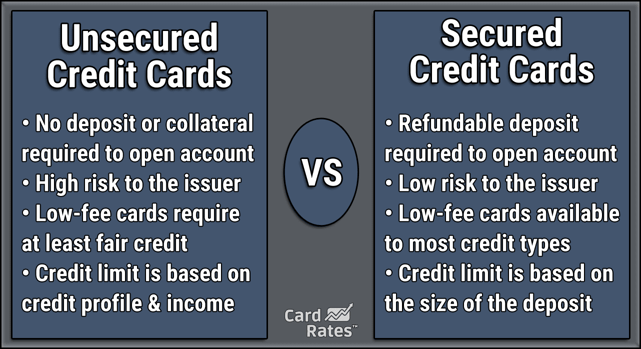 With a secured credit card, you must pay a refundable security deposit to the card issuer before you receive your card. This acts as a form of collateral if you stop making payments on your account.
The amount of your deposit typically equals the credit limit on a secured card. For example, you must pay the bank $500 for a secured credit card with a $500 limit.
The bank holds that money until you close your account. If you have no outstanding debts at that time, the bank refunds your deposit to you.
Your security deposit doesn't act as payment for any charges you make to your account. If you use that new $500 secured credit card to go out to dinner right after you activate it, you'll still have to pay off that charge when the bill is due.
An unsecured credit card requires no collateral or security deposit for approval. Depending on the card, you may have to pay an annual fee or application fee when you activate your new card. Typically, these fees are deducted from your initial available credit limit.
Most consumers prefer unsecured credit cards because they don't require an upfront investment. But since the bank has no collateral or recourse if you default on your payments, getting approved for these cards is a little more difficult.
Lenders like security. After all, they can't stay in business if you don't pay off your loan. Without a security deposit, they want to make quite sure that you will pay your unsecured debt. That doesn't mean that a less-than-perfect credit score will disqualify you from your unsecured card goals.
Many issuers offer unsecured credit cards for bad credit despite the risk associated with them. These cards tend to have higher annual fees and interest rates to make the reward worth the risk to the bank.
Equally, there's no shortage of unsecured credit cards for fair credit. The trick is to find a card that's specifically designed for consumers who have fair credit, such as those listed above.
Far too often, card issuers clump bad credit and fair credit together. In reality, there's a pretty large difference between the two. Still, these cards charge the same sky-high fees — typically those designed for bad credit applicants — to all cardholders. That's simply not fair for someone who has a score in the mid-600s and is nearing good credit territory.
With a card designed for your specific credit history, you'll pay the right fees and interest rate. That can save you money over the long haul. Plus, most of the issuers of the cards above also offer cards for consumers who have good credit.
As your responsible behavior reflects upon your credit report, you could qualify for a card upgrade without having to fill out extra applications or pay unnecessary fees. Be sure to read the card terms and conditions before applying.
What Does It Mean to Have Fair Credit?
Fair credit is kind of like being in the middle of the pack. Think of it as a C-average student or a .200 hitter in baseball. You aren't the worst, but you aren't the best.
But there's a positive way to look at fair credit. You can always go up from where you are.
Just like studying for a test or practicing your baseball swing, no rule says you have to be average forever. In fact, having fair credit gives you a bit of a head start on building a good credit report.
FICO bases its scores on a range between 300 and 850. Lenders consider everything below 580 as very poor. The area between 580 and 669 is fair. From 670 to 739 is good. Between 740 and 799 is very good, and 800 to 850 is excellent.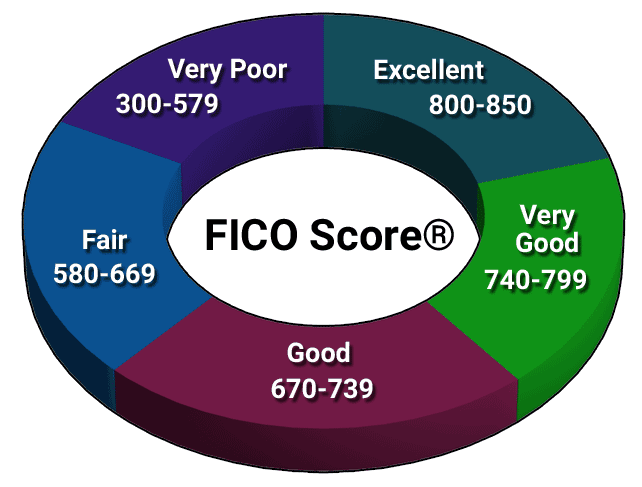 As you can see, fair isn't far from good. Depending on where you fall within the scale, you may only be a few points from being in a category that offers you several more credit card options.
You can gain those score points simply by making on-time payments, paying down existing debt, or increasing the credit limit on one of your credit cards — thus improving your credit utilization.
You should consider a few things if you're closing in on good territory but really want to apply for a credit card right now. The most important consideration is that unsecured credit cards for fair credit don't compare to the same cards for consumers who have good credit. You'll likely receive a higher credit line with a more favorable interest rate and no annual fee.
Cards for fair credit tend to target consumers who are building credit — hence the higher fees and other charges. When deciding which card to apply for right now, look at the cards that each issuer offers to good credit applicants as well. If you can qualify for the fair credit offering, you can spend a few months proving your trustworthiness to the lender.
When the time is right, you can request an upgrade to the next card up. If your current card issuer doesn't offer a card for good credit, you lose that opportunity. Your only other recourse is to apply for a different card when your credit rating improves.
You can either keep your old card (and continue to pay higher annual fees and charges) or cancel the account. If you cancel your credit line, though, you'll lose that available credit and the advantage it gives to your credit utilization on your credit report.
Which Unsecured Credit Card is Easiest to Get?
Unsecured cards aren't all created equal. Some have more value than others — which makes them a little harder to get. If you're simply looking for a credit line that can help you build credit, you'll have the least trouble when applying for a store credit card.
These cards often have a catch: A store-branded card may only allow you to use the credit line at that store, otherwise known as closed-loop. And you'll often find a higher interest rate and lesser rewards with these specialty cards.
But these cards often consider applications from consumers who have bad credit because it helps stores increase their business. If you have a credit card to a certain store or company, you're more likely to shop there and make larger purchases that you can pay back over time. That's a form of brand loyalty that no advertising or marketing campaign can build.
When choosing a store credit card to add to your wallet, don't just look at the company that runs the business. In most cases, that company has nothing to do with the credit card itself. Instead, the company hires a bank to issue and maintain credit accounts.
When you make your payment, you make it to the bank — not to the store. The bank runs your transaction and lends you the money to pay for your purchase. Two of the most popular issuers of store credit cards are Comenity Bank and Synchrony Bank.
Comenity doesn't have the best reputation for its customer service. In 2015, Comenity was ordered to repay more than $61 million to cardholders it had fraudulently sold payment protection products to.
In short, these cards may be the easiest to get, but they're often the hardest to get rid of.
If you have a fair credit score and want to rebuild your credit without the hassle of a potentially problematic card issuer, consider the tested and proven cards listed above. Each has a long history of providing reliable customer service and credit products with fair terms for your current financial situation.
What Is the Minimum Credit Score Needed For an Unsecured Card?
Credit card issuers don't print their minimum guidelines for approval, so there's no way of knowing the exact credit score you need to get the card of your dreams.
But fair credit isn't a turn off for most lenders. There are nearly as many credit cards for bad credit as there are unsecured credit cards for fair credit. That means that there's a lot of competition in the marketplace — and a good chance that you can find approval if you know where to look.
And, depending on who you talk to, your bad credit score may not be so bad after all.
Traditionally, a credit score of between 300 and 650 is considered bad credit. However, some card issuers rate scores of 550 to 650 as being poor credit and may consider your application for an unsecured credit card.
Since the same range considers any score between 580 and 669 as fair, you can possibly fall well below the fair line and still qualify for an unsecured credit card. If you're firmly in the poor category — and are against building credit with a secured card — you can consider a card designed for bad credit.
These unsecured cards sometimes cost more than a secured card (especially when you consider that a secured card refunds your security deposit when you close your account in good standing). But if you're willing to pay the fees, you can possibly find a card that can help you out until you're ready to upgrade to a new piece of plastic.
If you're unsure whether you'll qualify for an unsecured credit card, look for card issuers that provide a prequalifying form. This form conducts a soft credit pull to determine whether you're a good fit for the card.
While passing the prequalifying test doesn't guarantee that you'll get the card when you officially apply, it does give you a better idea of your chances if you take the next step.
Milestone, for example, allows you to see if you prequalify before formally applying for the card. By submitting a short form, you'll find out if you can add the popular Milestone® Mastercard® – Less Than Perfect Credit Considered to your wallet. If you aren't approved for that card, Milestone will possibly suggest another card in its portfolio that may match your needs and abilities.
And as you improve your credit rating over time, you may be able to upgrade to another Milestone card that provides a lower APR and higher credit line. That upward momentum is great for improving your financial health.
Can I Get a Business Credit Card With Fair Credit?
Business credit is one of the hardest types of credit to build, but it's not impossible.
Most business credit cards lean on your personal credit rating when considering your application. That's because many small businesses don't have enough credit history tied to the company to warrant a trustworthy credit score.
If you have a less-than-perfect credit rating, many business credit card issuers will reject your application, but a few cards can give you just what you need.
An easy way to infuse some capital into your growing business is with the Capital One Spark® Classic for Business card. This card typically accepts applicants who fall in the 670-and-up range and offers cash back opportunities and no annual fee, as well as all of the fraud protections and other perks you'd expect from Capital One.
And every cardholder automatically enters the Capital One Credit Steps program. This free program allows Capital One to automatically review your account every six months to see whether you qualify for a credit limit increase or card upgrade. If you do qualify, the issuer will automatically adjust your account accordingly.
This removes one burden from your entrepreneurial shoulders. Typically, card issuers require you to call them or fill out an online form to request a card upgrade or credit limit increase. Through the Credit Steps program, you'll get your well-deserved upgrade without having to ask.
Another perk of the Capital One Spark® cards is that the issuer currently offers five different cards with varying levels of rewards and utility. While four of the five require excellent credit, there's nothing stopping you from upgrading over time as you improve your credit rating. These cards also help you build business credit — which can open doors to new financing opportunities and other valuable financial products that you'll need as you grow and scale your business.
Since 1 in 5 small businesses fail within the first two years — most because of a lack of capital or revenue — a card like this can mean the difference between making it through tough times or hanging the dreaded Out of Business sign on your door.
How Do I Choose the Right Card For Me?
As with a bathing suit or new bicycle one size doesn't always fit all. The same goes for credit cards, where your needs are as important as the issuer's approval standards.
For example, a store card may work for some, but it wouldn't do much for you if you're looking for a credit card that you can use anywhere. You also may not find much use for a card that starts you out with a $300 limit if you need access to $1,000 or more. A student credit card isn't suitable for a 40-something professional.
While we'd all love to slide a top-of-the-line card with all of the bells and whistles into our wallet, some people need to work on their credit profile before they can make that move.
To find the card that best suits your needs, you need to first define what those needs are. Create a list of what you think you need right now, six months from now, and a year from now. Use that as the starting point for any card you consider.
Next, pull your annual free credit report. While this report won't reveal your actual credit score, it will show you the negative items holding your score down.
If you have a lot of recent negative items, you may want to consider waiting a few months for them to age before applying for a new card. If your negatives are older, you can choose your next step for finding the right card.
That step should include finding a credit card company that offers a prequalifying form before you officially apply. This form will tell you if you're likely to gain approval or rejection when you apply.
The beauty in these forms is that they use a soft credit pull to access your credit report info. This form of a credit check doesn't reflect on your credit report as would a hard inquiry. Too many of the latter can lower your credit score.
Also, consider your life situation when deciding which card you want. A student credit card can offer great value if you're currently enrolled — or about to enroll — at an accredited institution. These cards can also give you interest rate reductions or statement credits if you maintain a certain GPA.
Some cards may also offer perks if you're a military veteran or social service employee. A bank credit card may provide savings account benefits if you have multiple financial products through the institution.
In short, your situation will dictate the right card for you. When you factor in your credit score, financial health, and overall credit needs, you can whittle down the options to find the card that stands alone as your best choice.
Compare Unsecured Credit Cards For Fair Credit Online
You wouldn't buy a new car without test driving it or purchase a new home without touring it first. The same should hold true with applying for a credit card.
If you've made it this far, you're well along in your research for the best unsecured credit cards for fair credit. Your next step is to research the individual cards listed above to find the one that best matches your needs. Once you get a feel for how each card works, you can move on to the next step in your research.
That means looking for prequalifying forms that can give you an idea of your approval chances before you officially apply. Doing so will limit your exposure to hard inquiries and keep your score trending upward.
Once you've added your new credit card to your wallet, you should continue your current level of research and responsibility by keeping your balance low and your payments on time. You'll soon find yourself researching the best credit cards for good credit.
Advertiser Disclosure
CardRates.com is a free online resource that offers valuable content and comparison services to users. To keep this resource 100% free, we receive compensation for referrals for many of the offers listed on the site. Along with key review factors, this compensation may impact how and where products appear across CardRates.com (including, for example, the order in which they appear). CardRates.com does not include the entire universe of available offers. Editorial opinions expressed on the site are strictly our own and are not provided, endorsed, or approved by advertisers.