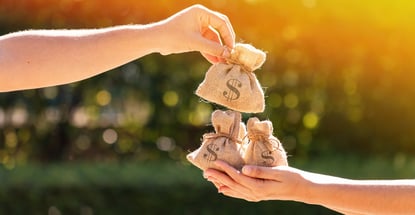 Obtaining a loan is a real challenge for the 16% of Americans who have bad credit. If your FICO score is below 580, you understand first-hand what it's like to deal with bad credit, including the difficulty of acquiring credit cards and loans.
However, good old American competition means providers of unsecured loans for bad credit will always exist — this market is just too big to ignore. To be sure, unsecured loans are more expensive and harder to get than are secured loans.
But it's hardly unusual for a consumer with bad credit to lack collateral for a secured loan. Therefore, the five unsecured loan networks in this review are critical resources for Americans with poor credit.
Lenders | Approval Tips | FAQs | Methodology
The Best Unsecured Loans for Bad Credit
It's wrong to treat all bad credit borrowers as a monolith. Some require a relatively modest loan on a short-term basis. Others may need longer-term or larger loans. And folks with really bad credit have the highest hurdles to overcome.
That's why we've evaluated the best lending networks for specific needs. We judge all five to be well-established and reputable companies that will go the extra mile to get you the loan you need.
MoneyMutual: Best for Short-Term Loans
MoneyMutual specializes in finding short-term cash advances for bad credit consumers. You can specify a cash advance that you repay all at once on your next payday.
Alternatively, you can request an installment loan that you repay over a period of two or more months. Loan amounts of up to $2,500 are available if you have a steady income of at least $800 a month.
Short-term loans up to $5,000
Online marketplace of lenders
Funds available in as few as 24 hours
Simple online form takes less than 5 minutes
Trusted by more than 2 million customers
Not available in NY or CT
The process is simple and fast – just complete the brief loan request form to be matched to a lender on the MoneyMutual network. After submitting additional information, the lender will set the loan terms for your approval.
Your money will be deposited in your checking account as soon as the next business day. MoneyMutual has helped more than 2 million borrowers since its founding in 2010.
CashUSA.com: Best for Long-Term Loans
CashUSA.com can help you find a loan with up to 72 months to repay. You can qualify for a loan from $500 to $10,000 if you receive an after-tax monthly income of at least $1,000. You must also be a U.S. citizen or permanent resident, 18+ years old, with a checking account, home/work phone numbers, and a valid email address.
Loans from $500 to $10,000
All credit types accepted
Receive a loan decision in minutes
Get funds directly to your bank account
Use the loan for any purpose
It takes just a few minutes to fill out the short loan request form. If you qualify, CashUSA.com will forward you to a direct lender on its network.
You then complete the application process and receive a quick decision. If approved, you can expect your loan proceeds as soon as the next business day.
BadCreditLoans.com: Best for Really Bad Credit
Bad Credit Loans has been arranging loans since 1998 for consumers with really bad credit. It can match you to a lender on its network that offers loans with repayment periods of three to 36 months.
The recommended lender will have you supplement your Bad Credit Loans' request and immediately evaluate your application. Upon approval, you'll have your money as soon as the next business day.
Loan amounts range from $500 to $10,000
Compare quotes from a network of lenders
Flexible credit requirements
Easy online application & 5-minute approval
Funding in as few as 24 hours
To qualify, you must be a U.S. citizen, age 18+, with regular income, a checking account, and a valid email address. The lender sets the loan's actual APR and term.
Even though you have really bad credit, this lending service will look beyond your credit score to qualify you for a loan of up to $5,000, although its lenders do not usually offer loans of more than $1,000 to borrowers with really bad credit.
PersonalLoans.com: Best for Large Loans
PersonalLoans.com is your best bet for a large bad credit loan of up to $35,000. To qualify, you must be a U.S citizen or resident, at least 18 years old, and have a steady monthly income, a Social Security number, and a bank account. This lending service operates in all 50 states.
Loan amounts range from $1,000 to $35,000
All credit types welcome to apply
Lending partners in all 50 states
Loans can be used for any purpose
Fast online approval
Funding in as few as 24 hours
PersonalLoans.com operates with a large network of direct lenders, including many that specialize in bad credit loans. The network welcomes cosigners who can help you receive loan approval and reduce your interest costs.
Lenders offer repayment periods of up to 72 months. Typically, your loan proceeds will be deposited into your checking account as soon as the next business day.
CashAdvance®.com: Best for Emergency Loans
CashAdvance.com is optimized to quickly get you a small, short-term loan of between $100 and $999 that you repay on your next payday. To qualify, you must have a monthly income of at least $1,000 after taxes.
You can apply if you are a U.S. citizen, have reached age 18, and can supply an email address and checking account number.
Loan amounts range from $100 to $1,000
Short-term loans with flexible credit requirements
Compare quotes from a network of lenders
5-minute approvals and 24-hour funding
Minimum monthly income of $1,000 required
Current employment with 90 days on the job required
The direct lenders on the CashAdvance.com network set the loan APR and other terms. Conveniently, you can apply for an installment loan if you need a longer repayment period.
If your loan is approved, the loan proceeds can be deposited in your checking account as soon as the next business day. This lending service is not available in all states.
How to Get Approved for a Personal Loan with Bad Credit
While the difficulties in getting an unsecured bad credit loan are significant, they are not insurmountable. You can improve the odds by adopting a long-term strategy to increase your credit score by paying your bills on time, reducing your credit utilization ratio, and refraining from applying for new credit.
However, substantially raising your credit score can take several months, even years. What do you do if you need a loan now?
The five loan networks in this review are an excellent place to start. If you want to explore other alternatives, here are some tips you'll find useful:
Fix errors on your credit reports: You can instantly improve your credit score by disputing errors on your credit reports at the three major credit bureaus — Experian, TransUnion, and Equifax. You can get free copies of your credit reports at AnnualCreditReport.com.
Recruit a cosigner: Cosigners with good credit can make all the difference. A cosigner isn't expected to help with repayments or to receive any loan proceeds but is on the hook if you default on your loan. Lenders are much more likely to approve an unsecured loan if you can provide a creditworthy cosigner.
Borrow from family or friends: This option depends on your personal relationships with individuals in a position to lend you money. On the positive side, you often can get a low- or no-interest loan with flexible payback terms. But the downside is significant: You can damage your relationships by failing to repay.
Get a credit card cash advance: If you have bad credit, you may not have any credit cards. Even if you do, the cards may have very tight cash advance limits. This alternative is best for small or emergency loans you can repay quickly. The APRs on cash advances from bad-credit credit cards are typically in the 20% to 30% range, but higher rates are possible.
Apply to a credit union: Credit unions are good options because they try hard to accommodate the needs of their members. The maximum APR on credit union unsecured loans is 18%. Most credit unions have specific criteria to join, but many have easy-to-achieve enrollment requirements.
Apply for a person to person (P2P) marketplace loan: P2P marketplaces provide an opportunity for borrowers and lenders to find each other. Many P2P lenders are willing to offer bad credit loans on negotiated terms.
Our list does not include home equity loans and cash-out auto loans, because they are secured by your home or car. However, if you have equity in your home or car, you may want to consider these alternatives.
Can I Get an Unsecured Loan with Bad Credit?
Our five recommended lending networks offer unsecured loans to folks with bad or no credit. They have many things in common:
All are loan matching services that facilitate direct loans from the lenders on their networks.
Their services are free — they make their money by collecting fees from the lenders on their networks.
All have similar prequalification criteria, including U.S. citizenship or residency, a minimum age of 18, a reliable source of income, and a checking account, email address, and work/home phone numbers.
They are all designed to work fast. If you are approved, you can often receive your loan proceeds as soon as the next business day.
That's not to say they are all equally suited for every type of unsecured loan. If you need a short-term emergency loan, you may want to start with MoneyMutual or CashAdvance.com. They each offer loans with short repayment periods, some as soon as your next paycheck.
Conversely, if you want a larger, long-term loan, consider PersonalLoans.com or CashUSA.com. Both offer loan terms as long as 72 months and loan amounts up to $35,000 and $10,000, respectively. And if your credit is really bad, try Bad Credit Loans, which has extensive experience with lenders who are willing to accommodate borrowers with bad credit.
Which Loan Company is Best for Bad Credit?
Our favorite short-term loan company for bad credit is MoneyMutual. It's been matching borrowers with bad credit to a network of direct lenders since 2010.
To recap, we've rated the following loan companies as being the best for bad credit borrowers:
MoneyMutual: Best for Short-Term Loans
CashUSA.com: Best for Long-Term Loans
BadCreditLoans.com: Best for Really Bad Credit
PersonalLoans.com: Best for Large Loans
CashAdvance.com: Best for Emergency Loans
MoneyMutual offers a versatile menu of loans. You can get a short-term cash advance that you repay when you receive your next paycheck or an installment loan you can repay over a period of three to 72 months.
CashUSA.com is our top pick for long-term loans. It allows you to space out repayments over periods up to 72 months in length.
Loan amounts range from $500 to $10,000 for applicants with a monthly income of at least $1,000 after taxes. This loan matching service promises quick processing and you can receive your loan proceeds as quickly as one business day.
If your credit is truly in the tank, we suggest you consider Bad Credit Loans, our top choice for really bad credit. In business since 1998, it can arrange loans that give you from three to 36 months to repay. Although it offers loans of up to $5,000, it caps loan amounts at $1,000 for consumers with very bad credit.
Perhaps you'd prefer to get a loan from a peer-to-peer (P2P) lending network. PersonalLoans.com, our top-rated company for large loans, partners with several lenders who offer P2P loans in addition to unsecured bad credit loans via its online lending network. These lenders generally prefer borrowers with a minimum FICO score of 600, but there are always exceptions.
We judge CashAdvance.com as the best choice for emergency loans ranging from $100 to $999. These are short-term loans that you fully repay on your next payday.
However, you can also arrange longer-term installment loans if that better suits your needs. Loan decisions and funding are fast, with your money deposited to your checking account as soon as one business day.
How Can I Get a Loan without a Credit Check?
Typically, lenders check your credit score and credit history when evaluating your loan application. But a credit check is problematic if you have bad credit or no credit history. The answer may be to apply to a lender that doesn't do a credit check.
The five loan services reviewed here all arrange no-credit-check loans, but keep in mind that this type of loan typically results in reduced loan amounts with higher interest rates. You can improve your chances of approval by borrowing only the money you need and demonstrating your capacity to repay.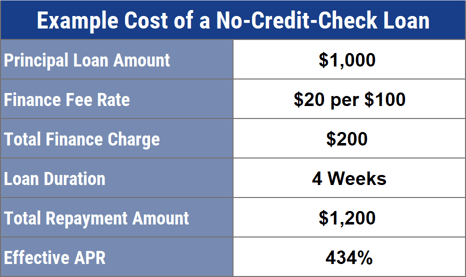 When lenders evaluate a no-credit-check loan, they will want to know about your income, expenses, and debts. Income should be reliable, stemming from employment, Social Security, a pension, etc. Your expenses, including rent/mortgage and debt payments, must leave enough money from your monthly income to repay a new loan.
Certain types of loans are more attainable despite the lack of a credit check. You increase your chances of approval by recruiting a cosigner with good credit, especially when your cosigner approves his or her own credit check.
Another alternative is a secured loan, such as a cash-out refinance loan. With a secured loan, lenders are less concerned about your credit. Instead, they require that the value of the loan collateral exceed (usually by 10% to 20% or more) the loan amount.
If you have equity in an asset and use it as collateral, remember that the lender will seize the asset if you default on the loan. That means your house can be foreclosed, and your car can be repossessed.
Are there Guaranteed Loans for Bad Credit?
Guarantees are available in the world of finance, but they do not extend to the ability to obtain a loan when you have bad credit and a problematic credit history.
Instead of thinking in terms of loan guarantees, it's more realistic to consider lenders that maintain flexible requirements. In this sense, the five lending networks in this review guarantee making every effort to approve your loan.
To protect themselves, lenders use several strategies to guarantee a loan. These include limiting the loan amounts, charging higher APRs, requesting cosigners, tacking on additional fees, and accepting collateral. If the purpose of the loan is to purchase a home or vehicle, the lender will require a down payment, which ensures you are suitably motivated to repay.
The one place where loans are truly guaranteed is in the mortgage market. The Federal Housing Administration and other government agencies offer mortgage guarantees that protect lenders from default risk. Typically, you will need to purchase mortgage insurance to help protect the guaranteeing agency.
You will have less need for a "guaranteed" loan if you can improve your credit score. A higher score gives you more borrowing options. You can work toward a higher score by:
Paying your bills on time.
When repaying credit cards, pay more than the minimum amount due.
Reducing your credit utilization ratio, which is the amount of credit you are using divided by the amount available to you.
Fixing errors on your credit reports.
You can also improve your approval chances by increasing your income and/or reducing your monthly expenses. Lenders look at your debt-to-income ratio (i.e., your monthly debt payments divided by your monthly gross income) when assessing your creditworthiness. For example, many mortgage lenders require a DTI ratio no greater than 43%.
What is the Minimum Credit Score for a Personal Loan?
When it comes to personal loan providers, competition is the name of the game. Among other things, this means that there is no universal minimum for the credit score you'll need to obtain a personal loan.
FICO scores range from 300 (worst) to 850 (best). The average FICO score for American consumers is 704.
If your FICO score is very poor (below 580), you'll be best served by lenders who work with low or no minimum credit scores. You can start with the five loan networks in this review. They all arrange loans for bad credit consumers as well as no-credit-check loans.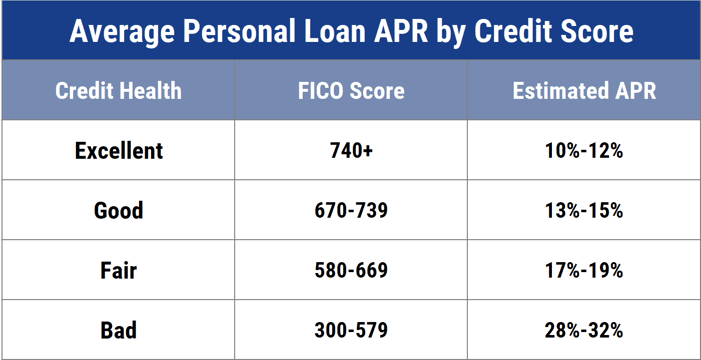 In addition, some online lenders use metrics other than credit scores when underwriting loans. For example, Upstart considers factors such as your experience and education when evaluating a loan application. These factors include your years of credit, area of study, and job history.
Peer-to-peer lending marketplaces, such as Lending Club, require a minimum credit score of 600. If you qualify, your loan request is posted in the marketplace, allowing individual investors to offer you a loan.
You can remove credit score considerations by getting a secured personal loan. With this kind of loan, you put up one or more collateral items to guarantee a personal loan. Collateral can include cash, securities, or property.
If you are able to obtain a loan despite having bad credit, consider it an opportunity to improve your score. You can do this if the lender reports your payments to one or more of the credit bureaus. To improve your score over time, pay on time, never miss a payment, and reduce your overall debt.
Ranking Methodology
This list of the best unsecured loans for bad credit evaluates lending networks consisting of partner lenders that approve applicants with low credit scores. We assessed the ease of approval, time of funding, reporting to the credit bureaus to help build credit, rates and terms offered, fees charged, and Better Business Bureau grades, among other criteria relevant to this article to determine the rankings.
CardRates' reviews undergo a thorough editorial integrity process to ensure that content is not compromised by advertiser influence.
Advertiser Disclosure
CardRates.com is a free online resource that offers valuable content and comparison services to users. To keep this resource 100% free, we receive compensation for referrals for many of the offers listed on the site. Along with key review factors, this compensation may impact how and where products appear across CardRates.com (including, for example, the order in which they appear). CardRates.com does not include the entire universe of available offers. Editorial opinions expressed on the site are strictly our own and are not provided, endorsed, or approved by advertisers.