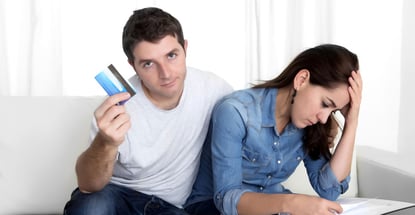 Every mutual fund prospectus or investment disclosure includes a disclaimer at the bottom that proclaims "past performance is no guarantee of future results." That disclaimer also applies in the credit card world.
We all make mistakes, but past mistakes don't condemn you to a lifetime of rejection from lenders. Even if you've run through your second, third, and maybe your fourth chance, there's still hope to turn the corner with a credit card that's designed to help you make the best of your "last" chance.
Bad Credit | No Credit | Secured | FAQs
Last Chance Unsecured Cards For Bad Credit
If previous attempts at building credit have left you with a credit score that falls in the "bad" territory (a FICO score between 300 and 579), there's still hope for another chance. You may even qualify for an unsecured card — like those listed below — that won't require an upfront security deposit to get you started.
Up to $1,000 credit limit doubles up to $2,000! (Simply make your first 6 monthly minimum payments on time)
All credit types welcome to apply!
Monthly Credit Score – Sign up for electronic statements, and get your Vantage 3.0 Score Credit Score From Experian
Initial Credit Limit of $300 – $1,000 (subject to available credit)
Monthly reporting to the three major credit bureaus
See if you're Pre-Qualified without impacting your credit score
The Surge® Platinum Mastercard® offers one of the highest initial credit limits for a subprime credit card. And you can double your credit limit when you pay your bill on time over a set number of months. Best of all, you can prequalify to see your approval odds before applying.
Up to $1,000 credit limit doubles up to $2,000! (Simply make your first 6 monthly minimum payments on time)
See if you're Pre-Qualified with no impact to your credit score
All credit types welcome to apply
Access to your Vantage 3.0 score from Experian (When you sign up for e-statements)
Initial Credit Limit of $300 – $1,000 (subject to available credit)
Monthly reporting to the three major credit bureaus
The Reflex® Platinum Mastercard® offers qualified applicants perks you don't typically find in a subprime credit card, including a generous credit limit. They'll also receive free access to their credit score and monthly reporting to each major credit bureau to help improve a poor credit history with responsible use.
at Milestone Mastercard®'ssecure website
Greater access to credit than before - $700 credit limit
Get a Mastercard accepted online, in store and in app
Account history is reported to the three major credit bureaus in the U.S.
$0 liability for unauthorized use
Access your account online or from your mobile device 24/7
The Milestone® Mastercard® is offered to applicants with bad credit and has very reasonable terms for a product of this type. The annual fee and APR are lower than that of some competitors, and there's no monthly maintenance charge. Your account history will be reported to all three credit bureaus.
at First Access Visa®'ssecure website
Earn 1% cash back rewards on payments made to your First Access Credit Card
Checking Account Required
$300 credit limit (subject to available credit)
No security deposit, simply pay a one-time $95 program fee to open your account.*
User friendly Mobile App.
*See Rates, Fees, Costs & Limitations for complete offer details
| | | | | |
| --- | --- | --- | --- | --- |
| | | | $75.00 1st year, $48.00 after | |
The First Access Visa® Card accepts a wide range of credit scores and histories. A one-time setup fee and an annual fee will decrease your initial available balance until you make a payment. This card tends to charge slightly higher interest rates, so be sure to pay your balance in full each month if you decide to add it to your wallet.
Last Chance Unsecured Cards For No Credit
There's a big difference between having bad credit and having no credit. Bad credit means you may have a few past mistakes on your credit profile. No credit means your profile is too thin to even generate a reliable credit score.
Though many credit card issuers clump these two types of consumers together, you can sometimes find better offers, like those below, if you haven't yet built a credit score.
No annual or hidden fees. See if you're approved in seconds
Be automatically considered for a higher credit line in as little as 6 months
Help build your credit through responsible use of a card like this
Enjoy peace of mind with $0 Fraud Liability so that you won't be responsible for unauthorized charges
Monitor your credit score with CreditWise from Capital One. It's free for everyone
Get access to your account 24 hours a day, 7 days a week with online banking from your desktop or smartphone, with Capital One's mobile app
The Capital One Platinum Credit Card typically starts new cardholders off with a credit limit between $300 and $500 — but the absence of an annual fee makes more of your credit available right away. To sweeten the deal, cardholders will also be automatically considered for a higher credit line in as little as 6 months. Some cardholders report getting credit limit increases in less time without asking for one.
Earn unlimited 1.5% cash back on every purchase, every day
No rotating categories or limits to how much you can earn, and cash back doesn't expire for the life of the account. It's that simple
Be automatically considered for a higher credit line in as little as 6 months
Enjoy peace of mind with $0 Fraud Liability so that you won't be responsible for unauthorized charges
Help strengthen your credit for the future with responsible card use
Enjoy up to 6 months of complimentary Uber One membership statement credits through 11/14/2024
With the Capital One QuicksilverOne Cash Rewards Credit Card, you can earn unlimited cash back on every purchase you make. Your rewards don't expire as long as your account remains open and you pay the annual fee. The card's Credit Step Program automatically evaluates your account to see if you're eligible for a higher credit limit after you make your first five monthly payments on time.
Consider a Secured Card If You Don't Qualify For an Unsecured Card
If an unsecured card is out of the question for you, several secured options are available that can make your last-chance credit card feel like a new start. While these cards will require a refundable security deposit to establish your card, you can earn rewards and benefit from the security add-ons that many big bank issuers provide.
No annual or hidden fees. See if you're approved in seconds
Building your credit? Using the Capital One Platinum Secured card responsibly could help
Put down a refundable security deposit starting at $49 to get a $200 initial credit line
You could earn back your security deposit as a statement credit when you use your card responsibly, like making payments on time
Be automatically considered for a higher credit line in as little as 6 months with no additional deposit needed
Enjoy peace of mind with $0 Fraud Liability so that you won't be responsible for unauthorized charges
The Capital One Platinum Secured Credit Card is our top secured credit card — mostly because it doesn't act like a typical secured credit card. With this offering, you may not have to place a full cash deposit to match your credit limit (for example, a $500 deposit nets you a $500 credit limit). Capital One refunds all deposits as long as you close the card with no remaining balance.
at Discover Card'ssecure website
No credit score required to apply.
No Annual Fee, earn cash back, and build your credit history.
Your secured credit card requires a refundable security deposit, and your credit line will equal your deposit amount, starting at $200. Bank information must be provided when submitting your deposit.
Automatic reviews starting at 7 months to see if we can transition you to an unsecured line of credit and return your deposit.
Earn 2% cash back at Gas Stations and Restaurants on up to $1,000 in combined purchases each quarter. Plus, earn unlimited 1% cash back on all other purchases – automatically.
Discover could help you reduce exposure of your personal information online by helping you remove it from select people-search sites that could sell your data. It's free, activate with the mobile app.
Get an alert if we find your Social Security number on any of thousands of Dark Web sites. Activate for free.
Terms and conditions apply.
| | | | | |
| --- | --- | --- | --- | --- |
| | 10.99% Intro APR for 6 months | | | |
Discover it® Secured Credit Card cardholders can earn cash back rewards for every purchase they make using the card, a rare perk from a secured card. A refundable security deposit establishes your credit line after approval.
at Capital Bank N.A.'ssecure website
Limited Time Offer: $51 funding voucher applied for all new accounts. Get a $200 credit line for $149. Click "Apply Now" to see additional terms and conditions.
No credit check to apply. Zero credit risk to apply!
Looking to build or rebuild your credit? 2/3 of cardholders receive a 48+ point improvement after making 3 on-time payments
Extend your $200 credit line by getting considered for an unsecured credit line increase after 6 months - no additional deposit required!
Get free monthly access to your FICO score in our mobile application
Build your credit history across 3 major credit reporting agencies: Experian, Equifax, and Transunion
The OpenSky® Secured Visa® Credit Card doesn't require a credit check for approval and sets your credit limit equal to your refundable deposit. This secured Visa credit card has a fair interest rate and easy approval, making it a great option for borrowers in pursuit of rebuilding credit.
What Credit Score Do You Need For an Unsecured Credit Card?
You don't need to meet a minimum credit score to be approved for an unsecured credit card. That's because issuers rarely divulge their acceptance criteria, and, with so many credit cards on the market, there are literally dozens of options for any credit score range.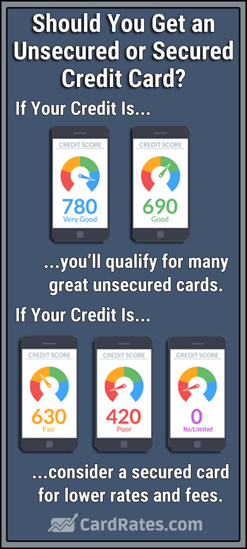 For example, a consumer with a credit score in the "good" range (FICO 670-739) might have their choice of several dozen credit cards. But that same consumer would likely not qualify for a credit card that's designed for consumers with excellent credit (FICO 800-850).
Likewise, a consumer with a credit score in the "fair" range (FICO 580-669) has options, but not as many as the consumer with good credit.
Instead of focusing on minimums or maximums, your best bet is to pull your free annual credit report to get a better understanding of the state of your credit profile. Just note that the free report will not give you your actual credit score (you have to pay for that).
Once you've examined your report, you can get a better idea of the range of cards you may qualify for. That's when you should start researching each option to find the one that best suits your needs.
Remember that every card you apply for also leaves a hard inquiry on your credit report. Too many of these inquiries (usually more than three in a two-year span) can lower your credit score.
If you want to avoid this, you can look for credit cards with pre-qualifying applications. While these forms can't guarantee approval, they can give you an idea of your chances of approval — without putting a hard inquiry on your credit file.
Can I Get an Unsecured Credit Card With No Credit?
Some consumers don't understand the term no credit. This doesn't mean that you don't currently have a credit card, but rather that you've never had one. People with no credit have so little history on their files that they can't yet generate a credit score.
This doesn't disqualify you from getting an unsecured credit card, but it can make the process a little trickier.
Your credit score represents your financial reputation and the likelihood of you paying back any loan you receive. Without that score, lenders have nothing to go on when deciding your creditworthiness.
That means you have to show other hard evidence that you can definitely pay off any credit card debt you incur. This can include providing proof of a healthy income, showing a history of on-time payments for non-credit items (think rent or utilities), or finding a cosigner to boost your application.
Keep in mind that having a co-signer comes with great responsibility. The person added to your application trusts that you're going to pay your monthly bill on time. If you don't, your credit and theirs will take the hit.
So, before you consider seeking a co-signer, you're better served by researching the best credit cards for consumers with no or limited credit.
There's an entire industry set up for consumers who need to build their credit profile — and the process doesn't take as long as you may think.
With on-time payments, you can begin to generate a credit score in as little as six months. Your score will continue to increase with responsible credit usage. As that happens, you'll find that you may qualify for better, more lucrative credit cards.
Does an Unsecured Credit Card Build Credit?
Absolutely! Issuers design unsecured credit cards for consumers with all kinds of credit histories. These cardholders often want to improve their credit scores in hopes of maintaining their current status or upgrading to bigger and better credit cards.
Most unsecured credit card issuers report your payment activity to the three credit reporting bureaus. That means your on-time payments help to improve your score each month. And since negative items lose some of their importance as they age out of your report, which can take up to two years, the newer items will replace older negative items to strengthen your credit profile.
Just remember that monthly credit reporting works both ways. While positive payment histories can strengthen your score over time, negative reports can give you an instant bad hit.
One single payment that's more than 30 days late can lower your credit score by as much as 110 points. It will take many, many months of on-time payments to make up those lost points. That late payment will remain on your credit report for up to two years, which is why it's vital that you make all of your payments before the due date.
Some card issuers, including Discover and Capital One, regularly check cardholder accounts for potential card upgrades. If you have a positive payment history, a strong income, and keep a low balance on your card, you could receive a credit limit increase or upgraded card over time.
In addition to making on-time payments, another thing that helps build credit is maintaining low overall balances on your cards. Credit utilization accounts for approximately 30% of your credit score. You can calculate your utilization ratio by dividing your current balance by your overall credit limit.
For example, a credit card with a $1,000 limit and a $250 balance has a 25% utilization rate. The higher your rate, the less likely issuers are to approve your application. That's because they view your high balances as a sign that you're struggling with debt and may need another card to stay afloat.
Likewise, a low utilization rate improves your credit score and shows that you're responsible with credit and likely won't go overboard in the future.
There's No Such Thing as a Last Chance
If past performance is no guarantee of future results, then credit card companies should understand that previous mistakes don't necessarily foreshadow future financial errors. This is true whether you're looking to rebuild your credit history or if you're just beginning your credit journey.
Thankfully, there are dozens of credit cards on the market that banks design to help consumers reach their credit goals. This means that even after your fourth or fifth chance, you still have options available to get a fresh start.
With the right mindset, a little research, and a whole lot of discipline, you can make your next chance your last chance — and be on your way to a healthier financial life.
Advertiser Disclosure
CardRates.com is a free online resource that offers valuable content and comparison services to users. To keep this resource 100% free, we receive compensation for referrals for many of the offers listed on the site. Along with key review factors, this compensation may impact how and where products appear across CardRates.com (including, for example, the order in which they appear). CardRates.com does not include the entire universe of available offers. Editorial opinions expressed on the site are strictly our own and are not provided, endorsed, or approved by advertisers.