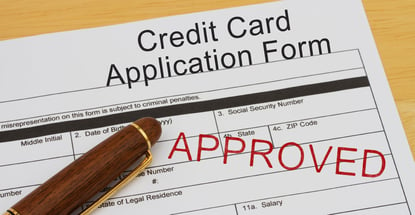 It's easy to apply for a credit card online. Find a card you like, fill in your personal information, and click "apply." This can be done 24/7/365 from the comfort of your own home. But as you likely already know, actually getting approved for that credit card isn't always so simple. If you want to improve your odds for a credit card approval, it pays to do some work in advance. You can improve your odds for approval by preparing prior to submitting your application. And, you'll be more likely to earn better terms on your newly opened card. 
1. Check Your Credit Reports and Credit Scores
It's always wise to make a habit of checking all of your credit reports from the major credit reporting agencies — Equifax, TransUnion, and Experian. But if you plan on applying for a new credit card — or any other type of financing — in the near future, the importance of checking your credit reports goes to a whole new level. 
The information on your credit reports is what credit scoring models use to calculate your credit score. That same information has a tremendous influence over your ability to qualify for new financing, including credit cards. It is also the basis for your card's terms, including the interest rate and credit limit. 
When it comes to your credit reports, it's up to you to make sure that the information contained therein is accurate. No one else will do this for you, including the credit reporting agencies themselves, unless you hire a credit repair company to assist you with errors.  
Checking your credit score from time to time is also a good idea. Yet, unlike credit reports where you only have three meaningful options, you have several dozen possibilities when it comes to checking your credit scores.
Most lenders currently use some credit score variation from either the FICO or VantageScore brands. What's true about both scoring platforms is the higher your scores, the better off you'll be. 
2. Correct Credit Report Errors
Accurate credit reports are important for both lenders and consumers. An inaccurate credit report can contribute to lower scores and denied credit applications. Yet, as hard as the credit bureaus and lenders work to maintain correct credit report information, mistakes can still happen. The Federal Trade Commission conducted a study in 2012 that found that as many as one in four consumers had errors on their credit reports that could potentially impact their credit scores. Thankfully, the Fair Credit Reporting Act (FCRA) requires the credit bureaus to investigate and verify that the information on your credit reports is accurate. However, they're only required to conduct these investigations when you ask them to do so.  Accordingly, if you find errors on your credit reports, it's up to you to take action. To request an investigation you need to submit a dispute to each credit bureau that's reporting the allegedly inaccurate information. The bureaus will then have 30 to 45 days to investigate your claim and delete or correct any errors they identify. 
3. Improve or Maintain Your Good Credit Scores
When you apply for any type of financing, credit cards included, there's a high probability that the lender will check your credit score to assess the risk of doing business with you. The higher your score, the better your odds of approval and receiving attractive terms. If you want to improve your credit score, or just maintain the good score you've already earned, the following tips could help. 
Pay all of your credit obligations on time, always. 

Keep your credit card utilization

as low as possible.  

Don't apply for new credit too frequently. 

Make sure you have a good mix of account types on your credit reports, such as installment accounts and revolving accounts. 
If you can do the aforementioned over and over, then you can't help but have a solid credit score. And this doesn't just improve your chance of obtaining credit card approvals. Higher scores can often help you secure better offers — including lower interest rates and higher limits — from credit card issuers as well.
4. Apply for Credit Card Offers that Meet Your Eligibility
A premium rewards credit card named after a precious metal can be quite appealing. But if your current credit standing isn't up to par with the card issuer's requirements for this type of plastic, you shouldn't apply. Card issuers will give you some sense about what you need, from a credit standpoint, to qualify for their different credit card products. You should pay attention to this information and only apply for cards that match your credit score. Otherwise, you're more likely to be declined, which isn't a pleasant experience.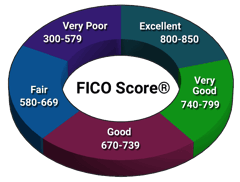 Here's a breakdown of the different credit score categories to help you understand what credit card issuers may be looking for when you apply:
Excellent Credit: 740-850
Good Credit: 670-739
Fair Credit: 580-669
Bad Credit: 300-579
No Credit: 0 score, no history on file
The numbers above aren't set in stone. There are thousands of card issuers and each sets its own qualification thresholds or tiers. However, if you think your credit score falls into the fair range, for example, it's not a good idea to apply for cards that require an excellent credit score until you have a chance to improve your score to that level. 
5. Include All of Your Income
Credit risk is only one part of the assessment process when you apply for a credit card. A credit card issuer will also consider your income when you apply for a new account to determine how much credit you can handle. This is called your credit capacity. Your credit score is a measure of your creditworthiness or your likelihood of repaying your creditors as agreed. Specifically, your score tells a lender the likelihood that you will pay late — or worse, default — on any credit obligation within the next 24 months. Your income, on the other hand, is a measure of your ability to make your minimum payments and pay off your debt. Income, especially when compared with the debts you already owe (known as your debt-to-income ratio) can help lenders measure your ability to afford any additional debt. 

You can list all qualifying sources of income when you apply for a new credit card. This includes household income that you may not personally earn. Per the CFPB's 2012 amendment to the CARD Act, card issuers can "consider third-party income if the applicant has a reasonable expectation of access to it." This is especially important for non-working spouses who can claim the household's income as generated by a working spouse.
Benefits of Credit Abound, Pending Approval
A well-managed credit card account can be a powerful tool to help you both build credit and make your life more convenient. Credit cards have iron-clad fraud protections, provide emergency funds, and their rewards and benefits are excellent. But, step one is getting approved. Focus on improving your chances of meeting (or surpassing) credit card application requirements as much as possible. Then apply for a card that's a good fit for your current credit standing and your income. You can always continue working on your credit reports and scores, including by managing your new credit card well, so you can apply for even more attractive credit card offers in the future. 
Advertiser Disclosure
CardRates.com is a free online resource that offers valuable content and comparison services to users. To keep this resource 100% free, we receive compensation for referrals for many of the offers listed on the site. Along with key review factors, this compensation may impact how and where products appear across CardRates.com (including, for example, the order in which they appear). CardRates.com does not include the entire universe of available offers. Editorial opinions expressed on the site are strictly our own and are not provided, endorsed, or approved by advertisers.