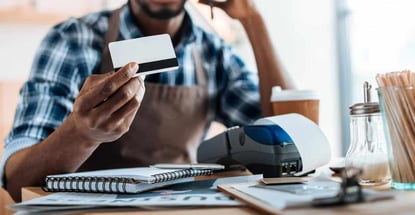 By law and custom, you can use your personal credit card to cover business expenses. Which begs the question: Should you? 
For many small business owners, the answer is yes. The Credit Card Accountability, Responsibility, and Disclosure Act (CARD Act) of 2009 provides personal card users with legal protections that don't apply to business cardholders. But business cards also offer advantages, including flexibility and free employee cards, an essential consideration if you plan to give your workers autonomy and access to their own company cards. 
Entrepreneurs may solve the dilemma by owning both kinds of cards. But if you want to own just one type, personal cards are the way to go. As we explain below, you shouldn't use business cards for personal expenses. The following review ranks the best personal credit cards for business expenses by credit type and answers several questions about credit card use.
Best Personal Cards For Excellent Credit (740+ FICO)
The top echelon of personal credit cards serves consumers with FICO scores of 740 and higher. These cards reward you for achieving an excellent FICO rating. The range of annual fees these cards charge shows that you don't need to spend much to get a superior card.
+ See More Cards For Excellent Credit
Personal cards for excellent credit may offer generous perks that save you money and provide other valuable benefits. Company owners will find many of our reviewed cards suitable for business use.
Best Personal Cards For Good Credit (670-739 FICO)
FICO defines good credit as a credit score above 670. This range of scores covers a large swath of cardholders. These cards may include rewards and benefits that overlap those for cards for excellent credit.
+ See More Cards For Good Credit
Whether you're looking for a 0% intro APR, a signup bonus, handsome rewards, or plenty of benefits, you should have no problem finding an ideal card to serve your personal and business needs. 
Best Personal Cards For Fair Credit
Folks with fair credit (FICO scores 580 to 669) may have experienced financial challenges that put the best credit cards out of reach. But the following cards offer attractive features, including cash back, balance transfer transactions, and low annual fees.
+ See More Cards For Fair Credit
Cards for fair credit typically have lower credit limits and higher APRs, but they can still be helpful for moderate business purchases and expenses. But be sure to compare fees, which can vary widely.
Best Personal Cards For Bad Credit
The following cards are available even if your FICO score is below 580. You may have a choice between an unsecured credit card and a secured credit card. Unsecured cards are more expensive but don't require a deposit. Secured cards can offer better perks, but you need to deposit an amount equal to your credit line.
+ See More Cards For Bad Credit
Even with bad credit, You may be able to establish a credit line of at least $700, and some secured cards accept deposits as high as $5,000. Be sure to read each card's fine print to understand the costs and limitations.
Reasons to Use a Business Card For Business Expenses
Undoubtedly, having separate credit cards for personal and business expenses is the best way to manage your finances. Here are several reasons why you should consider owning a business credit card:
Separation of personal and business expenses: Separating personal and business expenses makes bookkeeping and tax preparation easier. A business card allows you to categorize and track your money without identifying personal expenditures.

Higher credit limits: Business credit cards may provide substantially higher credit limits. This can come in handy when purchasing big-ticket items, including office furniture and communications equipment.
Business-specific rewards and perks: Along with higher credit limits, business cards typically offer bigger signup bonuses in the form of cash back, points, or miles. They frequently skew their rewards toward typical office expenses. Some airlines provide co-branded business cards that help you accumulate frequent flyer miles on business trips.

Enhanced reporting features: Business cards often provide year-end reports that detail and summarize your spending. These reports can help you revise and track your budget. Several business cards offer downloads that integrate with popular accounting platforms.
Build business credit history: You can use a business card to establish and build your company's credit profile. Doing so will make obtaining business loans easier and eliminate the need for personal guarantees. A solid credit profile can help you compete for business and government contracts.

Employee cards: You can issue credit cards to employees by making them authorized users. Many business cards offer this service free of charge and let you customize employee spending limits at the employee level. Spending management can also help you keep tabs on business expenditures.
Improved cash flow management: You can use a business card to optimize cash flows. For example, you may want to take advantage of early payment discounts or delay payments due to cyclical sales. Sometimes you may have to make substantial purchases for a client before receiving payment. A business card with a high credit limit helps you navigate those contingencies.

Eligible purchase protection and insurance: Business credit cards frequently come with eligible purchase protection, travel insurance, extended warranties, and other features that can save your business money. These features can also provide busy entrepreneurs with valuable peace of mind
The best personal credit cards may provide advantages, but we aren't aware of any that deliver as much for businesses as dedicated business credit cards.
Best Business Cards
The following cards offer higher credit lines and first-class perks. Each provides a unique mix of rewards, signup promotions, and business-oriented benefits. Pay close attention to their travel rewards if your business requires frequent trips.
The best business cards don't have to cost much, as some charge a $0 annual fee. But these cards typically require business owners to have good credit.
What Is the Difference Between a Personal and Business Card?
We've described some benefits of using a small business credit card for company expenses. Now let's focus on the main differences between the two card types.
Intended Use
Not surprisingly, issuers of business credit cards intend cardmembers to use the products for business expenses. For the reasons explained earlier, you should use a personal credit card for your personal expenses, but there is no prohibition against using it to pay business bills.
Application Process
When you apply for a personal credit card, the issuer relies on credit scores and reports to make approval decisions. The card issuer may also review your income, debts, and housing costs. You must supply a Social Security Number to obtain most personal credit cards.
Issuers of business credit cards also look at the company's credit profile, revenue, and years in operation. But if the business is small, issuers will still consider your personal creditworthiness as a critical factor. That's because, typically, a small business credit card requires the owner to personally guarantee payment if the business can't pay its bills.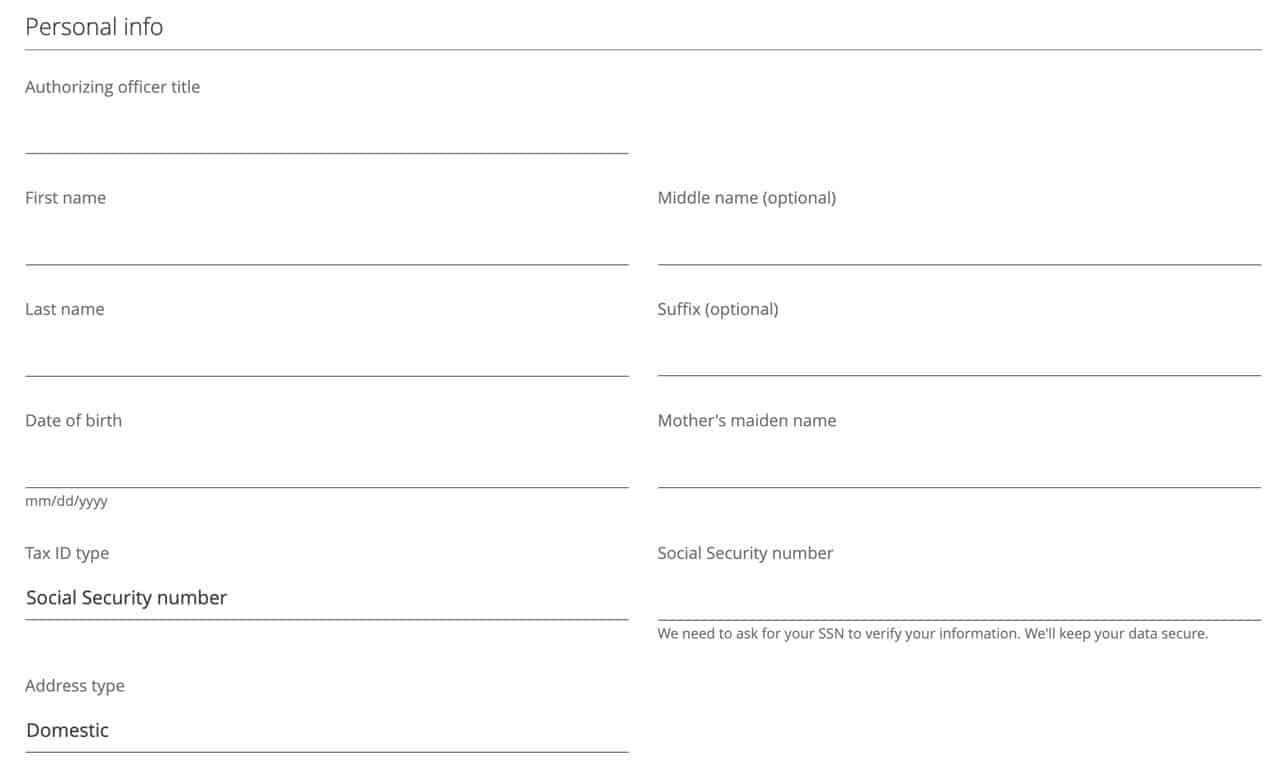 Suppose you are the responsible officer of a corporation, limited liability company (LLC), or limited partnership (LP). In that case, you will need an Employer Identification Number (EIN) from the IRS to get a business credit card. 
The card application will also require information about the type of business, company address, number of employees, and annual revenue.
Reporting to Credit Bureaus
Personal credit cards report payments to the major consumer credit bureaus (Experian, Equifax, and TransUnion). Business credit cards typically report to the commercial bureaus, of which the big three are Dun & Bradstreet, Experian, and Equifax. Some business card providers may also report to consumer credit bureaus.
Credit Building
A personal credit card helps you build an individual credit profile by reporting payments to the consumer bureaus. You can build credit by paying on time and keeping your debt levels relatively low.
The easiest way to establish a business profile is to get a DUNS number from Dun & Bradstreet (D&B). You can visit the D&B website to obtain a unique nine-digit DUNS number. Many businesses and lenders require you to have a DUNS number before they work with your company. You also need a DUNS number to qualify for a federal grant.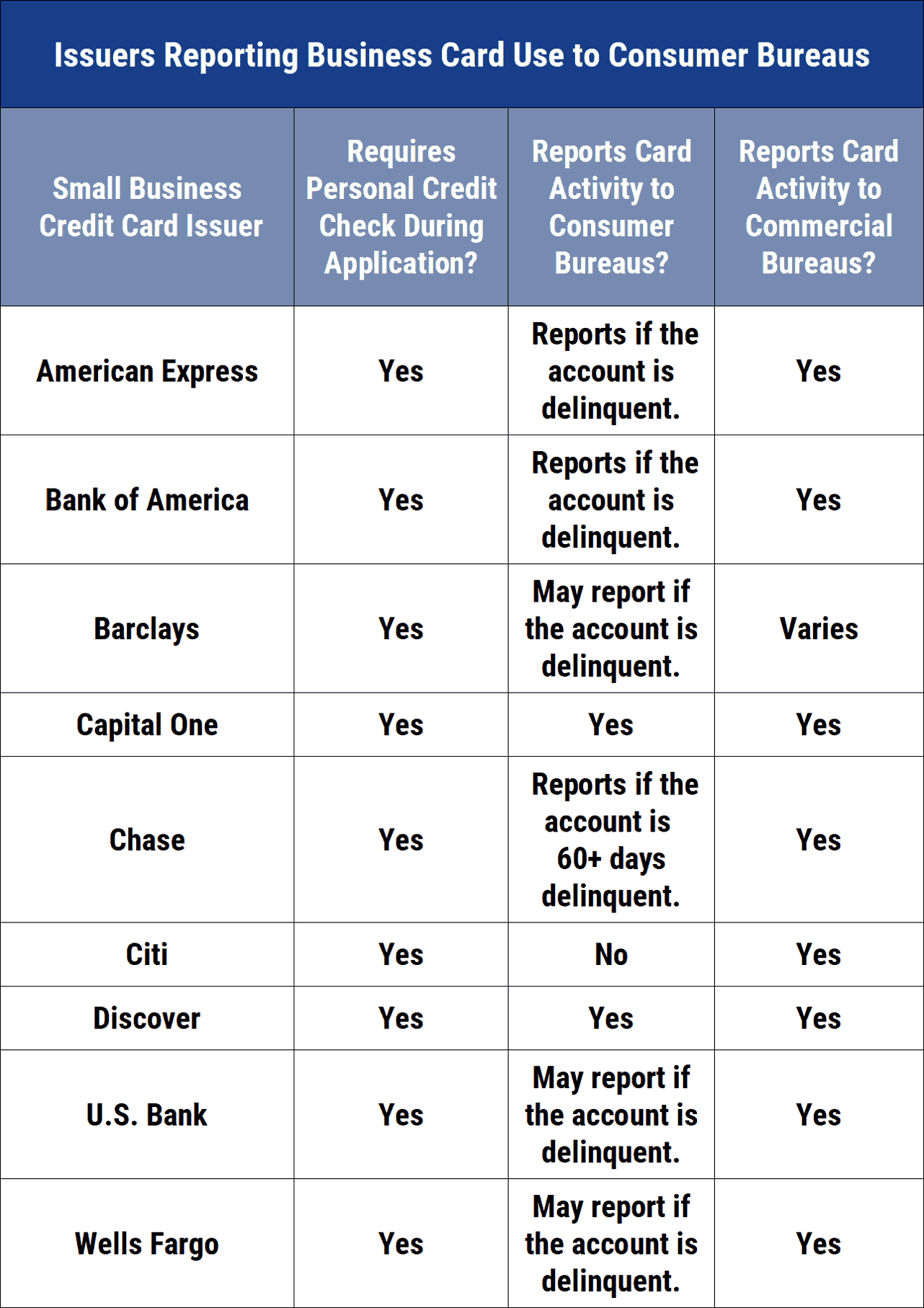 D&B provides a Paydex score when you establish a profile. Paydex works differently from FICO in that your score benefits when you pay bills before their due date. Otherwise, Paydex uses standard criteria, including on-time payment and low credit utilization, to assign a score.
Equifax and Experian, the other major commercial credit bureaus, do not require a special identifier to track your business.
Once set up, your business can build credit by paying bills on or ahead of time and keeping debt levels low. A business bank account with no bounced checks or unpaid fees may also help build credit.
Your business can also build credit by opening trade lines with vendors and suppliers. Trade lines extend credit to customers who purchase supplies or inventory. If vendors don't report payments to a credit bureau, you can add the vendors to your D&B account, which allows D&B to collect that trade line data.
Credit Limits
Given your credit score, you are more likely to get a higher limit from a business credit card because the issuer considers both business revenue and personal income. A business with more earnings will likely get a higher limit than a personal card would. 
You can maximize your business credit limit if you and your business have excellent credit profiles. By paying bills on time and keeping your debt levels low, you may also see periodic increases to your credit limit.
Introductory 0% APR Promotions
Many personal and business credit cards offer new card members a 0% APR on purchases or balance transfer transactions for a specified period after account opening. Business cards tend to have longer introductory periods, but you should compare cards based on your needs.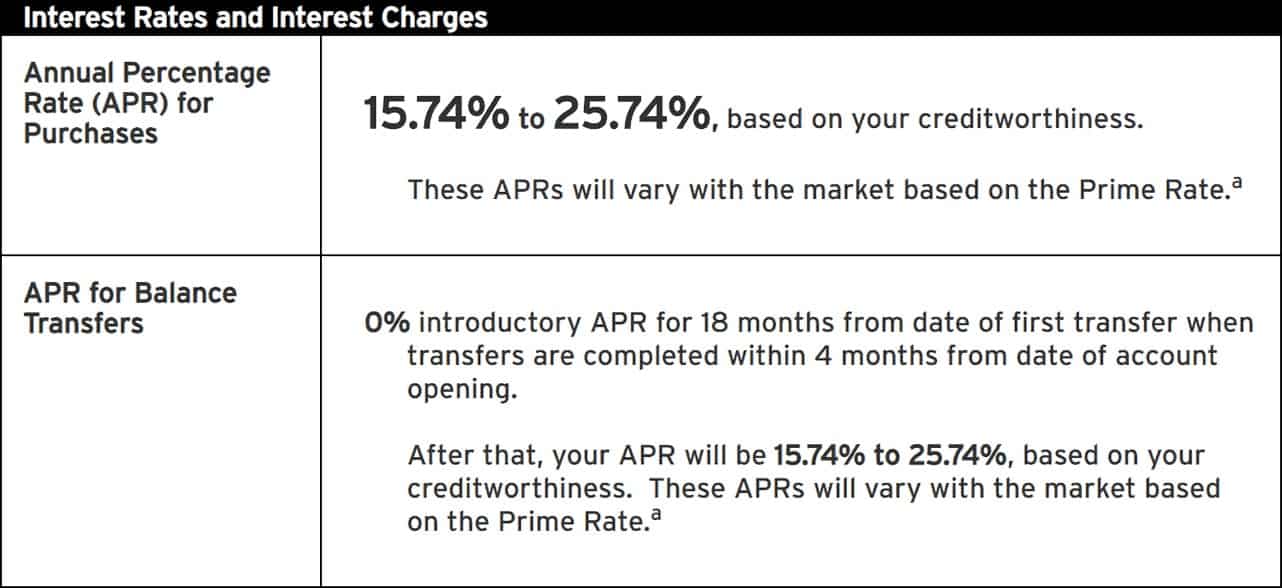 For example, startup businesses could take advantage of long intro periods after account opening by purchasing furniture and equipment immediately while paying them off at leisure.
Interest Rates
Interest rates depend more on credit scores than card type. Credit cards for applicants with high credit scores typically charge significantly lower APRs than do cards for bad credit. Improving your creditworthiness is the surest way to qualify for cards with lower interest rates.
Remember that the interest rate will always be 0% if you pay your entire balance each month. But business owners often juggle conflicting pressures, so it may make sense to finance purchases over several months despite the interest charges.
Consumer Protection Laws
Many consumer protection laws, including the CARD Act of 2009, apply to personal credit cards. But consumer regulations don't always apply to business credit cards. 
Personal cards enjoy these protections:
Lower penalty fees
45-day notice of APR increases
Payments exceeding the minimum must go first toward the balances with the highest interest rates
Restrictions on interest rate hikes during the first year
Introductory promotional rates must last at least six months
A clear description of a personal card's terms and conditions
On the other hand, even the best business credit card may be subject to higher penalty fees, less transparent disclosures, and unrestricted APR increases. Some business cards may offer protections similar to those for personal cards, but business owners should read the terms and conditions to make sure.
Is It Illegal to Use a Company Card For Personal Expenses?
You're not breaking the law if you are a sole proprietor and use your company card to pay for personal expenses. But it is not a good idea because you must ensure you don't negatively impact the company's books or take a tax deduction for personal expenses.
Misusing a business card for personal expenses can be problematic or potentially illegal if you own an LLC or corporation since these are legal entities separate from the owner. That means business credit card misuse may saddle you with personal liabilities for business debts and other legal complications.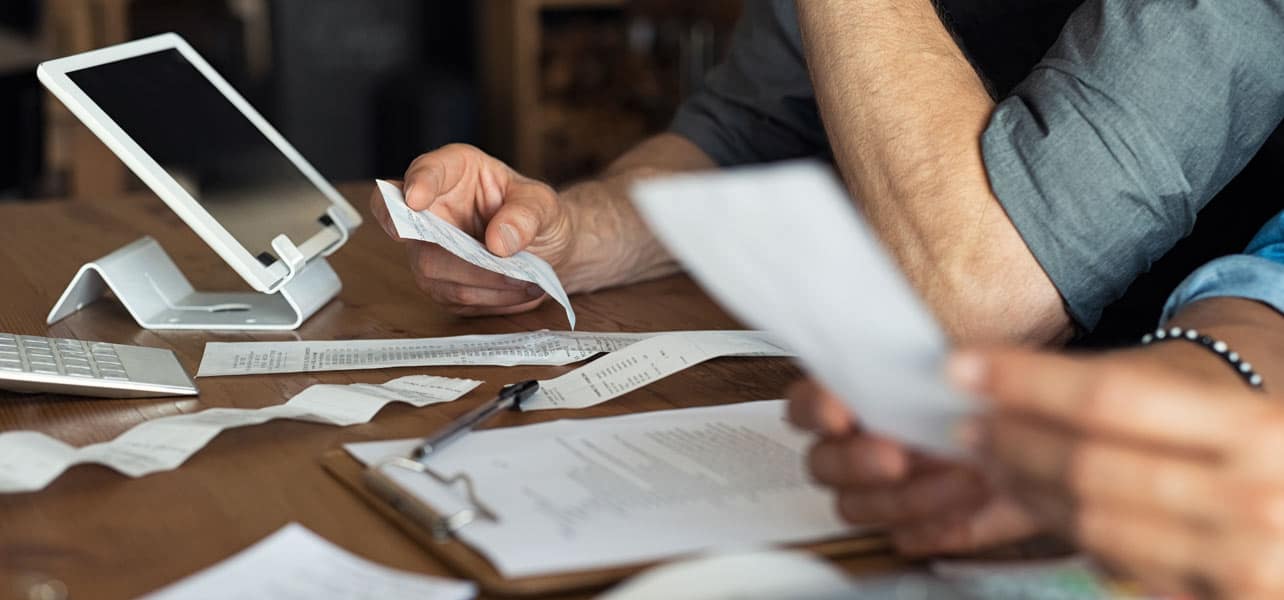 The picture is worse for employees who misuse a card for personal expenses without authorization. The offense depends on the circumstances, but potential crimes include theft, embezzlement, and fraud if the employee planned to misuse the card.
On the other hand, if an employee simply makes a mistake, including pulling out the wrong card, reimbursement and a warning may be sufficient to prevent a recurrence. 
Owners should review the use of a company card when they provide one to an employee. The review should include the penalties for misuse. Company owners would be wise to equip their business cards with financial controls and audit procedures.
Do Issuers Pull Personal Credit For Business Cards?
If you run a small business, a card issuer will likely pull your personal credit file when you apply for a business card. They do this because most require you to guarantee your business card's debts personally and want to ensure you're up to the task, financially. 
Your personal credit score may indicate how well you can meet your financial responsibilities.
Must I Own a Business to Get a Business Credit Card?
Anyone from a corporate CEO to a freelance consultant can get a business card, but yes, you must be a business owner to acquire one. You'll pass muster if you are self-employed, even part-time.
When you apply for a business card, the issuer will typically ask for the following:
Business name: If you don't have a formal business name, use your name.
Business contact information: This is where you would enter your business address and phone number. Once again, you can use your personal address and phone number if you don't have a separate address.
Identification: You can use your Social Security Number if you are a sole proprietor or one-person LLC. Otherwise, you'll need an Employer Identification Number (EIN) to show it is a separate legal entity.
Industry: The government uses a coded system to identify most industries. The issuer may provide a lookup table or offer its own industry list. 
Business type: Choices include sole proprietorship, LLC, corporation, partnership, or limited partnership (LP). You can choose sole proprietorship if you haven't adopted a formal business structure. The IRS treats a one-person LLC as a sole proprietorship for tax purposes.
Business facts: These include your annual revenues, expenses, and time in business.
Personal guarantee: Most business cards require you to sign a personal guarantee should the company become insolvent or otherwise unable to pay its credit card debt. Consider getting a corporate card, including Brex or Ramp, to avoid a personal guarantee.
You can declare yourself the owner of a sole proprietorship, and the credit card companies will likely never ask for proof. That means almost anyone can get a business credit card. 
But as we discussed earlier, even the best business credit card offers fewer protections than personal cards, so getting a business card to use on a few business-related purchases may not be worthwhile. 
Run Your Business Your Way
You're the boss, so you call the shots. You can get a personal credit card to cover all your expenses — personal and business — but we've laid out several compelling reasons to own a separate business card for your company. 
If you do want a personal card for your business, we suggest you give our reviewed cards a close look. On the other hand, our picks for the best business cards may sway you to makes the move to keep your expenses separate. Your accountant and tax preparer will thank you — even if you fill both of those roles for your small business.
Advertiser Disclosure
CardRates.com is a free online resource that offers valuable content and comparison services to users. To keep this resource 100% free, we receive compensation for referrals for many of the offers listed on the site. Along with key review factors, this compensation may impact how and where products appear across CardRates.com (including, for example, the order in which they appear). CardRates.com does not include the entire universe of available offers. Editorial opinions expressed on the site are strictly our own and are not provided, endorsed, or approved by advertisers.