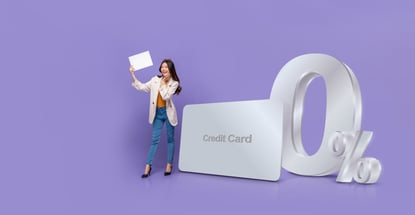 The universe of 0% interest credit cards includes a rich constellation of stellar choices sure to please almost everyone. The cards we've reviewed here can help lighten your financial load, and the best will do so while granting you some nice rewards and benefits.
Read on to find the perfect card to rock your world.
New Purchases | Balance Transfers | FAQs
Best 0% Interest Credit Cards for New Purchases
If you are contemplating a big purchase, these cards will let you stretch out the payments without being bogged down with interest. Depending on how much you purchase and how long the 0% offer lasts, you may be able to save hundreds or thousands of dollars with these cards.
---
---
These cards work by offering you an introductory period in which you can carry balances from month to month without paying interest. These periods typically range from six to 18 months from the date you open the account. After the introductory period expires, your unpaid balances will accrue interest at the card's standard annual percentage rate (APR).
Always check the fine print on the 0% offer before applying for a card. Note the consequences for a late or missed payment, which, at worst, can stop the promotion and slap you with fees and a penalty APR.
Also, compare the rewards and benefits of each card to see how much you have to give up to get the 0% offer.
Best 0% Interest Balance Transfer Credit Cards
These cards allow you to consolidate your credit card debt and repay it over a period of 0% interest. If you have good credit, you will have a better chance of getting a card with a high enough credit limit to allow full consolidation and a regular APR lower than those on your existing cards.
---
---
When you carry balances on multiple credit cards, you must send off the required payment to each one lest you trigger late fees, penalty APRs, and even damage to your credit score.
When you transfer your balances to one card, it makes managing one monthly payment much easier. This also makes it easier to avoid late penalties while saving you from the interest you would have had to pay before the transfers.
The length of the introductory period is important because any balance remaining after the period expires will incur interest at the card's standard balance transfer APR. This rate may differ from the rate for purchases and could be higher.
To get the most from the promotion, you need a card that will give you a sufficiently high credit limit to transfer all your balances at once.
What is a 0% Interest Credit Card?
You can tell a card offers a 0% interest rate from the splashy mention on the card's webpage. These cards, which cater to consumers with good to excellent credit, allow new cardmembers to enjoy a period of 0% interest on purchases and/or balance transfers. The period starts on the day you open the account and extends by law for at least six months.
There's no legal requirement for the maximum introductory period, but in practice, 18 months is usually tops. Other popular periods are 12 and 15 months. We've occasionally come across balance transfer periods as long as 21 months, but these aren't as common.
In all other respects, 0% interest cards operate just like any other credit card. That means they may offer perks including cash back, point, or mile rewards, signup bonuses, and benefits like travel and purchase protection, as well as other perks.
Some 0% interest cards charge no annual fee and/or have lower-than-average regular APRs that kick in when the introductory period ends.
How Do 0% Interest Credit Cards Work?
Credit cards may offer introductory 0% intro APR promotions for purchases, balance transfers, or both. In effect, these cards offer an extended interest-free grace period with a six billing cycle minimum.
Grace periods usually extend for 21 days to 25 days from the statement end date to the payment due date. You won't be charged interest on your statement balance if you pay it in full during the grace period. Otherwise, you will incur interest at the APR listed in the card's terms and conditions until you pay off the full balance — except when you're enjoying a 0% intro APR offer.
A couple of warnings:
Grace periods and 0% intro APR offers do not apply to cash advances. When you get a cash advance from your credit card, you'll incur interest every day until you repay it, and possibly pay a fee as well. The APR for cash advances may be different from the normal purchase or balance transfer APRs.
Even when you're in the 0% intro APR period, you must still make at least the monthly minimum payment. Failure to do so may cause the card issuer to cancel the 0% introductory APR offer, charge you a late fee, institute a high penalty APR temporarily or permanently, and report the missed payment to a credit bureau after 30 days, causing your credit score to drop.
Note that some card issuers will not offer you a 0% intro APR on a new card if you already have another card from the same issuer.
0% Intro APR for Purchases
Upon getting one or more 0 interest credit cards for purchases, the stuff you buy will not accrue an interest charge even when you don't pay the entire balance due. Once the promotional period ends, any balances you don't pay in full when due will incur interest at the card's regular purchase fixed or variable APR.
This arrangement is not the same as that for deferred interest, which you often find on store credit cards. Cards with a deferred interest period require you to pay the entire balance before the promotion period ends. Otherwise, you'll be retroactively charged the full interest amount for the entire deferred interest period.
Cards that offer 0% APRs on purchases are the most valuable if:
You are contemplating some big-ticket purchases and want to spread out the payments interest-free.
The card offers a generous signup bonus that will partially reimburse you for your large purchase(s) during the bonus period.
The card's regular fixed or variable APR for purchases is relatively low, just in case you can't fully pay for your purchases before the introductory period expires.
The card's credit limit is high enough to accommodate your contemplated purchases.
The card offers a rewards match at the end of the year, such as with Discover cards.
Conversely, if you are not planning any big purchases or you usually pay your entire balance each month and you don't need to consolidate credit card debt, then you may want to avoid cards with 0% APR offers and concentrate on cards with generous rewards and benefits.
0% Intro APR for Balance Transfers
Cards that offer 0% intro APR balance transfer promotions allow you to consolidate the outstanding balances from your other credit cards to your new one. Each transfer will trigger a balance transfer fee, usually between 3% to 5% or higher. You then have at least six months or longer, depending on the terms of the promotion, to pay off the transferred balance interest-free.
Once the promotional period ends, any remaining transferred balance will accrue an interest charge at the card's regular balance transfer APR.
You'll find it fairly easy to transfer credit card balances. While you can arrange the transfers by talking with a customer rep, many issuers also provide an online form to transfer one or more balances.
After receiving your request, the new card issuer will contact the issuers of your existing cards and arrange to pay off your existing balances in the amounts you specify.
If you pay off an existing balance in full, your future payments for the transferred debt will go to the new card. However, if you transfer less than the old card's full balance, you'll need to make payments to both your old and new cards.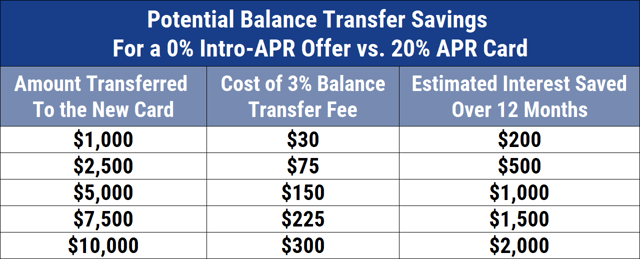 Remember that it takes time to complete a balance transfer (anywhere from five days to three weeks), so continue to make at least the minimum payments to the old card until you receive confirmation that the balance has been transferred. If you accidentally overpay the old card while waiting for a transfer to finish, you can collect a refund from the credit card company after transfer completion.
If you don't think you'll be able to completely pay off the consolidated balance before the introductory period ends, then make sure your old card has a higher APR than that of the new card. Otherwise, you may end up paying more interest on top of the balance transfer fee. Also, make sure you understand whether a transfer must be completed within a specified period to participate in the promotion.
For example, a card may offer you an 18-month period for 0% APR on transferred balances but impose a 90-day deadline for completing the participating transfers. Any transfers you make after the deadline will be charged interest at the card's normal rate. Most balance transfer cards impose this kind of deadline, so read the fine print carefully.
For purposes of consolidating credit card debt, you would like your new balance transfer card to have a high enough credit limit to accept all your existing balances. Otherwise, you'll have two or more cards that require monthly payments and minimum payment amounts. This makes it harder to concentrate on paying down your consolidated balance and increases the possibility that you'll forget to make a payment on time.
To ensure the feasibility of transferring all your current balances to your new card, compare your old balances against the new card's credit limit, current balance, and transfer fee. The fee may reduce the amount of remaining credit available for transfers. Also, check whether the new card imposes any caps on the maximum transferable amount within a given period.
How Do I Get a 0% Interest Credit Card?
Reviews like this one identify the best 0% interest credit cards currently available. It's a good starting place to learn about each card's strengths and weaknesses.
After narrowing your choices, you can prequalify for a card by completing a short form and submitting it to the issuer. The issuer will do a soft inquiry (which will not affect your credit score) on your credit file maintained at the three major credit bureaus. If you prequalify for the card, you can authorize the issuer to perform a hard inquiry where it will decide whether to approve your application.
If you receive final approval, the credit card company will mail out your new card right away and you should receive it in seven to 10 days (although some issuers may expedite shipping). A few card issuers give you instant access to your card account, allowing you to use it for card-not-present purchases (i.e., purchases made online or over the phone).
Your access to a 0% interest unsecured card depends on your creditworthiness as reflected in your FICO score. These scores run from 300 (worst credit) to 850 (best credit). Typically, you'll need a good or excellent score (from 670 to 850) to qualify for one of these cards.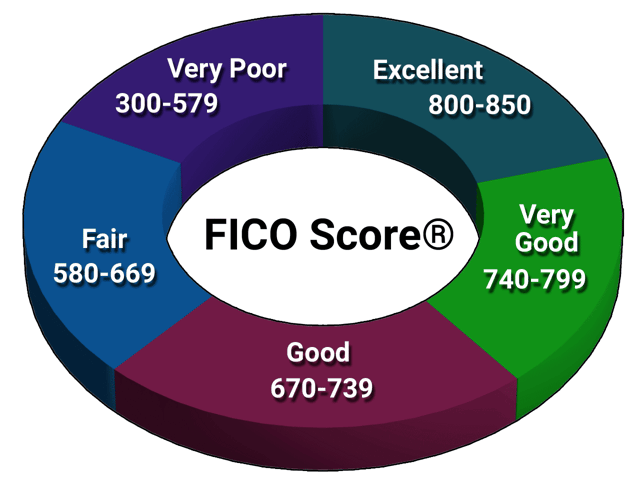 If you really want a 0% interest card but have fair or poor credit, consider these alternatives:
Improve your score: Work on improving your credit score before applying for a new card. You do that by paying your bills on time, every time, and by paying down your credit card balances. Ideally, you want your credit utilization ratio (or CUR, which is equal to your credit balances divided by your total available credit) to be well below 30%. You also want to avoid applying for multiple credit accounts and/or loans, including personal loan applications, around the time you apply for the 0% interest card. If you have other cards you don't regularly use, keep the accounts open and use the cards at least once a year. All these actions help improve your credit score. In addition, check your three credit reports for mistakes that are hurting your credit score. You can get copies of all three credit reports for free at AnnualCreditReport.com, the only federally authorized source. You can make it a DIY project or hire a credit repair company to do the heavy lifting for you. Your score should rise quickly after you remove bad or outdated derogatory information from your credit report. Higher scores stemming from good financial behavior may take six months or longer to appear. You may also consider using a service like Experian Boost to add some points to your credit score.
Recruit a cosigner: A cosigner is someone with good credit who is willing to guarantee your credit card payments. With a cosigner, you'll be able to qualify for a card beyond your individual reach. But consider the pros and cons of enlisting friends or family members as a cosigner, as you don't want to jeopardize your relationship with them. Also worth noting is that only two major issuers currently allow cosigners on their credit cards.
Get a secured card: Your credit score doesn't matter when you apply for a secured card because your deposit acts as collateral for your credit line. Using a secured card is a great way to build your credit profile. That's because secured cards report your payments to all three credit bureaus, and your timely payments will help increase your score over time.
If you get a 0% APR balance transfer card but don't pay off the full balance before the introductory period expires, you may want to get a new balance transfer card and move the remaining balance to it.
You'll pay a fee, but at least you'll have additional time to repay your balance interest-free. Don't close the previous card account, as this can hurt your credit score.
What is the Best 0% Interest Credit Card?
We give our top rating to the Chase Freedom Unlimited® for 0% purchases. Not only does it offer a fairly long introductory period for its 0% APR promotion, but it also offers a signup bonus, cash back rewards, and no annual fee.
SPECIAL OFFER: Unlimited Matched Cash Back. Use your card for all your purchases and at the end of your first year, Chase will automatically match all the cash back you earned! There is no limit to how much you can earn. Every dollar in cash back rewards you earn is a dollar Chase will match.
Unlimited 1.5% cash back is just the beginning of what you can earn. You'll enjoy 3% cash back on drugstore purchases and dining at restaurants, including takeout and eligible delivery services, 5% cash back on travel purchased through Chase Ultimate Rewards®, our premier rewards program that lets you redeem rewards for cash back, travel, gift cards and more; and 1.5% cash back on all other purchases.
Enjoy 0% Intro APR for 15 months from account opening on purchases and balance transfers, then a variable APR of 20.49% - 29.24%.
No minimum to redeem for cash back. You can choose to receive a statement credit or direct deposit into most U.S. checking and savings accounts. Cash Back rewards do not expire as long as your account is open!
No annual fee - You won't have to pay an annual fee for all the great features that come with your Freedom Unlimited® card
Keep tabs on your credit health, Chase Credit Journey helps you monitor your credit with free access to your latest score, real-time alerts, and more.
| | | | | |
| --- | --- | --- | --- | --- |
| 0% Intro APR on Purchases 15 months | 0% Intro APR on Balance Transfers 15 months | | | |
As with most Chase cards, this one offers special perks and protection benefits, including purchase protection, $0 liability protection, fraud monitoring, extended warranty protection, travel and auto rental insurance, travel and emergency assistance services, and identity restoration services.
Our runner-up card among those offering a 0% intro APR for purchases is the Capital One Quicksilver Cash Rewards Credit Card. It comes with a flat, unlimited cash back rate on all purchases, a one-time signup bonus, and no annual or foreign transaction fees. This card will suit you if you dislike rotating bonus categories and multiple reward tiers.
Our top pick for a 0% balance transfer card is the Citi Simplicity® Card. It offers a long introductory period for 0% APR balance transfers (and purchases), charges no late or annual fees, and allows you to choose a payment due date. You also get $0 liability protection and access to Citi® Identity Theft Solutions to help you recover when your identity is stolen.
No Late Fees, No Penalty Rate, and No Annual Fee... Ever
0% Intro APR for 21 months on balance transfers from date of first transfer and 0% Intro APR for 12 months on purchases from date of account opening. After that the variable APR will be 19.24% - 29.99%, based on your creditworthiness. Balance transfers must be completed within 4 months of account opening.
There is an introductory balance transfer fee of $5 or 3% of the amount of the transfer, whichever is greater for balances transfers completed within 4 months of account opening.
Stay protected with Citi® Quick Lock
| | | | | |
| --- | --- | --- | --- | --- |
| 0% Intro APR Period 12 months on Purchases | 0% Intro APR Period 21 months on Balance Transfers | 19.24% - 29.99% (Variable) | | |
Additional Disclosure: Citi is a CardRates advertiser.
While these cards sit atop our rankings, your needs may be better fulfilled with a different card. For example, if you wish to consolidate a modest amount of credit card debt, you may do better with a short-term introductory period of 0% APR transfers. The shorter period may allow the card issuer to offer better perks than those available from cards with long introductory periods.
The Bank of America® Customized Cash Rewards credit card is a good example of these tradeoffs. While offering an introductory 0% APR for balance transfers that's shorter than that of our top-rated Citi Simplicity® Card, it also provides perks that include a signup bonus and cash back rewards that are not available from the Citi card. Both cards charge no annual fee.
Is a 0% APR the Same as No Interest?
For almost all credit cards, 0% APR and no interest mean the same thing.
The question revolves around the definition of APR used by credit card issuers. Rewards card APRs do not include the impact of fees, such as annual, balance transfer, late payment, and foreign transaction fees. A personal loan uses a different definition, in which fees are incorporated into the APR.
When selecting an interest-free credit card, be sure to check out the card's regular APR for purchases and balance transfers. These APRs will apply once the introductory period expires.
Typically, credit cards that offer a 0% intro APR require applicants to have good to excellent credit (i.e., FICO scores of 670 or higher). The average APR range for good-credit cards to be 14% to 17%. If you have very good or excellent credit, your estimated APR range is 10% to 17%.

Interestingly, the lowest APRs are attached to secured credit cards, in which you deposit cash collateral into the issuer's locked account. The deposit secures the card's credit line, rendering your credit score moot. A secured credit card may offer regular APRs starting around 10% even if you have bad, thin, or no credit.
For example, our top secured rewards card with a low APR is the Applied Bank® Secured Visa® Gold Preferred® Credit Card. This card requires no minimum credit score or credit history, permits a moderately high maximum credit limit, and reports your payment activity each month to the three major credit bureaus.
The card is available nationwide except for in Arizona, Iowa, New York, and Wisconsin.
In the long run, your best way to get a great APR is to boost your credit score. You can do this by always paying your bills on time and keeping your credit utilization ratio under control. You should pay down credit card debt enough to get your credit utilization below 30%, but for the fastest results, see if you can get it below 10%.
It also helps to avoid applying for new credit or loans too frequently, as creditors will make hard inquiries on your credit history that will hurt your credit score. Don't close old credit card accounts that you no longer use, since this may increase your credit utilization ratio and hurt your credit score. Instead, try to use all your credit cards at least once a year to prevent the credit bureaus from treating the accounts as dormant.
One tactic for reducing your APR that is often overlooked is to contact the credit card issuer and directly ask for it. At worst, you'll be turned down, but there is always a chance that you'll be able to convince the card rep that your creditworthy behavior should be rewarded with a lower interest charge.
You can help your cause by regularly paying off your card balances and successfully juggling a variety of account types (i.e., credit cards, loans, home equity loans, car loans, etc.).
Do No-Interest Credit Cards Hurt Your Credit?
There is no reason per se why a no-interest credit card should hurt your credit any more than any other credit card would. It's true that opening any new unsecured credit card requires a hard pull of your credit report, but that will drop your score by only a few points and for only a year.
However, you can misuse a 0% interest credit card in ways that will send your credit score reeling:
Overbuying: You may be tempted to throw caution to the wind when your purchase APR is 0%. The problem with this is that even if you are avoiding interest charges during the introductory period, you'll be sending your credit utilization ratio skyrocketing by going on a buying rampage. A CUR above 30% can hurt your credit score, and since CUR accounts for 30% of your FICO score, the damage can be significant.
APR shock: You may have gotten a little too used to a 0% APR and ran up your credit card debt. Suddenly, the introductory period ends, and you're stuck with a big fat card balance and a non-zero APR. Unless you pay off the debt immediately, you'll be facing substantial interest costs that could put a dent in your budget and your credit score.
Card jumping: Some folks like to jump to a new 0% balance transfer credit card when their current card's introductory period expires. This way, they're always one step ahead of credit card interest. However, card jumping can be expensive and risky. First, you'll pay a fee of 3% to 5% each time you transfer a balance. Also, consider the risk that, as your balance snowballs over time, you suddenly lose your job or face some other financial emergency. You may then have trouble qualifying for your next 0% card or you may get stuck with a low credit limit. Moreover, some card issuers actively discourage card jumping. For example, the Chase 5/24 rule bars new credit cards to consumers who've opened five new accounts in the previous 24 months. Other card issuers have various quotas that may work against you.
This is not to say that there is anything wrong with no interest credit cards. They are a real money-saver when used responsibly.
A card that combines a 0% introductory APR on purchases with a signup bonus and qualifying purchase rewards can take some of the sting out of big-ticket purchases.
Should I Pay Off a 0% Interest Credit Card Early?
There is little incentive to pay off a 0% interest credit card before the introductory period ends. After all, you probably got the card to stretch out payments over many months without paying interest.
However, here are a few considerations before you decide whether to pay off your card balance early:
You need organized thinking: You need to be aware of when your current promotional period will end so you have enough opportunity to pay off the remaining balance or arrange a 0% balance transfer to another card. That requires organized thinking, especially if you have multiple 0% APR cards. If you screw up, you'll be suddenly facing interest charges you weren't anticipating. And speaking of screwing up, you can lose your 0% APR if you forget to make at least the minimum monthly payment. You'll then pay the regular APR or perhaps an even-higher penalty APR on your card balance. You'll also be hit with a late fee and possible damage to your credit score.
Bird in the hand: As 2020 has taught us, external emergencies can unexpectedly shake up our lives. If you are currently working and can afford to pay down your card balance(s), you'll reduce the risk of having large debt should you suddenly get sick or lose your job.
Paying high-interest debt first: All things being equal, you want to pay off your high-interest debt first, since it drains the most interest from your budget. Paying off 0% credit cards should wait until you pay off other debt, such as home equity loans, car loans, student loans, personal loans, and so forth. However, consider that the interest on certain loans is tax-deductible (i.e., for mortgages and student loans), so factor that into your thinking.
Perhaps the best course of action is to manage your credit utilization ratio so that it never rises above 30%. This will limit your default risk and help maintain or improve your credit score. Consider paying down credit card debt, even if it's interest-free, to bring your CUR below 30%.
What's the Catch with a 0% APR?
Yes, paranoia can run deep, but really, there's nothing wrong with 0% APR if you know what you're doing. Nonetheless, you have to understand that banks are for-profit institutions, and they don't give stuff away for free unless there is something in it for them.
Banks run the numbers and know the percentage of consumers with 0% APRs who are likely to have a remaining balance when the introductory period ends. Those consumers will then either have to pay the regular APR or possibly pay a fee for a balance transfer if they can't afford to pay the balance.
The banks also know the odds that cardholders will forfeit their 0% APR deals if they miss a payment. Do the resulting late fees and penalty APRs bring smiles to the bank's board room? We don't know, but we're sure that cardholders aren't happy with card penalties.
Zero-percent APR credit cards are popular, and many banks exploit them by aggressively cross-selling other bank products such as checking and savings accounts, insurance policies, certificates of deposit, mortgages, home equity lines of credit, and savings bonds, among other products.
These products must be profitable enough to compensate for loss-leaders like 0% APR credit cards. Cross-selling is not nefarious, but you should evaluate each bank or credit union product to ensure it's a good deal for you.
Is 0% Financing a Good Deal?
Zero-percent financing is potentially a very good deal, but it requires you to make sure you pay off your credit card balance before the financing period ends. Let's look at a couple of examples.
Example for Purchases
Imagine you get a new credit card (Card A) with an 18-month 0% intro APR and immediately spend $5,000 on purchases. Your plan is to pay off the credit card balance before the promotional period ends. The card's regular APR for purchases is 21%, or 1.75% per month.
Working with a spreadsheet, you ascertain you'll need to pay $277.78 per month ($5,000 divided by 18 months).
Now, compute the cost if you instead got Card B and you had to pay an APR of 21%. After 18 months, you would spend $872.04 in interest — money that you could have kept for yourself under the Card A deal.
But now imagine that Card B will pay you a $400 signup bonus and 1.5% cash back on your $5,000 qualifying purchase (equal to $75). Those perks are worth a total of $475, which cuts the ultimate cost of Card B to $397.04.
Oh, did we mention that Card A has a $95 annual fee, but Card B has no such fee? That's a Card A cost of $190 for the 18-month period, bringing the ultimate cost savings for Card B to $207.04 (i.e., $397.04 minus $190).
Even after stacking the odds in favor of Card B, Card A emerges victorious. The bottom line is that a 0% APR should be a good deal under reasonable circumstances. However, the deal would go sour right away if you miss a payment and the 0% APR is canceled.
Example for Balance Transfers
In this example, we'll examine how balance transfers could impact your credit utilization ratio.
Say you have two credit cards. The balance on Card X is $900 and the credit limit is $2,000, giving you a CUR of $900 divided by $2,000, or 45%. Meanwhile, the balance on Card Y is $1,500 with a credit limit of $3,000, which makes the CUR ($1,500 divided by $3,000) 50%.
The overall combined balance of Card X and Card Y is $2,400 with a combined credit limit of $5,000 for an overall CUR of 48%.
You decide to obtain interest-free Credit Card Z, which offers a 0% intro APR for balance transfers, a 3% transfer fee, and a credit limit of $2,500. You then transfer the Card X and Card Y balances to Card Z, paying the combined transfer fee of (3% x $2,400), or $72.
You now have a 0% CUR on Cards X and Y, and a Card Z CUR of 96% (i.e., $2,400 / $2,500). At first glance, 96% looks like an eye-popping CUR. However, it's the composite CUR that counts, and that is $2,400 divided by $7,500, or 32%, an improvement of 16 percentage points.
While 32% is a little above the maximum recommended CUR, it's much better than the 48% CUR before the balance transfers. We can't quantify how much this would help your credit score, but you should quickly see a meaningful improvement.
Naturally, the $72 in fees for the balance transfers would be offset to some extent by the interest savings on the original $2,400 combined card balance. The amount of the savings depends on how you would have repaid Cards X and Y in the absence of balance transfers.
Can You Earn Rewards on 0% APR Cards?
Cards with 0% intro APR offers are targeted at consumers with good to excellent credit. That's the same audience that expects good rewards and benefits from their credit cards, and, for the most part, they get it. Most of the top cards in this review offer signup bonuses, eligible purchase rewards, and extra benefits.
That being said, cards that offer 0% intro APRs usually offer fewer benefits than cards that don't. The card issuers make money on interest, so it's natural for them to cut back on their expenses when offering a 0% APR card. The upshot is that it's important to balance the promotional APR offer against the other perks offered (or not offered) by the card.
For example, take cards that offer 0% APR for balance transfers. Perhaps the amount you want to consolidate through balance transfers is relatively small.
In that case, you'd prefer a card with a short introductory period for 0% balance transfers in return for more generous rewards, bonuses, and benefits. On the other hand, if you have a large sum to consolidate, you'll need a card with a long introductory period, even if that means the other perks are meager.
Signup Bonuses
A signup or welcome bonus is a way for credit card issuers to attract new cardmembers and reward them for getting their cards. With occasional exceptions, most signup bonuses have the same structure:
You apply for and receive a credit card that features a signup bonus.
You earn a set amount of bonus rewards (cash back, miles, or points) by spending the required amount within a specified period.
The amount of the welcome bonus is invariably less than the spending target. For example, several top cards in this review offer a $200 bonus against a $500 spending target. That's equivalent to a 40% rebate on the target spending requirement.
The signup bonus period usually extends for three months from account opening. Occasionally, you'll find cards that have a longer period and/or multiple bonus stages.
You may not be eligible for a signup bonus if you already own another credit card from the same issuer that offered you a signup bonus.
Signup bonuses are especially useful for consumers who are contemplating big-ticket purchases. In fact, these consumers may favor cards that offer the largest signup bonuses.
The effects of a 0% intro APR promotion on the size of the signup bonus can be seen in the following example. The top card in this review, Chase Freedom Unlimited®, offers a relatively modest signup bonus against a relatively modest spending target and doesn't charge an annual fee.
Another high-rated card from the same issuer, the Chase Sapphire Preferred® Card, doesn't have a 0% intro APR offer but does have a much larger signup bonus (and also an annual fee).
Rewards for Purchases
Almost any no-interest card aimed at consumers with good to excellent credit is going to pay you rewards for your purchases, although there are some exceptions. The rewards can take three forms:
Cash back: You earn cash back on your purchases that you can redeem in several ways, including a check, a direct deposit to your bank or credit union account, a statement credit, as credit toward certain online purchases, or a gift card. Cash is always a welcome item, making cash back cards very popular.
Miles: These cards offer rewards in the form of frequent flyer miles that you can use to help pay for airplane tickets. Some cards are co-branded with a particular airline, while others offer miles that can be used on several carriers. If your card is of the latter type, pay attention to the exchange rate between the card miles and the airline miles.
Points: Points are the most versatile of the reward types because they can be easily converted to miles or cash back. That makes point cards good for travel and for shopping. Some issuers inflate the value of reward points when they are redeemed in certain ways.
In addition to selecting a reward type, you can also choose among three reward schemes:
Flat rate: This is the simplest rewards scheme. You earn the same rate of rewards on all purchases with no limits. Typically, the rate is in the 1% to 2% range, without any caps on the amount you can earn.
Tiered: A card with tiered rewards offers different reward rates for different types of purchases. For instance, you may have a card that offers a 5% reward on travel purchases, a 3% reward on groceries, and a 1% base reward rate on everyday purchases. The bonus tiers may have annual or quarterly caps on the amount you can earn at the bonus rate.
Rotating: Each quarter, the card offers bonus rewards on specific rotating categories of purchases, usually up to a specified maximum. You must activate the card each quarter to earn the bonus rewards, and all other purchases earn the base reward rate on everyday purchases. Typical bonus categories include travel, gas stations, grocery stores, and purchases at wholesale clubs.
Whereas the effect of 0% intro APR offers on signup bonuses is quite clear, the picture gets murkier when considering purchase rewards. For example, the Capital One Quicksilver Cash Rewards Credit Card comes with a 0% intro APR offer while the Capital One QuicksilverOne Cash Rewards Credit Card does not. As it turns out, both cards offer the same flat cash back rate on all purchases.
To complicate matters further, Quicksilver requires good to excellent credit, charges no annual fee, and offers a signup bonus, whereas QuicksilverOne requires fair credit, does charge an annual fee, and has no signup bonus.
The bottom line, in this case, is that QuicksilverOne chose to offer the same cash back rate as the Quicksilver but jettisoned the 0% intro APR and signup bonus while tacking on an annual fee. Doing so allows Capital One to save money on QuicksilverOne that it uses to cushion itself against the higher risk of default due to the card's lower credit requirements.
This case provides some insight into the tradeoffs that a card issuer considers when crafting cards for various target audiences. It appears that Capital One decided that keeping a high cash back reward rate was more important than keeping the 0% intro APR and signup bonus offers.
However, it would be a mistake to necessarily expect other issuers to follow the same reasoning, which makes it important for you to understand all card details before applying for one.
Always Read the Terms & Conditions of 0% Interest Credit Cards Before Applying
This review of the best 0% interest credit cards should help you pick a credit card that best meets your preferences for a 0% APR. While that's a good start, you'll need to read the card's terms and conditions (available online or printed) to know whether it's the right card for you.
The starting point for researching a card's terms and conditions is the mandatory Schumer box provided by all credit cards. The Schumer box is a table containing the card's basic fees and rates, including the regular APR and, if applicable, the terms of any 0% intro APR offer. Note that there may be variations in the Schumer box contents to account for multiple APRs and extra fees.
The Schumer box is located at the start of a card's statement of terms and conditions (T&C). All cards must share their T&C information with card applicants before final approval.
The information following the Schumer box may contain many pages of fine print, but you should read and understand the material because it lays out your rights and responsibilities. Pay special attention to the details surrounding any 0% intro APR offer, including why you may be excluded from it or why the issuer may cancel it if you run afoul of the rules.
Advertiser Disclosure
CardRates.com is a free online resource that offers valuable content and comparison services to users. To keep this resource 100% free, we receive compensation for referrals for many of the offers listed on the site. Along with key review factors, this compensation may impact how and where products appear across CardRates.com (including, for example, the order in which they appear). CardRates.com does not include the entire universe of available offers. Editorial opinions expressed on the site are strictly our own and are not provided, endorsed, or approved by advertisers.