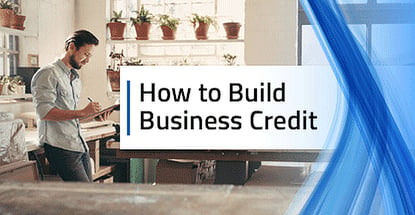 My business is my passion and has been from the moment the idea for it popped into my head. Generally speaking, before a good idea can be implemented, it will require some financial backing to get it off the ground.
I quickly realized when starting out that you really do have to spend money to make money, but the challenge was finding that money to spend.
That's where I sought the help of any financial institution that would extend me business credit. While it was not always easy to get, I was determined to get access to additional capital to create and grow my business. Keep reading for some important steps I learned about how to build business credit. We'll dive into the different steps you will need to take, including fixing any issues with your personal credit, setting up your business as a legal entity, and establishing checking and savings accounts for your business.
Initial Steps | Business Line of Credit
1. Fix Any Issues with Your Personal Credit Report
Before providing your business with any credit, a financial institution starts with your personal credit history to determine your behavior related to making payments promptly and in using credit responsibly.
If you know your personal credit history doesn't deliver a good credit score, then you will need to fix this before trying to establish credit for your business.
Get a copy of your personal credit report and look for any issues or problems that you can get taken care of. While it may take a little time to write to these companies and get mistakes corrected as well as raise your score, it's one of the most important actions you can take to build business credit. In many ways, it's the foundation upon which your business will be built.
2. Set Up a Legal Entity for Your Business
It is critical for you to set up a legal entity for your business and to separate your personal life as much as possible from your business. You can accomplish this by simply incorporating your company. Rather than use a sole proprietorship structure, which keeps your personal finances connected to the business finances, opt for a corporate structure like a C corp, S corp, or LLC (Limited Liability Company).
Financial institutions are much more likely to provide credit to an entity that has a stringent legal and tax structure. When you have this legal entity in place, you will need to get an Employer Identification Number (EIN) for your business. This provides a way to further separate you and your Social Security Number (SSN) from your company.
The Small Business Administration (SBA) and Internal Revenue Service (IRS) provide great resources to help you accomplish this task, and the information is online.
3. Have Business Checking and Savings Accounts
With both a checking and savings account for your business, you will not only be able to show a history of cash flow, revenue, and payments, but you will also show a creditor that you are responsible and legitimate regarding a fully operational firm.
It will be important to show a creditor your daily average balance so they can see how much revenue and cash flow are available as a personal guarantee of repayment of any debt they allow you to create.
While you will need a business reference to do this, you can ask a mentor or colleague with another company to help you figure this process out.
4. Open a Business Line of Credit
Opening a business line of credit provides a way to show creditors that you can be responsible for borrowing small amounts of money and then paying it back in a timely fashion.
There are many types of business credit lines to choose from, so it is a good idea to do your research and shop around for the credit line that best fits your business situation and credit standing.
+See more business credit cards 
A line of credit gives you a certain amount of capital that you can tap into, pay off, and then continue to use as long as you keep paying back what you borrowed. This action provides a good way to establish a relatively quick history of responsible payments.
5. Leverage Other Types of Commercial Accounts
Also helpful is opening certain kinds of commercial accounts for your business for various things like a phone, a shipping company, a hosting or internet provider, bottled water, and utility company.
You can share a history of payments to these commercial accounts, which in turn, illustrates your level of fiscal responsibility. Open all types of vendor accounts for which you regularly keep the payments current, and that you may use for your business. This will bolster a system of establishing your credibility for credit.
6. Get a Dun & Bradstreet Number
Dun & Bradstreet is the source for business credit information, so it makes sense to get a number so they can provide a credit profile on your company.
The Dun & Bradstreet business credit bureau profile — and their rating — can provide much-needed credibility with financial institutions that respect this organization's findings. You will need to first have your business entity in place along with your EIN.
7. Find Banks Using New Analytics for Lending Parameters
Today's small businesses are in luck, thanks to new technology. Various financial institutions are putting analytics to work to gauge the creditworthiness of newer companies that may have no established business credit.
According to one article on lending parameters, "Data and risk analytics company LexisNexis Risk Solutions is helping bridge the information gap between banks and businesses by offering alternative-data-based credit risk assessments for lenders to make smarter, safer lending decisions.
"By using advanced analysis techniques, LexisNexis Risk Solutions can identify — and resolve — thousands of data footprints to establish a business's profile, limiting the lender's reliance on traditional commercial credit reporting and increasing their ability to lend to more small businesses."
It's an exciting prospect to think that technology has now provided a way for more small businesses to be considered for credit.
Nurture Your Relationships with Those in the Credit Industry
All of these recommendations are intended to help you grow your credit, creating a sound basis of responsible credit usage and timely repayment.
Some of this advice can take time to establish for yourself. Start thinking about building your business credit. This habit starts with keeping all of your credit scores high — long before you need to use credit.
Be patient, thoughtful, and strategic in your approach with business credit. Nurture your relationships with those in the credit industry so they know you — and they know they can trust you. It will most likely be these people who will provide you with the necessary financial assistance for years to come.
Advertiser Disclosure
CardRates.com is a free online resource that offers valuable content and comparison services to users. To keep this resource 100% free, we receive compensation for referrals for many of the offers listed on the site. Along with key review factors, this compensation may impact how and where products appear across CardRates.com (including, for example, the order in which they appear). CardRates.com does not include the entire universe of available offers. Editorial opinions expressed on the site are strictly our own and are not provided, endorsed, or approved by advertisers.