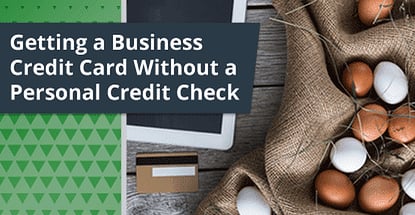 If you're launching a new business, you're likely going to need some funds in the form of credit. But if your personal credit score makes you groan, keep reading as we take a look at business credit cards with no personal credit check.
During a bout of homestead-fever a few years ago, I (somewhat) seriously contemplated starting a small flock of backyard chickens. Of course, I'd never spent much time in a chicken's company — unless the hapless bird was part of the meal — so I was wary of diving in. Little did I know, I could have just called the fine folks at Rent-A-Chicken for the full flocking experience.
To many, Rent-A-Chicken may seem like a crazy business, but the truth is, the typical small business often starts from such humble means. Yes, no matter how complicated it can appear, all you need to start your own business is an idea, some paperwork, and a few hundred bucks.
Sadly, although starting a business is easy — financing one is not. This is especially true for new or small businesses without significant financial clout. In most cases, your personal consumer credit will be used to gauge the credit risk of your business, which can be a bummer if that credit isn't good. Thankfully, you have a few options for minimizing the impact of your personal credit when applying for business credit.
1. Build Your Business's Credit
The only real way to avoid having your personal credit in the business-financing picture is to build up the credit of the business itself. With a healthy business credit profile to reference, lenders will have less need to pull your personal credit to make financing decisions.
Although things get more complex as your company grows, at its most basic, business credit is a lot like consumer credit. In other words, business credit is used by lenders to determine the credit risk represented by your business — i.e., whether your business is likely to repay its debts — by looking at its past credit behavior.
In the business credit world, the three major reporting agencies are Dun & Bradstreet, Experian, and Equifax. Unlike consumer credit, there is no industry-wide credit scoring model. Instead, each specific agency will have its own internal formulae for determining a business credit score. That said, important factors will likely be similar regardless of individual bureau. For example, Experian looks at:
Number of trade experiences
Outstanding balances
Payment habits
Credit utilization
Trends over time
Public record recency, frequency & dollar amount
Demographics (years on file, business size, etc.)
Building your business credit is often a multi-step process, particularly if you wish to avoid using your personal credit as much as possible. The very first step is to obtain an EIN (Employer Identification Number) from the IRS to open business checking and savings accounts. You'll also likely need a dedicated business phone number and verifiable address to request credit in your company's name.
The easiest way to establish business credit is to set up credit lines with appropriate companies, such as office supply vendors and manufacturing suppliers. If you don't use outside manufacturers, something as simple as a line of credit with your water supplier can work to start building business credit.
It's best to set up credit lines with multiple companies to create a more diverse profile, but you'll need at least three trade lines to get a Dun & Bradstreet Paydex score. If particular vendors don't report to the credit bureaus, you can still get some credit for the credit line by listing them as a trade reference on your account.
Once you've established credit, the trick is to maintain it in good standing. Pay your vendors and other debts in full and on-time. You may even want to start paying your bills early each month; Dun & Bradstreet perfect scores reportedly only go to those who pay early. Either way, avoid late payments like the plague — they'll trash your scores and make it much harder to obtain additional business credit.
Another important part of building business credit is maintaining pristine public records. Your business credit reports will have a wide range of public records information, including bankruptcies, liens, and court judgments. Any of these items will be a big red flag for business lenders and a heavy weight dragging down your business credit score.
2. Find a Qualified Cosigner
Unfortunately, building business credit can be a slow process, often taking years to fully establish. If you don't want to wait for your business to have its own credit (or simply can't make it happen), your personal credit comes back into the financing picture. On the plus side, you can take steps to minimize how much influence your own credit score has on your ability to get a business credit card by applying with a qualified cosigner.
Different from an authorized user, cosigners act as security for the credit line, essentially putting their own good credit up as collateral and guaranteeing that the creditor will get its money back — one way or another. With a qualified cosigner, you may be approved for many of the best business credit cards, including our top-rated picks.
at Chase'ssecure website
Earn $900 bonus cash back after you spend $6,000 on purchases in the first 3 months from account opening
Earn unlimited 1.5% cash back on every purchase made for your business
No Annual Fee
Redeem rewards for cash back, gift cards, travel and more through Chase Ultimate Rewards®.
Earn rewards faster with employee cards at no additional cost. Set individual spending limits for greater control.
Round-the-clock monitoring for unusual credit card purchases
| | | | | |
| --- | --- | --- | --- | --- |
| 0% Intro APR on Purchases 12 months | | | | |
0% Intro APR for the first 12 months; 21.24% - 29.24% variable APR after that
Earn unlimited 1.5% cash back for your business on every purchase, everywhere — with no limits or category restrictions
No annual fee
Earn unlimited 5% cash back on hotels and rental cars booked through Capital One Travel
Rewards won't expire for the life of the account
Redeem your cash back rewards for any amount
| | | | | |
| --- | --- | --- | --- | --- |
| | | 21.24% - 29.24% (Variable) | | |
Earn a one-time bonus of 50,000 miles – equal to $500 in travel – once you spend $4,500 on purchases within the first 3 months from account opening
Earn unlimited 2X miles per dollar on every purchase, everywhere, no limits or category restrictions, and miles won't expire for the life of the account
Unlimited 5X miles on hotels and rental cars booked through Capital One Travel
Transfer your miles to 15+ travel loyalty programs
Redeem your miles instantly for any travel-related purchases, from flights and hotels to ride-sharing services
Fly through security with one statement credit for either the $85 TSA PreCheck® application fee or the $100 Global Entry application fee
| | | | | |
| --- | --- | --- | --- | --- |
| | | | $0 intro for first year; $95 after that | |
+See More Business Credit Cards
Before you ring your good-credit friends and neighbors, however, it's important to understand the risks associated with being a credit card cosigner. Cosigners, also called guarantors, are taking on responsibility for any debt the primary cardholder accrues, and they will be liable for that debt should the cardholder be unable — or simply choose not to — repay the debt.
Cosigners who don't pay can be subject to legal action by the creditor, the same as the cardholder. They may even end up on the annoying end of collections calls, should the debt progress that far.
There's also the small fact that the cosigner's personal credit will be tied to the card. This means that any late or missed payments made by the primary cardholder can negatively impact the cosigner's credit, as well. And should the primary cardholder default on the credit, the cosigner's credit will take on nearly as much damage as the cardholder themselves.
3. Apply for a Secured Business Card
In another parallel with the consumer credit world, those lacking business credit can turn to a secured business credit card for revolving financing. Secured credit cards are secured by a cash deposit, which lives in a protected savings account. If you default on your credit card debt, the bank can close your account and use your deposit to cover your outstanding debt.

Since secured credit cards present very little actual financial risk to creditors, your business or personal credit will typically have little impact on your ability to qualify. It also makes secured cards a good way to start building your business credit, particularly because most secured business credit cards have relatively low annual fees (often less than $50).
The main point to understand about secured business credit cards is that your available credit limit will wholly rely on the size of your deposit. For example, the BBVA Business Secured Visa® requires a minimum deposit of $500, and will provide a credit line equal to 90% of the deposit. The Wells Fargo Business Secured card accepts deposits from $500 to $25,000, and provides a credit line equal to the deposit amount.
While the BBVA and Wells Fargo cards are the most popular options from major banks, you can often find quality credit card options at small regional banks and local credit unions, as well. As an added perk, you may also enjoy earning rewards on business purchases made with your secured business credit card. For instance, both the BBVA and Wells Fargo cards provide cash back or points per $1 spent on eligible purchases.
Another factor that makes secured business credit cards a good way to build business credit is that you may be able to upgrade your secured card to an unsecured card after responsible use over time. While there's no set time frame in which you should expect an upgrade, maintaining your accounts in good standing, such as making on-time or early payments, is the best way to ensure you will be eligible for an upgrade when the time comes.
(The information related to Wells Fargo Business Secured Credit Card has been collected by CardRates.com and has not been reviewed or provided by the issuer or provider of this product or service.)
4. Establish a Banking Relationship
The last option on this list is likely a little more toward the "Hail Mary" end of the spectrum, but, love it or hate it, networking makes the business world go 'round — and that can extend to your finances. Specifically, developing a relationship with your business's bank can go a long way toward finding financing, especially if you bank with a local credit union or community bank.
Basically, financial institutions like loyalty; these organizations don't just want you to have a checking account — they want you to do all of your banking and credit activities through them. Not only do they tend to profit from each transaction and monthly fee, but it also allows them to learn more about you, your business, and your likely financial needs so they can offer you even more products in the future.
This can be particularly true for those who have a large volume of transactions and/or run a lot of money through their bank accounts. Of course, there's certainly no guarantee that keeping your accounts all in one place and regularly chatting up the business rep will get your credit card application approved, but you may receive more credit offers from a bank with which you do a lot of business.
Find the Credit Your Growing Business Needs
As any new business owner quickly learns, starting a business is easy — making one prosper is another matter entirely. From managing employees to corralling chickens, running a business requires a lot of flocking hard work. But whether you need paint, Post-Its, or pullets, financing is often the key to keeping everything on track.
While a healthy business credit profile can go a long way toward easing the financing strain, it can be hard to establish — especially if your own credit needs a little work. Of course, where there's a will, there's often a way. With a cosigner, secured card, or little relationship elbow grease, you may find the business credit card you need to keep your business (and your flock) going strong.
Advertiser Disclosure
CardRates.com is a free online resource that offers valuable content and comparison services to users. To keep this resource 100% free, we receive compensation for referrals for many of the offers listed on the site. Along with key review factors, this compensation may impact how and where products appear across CardRates.com (including, for example, the order in which they appear). CardRates.com does not include the entire universe of available offers. Editorial opinions expressed on the site are strictly our own and are not provided, endorsed, or approved by advertisers.