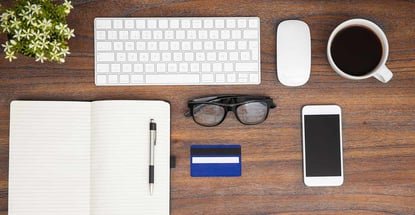 Most Americans have at least one personal credit card, with the average adult carrying four cards each. This is hardly surprising given that credit cards are not only convenient and arguably the most secure payment method, but they can also provide valuable perks like purchase rewards and cardholder discounts, and they help build credit (when used responsibly).
Moreover, the sheer volume of personal credit cards on the market today means that nearly anyone can find a credit card that suits their individual needs. Indeed, whether you want a cash back card or a credit-builder card, you can likely find a personal card that hits the mark.
Our experts have selected some of the best personal credit cards on the market today for inclusion in the list below.
Cash Back | Travel | Student | 0% APR | Fair Credit | Bad Credit | No/Limited Credit
Top Personal "Cash Back" Cards
Cash back is the currency of choice for cardholders who don't want to waste time trying to decipher the best ways to transfer and redeem complicated points or miles. Rewards earned with a cash back credit card are most often redeemed directly as a statement credit, making it easy to put your cash back toward nearly any card purchase.
In general, you'll find two main types of cash back: unlimited and bonus. Unlimited cash back cards tend to offer one flat rewards rate for every purchase, regardless of type, while bonus cash back cards offer a higher rewards rate for specific category purchases. Regardless of the type of cash back they earn, our favorite cash back cards all come with extra perks like intro-APR deals.
+ See More Personal Cash Back Cards
Top Personal "Travel" Cards
Whether you're on the road daily or travel just once a year, a good travel credit card can not only help you earn your way to free airfare and hotel stays, but it can also help you save with extras like trip delay insurance and Global Entry membership credits.
Most of the major travel rewards cards offer transferable points and miles that can be turned into frequent flyer miles or hotel loyalty points, giving smart users the opportunity to get 2¢ per point or more out of their rewards. Our top picks represent three of the more popular programs, blending value with versatility to suit many types of travelers.
+ See More Personal Travel Cards
Top Personal "Student" Cards
On the whole, student credit cards are, hands down, some of the best starter cards you can find. To start, student cards are very easy to qualify for; so long as you meet the legal requirements for your own credit card — i.e., you are 18 or older and have either an independent income or a cosigner — and you're, well, a student, you can typically get a student card.
Moreover, the top student cards, including our picks below, come with all the perks and benefits of your typical personal credit card, including competitive purchase rewards. Student cards rarely charge an annual fee, and some of the best cards even come with a signup bonus.
+ See More Student Credit Cards
Top Personal "0% APR Offer" Cards
For many consumers, the term credit card is synonymous with debt — and they're not entirely off the mark. If you don't pay your credit card in full each month, you'll get charged interest on the balance you carry over. Given that the average credit card has an APR between 15% and 20%, those fees can get expensive in a hurry.
The easiest way to avoid interest fees is to pay your balance in full before the due date every month. The second-easiest way is to use an introductory 0% APR offer to enjoy interest-free purchases or balance transfers. Many great personal cards come with intro-APR offers, and the top offers give you well over a year of 0% APR.
+ See More 0% APR Credit Cards
Top Personal Cards for Fair Credit
Often, fair is a good thing; we like fair weather, fair verdicts, and fair maidens. Unfortunately, having fair credit (usually a FICO credit score between 580 and 669) is a little less ideal — except, of course, when the alternative is bad credit.
When it comes to personal credit cards, fair credit often means you'll be on the bottom tier of the prime marketplace. In other words, most consumers with fair credit can qualify for an entry-level unsecured card from a major issuer, rather than needing to turn to a subprime issuer. Our top picks even include some options for purchase rewards, though you'll usually pay an annual fee.
+ See More Personal Credit Cards For Fair Credit
Top Personal Cards for Bad Credit
As most bad-credit consumers come to know all too well, having a bad credit score — usually considered to be anything below 580 — severely limits your personal credit card options. That's because a bad credit score indicates a lot of credit risk, and risk makes card issuers (and most lenders) pretty nervous.
If you have a low credit score and need a personal credit card, your choices will generally come down to a subprime unsecured card, a secured card that requires a deposit, or a closed-loop store credit card. Each type of card has its pros and cons, so compare your options carefully to find the best credit card for your needs.
+ See More Personal Credit Cards For Bad Credit
Top Personal Cards for No/Limited Credit
When used responsibly, personal credit cards can be a fantastic way to establish and build your consumer credit profile. You only need a single active credit line reporting to at least one major credit bureau to start building a credit history, and after six months of reported payments, you could have your very own FICO credit score.
The best personal cards for people with no or limited credit history will check a few main boxes, starting with being easy to qualify for and charging no annual fee. Secured credit cards are a good way to go if you're worried about being approved, and some secured cards even include perks like purchase rewards.
+ See More Personal Credit Cards For No Credit
Who Can Get a Personal Credit Card?
At one point in time, all you really needed to get a credit card was a pulse. However, the CARD Act of 2009 introduced a number of new restrictions on who can get a personal credit card.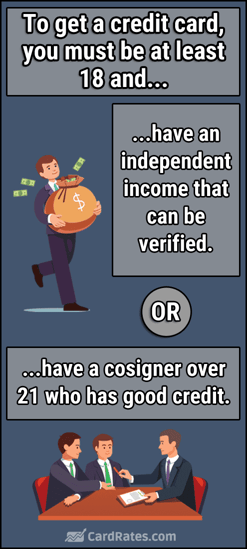 No matter what else, you must be at least 18 years old to qualify for your own personal credit card account. But it's not quite that simple anymore.
If you're over 18 but under the age of 21, you'll also need to have either: proof of an independent income or a cosigner over the age of 21 who has good credit.
And, no, the weekly allowance from your parents does not count as an independent income source. However, if you're also a student, you can typically count income from grants, fellowships, and some scholarships as income (so long as that income can be used for things beyond education costs).
Even if you're over the age of 21, you generally can't get a credit card without a source of income.
While the law doesn't list a mandatory minimum income to qualify for a credit card, it does require that issuers ensure you have an income that is reasonably capable of handling the monthly payments for any credit line extended to you.
In addition to meeting age and income requirements, most U.S. credit card issuers will require that you have a Social Security number and an active bank account. Some issuers may waive the SSN requirement — especially for foreign students — but few, if any, issuers will waive the bank account requirement.
How to Select the Best Personal Card for Your Needs
Choosing the right credit card can be a bit of a tricky process, and not just because there are so many options. Each cardholder will have their own spending habits, rewards preferences, and fee tolerances that will determine the best card for them.
If you're just starting to build credit — or are in the process of rebuilding your credit — then your primary concern is likely just getting approved. In general, the easiest credit cards to get will be those specifically designed for your current credit situation.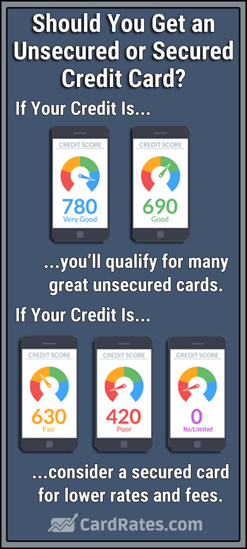 For example, consumers with no or a very limited credit history should look at starter cards made for just that purpose. On the other hand, if you have bad credit from some past mistakes, a secured credit card will likely be the easiest to get thanks to the low risk secured cards represent for the issuer.
Consumers who have good credit and don't need to worry about ease of approval should generally focus on things like the card's rewards, annual fee, interest rate, and secondary benefits. If you're looking to make a big purchase, for instance, a card with a long introductory 0% offer will likely be the best fit.
Those cardholders who are simply looking for a personal card for everyday spending generally base their new card decision on the rewards they can earn. Ideally, you want to find a card that will give you the best return on your spending for the purchases you make most often.
For example, if a large portion of your spending goes toward eating out, then you should find a card that offers a high rewards rate for dining purchases. Similarly, if your commute means you're constantly filling your car's tank, then a gas rewards card can provide great value.
Additionally, make sure the rewards you earn are a currency you'll actually use. If you know you don't have the patience to deal with rewards points that take time and effort to redeem for a good value, then perhaps you should stick with a card that provides cash back rewards instead of points or miles.
What Rewards Can You Earn with a Personal Credit Card?
Unless you're looking for a new card for a very specific purpose — such as consolidating high-interest debt with a 0% APR offer — then chances are good your main point of comparison for a new personal card will come down to the rewards.
While this may seem like an easy task, there are literally hundreds of rewards credit cards available. What's more, those rewards cards can be highly variable, with significant deviations in the type of rewards, the earning structures, and how those rewards can be redeemed.
Let's start with earning rewards on eligible purchases. In general, you'll find three currencies for credit card rewards: cash back, points, and miles. That said, no matter what type of currency you wish to collect, your rewards card will likely be structured in one of two ways: flat-rate rewards or tiered rewards.
Flat-rate rewards cards will usually offer a single, unlimited rewards rate on eligible purchases, regardless of the category into which the purchase falls. These types of rewards cards are good for purchases that may not fit into common bonus categories or for consumers who don't want to go through the bother of trying to maximize rewards.
Tiered rewards cards, on the other hand, will have different rates depending on the type of purchase. Many tiered cards will still offer an unlimited flat rate for every purchase, but they'll also have higher reward rates for specific bonus categories.
For example, a tiered rewards card might offer 3% cash back for gas purchases, 2% back for groceries, then an unlimited 1% cash back on everything else. Cards with tiered rewards systems are ideal for consumers who like to maximize their rewards, as it allows you to earn higher rewards rates for purchases you make frequently.

So far as rewards currencies are concerned, cash back rewards are considered to be the simplest currency to earn and redeem, as they can typically only be redeemed for statement credit (or, in some cases, as a deposit into a qualifying bank account). Points and miles programs tend to be much more complicated, with a variety of redemption options and values that depend on how you redeem.
The most sought-after points by credit card rewards junkies are the versatile bank-issued points that can be either redeemed for travel through an issuer's travel portal or transferred to any number of hotel or airline loyalty programs. Some popular rewards programs include American Express Membership Rewards, Citi Thank You points, and Chase Ultimate Rewards.
You can also transfer points to a partner program, which then turn into branded frequent flyer miles or hotel points that can be pooled with the rewards in your existing loyalty account.
Depending on the specific program, miles will typically either act like cash back — i.e. be redeemed as a statement credit for travel purchases — or they'll act like points, with variable redemption options and values.
Can You Use a Personal Card for Business Expenses?
In the fine print of many business credit cards is language that suggests you should strongly avoid using your business credit card for personal expenses. And some contracts go so far as to include a clause downright saying that you agree to only use the card for your business.
But — what about the other way around? Can you use a personal card for business expenses? Say, for instance, when you're out to dinner with a client and want to earn 4% cash back on the meal with your personal credit card?
The short answer here is yes, you can technically use your personal card for business purchases without breaching your typical cardholder agreement. However, the more important question you should ask is, should you use your personal credit card for business expenses?
Here, the answer is pretty much always a resounding "no." Keeping your personal and business finances separate is one of the cornerstones of good business accounting. Having an independent credit card for your business expenses can make everything from payroll to taxes easier and faster.
On the bright side, the modern business credit card market is diverse enough that you don't necessarily have to skimp on rewards to keep your business expenses separate from personal ones. You can find business credit cards that offer rewards on almost anything. Here are a few great business rewards cards:
Earn $900 bonus cash back after you spend $6,000 on purchases in the first 3 months from account opening
Earn unlimited 1.5% cash back on every purchase made for your business
No Annual Fee
Redeem rewards for cash back, gift cards, travel and more through Chase Ultimate Rewards®.
Earn rewards faster with employee cards at no additional cost. Set individual spending limits for greater control.
Round-the-clock monitoring for unusual credit card purchases
| | | | | |
| --- | --- | --- | --- | --- |
| 0% Intro APR on Purchases 12 months | | | | |
0% Intro APR for the first 12 months; 21.24% - 29.24% variable APR after that
Earn unlimited 1.5% cash back for your business on every purchase, everywhere — with no limits or category restrictions
No annual fee
Earn unlimited 5% cash back on hotels and rental cars booked through Capital One Travel
Rewards won't expire for the life of the account
Redeem your cash back rewards for any amount
| | | | | |
| --- | --- | --- | --- | --- |
| | | 21.24% - 29.24% (Variable) | | |
Earn a one-time bonus of 50,000 miles – equal to $500 in travel – once you spend $4,500 on purchases within the first 3 months from account opening
Earn unlimited 2X miles per dollar on every purchase, everywhere, no limits or category restrictions, and miles won't expire for the life of the account
Unlimited 5X miles on hotels and rental cars booked through Capital One Travel
Transfer your miles to 15+ travel loyalty programs
Redeem your miles instantly for any travel-related purchases, from flights and hotels to ride-sharing services
Skip the lines with up to a $100 statement credit on TSA PreCheck® or Global Entry
| | | | | |
| --- | --- | --- | --- | --- |
| | | | $0 intro for first year; $95 after that | |
No matter how small your business is, you can likely find a good business credit card that can help you earn on your expenses. Most credit card issuers won't require you to have been in business for decades or to pull in thousands of dollars a month in revenue to qualify for a business card.
One thing to keep in mind, however, is that you will need to have decent personal credit to get a business credit card. Most, if not all, issuers will check your personal credit reports when evaluating your business credit card application, and you can be rejected for a business card if your personal credit is poor.
Swipe Your Way to Better Credit
Long gone are the days when only the elite had the convenience of paying with a credit card. Today, nearly any adult who wants a card can likely find a good option for convenient purchasing — and, in many cases, valuable rewards.
As simple as it can be to find a good personal credit card, however, it's important to remember that you're not just swiping your way to rewards; you're also, hopefully, building credit. So, it's important that you use your credit card responsibly to build credit the right way.
Building good credit with a credit card starts with paying your bill on time — every single month. Your payment history can be worth up to 35% of your credit score, so every delinquent payment can mean significant damage to your scores.
Ideally, you should also be paying your balance in full every statement period, both to avoid costly interest fees and to keep your utilization rate — the ratio of how much credit you use over how much credit you have — at a reasonable level.
Advertiser Disclosure
CardRates.com is a free online resource that offers valuable content and comparison services to users. To keep this resource 100% free, we receive compensation for referrals for many of the offers listed on the site. Along with key review factors, this compensation may impact how and where products appear across CardRates.com (including, for example, the order in which they appear). CardRates.com does not include the entire universe of available offers. Editorial opinions expressed on the site are strictly our own and are not provided, endorsed, or approved by advertisers.