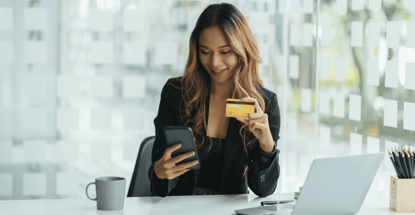 Business owners have little use for credit cards with puny spending limits. If buying a six-pack of paper clips exhausts your credit line, it's time to move up to a card with a respectable credit limit.
We're happy to help you decide with this rundown of high-limit business credit cards. Each should be able to grant you a credit line of at least $5,000, and some can provide much higher limits. We also review a few American Express cards that do not have preset spending limits. 
A small business needs enough working capital to operate smoothly. These cards can help when you use them wisely.
Business Cards With $5,000 Minimum Credit Limits
The following cards help small business owners manage cash by providing meaningful credit limits. These cards require cardmembers to have good to excellent credit.
All Chase Ink cards, including the Ink Business Unlimited® Credit Card, carry the Visa Signature Business logo, which guarantees a minimum credit limit of $5,000. But user comments point to the availability of significantly higher credit limits. 
For example, one cardmember reports via the myFICO forum that he received an initial $40,000 limit on the Ink card. The reported minimum credit score required for approval is 720.
"[I] could not believe it when I saw it. Capital One Spark Miles for Business approved me with a limit of $75,000." Businesspeople looking for an excellent travel card should give this one a long look. 
It offers a good signup bonus and top-tier rewards on selected bookings through Capital One Travel, plus several ways to redeem your rewards.
A forum correspondent reports a $10,000 credit limit on the Capital One Spark Cash Select for Excellent Credit. But the much higher limit on the mileage version of the card means a heftier spending limit may be possible. 
Most purchases earn a flat-rate reward, but you earn unlimited bonus cash when you book hotels and rental cars through Capital One Travel. To apply, you must provide your legal business name, address, and business tax ID number (TIN).
A forum contributor reported receiving a $30,000 credit limit from the Ink Business Premier℠ Credit Card. The card's generous credit limit makes it easier for cardmembers to earn the maximum reward rate on all purchases of $5,000 or more. You can redeem your rewards for cash back, gift cards, travel, and additional options.
The Ink Business Premier℠ Credit Card gives businesses that can pay their balances in full each month access to increased spending power, richer rewards, and premium benefits.
The Ink Business Preferred® Credit Card recently provided a forum correspondent with a credit limit of $100,000. We're sure other cardholders can achieve high credit limits, although seldom this stratospheric. 
The card offers a lot of value for a moderate annual fee. You get a large signup bonus, a bonus rewards rate on travel and other business purchases, and a 25% increase in the value of your Chase Ultimate Rewards points when you use them to book travel through Chase. 
We surmise the credit limit on the Ink Business Cash® Credit Card can be just as high as other Chase Ink Business cards. A history of on-time payments and increased business revenue will help you earn higher limits over time.
This no-annual-fee card offers a solid signup bonus with a spending requirement many small business owners can achieve. Combined with the 0% intro APR, the card's new-member incentives provide compelling reasons to apply for this Chase card.
Business Cards With No Preset Spending Limits
American Express is the leading issuer of credit cards with no preset spending limits (NPSLs). These products were originally charge cards, meaning you had to pay the entire balance each month. Because you didn't carry a balance, AMEX didn't have to enforce strict spending limits.
But American Express came under increasing competitive pressure to offer multiperiod financing. Its solution was to add its Pay Over Time feature, which operates like conventional credit card financing (i.e., with a credit limit, APR, and minimum monthly payments).
The choice is yours: no preset spending limits in charge-card mode or preset spending limits through Pay Over Time.
The top AMEX business card is the Business Platinum Card® from American Express. As with its Gold and Green siblings, you can take advantage of its no preset spending limit by paying your entire balance each month. 
For those who choose to Pay Over Time, we found a forum contributor with a preset spending limit of $25,600. If you read through the extended thread on the forum, you'll come away with the impression that this is an unusually high spending limit for this card. 
Another forum contributor lists a Pay Over Time limit of $35,000 for the Business Platinum Card.
If you don't want to pay the Platinum card's high annual fee, consider the American Express® Business Gold Card instead. It's a scaled-down version of the Platinum card but still a very rewarding choice.
The above-mentioned forum contributor with the $35,000 Pay Over Time limit on a Business Platinum card also has an $18,000 limit on a Business Gold card. The math is intriguing: The Gold/Platinum ratio of annual fees is about 42%, yet the spending limit ratio is above 51%. In this case, the Business Gold card gave the cardowner more bang for the buck.
The Business Green Rewards Card is another AMEX business card option. Its annual fee, which kicks in after Year One, matches that of the Ink Business Preferred® Credit Card ($95). But the Green card delivers so much less — a referee would stop the fight in the first round.
Regardless, this card may be what you're looking for if you want an American Express charge card.
What Is a Business Credit Card and How Does It Work?
Credit card companies design business credit cards for business expenses, including office supplies, travel, and business meals. These cards resemble the consumer type by providing a revolving credit line — you can repeatedly borrow up to a set credit limit and repay over time. 
Charge cards are similar to credit cards, except you must pay the entire balance monthly. Charge cards don't have preset spending limits and don't charge interest (although they do charge late fees). 
American Express combines the characteristics of charge and credit cards to form hybrid products that you can use with or without preset spending limits.
Here's how a business credit card works:
Applying for a card: You can apply online, just as you would for a consumer credit card, except you must include data about your company. If approved, you'll e-sign a credit agreement that lays out all the terms. Owners typically must guarantee to use their own money in case the business goes belly up or can't repay the card on time.

Use: You use the card to pay for business expenses, such as purchases of office supplies, equipment, business meals, business travel, and even your payroll.

Billing cycle and repayment: The typical billing cycle is one month, give or take a couple of days. Soon after a cycle end date (or statement date), the credit card issuer sends you a statement detailing all the transactions you made during the period. You'll have a grace period of at least 21 days before the minimum payment is due. If you don't pay the entire balance, the remaining amount carries over to the next billing cycle and accrues interest charges.

Rewards and benefits: Expect your business credit card to offer rewards in the form of cash back, travel points, or miles. Business cards often provide bonus rewards for travel-related purchases. They may additionally come with other benefits such as travel insurance, extended warranty coverage, and free baggage check, among other perks. Many business cards offer signup bonuses to new cardmembers. Some also offer an introductory 0% APR for at least six months.

Credit reporting: Some business cards report your activity to commercial credit bureaus. Commercial reporting can help your business build credit only if you make timely payments. Most cards also provide the consumer bureaus with data that affect your personal credit score.

Employee Cards: Many business credit cards let you request free additional cards for employees, which can help simplify your company's operations. You can set spending limits on these cards and easily monitor employee spending.

Failure to pay your business card bill promptly can damage your company's credit profile and hamper its access to new credit.
How Do I Get a Business Credit Card With a High Limit?
You'll need good personal credit and a company that's financially solid to get a high credit limit. In short, you must demonstrate a history of using credit responsibly. Review the following tips to improve your odds of getting a business card with an acceptable credit limit.
Improve your personal credit score: A higher personal score boosts your chances of getting a card with a higher credit limit on your business card. You can improve your credit score by paying your bills on time, reducing your outstanding debt, and avoiding too many new credit accounts.

Build your business credit: Issuers will usually look into your business's credit history, so it is critical for your company to pay your suppliers and vendors on time.

Demonstrate strong business revenue and financials: Credit card issuers must gauge the riskiness of your business when deciding where to set your credit limit. You'll receive a higher credit line if your financials tell a good revenue story and your debt levels are reasonable.

Choose the right credit card: Credit card companies have their own policies regarding how they set their credit limits. Comparing offers from rival issuers will help you identify the business credit card with the most generous limits.

Request a higher limit: After a suitable period (typically six months), you can ask your credit card issuer to increase your spending limit. To succeed, it helps to have a robust spending pattern, a record of on-time payments, and some improvement in your company's financials.

Maintain a good relationship with your bank: You'll likely apply for a business credit card from the bank where you maintain your business accounts. You'll do well to establish a friendly relationship with a banker at your local branch. Building trust may give you a better shot when you next request a higher credit limit.
You don't necessarily have to pay your entire credit card balance each month. But if you regularly pay less than half, you'll signal to the credit card company that you're under financial stress, which won't help your case for a credit line increase. 
Paying most or all of your outstanding balance every month should help reassure the card issuer that you can handle a higher limit responsibly.
How Do Issuers Assign Credit Limits?
Although your business credit scores play a significant role in your issuer's deliberations, they are not the only factors the credit card companies use to assign credit limits. Here are some of the other key factors:
Credit history: An issuer wants to see whether you have ever missed a bill payment, especially in the last year. It will also be interested in how much of your credit line you typically use and how long you've been in business.

Income: You must have enough income to support your credit line. An issuer wants reassurance that your business has the cash to pay your maximum credit card bill on time.

Debt-to-income ratio: Your DTI measures your monthly debt payments against your gross monthly income. Issuers use your DTI to gauge your default risk, so reducing your ratio is a good step toward getting a higher credit limit. Ideally, your business should strive for a DTI ratio below 40%. Paying down your debts before applying for a business credit card is a sensible move.

Owner's personal credit score: Many business credit cards require owners to guarantee their personal assets if the business can't pay the bill. A business owner with excellent credit has a far better chance of getting a business card with a generous credit limit.

Business industry: Business card issuers consider the industry context of their applicants. Some industries feature high operating costs, which require credit cards with higher credit limits.

Existing relationships: Long-time customers with clean financial records are more likely to obtain their desired credit limits.

Business size: A sole proprietorship usually requires less credit than a mid-size company, so issuers scale their credit limits accordingly. 
Card issuers consider how many credit cards (personal and business) you already own when they decide how much more credit your business can handle. Issuers view your credit utilization ratio (i.e., credit card balances divided by total credit available) as a significant factor when they set credit limits.
Which Business Card Has the Best Rewards?
All the reviewed business cards provide good rewards. We rank the Ink Business Preferred® Credit Card best for rewards because of its high rate on the first $150,000 you spend on travel and select business categories each year, coupled with an affordable annual fee.
Moreover, the card awards you Chase Ultimate Rewards points worth 25% more when you use them to book travel through Chase. You can also redeem the points for cash, gift cards, and purchases at the Apple® Ultimate Rewards Store. 
If you prefer, you can transfer your Ultimate Rewards points to frequent travel programs at full 1:1 value — that means one Chase Ultimate Rewards point equals one partner mile/point.
The card offers one of the largest signup bonuses available, although it requires a commensurately significant spend to reach the three-month target. Considering its modest annual fee, you get a lot of value from the Ink Business Preferred® Credit Card.
If you don't mind paying a high annual fee, then the Business Platinum Card® from American Express will reward you handsomely. It offers even more signup bonus points and a higher travel rewards rate than the Ink Business Preferred® Credit Card. The difference isn't surprising since you'll pay an extra $600 a year for the AMEX card.
And while its points don't increase in value by 25% for issuer-booked travel (as do those from the Ink card), American Express will rebate 35% of the points you use to pay for eligible airfares, up to 1 million points per year. 
The Platinum card also offers several rebates on business-related purchases, but some are of questionable value. For instance, the refund on Dell purchases won't help if your company uses another computer brand.
There's no question that access to more than 1,400 airport lounges is a valuable perk from the Platinum card. If you can afford the hefty annual fee, the Business Platinum Card® from American Express won't disappoint.
Should I Own More Than One Business Credit Card?
Owning multiple business cards has its pros and cons. Let's take a look at both.
Pros
You may want to own more than one business card for several reasons, including the following:
Multiple reward programs: Because reward programs differ, you may want to mix and match various business cards to ensure you always get top reward rates. For example, you may choose Card A for its travel points and Card B for its high cash back rate on business purchases. Your spending habits will help you decide which cards best complement each other.

Increased total credit limit: Every business card you add increases your overall credit limit. But you'll want to consider any additional fees and the danger of overspending if you exhaust the balances on multiple cards.

Backup: You'll want a backup credit card to protect against the loss or theft of your primary business card. A backup card helps you keep your business humming.
Separation of expenses: You may want to allocate different expenses to different business cards for various reasons, including management practices and security concerns.
These seem to be compelling reasons to own more than one business card. But first, read about the downsides.
Cons
Multiple business cards aren't for everyone. Here's why:
Higher risk of debt: Many business owners have dug their companies into a ditch by overspending. Owning multiple cards requires spending discipline, which some owners lack.

Complexity: Each new card adds another payment due date, minimum payment amount, rewards scheme, and possibly multiple online banking systems. At some point, you may find the complexity overwhelming, especially if you are a sole proprietor.

Potential impact on credit score: Issuers do a hard credit pull whenever you apply for a new credit card. An occasional new card application will have minimal impact on your credit score. But your credit score may suffer if you apply for a handful of cards within a short period.

Annual fees: If you're interested in business cards with high credit limits, you'll face annual fees that can mount up quickly. At some point, you must evaluate whether the extra cards are worth the cost.
We think the weight of the evidence tilts toward owning multiple cards, but every business is unique. The ultimate decision is yours (and maybe that of your accountant, tax advisor, business partners, etc.). 
Compare High-Limit Credit Cards For Businesses
There's no shortage of high-limit credit cards for businesses, and we've reviewed the best of the bunch in this article. Be mindful of the cost/benefit tradeoffs of owning one or more of these credit cards. You'll want to choose the business card that most closely aligns with your operations, strategies, and constraints as you grow your company.
Advertiser Disclosure
CardRates.com is a free online resource that offers valuable content and comparison services to users. To keep this resource 100% free, we receive compensation for referrals for many of the offers listed on the site. Along with key review factors, this compensation may impact how and where products appear across CardRates.com (including, for example, the order in which they appear). CardRates.com does not include the entire universe of available offers. Editorial opinions expressed on the site are strictly our own and are not provided, endorsed, or approved by advertisers.