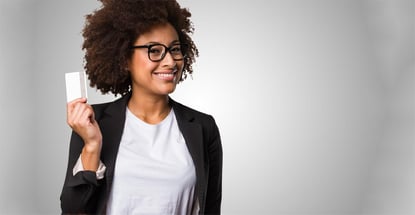 Within the first year of business, roughly 20% of new small businesses will fail. Only about half of new businesses make it to the five-year mark — and the rate drops down to about 30% for businesses that make it a decade or more.
Given the odds, it makes sense for a credit card issuer to want a little security when it comes to handing out business credit; after all, chances are high that your company will fold within a few years. Hence, the personal guarantee required by many issuers of business credit cards puts cardholders on the line for any credit card debt accumulated by their business.
The majority of small business credit cards require a personal guarantee. The only real way around a personal guarantee is for businesses large enough to provide a measure of security to the lender — and that usually means older, established corporations with millions in revenue.
With Guarantee | Without Guarantee | FAQs
Best Business Cards With a Personal Guarantee
A personal guarantee on a business credit card makes you, the cardholder, personally responsible for any unpaid balance on the credit card account. In other words, if your business goes under with an outstanding credit card balance, you're still legally obligated to repay that balance yourself — regardless of the state of your business.
Essentially, a personal guarantee means you're effectively cosigning your company's credit card. So, as part of the application process, you'll be required to provide your Social Security number and give permission for a personal credit check.
Since opening credit cards simply to rack up debt you don't intend to pay is typically considered to be fraud, the personal guarantee shouldn't impact most business cardholders (the exception may be for cards that report on personal credit reports — see below). And, agreeing to the personal guarantee unlocks a host of potentially lucrative business credit and charge cards.
Top Business Credit Cards with Rewards
For some folks, the biggest perk of being a business owner is unlocking a whole new realm of business rewards credit cards. And this isn't surprising, as you can find a number of very valuable rewards cards for business owners, including card options for points, miles, and cash back rewards.
Not all rewards cards will be ideal for all business owners, of course. To maximize your rewards, look for the expenses in which your business spends the most money — then, find a card that offers the most value for those purchases.
This is one of the best business credit card offers available, with flat-rate cash back on every purchase so you never have to worry about rotating categories to maximize your rewards earnings. You'll get free employee cards, integration into compatible bookkeeping software, and flexible reward redemptions.
Earn a $750 bonus when you spend $6,000 in the first 3 months of account opening
Earn unlimited 1.5% cash back for your business on every purchase, everywhere — with no limits or category restrictions
No annual fee
Earn unlimited 5% cash back on hotels and rental cars booked through Capital One Travel
Rewards won't expire for the life of the account
Redeem your cash back rewards for any amount
| | | | | |
| --- | --- | --- | --- | --- |
| | | 18.49% - 24.49% (Variable) | | |
This card is a solid choice for business owners who want simple rewards, offering an unlimited 1.5% cash back on every purchase with no annual fee. This card offers a lucrative cash signup bonus when you meet the required spending threshold within the first three months of account opening.
Earn 100k bonus points after you spend $8,000 on purchases in the first 3 months from account opening. That's $1,000 cash back or $1,250 toward travel when redeemed through Chase Ultimate Rewards®
Earn 3 points per $1 on the first $150,000 spent on travel and select business categories each account anniversary year. Earn 1 point per $1 on all other purchases
Round-the-clock monitoring for unusual credit card purchases
With Zero Liability you won't be held responsible for unauthorized charges made with your card or account information.
Redeem points for cash back, gift cards, travel and more - your points don't expire as long as your account is open
Points are worth 25% more when you redeem for travel through Chase Ultimate Rewards®
Anyone looking to maximize rewards should consider this card, which earns versatile Ultimate Rewards® points on every purchase, with up to 3X points per dollar on purchases in several useful bonus categories. Points can be redeemed for travel through Chase or be transferred to one of a dozen hotel and airline partners for even more potential value.
Earn $900 bonus cash back after you spend $6,000 on purchases in the first 3 months from account opening
Earn 5% cash back on the first $25,000 spent in combined purchases at office supply stores and on internet, cable and phone services each account anniversary year
Earn 2% cash back on the first $25,000 spent in combined purchases at gas stations and restaurants each account anniversary year. Earn 1% cash back on all other purchases
Round-the-clock monitoring for unusual credit card purchases
With Zero Liability you won't be held responsible for unauthorized charges made with your card or account information.
No Annual Fee
| | | | | |
| --- | --- | --- | --- | --- |
| 0% Intro APR on Purchases 12 months | | | | |
Straddling the line between simple rewards and maximizing your earnings, this card offers easy cash back rewards that can be redeemed for statement credit, and high rewards rates in several useful business categories that include communications services and office supply stores. Not bad for a card with no annual fee.
The Blue Business Plus Credit Card from American Express is good for businesses that don't want to deal with bonus categories, as cardholders earn 2% cash back on every purchase, regardless of category, on up to $50,000 in purchases each year, after which purchases earn 1% on all eligible purchases. This card charges no annual fee, and new cardholders can enjoy an introductory 0% APR on new purchases.
Top Business Charge Cards
In the earliest days of payment cards, most of what you were offered were charge cards — credit lines that you had to pay off in full every month. While the credit card, with its revolving credit line, has come to dominate the market, American Express still offers a number of lucrative charge cards for consumers and businesses alike.
If one of Amex's charge cards appeals to you, but you're loath to give up the ability to carry a balance at need, don't worry — you may still have the option. These cards typically come with a pay over time feature for purchases over $100 that allows you to carry eligible purchases for longer.
The Business Platinum Card® from American Express is a top-tier card best for businesses with a lot of travel expenses, as the card's main rewards categories include flights and prepaid hotels booked through amextravel.com (and flights booked directly with the airline).
In addition to bonus rewards on travel, the card has a number of valuable travel perks, including airport lounge access through the Amex Global Lounge collection, elite status with multiple hotel brands, and an annual airline fee credit.
The American Express® Business Gold Card has a somewhat uncommon structure that automatically provides 4X Membership Rewards® on the two categories with the most spend each billing cycle from a list that includes things like advertising, gas stations, and shipping.
The annual fee is on the high side, but the rewards, extra perks, and new cardholder benefits can balance this fee out for users who maximize the card's many uses.
Meeting Revenue Req's May Waive Personal Guarantee
The personal guarantee on a business credit card is the issuer's way of reducing its risk; if the business can't pay its debts and closes while it still has outstanding credit card debt, the card issuer has some recourse for getting its money back.
Personal guarantees are found in the form of specific clauses in the card's terms and conditions that spell out your personal liability for the debt. (If you're unsure if a specific card has a personal guarantee clause, just scan your terms and conditions for the word "liability" and you'll likely find it. As a rule, any application that asks for a personal SSN will likely have a personal guarantee.)
Since financial institutions hate forgoing the security of a personal guarantee, the only real way to avoid it is to have a business that is large enough and profitable enough that the apparent risk goes away. In general, this means being in business for several years and having enough cash flow to qualify for a corporate card.
Corporate Cards | Retail Cards
Corporate Cards with No Personal Guarantee Requirement
Corporate credit and charge cards are the main options for business credit cards without a personal guarantee, but they're definitely not for every business. For one thing, your company will generally need to be an actual corporation — e.g., an S or C Corporation — to qualify (though some cards will allow LLCs).
Additionally, corporate cards are typically reserved for companies that have revenue of at least $1 million a year, with some cards requiring annual revenue of $3 million or more. At this size, your business likely has its own business credit, and banks will consider your business solid enough that you won't be required to guarantee the card yourself.
The transition to corporate cards can also be beneficial from a financial perspective. By the time your business reaches the point where it brings in millions of dollars in revenue each year, chances are good that your financial needs aren't going to be met by a basic small business credit card.
Corporate cards are designed specifically with the unique needs of large corporations in mind, with management and accounting features that can scale with your company. Many major credit card issuers also offer corporate cards:
Obtaining a corporate credit card account for your company will often require a conversation with a corporate account manager at the bank, though a few issuers may offer online applications to get the process started. Be prepared to provide data and documents about your business's financials, including revenue statements and bank account information.
Retail Business Credit Lines with Waivable Guarantee Requirements
In some cases, you don't need a corporation-specific card to avoid the personal guarantee requirements. A very small number of retail co-branded small business credit cards are reported to offer the option to waive the guarantee requirement if you meet specific revenue requirements.
The one card that shows up on every list of cards with waivable guarantees is the Sam's Club Business Mastercard — which makes sense, as this card makes it easy to find the conditions for waiving the requirement.
Specifically, the card application gives four cases in which you need a personal guarantee:

Basically, so long as your company makes over $5 million a year, is more than two years old, has more than 10 employees, and is filed as an LLC or corporation, you're good to go.
If this sounds an awful lot like a corporate card, well, you're right; the Sam's Club Business Mastercard has effectively rolled its small business and corporate card products into one card.
Other retail cards that offer similar waivers tend to operate in much the same way, with basic revenue and company size requirements that — despite being occasionally marketed as small business cards — make them corporate cards in practice.
Who Qualifies for a Business Credit or Charge Card?
The question of who can qualify for a business credit card is one of those things that has both a short answer — and a longer one. In this case, the short answer is simple: If you have a business, you can apply for a business credit card.
Any size or type of business can be enough to qualify you for a business card, regardless of its years in business or the number of employees. This includes:
Freelancers
Startups
Side hustles
Hobbyists
Sole proprietors
Partnerships
LLCs
S-corps
C-corps
So, in theory, the answer is that any small business owner can qualify for a business credit card. Of course, theory is often different than practice.
The longer answer to the question of who can qualify for a business card gets more complicated. You see, much like consumer credit cards have credit score and income requirements, so, too, do business credit cards.
And, we're not strictly talking about business credit, either (though that can factor into the decision). As we've explored throughout this article, your personal credit will have a major impact on your ability to get a business credit card due to the personal guarantee required by most issuers.
In other words, if you have a bad credit history and your business doesn't qualify for a corporate card, then you will have a hard time qualifying for a business credit card as a result of that poor credit. (If you have a long history with the bank, some exceptions may be made — but don't count on it.)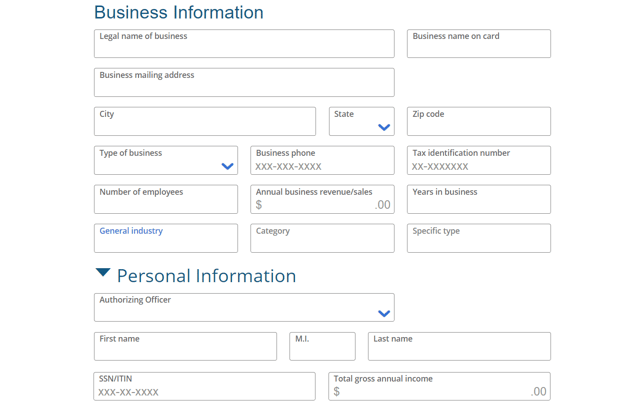 Similarly, having a low business income can also factor into whether your application is approved — though issuers tend to be flexible about this knowing that many businesses aren't necessarily profitable in the first year or so. (Regardless, never lie about your income — or your company's income — on a credit card application.)
Additional credit card issuer quirks can impact your ability to get a small business credit card. For example, Chase's 5/24 Rule extends to its business cards; if you've opened five or more credit card accounts in the last 24 months, your application for a Chase business card will likely be denied.
Can You Build Business Credit without Personal Credit?
Although we've shown that you'll more than likely need at least a fair personal credit history to qualify for any kind of small business credit card, there is no rule that says you actually need that business card. While business credit cards can be useful, plenty of companies were successful long before credit cards — and, doubtless, some modern businesses likely forego them, as well.
Indeed, the basic steps to building a business credit profile and business credit scores don't necessarily require a credit card account. What they do entail includes:
Apply with the IRS to get an Employer Identification Number (EIN): An EIN establishes your business as its own financial entity, and it will be required for things like filing business taxes.
Establish an individual business bank account: You'll need a business bank account to keep your business finances separate from your personal finances. Many lenders and vendors will require you to have a business checking account.
Register for a Dun & Bradstreet D-U-N-S® Number: As the main business credit bureau, Dun & Bradstreet data is used by many major business lenders and vendors. That said, you should consider creating accounts with other major business credit reporting bureaus, as well.
Open business credit lines and vendor tradelines: The types of accounts that can help you establish and build business history can include business credit cards, business loans, and bank-extended credit lines. Many business credit scoring models will also incorporate payment history from tradelines, or vendor and supplier credit lines.
Use your credit wisely: Many of the same rules of consumer credit apply to building good business credit, starting with the golden rule: always, always, always pay on time — or early, as some reports indicate early bill payment can boost your business credit score.
In general, business credit cards have two main benefits: reliable financing and business credit reporting. Depending on your company's needs, you can probably get both of these features from other forms of credit, including merchant credit lines and small business loans.
Vendor credit lines are likely the easiest route for a new business or one with modest revenue. You can open accounts with office supply stores, water delivery services, manufacturers — any service that will send you invoices will likely report to at least one business credit bureau.
As with consumer credit, the most important part of your business credit profile is your payment history. At the very least, you need to pay on time. Yes, that's right — at the least. To get the best results, you should be paying all of your vendor accounts and other business-related debts early. Early payments can unlock higher business credit scores.
Do Business Cards Show Up On Consumer Credit Reports?
While it's always best to keep your business and personal finances separate, until your company reaches corporation size (and revenue), your business and personal credit will be at least somewhat linked because of the personal guarantee requirement.
This requirement means that, at the very least, your business credit card will impact your personal credit with a hard inquiry on one or more of your credit reports. As with any other hard inquiry, credit pulls from business credit card issuers can last two years on your personal reports, and hard inquiries can be detrimental to your credit if you have too many in a short period of time.
The extent to which a business credit card impacts your personal credit after application will vary based by the credit card company and card. Several issuers will report business credit cards to the consumer credit bureaus, which means they'll show up, in their entirety, on your personal credit reports just as your personal cards do.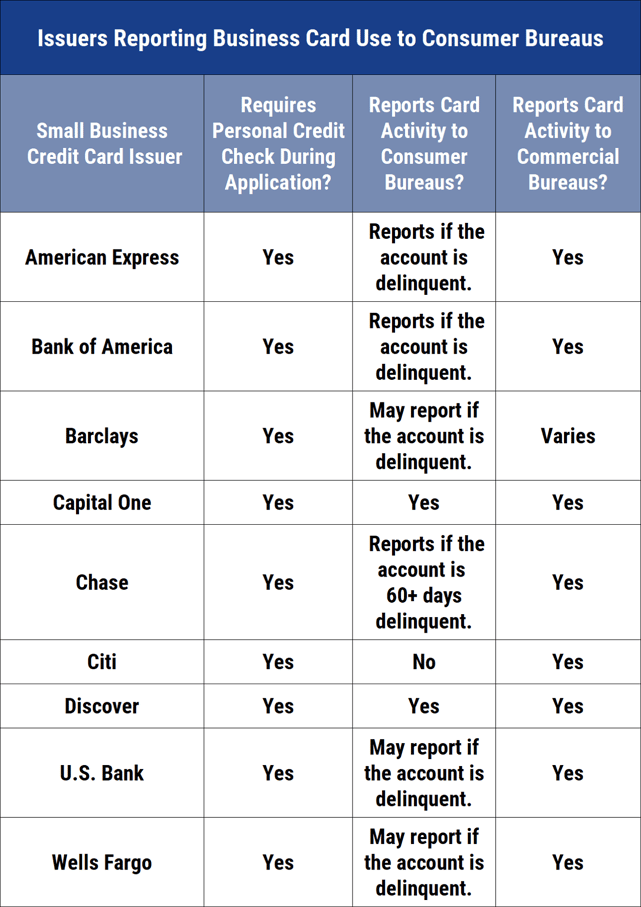 The downside to business cards reporting to the consumer bureaus is that you should see a lot of instability in your personal credit score. For example, making large credit card purchases for your business could cause your personal score to decrease due to the inflation of your utilization rate.
Fortunately, less than a handful of major issuers report to the consumer bureaus. For the most part, business card issuers only report activity to your personal credit reports if your business account becomes delinquent. So, if you fall more than 60 days behind on your business credit card payments, be prepared for a fairly substantial ding to your personal credit scores.
Use Your Business Credit Wisely
For the most part, starting a business isn't that hard. All you really need is a business name, some paperwork, and a couple hundred bucks. However, as the statistics show, if starting a business is easy — building a successful business is very, very hard.
And few industries likely understand as well as the financial industry, which is the source of the credit that makes many new businesses possible. Banks and lenders know the statistics better than anyone, so is it really a surprise that they want some way to hedge their bets?
In the end, most business owners don't let a personal guarantee stop them from obtaining the revolving credit their company needs. And smart business owners use that credit wisely, building up their company's business credit one tradeline at a time.
Advertiser Disclosure
CardRates.com is a free online resource that offers valuable content and comparison services to users. To keep this resource 100% free, we receive compensation for referrals for many of the offers listed on the site. Along with key review factors, this compensation may impact how and where products appear across CardRates.com (including, for example, the order in which they appear). CardRates.com does not include the entire universe of available offers. Editorial opinions expressed on the site are strictly our own and are not provided, endorsed, or approved by advertisers.