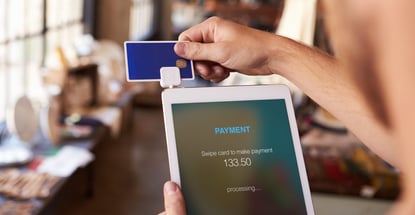 The US saw 5 million new business applications in 2022. The Small Business Administration predicts only half will survive beyond five years. 
If you are running or planning a startup, you'll want to assemble every available tool for success. That's why our review of the best business credit cards for startups is essential reading for startup owners considering ways to finance their fledgling businesses. 
Given the attrition rate, It's not surprising that credit card companies are hesitant about issuing business cards to startups. Most of these cards require a personal guarantee, which distinguishes them from the typical large-company corporate card. In return, you receive credit to purchase equipment and supplies, pay for business travel, and even obtain a fast cash advance.
Best Cash Back Cards For Startups
Cash back cards reduce business costs by providing rebates on the things a new company needs. We include cards that advertise as offering cash back while, under the covers, rewarding you with easy-to-cash points (yes, we're talking about you, Chase Bank). Several offer signup bonuses and 0% intro APRs that reward new companies for the purchases they must make to launch operations.
The Ink Business Unlimited® Credit Card is the best business credit card offering a flat, unlimited rewards rate that makes it easy to save no matter where you purchase. You'll also get a good signup bonus, a 0% intro APR promotion, and no annual fee. You can redeem your points as cash, a statement credit, and several other ways.
The Capital One Spark Cash Select for Excellent Credit provides a solid everyday earnings rate without complicated tiered or rotating rewards or limits on combined purchases. This card also offers a signup bonus and charges no annual fee. You can take your cash back as a statement credit or in a few other ways.
The Ink Business Cash® Credit Card is a popular choice for business owners of all types. It offers generous rewards in two common business-related spending categories — office supplies and communication services. The signup bonus is easy to obtain if you plan to use your card for some initial spending.
The Blue Business Cash™ Card from American Express helps businesses that don't want to deal with bonus categories. Cardholders earn the same rate of cash back on every purchase, regardless of category, up to the high annual cap. New members also receive a 0% intro APR that reverts to the regular APR when the promotional period ends.
The signup bonus from the Amazon Business Prime Card doesn't require any purchases, so check with your tax professional to see whether it is taxable income. You must be an Amazon Prime member to be eligible for this Amex card. Its management tools and flexible rewards for Amazon purchases should make this card a favorite among businesses that regularly buy from the sprawling retail giant.
Best Travel Cards For Startups
The COVID pandemic has not eliminated the need for business travel. Nor the need for harried business owners to treat themselves to a well-earned vacation. These cards help on both fronts.
The signup bonus from Capital One Spark Miles for Business awards new cardmembers a chunk of miles in return for a moderate spend during the first three months. You can transfer your miles to more than 15 other loyalty programs. This travel credit card's offerings make it hard to ignore for the frequent flyer, and we judge it as among the best business credit card for travel rewards.
The Ink Business Preferred® Credit Card should appeal to any business owner looking to stockpile Chase Ultimate Reward points. Those points increase in value by 25% when you redeem them through Chase Travel. You can transfer points to any of a dozen hotel and airline partners for even more potential value from this travel credit card. 
A well-funded startup won't blink at the hefty annual fee from the Business Platinum Card® from American Express, especially if it collects the massive signup bonus. The Amex Platinum card provides access to airport lounges and annual credits for several types of business spending, plus several other premium perks. 
The Delta SkyMiles® Platinum Business Card from American Express should easily pay for itself if you are a business owner who frequently flies Delta. Perks include discounts on in-flight purchases, priority boarding, companion certificates, and free checked baggage. The card can increase your Delta mileage status, part of the airline's complex loyalty program.
If you enjoy flying United, check out the United℠ Business Card from Chase. The card offers a valuable signup bonus to new cardmembers and offers bonus rewards on purchases such as dining and gas. You can designate employee cards at no extra cost to allow workers to use your account. Other benefits include limited lounge access, travel credits, and free baggage check, among others.
The JetBlue Business Card delivers stout value to fans of this popular airline. You can earn bonus points and enough cash from the signup promotion to pay the card's annual fee for the first year. The rewards for flights on JetBlue quickly mount up, and you'll enjoy saving money on in-flight purchases of snacks and cocktails. 
Everything about the Business Green Rewards Card is moderate, including its rewards, fees, APR, and credits on each eligible purchase. You'll likely receive enough perks from the card to pay its annual fee. The card should appeal to level-headed business owners who want a reasonable balance between costs and benefits. 
Best Secured Cards For Startup Owners
Business owners with no credit or bad credit can qualify for a secured credit card if they make a deposit equal to the spending limit. These cards offer rewards and benefits well-suited to the needs of startup owners. 
The Capital One Quicksilver Secured Cash Rewards Credit Card lets you build credit as you earn rewards on everyday purchases. It requires a minimum deposit of $200 that Capital One will refund if you use your card responsibly. The card features low fees, automatic credit line reviews, and $0 fraud liability. The APR is relatively high for a secured credit card, but you can avoid it by paying your entire balance each month.
Your new business will welcome the first-year Cashback Match from the Discover it® Secured Credit Card, covering the period in which you are likely to make big-ticket purchases such as furniture and equipment. Security features include online privacy protection, Freeze it® account control, and transaction monitoring.
The OpenSky® Secured Visa® Credit Card is a great choice for anyone with really bad credit because it doesn't require a credit check to open an account, but you can still use it to build your personal credit history with regular on-time payments. After six months to a year, you should see a credit score improvement that may allow you to apply for a traditional business card.
Best Credit Union Startup Cards
Credit unions are similar to banks, but their members manage these financial institutions for their own benefit, which translates into better rates and services. These three small business credit cards are from credit unions that accept members nationwide.
The Consumers Credit Union Business VISA Platinum Rewards charges no annual fee and provides complimentary employee card authorizations. You can securely review your account online on the credit union's website. You'll earn reward points on every purchase you make, but beware that your points expire after three years. 
The Affinity Business First℠ Visa® Credit Card features a low APR and no annual fee. You can get free additional cards for employees and earn bonus points on your first purchase. You can redeem points for cash back, travel, gift cards, or merchandise. You also get real-time transaction monitoring, online shopping security, extended warranty protection, and auto rental coverage.
The Navy Federal GO BIZ® Rewards Credit Card is a contactless card that offers rewards and a low APR, and charges no annual fee. Cardowners can redeem rewards in 1,000-point increments for cash, travel, and gift cards. The card provides business and travel services, discounts, protections, and insurance.
Which Card Features Best Suit Startups?
Startup companies must manage their money carefully. Cash is usually in short supply until a new business can ramp up sales. 
The critical credit card features for new startups help preserve cash on hand. Secondarily, newly launched companies can benefit by integrating payment records with their internal accounting systems. 
The most valuable business credit card features for startups include the following:
A high credit limit: Any purchases a startup can finance reduce the immediate need for cash. Typically, a startup owner with good credit must personally guarantee a business card to get a reasonably high credit limit.
An introductory 0% APR: New companies often need to purchase items such as furniture and equipment even before opening the doors to customers. A longer introductory period (i.e., 15 months or more) gives business owners breathing room to finance purchases interest-free.
A generous signup bonus: The same logic regarding intro 0% APRs applies to welcome bonuses. A large signup bonus reduces the overall cost when a company must spend thousands on equipment and other big-ticket items.
Targeted rewards: Some business cards offer 1.5% to 2% rewards on all purchases, which may suit startups with unusual requirements. But many new companies prefer a tiered credit card that offers 5% or more on common reward categories such as travel, dining, office supplies, and gasoline.
Low costs: A business owner with good credit may qualify for cards with relatively low APRs and fees. Some business cards charge annual fees of $300 or more. Owners must be able to justify a card with a high annual fee. For example, a card may offer credits that equal or exceed its yearly fee.
Shopping protections: The ideal startup business card offers purchase and price protection, extended warranties, and cellphone insurance. 
Management support: Several business cards provide annual reports and downloads detailing every transaction. A few cards can interface or integrate with a company's accounting system, making cash management and forecasting easier.
Free employee cards: Many business cards provide employee cards at no extra cost. The better ones allow business owners to control how each employee can use the card.
While important to new businesses, some card features are standard for all small business credit cards. These include 0% liability protection, reporting to at least one credit bureau, and customizable alerts.
Is It Difficult For a New LLC to Get a Credit Card?
It's no more difficult for an LLC to get a small business credit card than it is for other business structures. You can apply for a business card on behalf of an LLC if you are a responsible party (that is, an officer or an authorized company representative). 

States require you to register an LLC and pay fees using an employer identification number (EIN) from the IRS. The card application will also require information about an LLC's type of business, company address, number of employees, and annual revenue. 
Can I Get a Business Card With No Revenue?
Some business cards do not require businesses to have a specific amount of revenue, but many do. For example, business cards from American Express are available to business owners who are legal employees of the company, regardless of company revenues. 
Check the issuer's revenue requirements before applying for a business credit card.
Can I Build Business Credit With a Credit Card?
A business credit card registered with a business EIN can build credit for a business. Initially, cards that require personal guarantees report activity to the consumer credit bureaus. Once you set up a business profile, these cards will report activity to business credit bureaus.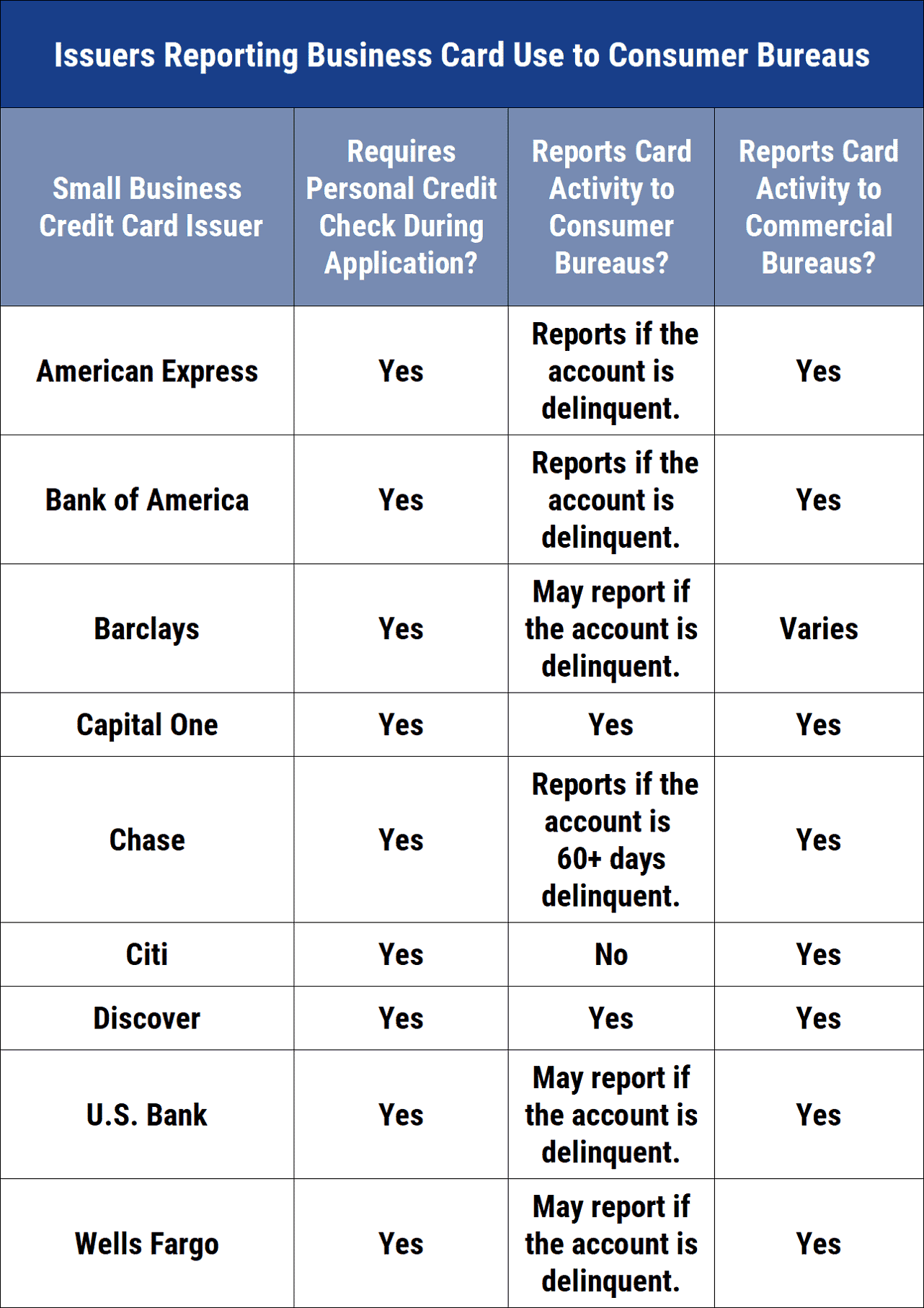 The easiest way to set up a business profile is to get a DUNS number from Dun & Bradstreet, a major commercial credit bureau. Go to the D&B website to request a unique nine-digit DUNS number.
Many lenders and other businesses require you to have a DUNS number before they do business with your company. You also need a DUNS number to get a federal grant.
D&B will issue you a Paydex score when you set up a profile. Paydex scoring works differently from FICO's scoring in that you get extra credit for early payments. Otherwise, Paydex uses similar criteria, such as on-time payment and low credit utilization (i.e., credit used / credit available).
Experian and Equifax, the other major commercial credit bureaus, do not need a special identifier to track your business.
Once correctly set up, your business can build credit by paying bills on or ahead of time and keeping debt levels relatively low. It also helps to have a business bank account without bounced checks or unpaid fees. 
Yet another credit-building tactic is to open trade lines with suppliers and vendors. Trade lines extend credit to customers who purchase inventory or supplies. Even if these vendors don't report your payments to a credit bureau, you can add them to your D&B account, which will then collect your tradeline data.
What If a Business Card Turns Down My Application?
There's no guarantee a business credit card issuer will approve your application. But you have options should the issuer turn you down, including the following:
Resolve application issues: Sometimes, the problem is as simple as a misspelled or missing data item. You can usually correct these quickly.
Request reconsideration: Computers usually make the original approval decision. You can appeal an unfavorable verdict directly to the issuer's reconsideration team over the phone and ask them to review your application. A team member can tell you why the issuer denied your original application and discuss ways you can improve your chances for approval. For example, you should include all eligible income sources, including spousal income, investment income, alimony, and government benefits. Reconsideration may be more fruitful if you already have an established and positive relationship with the issuing bank. That's why applying for a business card from a bank or credit union where you already have accounts is sensible.
Split your existing credit line: If you already have a personal credit card with an issuer, offer to divert some of your credit limit to a new business card. This way, the issuer isn't taking on additional risk.
Build your credit score: Due to personal guarantees, a high personal credit score helps you qualify for a business credit card. You can build credit by reducing your indebtedness, paying your bills on time, and refraining from applying for several new credit accounts within a short period. It also helps to remove derogatory mistakes on your three personal credit reports from Equifax, Experian, and TransUnion, either on your own or through a credit repair service.
Consider a secured business card: These are relatively easy to obtain, and some cards approve a robust credit limit based on a matching security deposit. Secured cards report activity to all three consumer credit bureaus, the most efficient method for building credit.
It's disheartening when an issuer denies your business card application, but it's also an opportunity to strengthen your business and remedy financial weaknesses. You may have much better results after improving your personal credit and business finances.
Can I Get a Credit Card After a Business Bankruptcy?
You must wait for the court to fully discharge your business' bankruptcy before applying for a new credit card. This can take place quickly or require a long period, depending on the type of bankruptcy filing:
Chapter 7: In this type of bankruptcy, the court discharges all your company's unsecured debt, removing your obligation to repay it. This kind of bankruptcy proceeds rapidly and may conclude after three to six months.
Chapter 11: You reorganize and continue to operate your business under this chapter. The process requires you to repay some or all of your outstanding debt over a period that can last three to five years, including small business and corporate card debt.
Your business bankruptcy can remain on your D&B credit profile for up to 25 years, far longer than the seven- to 10-year period for personal bankruptcies reported by consumer credit bureaus. Another type of bankruptcy, Chapter 13, is similar to Chapter 11 but applies to individuals and sole proprietorships. 
Once you are eligible for a post-bankruptcy credit card, secured credit cards will most likely approve your application. The security deposit protects the card issuer from loss should you again file for bankruptcy or otherwise default on your debt. 
Secured cards are more desirable than subprime unsecured ones because they usually cost less and have better perks. Remember, security deposits are refundable, but fees are not. It's better to temporarily put $200 into a security deposit than to pay the same amount in signup, annual, and maintenance fees. 
American Express is the toughest issuer when it comes to a past bankruptcy. It's best to wait until you've rebuilt your credit before applying for an Amex card, as American Express does not issue secured credit cards or unsecured cards for bad credit.
Compare the Best Business Credit Cards For Startups
Our review of the best business credit cards for startups covers various options depending on what you need and can afford. As with any other business decision, choosing the right credit card requires careful consideration of the critical factors. 
If you are interested in any of the cards reviewed, read the terms and conditions that federal law requires issuers to publish. Using your business card responsibly will let you build credit, conserve cash, and receive valuable benefits. 
Advertiser Disclosure
CardRates.com is a free online resource that offers valuable content and comparison services to users. To keep this resource 100% free, we receive compensation for referrals for many of the offers listed on the site. Along with key review factors, this compensation may impact how and where products appear across CardRates.com (including, for example, the order in which they appear). CardRates.com does not include the entire universe of available offers. Editorial opinions expressed on the site are strictly our own and are not provided, endorsed, or approved by advertisers.