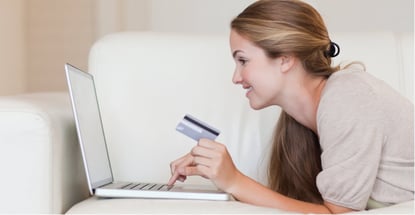 The best part about Capital One cards for fair credit is that they not only help you build — or rebuild — your credit history, but they can also grow along with you.
That's because Capital One has one of the largest portfolios of consumer credit cards in the financial space. No matter what you're after, Capital One likely has a card to meet your interests.
And, if you start with one of the cards below, you could potentially upgrade to an even better Capital One credit card as you make payments over time and improve your credit score.
Let's check out the best Capital One cards for fair credit in a variety of categories:
Best Overall | Cash Back | Students | Business | Secured | Alternatives | FAQs
The Capital One Platinum Credit Card is quite possibly the gold standard for credit cards for fair credit — regardless of the credit card company. This card offers a competitive interest rate, contactless payment technology, and a host of other benefits — all without an annual fee.
As with the other Capital One cards on this list, all cardholders receive automatic credit line reviews. The bank will review your account every six months through the Capital One Credit Steps program to see whether you qualify for a credit limit increase. If you do, the change automatically takes effect, and you'll get a boost to your available credit.
Just remember that you aren't guaranteed a credit limit increase. Capital One makes all of the decisions regarding any account modifications.
You'll also receive access to CreditWise® — a program that helps track any changes to your credit profile. Add to that the $0 liability fraud coverage and this card becomes one of the best options if you have no or limited credit.
Another benefit that sets this card apart from the competition is your ability to choose your own payment due date. Whether you'd rather pay at the end, the middle, or the first of the month, you can make that happen with just a few mouse clicks on Capital One's website.
The Capital One QuicksilverOne Cash Rewards Credit Card is a top choice among Capital One cards for fair credit because of its ability to earn cash back rewards, which you can use to make a profit if you spend responsibly.
The card does charge a small annual fee in exchange for the rewards. But if you avoid carrying a balance and paying interest, you can earn back the fee in a matter of months and use the rest of the year to make a profit.
Just make sure you pay your balances on time and in full. This card has an average interest rate for this category, but you will quickly lose your rewards earnings to finance charges if you carry a balance.
In addition to the rewards, this card also provides automatic credit line reviews every six months that will increase your credit line if you qualify. Cardholders also receive unlimited access to CreditWise®, which monitors your credit profile for fraudulent activity or credit score changes.
College or trade school is the best time to start building credit, and the following student cards can be a tremendous tool for building your head start for post-graduation life.
Along with cash back rewards, automatic credit line reviews, and unlimited access to CreditWise®, all student cardholders have access to Eno®, the Capital One assistant. This text-enabled virtual assistant can check your balance, review recent transactions, and set up a payment, among other tasks.
And if you're a student on the go, you don't have to worry about paying a foreign transaction fee if you're studying abroad or if you're away for spring break. These cards have just about everything you could want from a student credit card for building credit.
Building business credit is tough, but with the Capital One® Spark® Classic for Business, you can add a line of credit to your growing business without having a perfect personal credit history.
6. Capital One® Spark® Classic for Business
This card is currently not available.
As with just about every entry-level business credit card, Capital One's Spark® line of cards uses your personal credit history to determine eligibility. While most cards in this space require good or better credit, Capital One will consider your application for this card if you have fair credit.
That's a big deal because this card offers a competitive cash back rewards benefit for all cardholders. Your rewards never expire as long as your account is in good standing.
You can add free employee cards to your account at any time, and all employee cards earn the same rewards rate as the primary card.
If you're on the lower end of the fair credit score range, perhaps due to some past financial mistakes, a secured card may be your best bet. Capital One offers the Capital One Platinum Secured Credit Card and the new Capital One Quicksilver Secured Cash Rewards Credit Card to help cardholders rebuild their credit scores.
Every secured credit card requires a refundable security deposit to open your account. Typically, the amount of your deposit will match your credit limit. But with the Capital One Platinum Secured Credit Card, your credit score dictates the amount of your security deposit. That means you may not have to provide a large deposit to get your card.
And the Capital One Quicksilver Secured Cash Rewards Credit Card is a competitive new offer with flat-rate cash back that can really add up if you pay your balance in full each month.
And since Capital One monitors all of its accounts for potential credit limit increases, you may qualify for an upgrade to an unsecured card over time. If that happens, the bank will issue you a new card and refund your security deposit.
Capital One has a reputation for providing some of the best credit card options for consumers who have fair credit. Despite the bank's track record, it never hurts to research the competition.
If you're in research mode and want to see all of your options before submitting an application, check out the cards below. You may just find that one of these suits you better.
If you're looking to earn rewards, the Fortiva® Mastercard® Credit Card offers cash back on certain purchases. The card charges a variable APR and you may have to pay an annual fee, depending on your creditworthiness.
All cardholders receive access to their Equifax credit score for free and with zero fraud liability, you don't have to worry about paying for charges that result from identity theft or fraud.
The Aspire® Cash Back Reward Card lets you prequalify without hurting your credit score. You may be approved for a generous credit limit and low or no annual fee.
You'll earn cash back rewards on certain purchases, and you're protected from fraudulent purchases with Mastercard's Zero Liability policy.
The Reflex Mastercard® allows you to prequalify before you officially apply. That means only a soft inquiry will be performed, which won't affect your credit score.
Continental Finance issues this card and offers multiple credit cards for applicants who have bad credit or fair credit. So if you don't prequalify for the Reflex Mastercard®, the issuer will tell you if you prequalify for another card in its portfolio.
The Total Visa® Card is among the easiest cards to get approved for, which means it's a viable option even if you have a poor credit score. As such, its fees are high and its initial credit limit is low — but if you've been denied elsewhere, you should check this card out.
This card is especially useful for someone who can commit to paying the balance in full each month and is looking for a tool to help rebuild their credit more so than a means to finance purchases over time.
The Indigo® Unsecured Mastercard® provides fast prequalification that allows you to gauge your approval odds without placing a potentially harmful hard inquiry on your credit report.
And since the card is designed for consumers who need to build or rebuild their credit, Indigo will report your payment history to each credit bureau, which can help you boost your credit score with responsible usage.
Just remember that all qualified cardholders will receive a low initial credit limit. If you have to pay an annual fee, that charge will be deducted from your available credit as soon as you activate your card.
When you're dealing with a fair credit score, it's better to look at your specific needs instead of searching for the "best" overall card. That's because the cards in this category tend to fill a very specific niche. What's best for one person may be useless for you.
If you're simply looking for a do-it-all card that will not charge you for membership — and if you aren't concerned with cash back or other rewards — consider the Capital One Platinum Credit Card. This is Capital One's top entry-level card.
Although you won't find a ton of bells and whistles with this card, you will have no problem using this offering to improve your credit score and graduate to a better card with responsible use.
That's because Capital One monitors every active account and checks every six months to see if the account holder qualifies for a credit limit increase. You may also qualify for a card upgrade over time. And since Capital One has so many cards in its portfolio, you can upgrade multiple times over the life of your account as your credit score improves and your financial needs change.
The Platinum offering considers applicants who have fair credit or limited credit. If you're a credit newcomer and are enrolled in college or a trade school, you may be better served with the Journey Student Rewards from Capital One.
This student rewards card offers cash back and perks you'd want from a student credit card, including cash back on all purchases, no annual fee, and the ability to pick your due date.
If you're looking for unlimited cash back and don't mind paying a small annual fee, you may prefer the Capital One QuicksilverOne Cash Rewards Credit Card. This card offers fraud protection and 24/7 access to your account through the Capital One mobile application.
If you're new to rewards credit cards, just remember that most card issuers — not just Capital One — tack on an annual fee or a higher interest rate to offset the cost of paying out rewards.
To truly capitalize on your rewards card, you must pay off your balance on time and in full. If not, your interest charges will eat away at any rewards earnings — and your higher monthly bills will help pay for the rewards that someone else is earning.
One size doesn't always fit all. Your needs, financial situation, and current stage of life will dictate the best card for you.
The one rule that will always apply to everyone, though, is that responsibility always prevails. If you keep your balances low and your payments high, you can take even a mediocre credit card and make it a winner in your wallet.
Capital One has multiple credit cards designed specifically for consumers who have average credit — so the answer is a resounding yes. To figure out where you stand in the credit score pecking order, it is best to understand what constitutes average credit.
FICO credit scores are the most widely used credit score by lenders and credit card issuers. These scores can range from between 300 and 850. Each level in that range has its own classification.
For example, banks consider anything at or below 579 as very poor credit. A score of between 580 and 669 is fair. A score of between 670 and 739 is good, and 740+ is very good. Excellent begins at the 800-mark.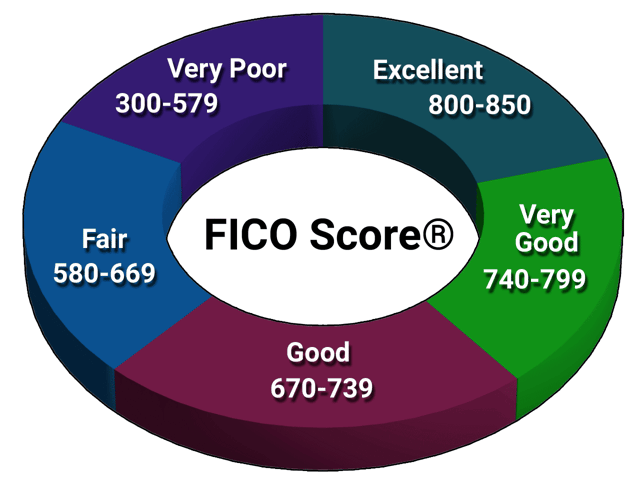 You may notice that there's no average credit score designation there. For the most part, lenders consider a fair score to be average. Though if you want to get really technical, the average credit score for American consumers is 704, which falls in the good range.
Those two definitions of average come with very different credit card options. If you're in the fair camp, you can consider any of the cards listed above. These cards consider applications from consumers who have slightly damaged or limited credit.
If you're closer to the 704 average credit score, you may consider trying to prequalify for credit cards that require good credit scores. You may still find great utility in the cards listed above because your improved credit score can yield you a better interest rate or a higher credit limit.
Something to note is that you may have trouble qualifying for a new Capital One card if you already have a couple of cards through the issuer. That's because Capital One only allows consumers to have two or fewer of its cards at one time. Even if you have perfect credit, the bank will reject your application if you're applying for a third card.
Before you apply, you can get a better feel for your credit score by checking your free annual credit report. While this won't give you access to your actual credit score, it will provide you the full list of the positive and negative items that make up your score.
If you are still unsure about which card you may qualify for, fill out the prequalification form on Capital One's website. This is a quick and easy service that most Capital One cards offer.
After filling out a short form, the bank will conduct a soft credit inquiry to see if you qualify for the card. Within 60 seconds, you'll have the peace of mind you need to either go ahead with your application or search for a different card. And since these forms use a soft credit pull, you won't have to worry about causing any harm to your credit score.
Keep in mind that prequalification for a card does not guarantee you'll receive an approval once you officially apply. A formal application gives the bank permission to conduct a hard credit pull, which places an inquiry on your credit score and gives the bank a look at your entire credit history.
It can affect your approval odds if there's something on your report that wasn't visible during the soft credit check. In most cases, though, a prequalifying approval is a very good indication that you'll receive the card once you officially apply — as long as you do so within 30 days.
Banks typically only consider a prequalification to be valid for 30 days or less because your credit score and history can change every month as lenders or creditors report new items to the three credit reporting bureaus.
One negative item, such as a late payment, can cause a dip in your score that can range from between five and 100 or more points. That can drastically impact your approval odds.
Capital One has three main travel rewards credit cards — the Venture Rewards, the VentureOne Rewards, and Venture X Rewards – but they only consider applications from consumers who have good or excellent credit.
In fact, most travel rewards credit cards require a credit score of good or excellent. But don't let that hinder your dreams of a jet-setting lifestyle.
A travel rewards card works just like your typical cash back credit card. But instead of offering cash rewards that equal a percentage of your purchases, they allow you to redeem your points or miles for travel-based rewards, including discounted or free airfare, rental cars, hotel stays, or ride-sharing services.
You can use your cash back rewards in the Capital One Travel portal for discounted travel accommodations, including hotels, rental cars, and flights.
Some travel cards offer a higher point value when you redeem them for travel because the issuers have partnerships with the accommodation providers.
But as with most things in life — and not just travel — cash remains king. With a good cash rewards credit card for fair credit, you can save your earnings up and use them to cover your travel expenses or anything else that you'd like to pay.
The following questions and answers will help determine which card best suits your wallet:
How does the card earn rewards? Not every cash back card earns rewards the same way. Some cards will allow you to earn a set percentage of any purchase you make as cash back. Others may limit you to earning with only specific purchases — such as gas stations, restaurants, and grocery stores only.
How does the card payout rewards? Just like each card sets different guidelines by which you can earn rewards, different cards have different ways of paying out those rewards. Some cards allow you to redeem your cash back for directly deposited cash, a check, or as a statement credit that pays part of your bill. Other cards may limit where you can use your rewards. If this is the case, you can still leverage the cash back for travel by charging the purchases to your card and using the rewards to clear the charge from your statement. That, of course, depends on your having enough of an available rewards balance to cover the charge.
When and where can you use your rewards? Most rewards credit cards allow you to redeem your rewards whenever you want. That means you can hop on the card's mobile app or on its website any time of day or night and redeem your rewards. Others may impose redemption minimums or other limitations, so be sure to look into this before submitting an application.
Are the rewards free and unlimited? Some cards may cap your rewards earnings, meaning you can only receive cash back for a certain amount of spending each quarter or each year. All spending after the cap will yield no cash back or yield a lesser amount. Other cards tack on steep annual fees or a higher interest rate to offset the bank's cost of the rewards. Be sure you know your entire cost of credit before signing up for a rewards credit card. If you don't, the rewards may end up costing you more than they're worth.
The credit card industry changed when rewards credit cards rose to prominence in the late 1990s. From that point, the competition among card issuers became more about the creativity in rewards more than in the interest rate or other terms.
Although you may want a good travel credit card as your companion through your future journeys, you can't go wrong with a good cash back card to help pay your expenses while you're improving your credit score enough to add the travel rewards credit card of your dreams.
Capital One may be the easiest credit card issuer for requesting a credit limit increase — that's because the bank pretty much does it for you. Through the bank's Credit Steps program, Capital One will monitor your account and check every six months to see if you qualify for a credit limit increase.
If you do, the issuer will instantly boost your credit line and send you a notification. If you're between the six-month period and want to see if you qualify now, you can do so through the bank's website or mobile application. Just know that Capital One only allows one credit limit increase every six months.
Request a credit limit increase from Capital One online
Request a credit limit increase from Capital One over the phone by calling: 1-800-955-7070
The best way to qualify for a credit limit increase is to make all of your payments on time and keep your balances low. A bank is less likely to extend you more credit if your balance is constantly increasing.
And just as a bank can increase your credit line, it can also decrease your credit limit if it feels that you may be over-extended. Used credit is a form of debt, and each bank has its own standards for deciding how much credit it will offer you.
Just about every credit card in the Capital One portfolio provides a cash advance option. A cash advance allows you to borrow money from your available credit by withdrawing cash from your credit card at an ATM.
You need a PIN associated with your credit card to receive a cash advance from an ATM. If you're withdrawing money from a bank teller, you only need your identification. You can request a PIN, which will automatically work for withdrawing money from your account, through Capital One's website.
Some credit card issuers — and the number is dwindling — allow you to request a cash advance over the phone. The card's issuer will transfer money via ACH directly to a linked checking account. The money may take between one and two business days to arrive.
But before you run out to withdraw money from your credit card, consider the risks and costs involved with credit card cash advances:
Cash advance fees are high: Most credit card issuers charge a transaction fee for conducting a cash advance. For most banks, the fee is $10 or 3% to 6% of the cash advance amount. So a $1,000 cash advance could cost you as much as $60 right off the bat. But the fees don't stop there.
Your cash Advance APR is different from your purchase APR: If you check the fine print in any credit card application, you'll see a regular purchase APR and a cash advance APR. Banks usually charge more interest on a cash advance than they do on a traditional purchase.
You won't have a grace period: When you purchase something using your credit card, you have a grace period to pay off the purchase before the bank can charge you interest. But with a cash advance, interest is charged as soon as you receive your money. That means you start paying interest right away.
Although some cards offer lower cash advance fees than others, you still have to pay more for withdrawing money from your credit card than you would if you made a purchase using plastic. Make sure you understand the cost of these transactions before you take out an advance.
Every unsecured credit card in the Capital One portfolio allows balance transfers with a few small caveats.
A balance transfer is when you move debt from one credit card onto another credit card. You may want to do this if you're consolidating debt from other credit cards with a higher interest rate onto a Capital One credit card with a lower APR.
Capital One will not allow you to transfer a balance from one Capital One card onto another Capital One card. If you're looking to move debt from a different issuer, you can do so, and you won't pay a balance transfer fee at the transfer APR. This is usually a percentage of the amount of debt you're moving onto the new card.
You can request a balance transfer in multiple ways, but consider these steps to get you there faster:
Examine the interest rates for every card involved. If the card you're moving debt away from has a lower APR than the card you're moving the debt to, you will pay more to consolidate your debt.
Consider any introductory rates when paying the debt down. Many balance transfer credit cards will provide an introductory 0% interest rate on any transferred balances for a set amount of time. Use that to your advantage to pay down as much of the debt as possible before the interest kicks in.
Contact the new card's customer service number to begin the balance transfer process. Some card issuers allow you to do this yourself using your new card's online dashboard. The process will require the account information for the balance you're transferring, and the amount that you want to transfer.
Don't stop making payments on the old card. A balance transfer can sometimes take a few weeks to complete. If you have a payment due within that time frame, you could encounter late fees — or credit score damage — if you fail to make the payment. If you end up paying more than what you owe on the account, the creditor will refund the overage via check as soon as the balance transfer arrives.
A balance transfer is a useful way to consolidate debts into one payment. If you can lower the interest rate of the overall debt, you'll also save money, which will help you eliminate the debt faster.
Capital One requires a checking account or bank account for approval. When applying for a new Capital One credit card, the bank will need some information to process your request, including:
Your full name
Social Security number
Date of birth
Physical address (no P.O. boxes)
Estimated gross annual income
Checking and/or savings account information
The bank requires a bank account to submit online payments and receive cash back rewards (if applicable).
If a checking account is the only thing separating you from credit card approval, consider signing up for an online bank account. Most online banking institutions have less overhead costs than nationwide chain banks and can offer you better interest rates and less costly financial products as a result.
Even Capital One is in the online banking game with its savings and checking accounts. You can sign up for an account in a matter of minutes and access your money and account information at any time through the bank's website, mobile application, or at any of its cafés around the U.S.
An online bank also typically provides lower minimum deposit requirements. In many cases, you can maintain a checking and savings account for as little as $5, which is a small investment to make to improve your odds of Capital One credit card approval.
You may qualify for multiple Capital One cards for fair credit, but that doesn't mean every one of them will meet your needs.
Credit cards for fair credit consumers often have very specific purposes. Whether you're a business, a student, someone who is new to credit, or someone who needs to rebuild your credit after a few mistakes, there's a card in the Capital One portfolio that can help you out.
Because, after all, everyone needs a little help sometimes. And, if you take advantage of that help, you may find yourself with an improved credit score and upgrading to bigger and better Capital One credit cards in very little time.