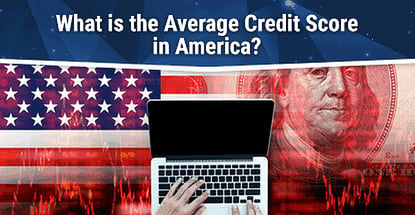 Whether it is healthy or not, people like to know how they measure up relative to others. It is human nature. Hopefully, you already keep tabs on the condition of your credit reports and where your personal credit scores fall on the standard scale of 300 to 850. If not, it is probably a good idea to check your credit scores from time to time just to ensure their health.
And even if you find out that your scores are solid, you may wonder how they stack up compared to those of your peers and perhaps even the rest of the U.S. population. The good news is, Americans are actually doing really well in the credit score department. The average FICO credit score in the United States has climbed to an all-time high of 711.
Experian, which released its eighth annual State of Credit Report earlier this year, revealed the average VantageScore credit score also rose to 675 in 2017.
What Are the Reasons for the Improvement?
There are several reasons that could explain the recent upward trend in the credit scores of U.S. consumers. FICO speculates that consumer credit education and consumer credit awareness may be among the catalysts for the positive change. Evidence supports that theory.
It has never been easier for Americans to access free copies of their credit reports and credit scores. In fact, it doesn't really make sense to buy credit reports or credit scores any longer given the number of free sources.
FICO reveals the following information about the two factors that have also caused the average credit score to rise over the past year.
Fewer consumers have negative information on their credit reports. This could be caused by a combination of events. First, old negative information may be "aging off" credit reports as the data becomes too old to legally be included on a credit report any longer as per the Fair Credit Reporting Act. The reduction in negative credit report information could also be a result of fewer people getting into new credit troubles.
People are seeking credit more responsibly. Fewer people are applying for credit as evidenced by the number of "hard" credit inquiries on credit reports. Inquiries are not a huge credit score factor, but they can make a difference since they indicate elevated risk. Per FICO, only 42.2% of U.S. consumers had one or more hard inquiries on their credit reports, a new four-year low. In layman's terms, consumers are smarter about their credit shopping practices and their scores are benefiting.
One fact is certain — when your credit reports are cleaner, your credit risk goes down and your scores go up. When this happens among a broad group of consumers, the average credit score rises. It's a mathematical certainty.
 The Average VantageScore Credit Score by Region and State
Continuing the pattern of past decades, the South has continued to perform the worst overall in terms of credit score averages, as confirmed in Experian's State of Credit Report. Conversely, the Midwest and Northeast have continued to perform well.
The state with the highest average credit score was Minnesota at 709. Mississippi ranks last in average credit score with a very poor 647.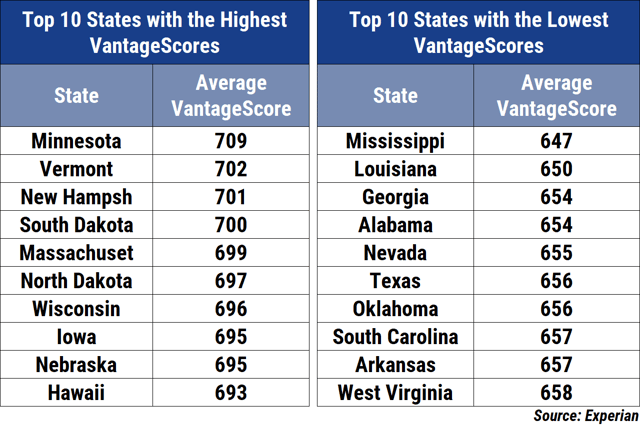 The Average FICO Credit Score by Age   
Although the average credit score of every age group improved this year, it remains true that older people have higher FICO credit scores on average. This is no surprise given that the older your credit reports the better.
The following chart shows the average FICO score distribution in the United States, according to age.

How FICO Credit Scores Are Calculated
If you are unhappy with the current condition of your credit scores and would like to see them be higher, it can be helpful to understand how your credit scores are calculated.
FICO scores range from 300 to 850, with higher scores indicating you are a lower risk to potential lenders. Specifically, FICO scoring models evaluate the information contained in your credit reports and determine the likelihood that you will pay any credit obligation 90 days late, or worse, within the next 24 months.
Your FICO scores are based on five broad categories of information found on your credit reports.
Payment History – 35% of Your Score Points
Amounts Owed – 30% of Your Score Points
Length of Credit History – 15% of Your Score Points
Credit Mix – 10% of Your Score Points
New Credit – 10% of Your Score Points
If errors or misinformation on your credit reports are weighing your scores down, you can dispute them directly with each credit bureau — Equifax, Experian, and TransUnion — individually online.
How VantageScore Credit Scores Are Calculated
VantageScore credit scores have the same 300 to 850 range as FICO scores. However, VantageScore models calculate risk differently because it's a different scoring platform.
VantageScore doesn't provide specific percentages for its scoring factors, like FICO does, but it does explain which factors are relevant in your credit score calculation. Here is a look at the different categories of credit report data which are considered by VantageScore models.
Payment History – Extremely Influential
Age and Type of Credit – Highly Influential
Percentage of Credit Limits Used – Highly Influential
Total Balances and Debts – Moderately Influential
Recent Credit Behaviors and Inquiries – Less Influential
Available Credit – Less Influential
VantageScore also makes a point to highlight things that don't count toward your credit score calculation, such as race, color, religion, nationality, gender, marital status, age, salary, and other factors commonly confused as credit score determinators.
Your Credit Reports Always Matter
While you can't decide which credit scoring brand (FICO vs. VantageScore) or which scoring model a lender is going to use when you apply for financing, you can control, in part, the information that appears on your credit reports.
Manage your credit well by making on-time payments, keeping credit card balances low, and applying for new credit only when needed and you can't help but have credit reports that will perform well regardless of the credit scoring model.
Advertiser Disclosure
CardRates.com is a free online resource that offers valuable content and comparison services to users. To keep this resource 100% free, we receive compensation for referrals for many of the offers listed on the site. Along with key review factors, this compensation may impact how and where products appear across CardRates.com (including, for example, the order in which they appear). CardRates.com does not include the entire universe of available offers. Editorial opinions expressed on the site are strictly our own and are not provided, endorsed, or approved by advertisers.