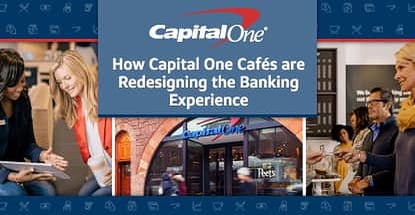 In a Nutshell: As the use of technology grows, many traditional tasks and chores are being replaced with digital solutions. Some things, however, simply can't (and shouldn't) be replaced with technology — such as quality financial guidance. To better suit our digital lifestyles, while still providing the education and guidance we need, Capital One is redesigning the traditional banking experience with a new type of bank: the Capital One Café. A modern blend of bank and bistro, the Cafés offer bank services, financial coaching, and educational workshops — as well as Peet's coffee, pastries from local bakeries, and free wifi. Capital One Cafés provide a comfortable, stress-free, teller-free banking experience for visitors — Capital One customers or not — with the goal of helping everyone develop confident money relationships. //
In many ways, the traditional banking experience has become one of those inconvenient tasks we all aim to avoid. As with the post office and drug stores, visits to our financial institution are often relegated to the status of errand — a fancy word for chore. Thus, it makes perfect sense that a growing number of people are using mobile banking to avoid the brick-and-mortar chore.
Unfortunately, not all of life's financial needs can be taken care of online; nearly half of banking Americans visit a physical bank at least once a month. To determine how to improve the in-branch experience for those visitors (and encourage more people to come in) the team at financial services giant Capital One started a conversation with consumers about their relationship with money.
The first thing they noticed was a strong confirmation of the increasing shift to digital banking (which came as little surprise to the bank with over 800 branches). More interesting to the team was the information that, while technology was making people's financial chores more convenient, it wasn't making them feel any more confident about their finances overall.
"If you have a smartphone, chances are, that's where you're doing the majority of your banking," described Jaci Stoltz, Vice President of Capital One Cafés. "Technology is making people's financial lives easier — but it hasn't really solved the fact that they feel stressed about their money and their finances."
To make matters worse, people aren't really sure how to relieve that money-related stress. "The internet has a lot of information, but it can often be overwhelming," Jaci explained. "And talking about money, and money issues, still often feels taboo, so people don't feel comfortable talking with family and friends. They also don't think of their bank as a place they can go and get help. They may be concerned they'll be walking into a transactional, high-pressure environment."
Branch Out with Easy, Teller-Free Banking
Inspired by what they learned during the conversation with consumers, the Capital One team set out to reimagine banking. The goal was to turn banking into a stress-free, educational, uplifting experience — rather than an onerous chore. The result was a new type of Capital One branch: the Capital One Café, a modern blend of bank and bistro. (Yes, bistro.)
"The Cafés — and the experience that we're creating there — are really heavily influenced by what we've heard from people," said Jaci. "It really comes down to helping people feel more confident in their relationship with money. To do that, we are redesigning the banking experience, from top to bottom, and making it simpler, more straightforward, and more naturally fit into the lives that people are living today."
Walking into a Capital One Café, it may take a minute to reconcile the bank logo with the setting. In the Back Bay location of Boston, for instance, visitors are greeted by a comfortable seating area filled with couches and tables and pass by the barista counter before ever making it to the bank desk. Yes, desk — there are no teller windows in the Cafés.
Mainly because there are no tellers. In their place are fee-free ATMs that accept deposits and dispense cash in a variety of denominations. Café visitors can talk to a Café Ambassador to receive help opening an account, using online banking tools, or completing any other task for which they would normally go to a traditional bank. A number of private rooms are set aside for those with more involved needs, such as applying for a home mortgage, where video chats enable Café visitors to talk with specialists in those areas.
All while sipping Peet's coffee or tea and snacking on pastries from local bakeries.
"The Cafés are really the third piece of the total reimagined banking experience, in addition to our award-winning cards and digital products," said Jaci. "They're a physical place you can go and, over a relaxed cup of coffee, get the advice, support, and guidance you need from a money expert — without pressure, in really a stress-free environment."
The team knows that not everyone will want to talk about finances every time they visit. Instead, visitors are encouraged to treat the Capital One Cafés as exactly that — cafés. Free wifi, bountiful charging stations, and an array of comfortable furniture all lend themselves to a day of working or relaxing. Ambassadors won't start a financial conversation with a visitor unless he or she brings it up, and they won't push or sell any products. It's just stress-free help when you need it, and a nice place to drink coffee when you don't.
"Everything from the design of the space on is intended to be really warm, friendly, optimistic, and open," Jaci described. "It's really about creating a place that people can feel comfortable talking about their money challenges and how we can help them to reach their goal."
Complimentary Money Coaching Builds Financial Confidence
Part of helping visitors reach their money goals is working to help them better understand their finances. To this end, the Capital One Cafés host a number of educational programs and events intended to help visitors gain money confidence, the lot of which are free to all Café visitors, not just Capital One customers.
"Our money coaching program is complimentary and open to everyone. It's a pretty cool experience you probably wouldn't expect from a bank; there is no paperwork, there are no forms to fill out," said Jaci. "It's a three-session experience that's really designed to help people connect their values to their money, to plan a path to their future financial goals, and give them the confidence to go out there and make it happen."
For a more social experience, try one of the many money workshops put on by the Capital One Cafés. As with the coaching, the workshops are free and open to anyone — Capital One customer or not.
"The money workshops are regularly offered in our Cafés," said Jaci. "They're more of a group setting, and consist of one- or two-hour sessions on relevant financial topics. One of my personal favorites is 'Talk Money with Your Honey.' Finances can be a pretty stressful topic for a lot of relationships, so it's designed to get people talking about their money and their finances in a fun and playful — but also educational — way."
The Banking Reimagined℠ Tour: Coming to a Café Near You
While email has certainly limited the amount of time we generally have to spend in the post office, I still find myself standing in its lines at least a few times a year. Similarly, just as digital banking has cut down the amount of time we spend in brick-and-mortar banks, it hasn't done away with the need for them entirely. Nor, it turns out, does it provide the help we need to develop confident relationships with money. For that, however, you can now go to a Capital One Café.
If you don't have a Café open in your city yet, you may still be able to check out Capital One's redesigned banking experience through the Banking Reimagined℠ Tour. Housed on a giant semi truck, the Tour comes complete with interactive, touch-enabled displays and Hololens augmented reality technology that bring your financial goals to life.
"It's a mobile exhibit that's really designed to pull key elements and key experiences from the Café," explained Jaci. "It's a way to help us travel to more places across the country, so more and more people can take part in the reimagined banking experience."
Advertiser Disclosure
CardRates.com is a free online resource that offers valuable content and comparison services to users. To keep this resource 100% free, we receive compensation for referrals for many of the offers listed on the site. Along with key review factors, this compensation may impact how and where products appear across CardRates.com (including, for example, the order in which they appear). CardRates.com does not include the entire universe of available offers. Editorial opinions expressed on the site are strictly our own and are not provided, endorsed, or approved by advertisers.