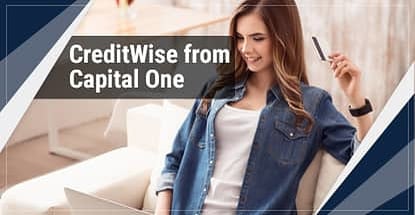 Capital One is one of the largest and most respected credit card issuers in North America, with more than 70 million customer accounts. In addition to offering a wide variety of credit card choices for consumers, Capital One also provides credit tracking and free access to credit scores through its popular Capital One Credit Tracker tool.
Since 2014, Capital One's Credit Tracker has helped American consumers view and track their credit score whenever they want. Keeping up with your credit score is important for a number of reasons, whether you're preparing to make a large purchase or just making sure no mistakes arise on your report that bring your score down. Now, the next generation of anytime credit score tracking has arrived, and we'll explore what you need to know in the article below. In addition to the convenience CreditWise delivers to Capital One customers, we'll take a look at some of our top picks for Capital One cards in a range of credit categories.
1. Credit Tracker was Rebranded to Capital One CreditWise in Early 2016
The popularity of Credit Tracker meant that millions of consumers were taking advantage of the opportunity to better understand their credit profile. However, Capital One decided to improve on this service by introducing new features and tools.
In early 2016, Credit Tracker was rebranded as Capital One CreditWise and now includes even more useful and informative features. In addition, CreditWise is now available as a mobile app for both Apple and Android devices, so now you can take your credit monitoring tools with you wherever you go.
2. CreditWise is Free & Includes a TransUnion VantageScore
Perhaps the biggest advantage to the new Capital One CreditWise tool is that anyone can use it for free, whether or not you have a Capital One credit card. And once you sign up, CreditWise allows unlimited access to your TransUnion VantageScore 3.0 credit score.
Now, the all-new CreditWise tool allows more consumers to monitor and understand their credit profile, and to learn how certain financial actions can impact their score. You'll also get a weekly update of your Vantage credit score sent to your computer or mobile device — all for free.
3. Capital One Offers Cards Tailored to Your Credit Profile
As one of the largest credit card issuers in America, Capital One is able to meet the needs of consumers, no matter what their credit history looks like. From full-featured cards for those with excellent credit, to special cards to help establish or rebuild a credit history, there's a Capital One card to fit just about any need. Here are some of the many credit card offers available to consumers right now.
Good-to-Excellent Credit (700+ Credit Score)
For those with good-to-excellent credit, Capital One offers some of the best programs of any credit card available. With features that offer unlimited cash-back bonuses, travel rewards, double points, low APR rates and more, these top-tier Capital One credit cards are designed to reward consumers who have maintained a superior credit score.
Capital One credit cards for good-to-excellent credit are especially suited for small business owners, frequent travelers, and those who use their cards for major purchases.
+See more cards for good-to-excellent credit
Fair Credit (650 – 700)
Consumers with only fair credit — typically in the 600-range of FICO scores — can still get a Capital One credit card with great benefits. Many of the credit cards for fair credit come with a slightly higher APR, but still have a lot of the same rewards and programs as the top-tier cards. These can include cash-back bonuses, travel rewards, airline miles and zero annual fees. These Capital One credit cards are easier to qualify for, and still provide the benefits of a high-quality credit card.
Capital One® QuicksilverOne® Cash Rewards Credit Card
This card is currently not available.
Capital One® Spark® Classic for Business
This card is currently not available.
+See more cards for fair credit 
Bad Credit (<650)
Qualifying for a credit card can be challenging for people with bad credit. Luckily, Capital One has programs that are designed to help folks rebuild their credit, while providing the benefits of a secured credit card. A secured credit card requires an amount be deposited in an account, and a credit card is then issued with a matching credit line. This is a great way to begin rebuilding your credit score since Capital One reports your usage and payments to the major credit bureaus. And getting on the path to healthy credit will open up even more options down the road.
Capital One® Secured Mastercard®
This card is currently not available.
+See more cards for bad credit
No or Limited Credit
Many banks and card issuers won't offer you a credit card if you have little or no credit history. Capital One, however, has credit card programs designed just for you. Students and those just starting out on their credit journey will appreciate the flexibility and easy application process with these Capital One cards.
And by making your payments on time for a set period, many cards in this category will reward you with a higher credit line, or with a lower APR.
Journey® Student Rewards from Capital One®
This card is currently not available.
Capital One® Platinum Credit Card
This card is currently not available.
+See more cards for no or limited credit
4. Credit Report Details & Tools Help You Manage Your Credit
CreditWise from Capital One also lets you view the details and receive weekly updates on your TransUnion credit score. It will send a notification when there's a change or update to your credit score, and allows you to access your credit information with no negative impact to your score. It will give you a detailed list of both open and closed lines of credit, along with balance details for each account. Finally, CreditWise lets you manage your credit using a unique credit simulator that shows you the potential impact of certain credit decisions you may be contemplating.
5. Your Information is Updated Weekly
Many credit score tools and services provide monthly updates to your credit information. With Capital One's CreditWise tool, you get weekly updates about your credit status. This is especially helpful if you are in the process of applying for a mortgage or a large loan, and need to carefully monitor your credit events. And keep in mind, CreditWise is a free tool that can send all information to your mobile device, making it an indispensable service for many.
Sign Up for CreditWise to Better Understand Your Credit
With all the benefits of CreditWise from Capital One, you owe it to yourself to sign up for this free service. Regardless of whether you are a Capital One cardholder, the benefits of CreditWise make this a great financial management tool for understanding your credit.
Of course, choosing to open a Capital One credit card can also make a lot of sense — and CreditWise can help you manage that account as well.
Advertiser Disclosure
CardRates.com is a free online resource that offers valuable content and comparison services to users. To keep this resource 100% free, we receive compensation from many of the offers listed on the site. Along with key review factors, this compensation may impact how and where products appear across the site (including, for example, the order in which they appear). CardRates.com does not include the entire universe of available offers. Editorial opinions expressed on the site are strictly our own and are not provided, endorsed, or approved by advertisers.