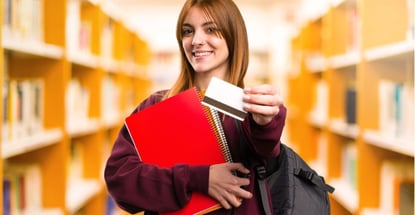 The best student credit cards with 0% APR deals may not help you ace your exams, but they can help you master your financial life before and after graduation.
Along with the cardmember perks associated with student credit cards, the offerings below all come with a promotional period that provides interest-free financing during your first months as a new cardmember.
Each card has unique terms for this promotion, but all will help you make a large purchase or possibly pay off existing credit card debt without worrying about interest fees piling up. That gives you one less thing to fret about while you're stressing over that paper due next week.
Best Student Cards With 0% APR on Purchases
A 0% APR promotion is a period of between six and 18 months during which a new cardholder isn't charged any interest on new purchases made with the card. It's a great tool for covering a large purchase interest-free if you pay the complete balance off within the prescribed promotional period.
Before you apply for any of the cards below, be sure to research the card's current promotion. Not all cards offer the same time frame for a promotional period.

INTRO OFFER: Unlimited Cashback Match – only from Discover. Discover will automatically match all the cash back you've earned at the end of your first year! So you could turn $50 cash back into $100. Or turn $100 into $200. There's no minimum spending or maximum rewards. Just a dollar-for-dollar match.
Earn 5% cash back on everyday purchases at different places each quarter like Amazon.com, grocery stores, restaurants, and gas stations, up to the quarterly maximum when you activate. Plus, earn unlimited 1% cash back on all other purchases – automatically.
No credit score required to apply.
Discover could help you reduce exposure of your personal information online by helping you remove it from select people-search sites that could sell your data. It's free, activate with the mobile app.
No annual fee and build your credit with responsible use.
0% intro APR on purchases for 6 months, then the standard variable purchase APR of 17.49% - 26.49% applies.
| Intro (Purchases) | Intro (Transfers) | Regular APR | Annual Fee | Credit Needed |
| --- | --- | --- | --- | --- |
| 0% Intro APR for 6 months | 10.99% Intro APR for 6 months | 17.49% - 26.49% Variable APR | $0 | Fair/New to Credit |

Discover is a leader in the student credit card space because its student cards offer many of the same perks you can get with its nonstudent cards, and that includes our top-ranked Discover it® Student Cash Back.
New cardholders receive a full match of all the cash back they earn during their first year with the card with Cashback Match. There's no limit to how much they can earn, and the bonus is paid out in one lump sum shortly after their first anniversary with the card. Students can also earn a statement credit for referring a friend if they're approved.
The BankAmericard® credit card for Students offers the longest 0% period on this list — but the card requires students to have good to excellent credit for approval, hence why it's not #1 on our list. If your credit score is in the upper 600s or higher, you may have a shot at approval.
This card doesn't offer rewards, instead offering more than a year of interest-free purchases and balance transfers for new cardholders, after which the regular APR will kick in. Its ongoing APR is also lower than other comparable cards.
Like its sibling above, the Discover it® Student chrome offers an introductory APR of 0% Intro APR (6 months), after which the regular APR kicks in. You'll also receive the Cashback Match during your first year with the card. You can take advantage of a balance transfer offer that provides a lower-than-average interest rate for any existing balances you carry over from another credit card.
The balance transfer offer can help you eliminate debt more affordably, which is a great way to get your finances in order before heading into the real world, where things can get expensive quickly, and having available credit is important.
What's better than earning unlimited cash back on all of your purchases? Not paying interest on those purchases for a long time.
With the Bank of America® Customized Cash Rewards credit card for Students, you can take advantage of a long period with 0% interest. This card's promotion typically runs for as many as 15 months, which means you won't pay interest on any new charges for more than a year.
If you're always planning your next getaway, the Bank of America® Travel Rewards credit card for Students is for you. This points-based rewards card allows cardholders to redeem their points to pay for previous travel purchases made with the card, which means no blackout dates or carrier restrictions.
And if your next trip is coming up soon, you can leverage your interest-free promotional period to pay for a few extra adventures without having to pay finance charges after you return.
What Does 0% APR Mean?
A 0% APR credit card promotion is a period in which new cardholders receive a 0% interest rate on every eligible purchase — and, in some cases, balance transfers — made with the card.
The length of your interest-free period will depend on the card you choose. A promotion can last for as little as six months or as long as 21 months. You may find that an offer changes regularly since every credit card company often updates its offers to keep up with the competition. When you receive a new credit card, you're locked into the offer you were given when you applied for the card.
Consider a few details before you submit your application for a card solely based on its interest-free promotion:
Not everything is free: Your 0% introductory APR may only cover new purchases. If this is the case, you'll still have to pay interest on any balance transfer or cash advance transactions you make. You'll also likely encounter a balance transfer fee, cash advance fee, and possibly a foreign transaction fee on overseas purchases. On the other hand, some promotions will only apply to balance transfers and not new purchases. Read the fine print before you hit the submit button on your application.
You could lose your promotional rate: Your credit card company may impose a penalty APR that can cancel your promotion early if you're late submitting your monthly payment — even by one day. You'll also likely encounter a late fee on top of the penalty APR.
You may not qualify: Every card issuer has different rules for promotions. Some banks may determine you are ineligible if you've already taken advantage of a promotion from another card issued by the same bank.
Your promotion will eventually end: All good things come to an end, including 0% APR promotions. If you're carrying a balance when your promotion ends, you'll start paying interest on that debt immediately.
You can still harm your credit score: Even though you don't have to pay interest during your promotion, you could still rack up enough debt to harm your credit score. Approximately 30% of your FICO credit score is calculated based on your current debt. If you make a big purchase during your promotion, be sure to pay it off as quickly as possible to bring your debt load down.
A good 0% APR promotion is a tremendous tool for managing debt without paying large interest charges. As a student, you can leverage one of these offers to pay for tuition, books, living expenses, or school supplies without having to pay the debt off immediately.
That's not only a financial savings, but it's one less stressor to worry about during a time of your life that's already filled with a lot of stress.
How Do I Get a Card With a 0% APR?
You can apply for any of the 0% APR credit cards listed above by clicking on the links in each description. Doing so will take you to the card's official website, where you can submit a short application to the credit card company that will likely yield a credit decision within seconds.
If you qualify, you'll receive your new credit card in the mail in seven to 10 business days and can begin using your new credit card account right away. Most credit card applications take less than five minutes to complete, which is far less time than you spent on your student loan application.
The credit application will require certain identifying information that includes:
Your name
Your address (physical and email)
Your phone number
Your income information
Remember that most banks allow you to submit several forms of income on your application, including any student aid, scholarships, or grants you may receive.
Once you complete and submit the application, the bank will begin the automated underwriting process, which typically takes 60 seconds or less to render an approval decision. If you're approved, the bank will show you the details of your new credit card account, including your credit limit.
If you're declined for the card, the bank will send you an adverse action notice in the mail within seven to 10 business days. This letter will detail the bank's reasoning for not accepting your application.
Your eligibility will depend on several factors, including your income and current credit score. But don't fret — you don't need a credit score to apply for a student card. That said, you'll likely receive a much smaller line of credit than someone who has a good credit score. But over time, you may qualify for credit limit increases as your credit history improves.
If your new card includes a 0% APR offer, the offer's effective period will start as soon as you activate the card. Once you've accepted your new card, there's no way to change or modify the promotional offer — even if a new and better offer comes to the market shortly after you activate your credit card account.
Which Student Card Has the Longest 0% Interest Rate?
The BankAmericard® credit card for Students has the longest 0% introductory APR among student credit cards we've reviewed.
This card provides an APR of  0% Intro APR for 21 billing cycles for purchases for new cardmembers. On top of this promotion, the card also offers a signup bonus when you spend a certain amount during your first three months with the card.
0% Introductory APR for 21 billing cycles for purchases, and for any balance transfers made in the first 60 days. After the intro APR offer ends, 15.49% - 25.49% Variable APR will apply. A 3% fee applies to all balance transfers.
No annual fee.
No penalty APR. Paying late won't automatically raise your interest rate (APR). Other account pricing and terms apply.
When handled responsibly, a credit card can help you build your credit history, which could be helpful when looking for an apartment, a car loan, and even a job. Access your FICO® Score for free within Online Banking or your Mobile Banking app.
Contactless Cards - The security of a chip card, with the convenience of a tap.
This online only offer may not be available if you leave this page or if you visit a Bank of America financial center. You can take advantage of this offer when you apply now.
| | | | | |
| --- | --- | --- | --- | --- |
| 0% Intro APR for 21 billing cycles for purchases | 0% Intro APR for 21 billing cycles for any balance transfers made in the first 60 days | 15.49% - 25.49% Variable APR on purchases and balance transfers | | |
Additional Disclosure: Bank of America is a CardRates advertiser.
This card also has a very competitive interest rate — all with no annual fee. Bank of America also reports your payment and balance history to all three major credit bureaus, which helps you build your credit profile with responsible use.
And, after you graduate, your responsible behavior may help you qualify for an upgrade to one of Bank of America's large portfolio of consumer credit cards.
Can I Get a Student Credit Card in High School?
The Credit CARD Act of 2009 sets some pretty strict rules for qualifying for credit cards before the age of 21, and no one under the age of 18 can get their own credit card.
You must show that you have sufficient income to repay your debt to qualify for a card. If you don't, you must include a cosigner who is 21 years or older.
A cosigner is someone willing to sign on to your credit card agreement and guarantee repayment. If you do not repay your debt, the cosigner becomes responsible for the bill — and you will both take the credit score hit resulting from any late payments reported to the credit bureaus.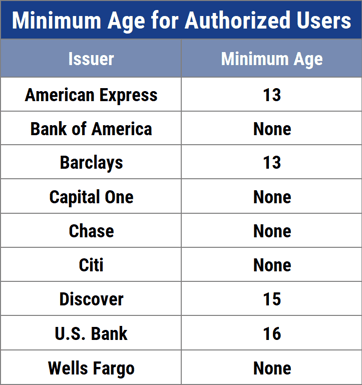 If you can't prove your income and don't have a cosigner, you still have options for getting a card. You could ask a parent, relative, or friend to allow you to become an authorized user on their existing credit card account.
As an authorized user, you will have a card printed in your name that links to the primary user's credit account. Your purchases will draw from that person's available credit line. You will both also reap the benefits — and potential pitfalls — of having a credit card.
That means your credit score will improve if payments are made on time and the balance remains low. Both of your scores can also decrease if you don't make timely payments or if one of you runs up a large balance.
Technically, only the primary user is responsible for making payments. The credit card company won't go after an authorized user if a payment is missed. But if the primary account holder granted you the favor to become an authorized user, you and he or she will need to work out a payment arrangement to cover charges you make with the card.
If you want to go on the credit-building journey alone and you're not yet 21 years old, you can consider applying for a secured credit card. These cards require a refundable security deposit for approval but are very accepting of most applicants — regardless of credit history or age.
The amount of your deposit will often match your new card's credit line. For example, a $500 deposit will get you a card with a $500 spending limit.
Your deposit will not serve as payment when your bill comes due. Instead, the bank will hold on to that money for the life of your account. If you stop making payments at any time, the bank will use your deposit to cover your debt.
If you eventually close your account or graduate to an unsecured credit card, the bank will issue a full refund of your security deposit, minus any fees or balance owed.
You can use a secured credit card in all the same ways you would use a traditional unsecured card. Your card will feature a revolving line of credit that you can reuse as you make payments, and you'll have a credit card number attached to your account that allows you to make purchases online, in-store, or over the phone.
And your secured card issuer will report your payment and balance history to at least one of the three major credit bureaus, which means your responsible behavior can help you build credit history. An improved credit score can eventually assist you in qualifying for an unsecured card that will not require a security deposit for approval.
Can I Keep My Student Credit Card After Graduation?
Many banks will allow you to keep your student credit card even after you graduate, but it may be in your best interest to investigate upgrading to a traditional unsecured credit card that may offer better perks and rewards.
Student credit cards provide benefits that students need. They're also designed for a consumer who may have little or no credit history.
Once you've established a history of positive financial behavior and, hopefully, increased your income after graduation, you may qualify for a card that offers cash rewards, travel rewards, or bonus points rewards. Rewards let you earn cash, travel discounts, merchandise, or gift cards simply by making the everyday purchases you're already making.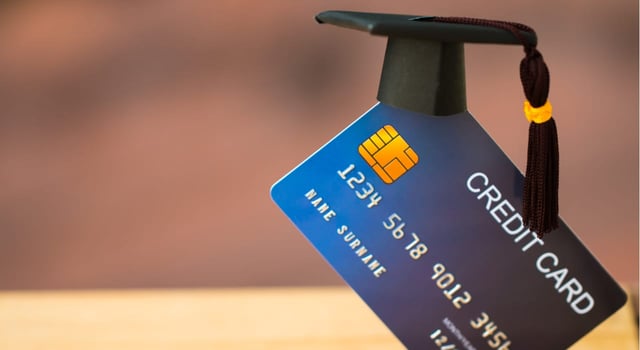 These cards often come with a better variable APR and other perks, which may include a sign up bonus. You may also qualify for one of several balance transfer credit cards that allow you to move over your existing credit card debt to your new account that has a promotional period with a lower — or 0% — temporary interest rate.
These perks aren't attainable with most student credit cards. And since most large banks that issue student credit cards also issue traditional consumer cards, you may be able to upgrade in a matter of minutes with a simple phone call to your card's issuer.
Can I Get a Student Credit Card Without a Credit Score?
Most student credit card issuers understand that young adults who are looking to further their education may have no credit history. At the same time, these banks want to build a relationship with these potentially valuable future customers.
That means you can often qualify for a student credit card despite having no credit history.
But a bank will not view your lack of a credit score as it would someone's established credit history. That means you won't start with a high credit limit and you may not qualify for specific bonuses or perks given to new cardholders.
That said, your responsible behavior with your new student credit card can help you quickly develop a credit score — which can entice your card issuer to offer credit limit increases or future perks to keep you as a customer.
Does a Student Credit Card Help Build Credit?
A student credit card can help you build your credit score as long as you exhibit responsible behavior with your credit card account.
If you make on-time payments and keep your balance low, you may start to see an increase in your credit score in as little as three months. But if you have late payments or have a large balance on which you only pay the minimum monthly payment, you may see an immediate decrease in your credit score.
Credit cards help you develop a credit history by reporting your payment and balance history each month to at least one of the three major credit reporting bureaus. These companies — TransUnion, Equifax, and Experian — all use this information to compile a file on your financial behavior, which results in a credit score.

You're considered credit invisible and have no credit score when you don't have enough information on file to generate a credit score. Roughly 26 million Americans fall into the credit invisible category.
But as your student credit card issuer reports more data on your account each month, you'll build your credit profile and develop your first credit score. This score is heavily dependent on the activity on your student credit card, so be sure to make timely payments and keep your balance low to start off with a good credit score.
What Fees Do Student Credit Cards Charge?
Student cards charge many fees, the most important being the interest rate. Make sure to study your cardholder agreement before you submit an application for credit so you fully understand which charges and fees your card may add to your monthly statement.
Although these fees may not appear on every card, here's a list of a few common fees that your student credit card may charge:
Interest fee: Interest is calculated as your credit card's APR. It's the cost of borrowing money, but you can avoid interest charges by always paying your card's balance off by the statement due date.
Annual Fee: Not every credit card charges an annual fee, but some may tack on a once-yearly charge to offset the cost of maintaining your account, paying out rewards, or adding new cardholder perks.
Late fee: You may be charged a late fee of up to $40 for any payment submitted after the due date.
Foreign transaction fee: If you use your card to make a purchase in a currency other than U.S. dollars, you may be charged a foreign transaction fee. This fee covers the cost of converting the transaction into a new currency. Not all cards charge this fee.

Cash advance fee: This fee kicks in when you withdraw cash from your credit card with a bank teller or at an ATM. These transactions begin accruing interest immediately. Many cards also limit how much you can withdraw from your card.
Balance transfer fee: A balance transfer happens when you move existing debt from one credit card to another — often to pay down that debt at a lower interest rate. Your credit card issuer may charge you a fee of between 2% and 5% of the amount you're transferring.
Card replacement fee: You may be charged a small fee if you lose your credit card. The charge covers the cost of canceling your old card, printing a new one, and shipping it to you.
Can I Extend My 0% APR Credit Card Promotion?
Most 0% APR introductory offers have a finite start and finish date that you cannot change. Extending a sign up bonus or introductory offer is typically not allowed under bank rules.
That said, there's no rule that says you cannot apply for a new credit card with an introductory offer when your current offer ends. Just make sure you qualify for the card before you apply. If it's with the same bank as your current card, there may be rules that limit how many introductory offers you can take advantage of.
Does a 0% APR Promotion Work With Balance Transfers?
Yes, some cards provide a 0% promotional rate for balance transfers. Other cards only apply interest-free financing to new purchases. Occasionally, a card will offer the benefit for both new purchases and balance transfers.
In yet another example, you may find a card that offers an interest-free period for new purchases and a period of reduced interest for balance transfers. Or, the terms may differ for both promotions, i.e, you could receive six months of 0% APR for purchases and 18 months for balance transfers.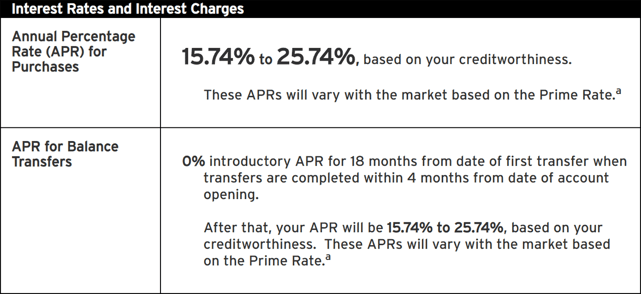 The promotion you're offered will depend on your credit history and the bank that issues your new credit card. Six months is the legal minimum period a card can offer 0% financing.
Can I Qualify For a Student Card While Attending Trade School?
Every bank has its own standards for qualification when it comes to student credit cards, but most banks are very loose in their definition of a student. That means you may be able to qualify if you've recently been enrolled in a traditional college or trade school, and you may still be approved if you're only enrolled part time.
Aside from the type of institution you attend, the most important factors for qualifying for a student credit card are that you:
be 18 or older
be a U.S. citizen or resident
show proof of income, such as through a job or student aid
provide a valid Social Security number
The Deserve® EDU Mastercard is a rare exception to the Social Security requirement and will not require a SSN for approval.
Your student credit card issuer may require that you send a copy of your current schedule to prove that you're enrolled. You may also have to submit quarterly grade reports to show that you're still a student.
Over the years, many banks have greatly reduced the hurdles to maintaining a student credit card account. Some will even accept your application without proof of enrollment and may even allow you to keep your account active after you graduate.
But don't assume that this is the case. Check with your issuing bank before you apply to make sure you qualify — and can maintain your account throughout your educational journey.
Compare the Best Student Credit Cards With 0% APR Deals Online
Whether you're paying for next semester's books or you need to purchase a few pizzas for a late-night study session, the best student credit cards with 0% introductory APR promotions are a great way to get what you need without overpaying in interest charges.
And with many of the cards listed above, you can also earn a generous amount of cash rewards or bonus points that make your everyday purchases more affordable and valuable.
Just make sure you research the best available current promotional offers, as these deals regularly change over time. By choosing the best offer for your needs, you can maximize your interest-free period and cash rewards earnings, which gives you more mental bandwidth to focus on your studies.
Advertiser Disclosure
CardRates.com is a free online resource that offers valuable content and comparison services to users. To keep this resource 100% free, we receive compensation for referrals for many of the offers listed on the site. Along with key review factors, this compensation may impact how and where products appear across CardRates.com (including, for example, the order in which they appear). CardRates.com does not include the entire universe of available offers. Editorial opinions expressed on the site are strictly our own and are not provided, endorsed, or approved by advertisers.