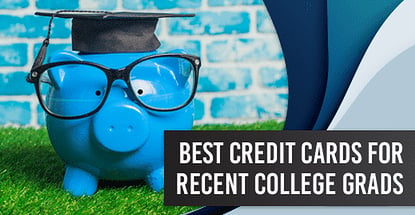 Finding the best credit cards for recent college graduates doesn't have to be a thesis-level research endeavor. Sure, there are a lot of cards out there, but we've narrowed the list down to some of our top choices.
Graduation is exciting. The cap, the gown, the proud parents gathered 'round. Maybe a fancy dinner or graduation-present trip.
Then it's over — and the Real World is at your door. You need to get a job, start paying bills, and do all that "adulting" you've heard so much about on the internet (#adulting).
For instance, adults build credit. And one of the easiest ways to establish and build a credit profile is through responsible credit card use. You may even earn rewards while you're at it.
No/Limited Credit | No/Low Fees | Rewards
Best "No/Limited Credit" Cards for Recent Graduates
While 67% of graduates have at least one credit card, many students have yet to even establish credit, let alone build the good credit score needed to qualify for many of the best rewards credit cards.
Instead, because most new graduates will have no or limited credit history, new credit card options are going to be similarly limited. But there are a number of quality credit cards designed specifically for credit builders.
When choosing a card to build credit, you'll need to decide between an unsecured credit card or a secured card. Both have advantages and disadvantages, so it's often best to compare your options.
Best Unsecured Cards for No/Limited Credit
Unsecured cards are what most people think about when they think about credit cards; they're a line of credit extended to you by the issuing bank that you can use to make purchases, all without a deposit.
However, the lack of a deposit makes unsecured credit cards riskier for the bank — which can make unsecured cards harder to get for someone with limited credit, so you'll likely need to look for entry-level unsecured cards like our picks below.
+See More Unsecured Cards for No/Limited Credit
Unsecured credit cards are risky for the banks because their only recourse if the cardholder defaults is to go through legal channels to try and get their money back (which can be expensive in and of itself).
One way credit card issuers offset some of this possible loss is through higher fees. This means unsecured cards that approve those with low credit scores or thin credit profiles often carry much higher interest rates than cards aimed at those with higher scores.
In other words? Carrying a balance on an unsecured starter card from month to month will likely be expensive, so always pay your credit card in full each month (which is just plain good credit card behavior in the first place).
Best Secured Cards for No/Limited Credit
Secured credit cards are also good credit-building cards, but they're a little more involved than unsecured cards. Specifically, you'll be required to provide a cash deposit to open a secured credit account.
Because secured cards are less risky to the issuer, they often have lower interest rates and fees, as well as offering additional perks. For example, some of our top secured cards come with no annual fee and may even offer cash back rewards.
+See More Secured Cards for No/Limited Credit
With a secured card, your deposit acts as collateral. Essentially, the deposit you make secures the credit line against default, ensuring the bank won't lose money if you can't pay your balance.
As such, the size of your deposit will typically determine the size of your credit line. In many cases, you'll be able to make a deposit larger than the minimum to secure a larger credit line.
One of the best parts about secured credit cards is that your deposit is completely refundable, provided you keep your account in good standing. You can recover your deposit at any time by closing your credit card account.
Best "No/Low Fee" Cards for Recent Graduates
In the modern educational world, student loans are a big part of the picture for many students. In fact, 40% of adults under the age of 30 have student loan debt weighing down their finances.
Of course, even if you do manage to escape college with both your degree and no debt, chances are good you won't exactly be rolling in the cash for a while yet, which makes saving money wherever you can a top priority.
And one of those places you can save is your credit card. Between cards with no annual fee and cards with no-interest offers, you can often build credit without burdening your budget.
No Annual Fee | 0% APR New Purchases | 0% APR Balance Transfers
Best Cards with No Annual Fee
One of the largest costs associated with credit cards is that pesky annual fee, which can range anywhere from $30 up to $2,500, depending on the perks and rewards. While annual fees can be worth it for some cards and consumers, they're likely more of a drain than a boon to a new graduates budget.
But you don't need to shell out the big bucks for a quality credit card, not even if you want awesome rewards. Many of our favorite annual-fee-free credit cards offer the whole package, including purchase rewards and solid sign-up bonuses.
+See More Cards with No Annual Fee
An important thing to remember when it comes to cards without an annual fee is that you may still be charged other types of fees. If you let your balance carry over from month to month, for example, you'll likely be charged interest fees.
And other transaction types can also come with fees, including balance transfers and cash advances, which both come with service fees as well as their own interest fee rates. Understand the possible charges before making these types of transactions with your card.
Best Cards with 0% Intro APR on New Purchases
Ah, interest fees, the pain-in-the-neck fees that can turn a relatively small purchase into an expensive one in a matter of months. While you can avoid accruing interest fees by paying your balance in full every month, sometimes that simply isn't an option — especially on a recent-grad budget.
Credit cards that come with introductory 0% APR offers can provide 12 months or more of interest-free purchasing, helping you make those important "real world" purchases while working your way up the corporate ladder. Many of our top-rated offers even come with no annual fees.
+See More Cards with 0% APR on New Purchases
A key consideration when using 0% APR offers is to remember that they're temporary. Once your introductory period has expired, your new purchase APR will revert to the default rate listed on your cardholder agreement.
This means any balance from new purchases remaining on your card after the terms expire will start accruing interest at the default rate, so be sure to pay off your balance in full before the promotion expires to avoid being charged interest fees.
Best Cards with 0% Intro APR on Balance Transfer
If more than half of college graduates have at least one credit card, that means at least half of graduates may be leaving college with credit card debt. And chances are good that debt is accruing interest at a high rate.
One of the best ways to lower your interest rate is to transfer your balance to a credit card with a 0% intro-APR. The best balance transfer cards, like our top picks below, can provide 12 months or more interest-free to pay down your balance.
+See More Cards with 0% APR on Balance Transfers
One thing to note about balance transfers is that most credit cards will charge a balance transfer fee to move a balance to that card. These fees can range from 3% to 5% of the total balance you want to move and can reduce the amount that can be transferred.
Additionally, you can't transfer a balance between cards from the same issuer. For example, you can't transfer a Chase credit card balance to another Chase credit card. Finally, keep in mind that you generally won't earn any rewards for transferred balances, nor will they count toward the spending requirement for a signup bonus.
Best "Rewards" Cards for Recent Graduates
For those diligent graduates who worked to build good credit while still in school, the options for an after-graduation credit card may be a whole lot more expansive than those available to their no-credit classmates.
And those options include a wealth of awesome rewards credit cards that can turn almost any purchase into a rewarding buy.
Rewards credit cards come in three main types: cash back, air miles, and points. The type of rewards you should seek out will depend on your personal spending style, as well as how you're most likely to redeem your rewards.
Cash Back | Air Miles | Points
Best Cash Back Rewards Credit Cards
Cash back rewards are most often the simplest to redeem, with the option to cash in your rewards for a statement credit or a deposit into a qualifying bank account.
You'll typically find two types of cash back cards. The first simply provides the same rewards rate for every card purchase, while the second also offers bonus rewards for specific types of purchases. Our list of favorite cash back cards includes the best of both worlds.
+See More Cards with Cash Back Rewards
To choose the right cash back card, consider where you spend the most each month, and select a card that complements those purchases. For example, if you spend a lot on gas, groceries, and other common purchases, choose a card that offers bonus cash back for those categories.
If, on the other hand, your spending doesn't fall into common categories, you'll likely be better off with an unlimited flat-rate cash back card that offers 1.5% or better on all purchases.
Best Air Miles Rewards Credit Cards
Each year, many new graduates strap on their backpacks and head out on a travel adventure before they have to join the workforce. But traveling the world isn't exactly cheap, which is where travel rewards credit cards can be handy.
With a good travel rewards credit card, like those on our list below, you can earn miles that can be redeemed for free flights, hotel stays, and other travel-related expenses, turning an expensive pipe dream into a more affordable reality.
+See More Cards with Air Miles Rewards
When comparing air miles cards, you'll come across both co-branded and bank-branded cards. Co-branded cards earn frequent flyer miles for specific airlines, and those miles can only be redeemed for flights with those airlines.
The more flexible travel rewards cards are those only branded with the issuing bank (e.g., Chase, Capital One), as these points and miles can often be redeemed directly for travel on any airline (or with any hotel brand).
Best Points Rewards Credit Cards
With the ability to redeem points for both cash back and travel in many cases, points rewards credit cards are often the best choice for those who want versatile rewards and a variety of redemption options.
As with other types of rewards cards, points rewards come in two flavors: unlimited flat-rate rewards or bonus category rewards. Given that the best pick for you will depend on your personal spending habits, it can be beneficial to explore both types, starting with our top picks below.
+See More Cards with Points Rewards
Although points rewards can usually be redeemed for a wide range of things, including cash back, travel, and gift cards, not all redemption options offer the same per-point value.
In many cases, redeeming points directly for travel or by transferring to a qualifying hotel or airline partner (when available) can provide the best per-point value.
Start Off Your Professional Life with Good Credit Decisions
After years of hard work, lectures, and exams, graduating can be a huge relief — right up until you realize you now have to start being an adult.
One of the most important things you can do to start your post-college financial life off right is to start responsibly building credit. But the keyword here is responsibly.
Establishing a credit profile will do you little good if you start by building bad credit, so be sure to practice responsible credit behaviors.
This includes always (always, always) paying your debts and bills on time, maintaining low credit card balances, and being stingy about opening new credit lines.
Advertiser Disclosure
CardRates.com is a free online resource that offers valuable content and comparison services to users. To keep this resource 100% free, we receive compensation for referrals for many of the offers listed on the site. Along with key review factors, this compensation may impact how and where products appear across CardRates.com (including, for example, the order in which they appear). CardRates.com does not include the entire universe of available offers. Editorial opinions expressed on the site are strictly our own and are not provided, endorsed, or approved by advertisers.