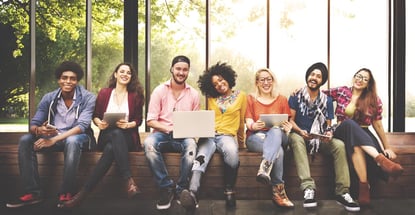 Given that few schools offer a comprehensive education in personal finance, it's up to us — and our families — to prepare for entering the financial world. This includes learning basic budgeting and money management skills, as well as learning how to build and maintain good credit.
While there are ways to help your children build credit before they turn 18, most folks won't have an established credit profile when they get to college. Fortunately, college is an ideal time to start building credit, and you can find many great credit cards for students with no credit history. Here, we'll take a look at some of our top picks for student credit cards, including the overall best cards, travel cards, secured cards, cards that require a cosigner, and store-brand cards.
Overall | Travel | Secured | Cosigner | Store | FAQs
Best Student Cards Overall
As a student, you have access to a range of credit cards specifically designed for students. These cards are not only easier to get — issuers know students are unlikely to have much credit history, and they approve applicants accordingly — but they're also often much better quality cards than are available to first-time cardholders who are not students.
Indeed, many student credit cards very closely resemble their non-student counterparts, offering low fees and purchase rewards that would otherwise require good to excellent credit to enjoy. Since your first card will likely be your oldest credit account, having a student card that you can hang onto indefinitely can be a great decision.
1. Discover it® Student Cash Back
This card is currently not available.
While most rewards credit cards have static rewards, this card offers a different take: rotating rewards. Cardholders can earn top rate cash back on up to the purchase limit in bonus category purchases, with a new bonus category being offered each quarter you activate. Common categories include popular merchant types like restaurants, grocery stores, and Amazon.com.
The Bank of America® Cash Rewards for Students offers all the same bells and whistles as its regular consumer version, including charging $0 annual fee and giving cardholders the option to choose their own 3% cash back category from a list of options.

Earn 3% cash back in the category of your choice: gas, online shopping, dining, travel, drug stores, or home improvement/furnishings
Earn 2% at grocery stores and wholesale clubs
Pay $0 annual fee
Users also earn 2% cash back at gas stations and wholesale clubs, and unlimited 1% cash back on everything else. Plus, there are no foreign transaction fees for purchases in foreign currencies.
The Citi Rewards+ Student Card has an interesting rewards setup that offers 2X ThankYou® points per dollar on gas station and supermarket purchases, plus unlimited 1X point per dollar on everything else — and a minimum 10X points per transaction.

Earn 2X ThankYou® points per $1 spent on supermarket and gas station purchases
Round up each transaction to nearest 10X points
Pay no annual fee
Basically, this card rounds up every purchase to the nearest 10X points. So, that $1 taco can turn into 10X ThankYou® points with the round-up feature, making every small purchase extra valuable. Points can be redeemed for cash back, gift cards, or merchandise through the Citi ThankYou® rewards portal.
Best Student Cards for Travel
Each year, more than 300,000 U.S. students leave the country to study abroad. Even students who don't head overseas for a semester tend to spend a significant amount of time commuting from school to home and back, making a decent travel card a good investment.
While you won't see any premium travel cards aimed at students — most of these cards require at least good credit, if not excellent credit — a few student cards do offer decent returns on some travel expenses. Look for a card with no annual fee and, if you intend to travel to another country, one without foreign transaction fees.
4. Discover it® Student chrome
This card is currently not available.
This option can help you earn extra rewards on both gas and dining, making it a good pick for a weekend road trip. The cash back is limited to a purchase total in bonus category purchases each quarter, but cardholders earn a standard reduced cash back rate on everything else. Additionally, users pay no foreign transaction fees or annual fees, and students who maintain a minimum GPA can receive rewards in the form of statement credit.
Earn 1% cash back on all your purchases. Pay on time to boost your cash back to a total of 1.25% for that month
Earn $5 per month for 12 months on Select Streaming Subscriptions when you pay on time. *Exclusions Apply
Enjoy no annual fee and no foreign transaction fees
You can help build your credit with responsible use of a card like this
Pick the monthly due date that works best for you
Be automatically considered for a higher credit line in as little as 6 months
Although this card isn't a dedicated travel rewards card, it can be a solid choice for traveling abroad thanks to the absence of foreign transaction fees, which makes purchasing in foreign currencies more affordable. The card also offers basic purchase rewards — unlimited 1% cash back on every purchase — that can be boosted to 1.25% cash back by paying the card bill on time.
The Bank of America® Travel Rewards for Students is a flexible travel rewards card that provides an unlimited 1.5 points per dollar, and rewards can be redeemed toward a range of travel expenses.

Earn an unlimited 1.5X points per $1 in eligible purchases made with your card
No blackout dates or brand restrictions on redemption
Pay no annual fee
In addition to travel-focused rewards, this card charges no foreign transaction fees, so it can be used to make purchases abroad without extra card costs. The card also charges $0 annual fee, comes with a modest signup bonus, and offers 12 months of 0% APR on new purchases.
Best Secured Cards for Students
The biggest source of risk for a credit card issuer comes from extending a line of credit to a cardholder without anything to back it up. If the cardholder doesn't pay, the issuer has to jump through hoops to get its money back. Secured credit cards eliminate this issue by requiring a refundable deposit that acts as collateral for the card's credit line.
Since secured credit cards are low-risk, they're far easier to get than unsecured cards (though most still require a basic credit check). What's more, many quality secured credit cards come with the ability to upgrade to an unsecured card once your credit scores have improved.
No annual fee
Unlike a prepaid card, there is regular reporting to the 3 major credit bureaus
Accepted at millions of locations worldwide
Make the minimum required security deposit and you'll get an initial credit line of $200. Plus, deposit more money before your account opens to get a higher credit line
Access to an authorized bank account is required to make your $49, $99 or $200 refundable security deposit
Be automatically considered for a higher credit line in as little as 6 months with no additional deposit needed
As secured cards go, this one doesn't have a lot of perks — with the exception of the standard set of Mastercard and Capital One benefits — but a secured card with no annual fee is uncommon enough that it's worth a look. Plus, this card can be only partially secured, meaning users may have access to a credit line that is larger than the size of their deposit. Eligible cardholders may also be automatically upgraded to an unsecured product over time.
This card is currently not available.
This pick is one of the only secured cards from a major bank to offer purchase rewards. Additionally, Discover will automatically review the account for upgrade eligibility to an unsecured card starting after an introductory period of 8 months.
The Citi® Secured Mastercard® is a fairly standard secured credit card that charges no annual fee. While users won't earn purchase rewards, the card does offer the standard set of Mastercard® cardholder perks, as well as access to Citi perks that include $0 fraud liability.
Check your balance, view transactions, and make payments using free online and mobile banking tools
Provide a security deposit between $200-$2,500
Pay no annual fee
As with our other secured card picks, the Citi® Secured Mastercard® may automatically upgrade to an unsecured product if the cardholder becomes eligible. While Citi advertises an 18-month upgrade cycle, reports of early graduation to an unsecured card can be found in forums and reviews.
Best Cards for Students with Cosigners
By law, young people under the age of 21 can only get their own credit card account if they can either show proof of an independent income (cannot include parental gifts) or if they can have an eligible cosigner. Similar to cosigning a loan, cosigning a credit card requires agreeing to take financial responsibility for the credit card should the main cardholder fail to repay the debt.
Cosigning a credit card for a student is not a decision to take lightly, especially if there is any question as to the student's ability to pay the card balance. If you do decide to cosign the card, it may take some research to find the right card; only a small handful of major banks (and, perhaps, some credit unions) allow cosigners on credit cards, including Wells Fargo, Bank of America, and U.S. Bank.
This card has a lot to recommend it, especially for younger cardholders, thanks to its diverse rewards categories and $0 annual fee. Cardholders earn 3X points per dollar on dining, travel — including gas — and select streaming, all of which can be quite useful for students on a budget.

Receive 0% APR on new purchases and balance transfers for 12 months
Earn 3x points on eating out and ordering in, gas, and travel
Pay $0 annual fee
The absence of foreign transaction fees means this card is great for that semester abroad, too.
(The information related to Wells Fargo Propel American Express® Card has been collected by CardRates.com and has not been reviewed or provided by the issuer or provider of this product or service.)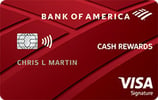 at Bank Of America'ssecure website
Enjoy a $200 cash rewards bonus after spending at least $1,000 in purchases in the first 90 days of account opening
Earn 3% cash back in the category of your choice: gas, online shopping, dining, travel, drug stores, or home improvement/furnishings and 2% cash back at grocery stores and wholesale clubs on the first $2,500 in combined choice category/grocery store/wholesale club purchases each quarter, then earn 1%
Unlimited 1% cash back on all other purchases
Introductory 0% APR for your first 12 billing cycles for purchases and balance transfers made within 60 days of account opening (balance transfer fee applies)
$0 annual fee
A solid option for an everyday card, this pick has no annual fee as well as competitive purchase rewards. Users can choose their own 3% cash back category each month, plus enjoy 2% cash back at gas stations and wholesale clubs (spending cap of $2,500 in combined bonus category purchases each quarter).
The U.S. Bank Cash+™ Visa Signature® Card is one of the few rewards cards that allows you to select your own bonus categories, giving you more control over the rewards you earn. You can choose two 5% cash back categories, as well as an extra 2% bonus category.

Earn 5% cash back in two categories of your choosing, plus 2% cash back in an additional category you select
Earn 1% cash back on all other purchases
Pay $0 annual fee
The 5% bonus categories include many useful merchant types, including streaming, fast food, cellphone providers, department stores, and home utilities. Be sure to activate the bonus categories each quarter to earn the extra rewards.
Best Store Cards for Students
We've all encountered them: the big signs, the big promises, and the (seemingly) big discounts — yes, we're talking about co-branded store credit cards. These common retail payment cards are popular with brand loyalists who want to save at their favorite stores, but they're also commonly considered to be easy ways to build credit.
That's because store credit cards — especially the closed-loop cards without a network logo — are among the easiest credit products to obtain.
The thing to watch out for is that store cards are easy to get for a number of key reasons, chief of which are the high APRs and low credit limits. So long as you pay in full each month and use the card responsibly, however, a store card may be a good fit for student credit building.
Where many store cards offer rewards similar to rebates, the Target REDcard offers a simple 5% discount that applies to your purchase at the register or check-out screen.

Get 5% off your total purchase at checkout for eligible in-store or online Target purchases
Receive exclusive deals & discounts
Pay $0 annual fee
Cardholders will also receive exclusive deals and discounts, as well as experience free two-day shipping on eligible online purchases and extended returns on qualifying transactions. The REDcard isn't specifically for students, but it has been known to approve a wide range of credit types, including bad credit.
14. Amazon.com Store Card
The Amazon.com Store Card is best for students who are also Prime members (student Prime memberships also count), as this unlocks 5% back on Amazon.com purchases.

Receive special financing on eligible Amazon.com orders of $149 or more made with your card
Amazon Prime members also get 5% cash back on Amazon purchases
Pay no annual card fee (Prime fee may apply)
The Amazon.com Store Card also provides special financing on large orders, though it uses deferred interest, so pay in full before the end of the promotional period. If you can't qualify for the Amazon.com Store Card, you may be interested in the secured Amazon.com Store Card Credit Builder.
The My Best Buy Credit Card provides 5% back in Best Buy rewards on every Best Buy purchase under $199. Larger purchases have the option to earn rewards or receive special financing.

Earn 5% back in rewards on Best Buy purchases made in-store or at BestBuy.com
Receive special financing on purchases of $199 and up
Pay $0 annual fee
If you choose to use the card's financing option, be sure to pay in full before the promotional period ends to avoid being stuck with deferred interest. So far as approval goes, reports indicate that Best Buy's credit cards are obtainable even with poor credit, so students may also have a chance at approval.
Is Bad Credit Worse Than No Credit?
In today's financial world, having a good personal credit history can make a big — positive — impact on your finances. It can make it easier and more affordable to get loans and credit cards, and it can even make it cheaper to set up home utilities or a new cellphone plan.
But, the keyword here is good. While a good credit history can open many doors, a bad credit history not only slams the doors shut, but it can also come with steep costs to pry them back open.
And where does having no credit history land in the mix? The answer is a bit complicated, but, in general, having no credit is better than having bad credit.
Your credit history is a key took as to how other parties judge your ability to handle debt — and, to a smaller degree, your ability to handle your finances in general. A good credit history typically indicates that it's not very risky to lend you money, while a bad credit history can imply that it's very risky to offer you credit.
If you have no credit history at all, creditors have no way to judge your credit risk, either for good or for ill. Unfortunately, this doesn't mean they're just going to assume you're good for it. Instead, most creditors view no-credit applicants as representing a fairly high credit risk — just not quite as high a risk as applicants with a proven track record of failing to repay debts.
Another reason having no credit is better than having bad credit is that it is much, much easier to build good credit if you aren't forced to first rebuild bad credit. In other words, if you aren't ready to responsibly use credit yet — then don't get any. It's better to wait to build credit until you can use it wisely than it is to start too soon and wind up with bad credit after making costly mistakes.
How Old Do You Need to Be to Get a Credit Card?
Before the CARD Act of 2009, all you really needed to get a credit card as a college student was a signature. Half the time, you could simply waltz through the nearest open courtyard and find a big bank's representative offering simple signups on their trust clipboards.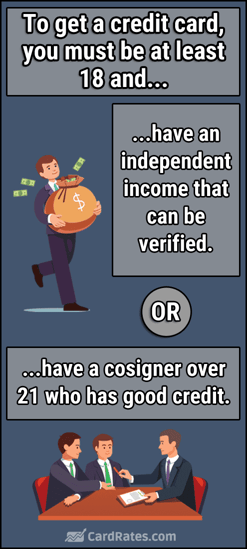 Since the CARD Act, credit card issuers have been required to adhere to strict rules governing how they advertise and offer cards to young people. Now, to obtain a credit card account under your own name, you must be at least 18 years of age and have either a verifiable income — and no, family gifts or allowances don't count — or an eligible cosigner.
Students without a verifiable income from an eligible source — job, scholarship, and grant income all count — or an adult cosigner with good credit will need to wait until they are at least 21 years old before they can qualify for their own credit card account.
If your child is not eligible for a credit card due to age or income restrictions, but they still need a reliable payment method, you do have a couple of options.
Likely the simplest solution is to make your child an authorized user on one of your credit card accounts. This is a good option for students who are mature enough to handle the responsibility.
Authorized users receive a credit card with their own name that is attached to your credit card account. Purchases made with that card will be handled the same as purchases made with your own card.
The downside is that, while authorized users can use their card as if the account were their own, they don't have any legal or financial responsibility for that account. In other words, if your authorized user goes on a shopping spree, you'll be the one responsible for ensuring the balance is repaid.
Being an authorized user can be a good way to establish credit, as the credit card account will typically be reported to the credit bureaus on behalf of the authorized user as well as the primary account holder. Plus, many issuers have low or no minimum age requirement for authorized users.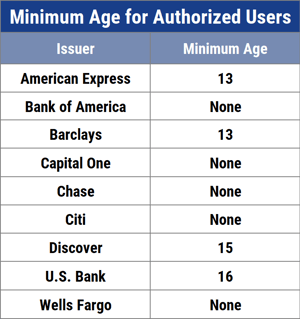 (If you wish to make your child an authorized user but don't feel they are ready for a credit card, you do not have to give them access to the card for it to report to the bureaus on their behalf.)
Another way to teach young people about credit cards before they come of age is to use a prepaid debit card. These cards can be loaded with funds, then used similar to a regular debit or credit card to make purchases in stores or online.
While prepaid cards won't help your child establish or build credit — prepaid cards aren't associated with a credit line, and thus won't be reported to the credit bureaus — this can actually make them good teaching tools, as it means prepaid cards won't negatively impact your child's credit if they make a mistake. Nor can most prepaid cards be overdrawn or otherwise create debt (outside of cards that charge monthly fees).
Can You Have a Credit Score If You Have No Credit?
It's no secret that personal finance education in our country is lacking, leaving many Americans with incomplete information that can be more than just confusing — it can be downright expensive. A bad credit history can lead to high fees and poor interest rates that can add up fast.
Unfortunately, studies have shown that Americans have many credit misconceptions. For example, one NerdWallet study found that 11% of surveyed consumers believe we start out with perfect credit scores — which is essentially the opposite of the truth. In actuality, we start out with no credit scores.
That's because credit scores are based entirely on the information in your credit reports. But, you don't get a credit report until you have credit history. And you don't build credit history without opening a credit-based account like a credit card or loan.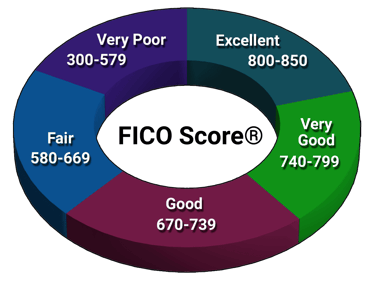 Mind you, that's not to say you start out with a "0" credit score. The two most common credit scoring models — the FICO Score 8 and the VantageScore 3.0 — work on a scale of 300 to 850, with 300 being the lowest score and 850 being the best possible credit score.
As soon as your first credit account is reported to the credit bureaus, you become eligible for a VantageScore. It takes a full six months of reported credit history before you can be eligible for a FICO credit score. In either case, so long as you make your payments on time while establishing your credit, you should start with a score in the 500-600 range and quickly rise from there.
Build Credit the Right Way
Although most of us won't receive proper financial education in school, that's no excuse to remain ignorant of the right ways to budget and build credit. Not only are there hundreds of personal finance books out there, but the internet is bursting with helpful resources on every finance topic you can imagine (and some you have probably never even considered).
No matter which student credit card you choose, be sure you're using it responsibly and building credit the right way. This starts with always, always, always paying your credit card bills on time. While it's best to pay your balance in full each month, you need to make at least the minimum required payment before the due date to avoid late fees and potential credit damage.
You should also be aware of the other ways your credit cards can impact your credit history and credit scores. Your credit card utilization — the ratio of how much credit you are using over how much you have available to you — can have a significant impact on your credit scores.
Additionally, avoid opening credit cards willy-nilly just because you can; each new card adds a new layer of complexity to maintaining good credit — it's one more due date to keep track of, if nothing else. Furthermore, each new credit card application (yes, even store cards) results in a hard credit inquiry, and too many hard inquiries can cause credit score problems.
Advertiser Disclosure
CardRates.com is a free online resource that offers valuable content and comparison services to users. To keep this resource 100% free, we receive compensation from many of the offers listed on the site. Along with key review factors, this compensation may impact how and where products appear across the site (including, for example, the order in which they appear). CardRates.com does not include the entire universe of available offers. Editorial opinions expressed on the site are strictly our own and are not provided, endorsed, or approved by advertisers.