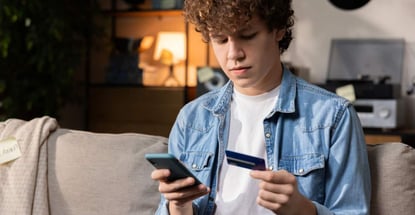 It's unusual for students to arrive for their first college semester with bad credit. Usually, you'd expect them to have limited or no credit experience, which is very different from bad credit. It takes some financial mishandling to drive your credit score into the ditch, such as failing to repay a debt.
Nevertheless, this review has rounded up the best student credit cards for bad credit. One of them may be perfect for you if you attend college or trade school at least half-time and have a poor credit score.
Best Overall Cards For Students With Bad Credit
The best credit card for a student with subprime credit may not be a student credit card at all. It may be a secured card, and you don't need to be a college student to get one. These are three of our favorites.
Secured credit cards are the best choice for bad credit because you can get them despite a dismal credit score. You must deposit cash into a secure account to obtain one of these cards. 
Typically, the initial deposit (and matching credit line) is $200, but the Capital One Platinum Secured Credit Card may give you that starting credit limit for as little as $49 down.
Besides being easy to get, secured cards often have lower costs and better benefits than unsecured cards for bad credit that don't require a deposit. But if you'd prefer an unsecured line of credit, the following section includes details on three candidates worth considering.
Best Unsecured Cards For Students With Bad Credit
These unsecured credit cards are available to students and non-students with poor credit and don't require a security deposit for approval. They are relatively easy to obtain and will help your efforts at building credit if you consistently pay your bills on time. 
Check out the costs of owning these cards before applying for one. Even the best credit card in this class has high APRs and plenty of fees, including a monthly maintenance charge (in addition to the card's annual fee, foreign transaction fee, and late penalty fee). 
You won't get any of your fees back, whereas when used responsibly, a secured card can refund your deposit and upgrade you to an unsecured card, possibly in less than a year.
Best Cards For Students With No Credit
Student credit cards are the best bargains in the industry. They are the perfect starter cards for students with no credit history, but those with bad credit may not qualify. The following three cards earn our highest student credit card ratings.
The best student credit cards earn rewards on purchases without an annual fee. Some features to seek out include:
No credit check
A signup bonus after account opening
Introductory low or 0% APRs for purchases and/or balance transfers
Reporting to all three major credit bureaus
Bonuses for good grades
Low fees and interest rates
Security and privacy features
How to Qualify For a Card As a Student
You may qualify for a student credit card if:
You are at least 18 years old
You are a US citizen or resident
You have a Social Security Number or equivalent
You have enrolled on at least a half-time basis at a college or trade school
You are under 21 but have enough independent income to pay for your card or have a cosigner
You don't need a credit score to get a student credit card. But if you do have a score, some issuers require it to be fair or good. A few may approve your application even if you have bad credit. This is why we've included nonstudent-card options for bad credit.
Regulation Z, Consideration of Ability to Pay, requires credit card issuers to consider your ability to make the required minimum payments. Issuers must review your assets, income, and current debt obligations, such as a car payment or student loan, before issuing a card, and the requirement has additional provisions for consumers under 21 years old. 
This requirement snags many college students with little or no independent income, which is why you may need a parent or other responsible individual to cosign your application. Cosigners must not only guarantee payments but must also demonstrate the financial ability to do so. 
The same rules apply to credit limit increases — either you or your cosigner must be able to make the minimum monthly payments to afford a higher credit line.
When applying for a student credit card, you can include the following income sources:
Job earnings, including part-time work, seasonal work, and side hustles 
Regular bank deposits or allowances from parents or other family members
Leftover financial aid
Be prepared to provide pay stubs, financial aid records, and bank statements to prove your income. Interestingly, there is no explicit minimum income amount required, so you may be able to get a student card with as little as $100/month of disposable income (i.e., income remaining after paying all nondiscretionary bills). 
Naturally, you may get a larger credit limit if you have a higher income.
If you can't qualify for a student credit card, consider asking your parents to make you an authorized user of their credit card. You can use your copy of the card to make everyday purchases and pay bills, just as if you owned it yourself. 
But your parents, not you, are legally responsible for the credit card bills. Some issuers allow cardowners to put spending limits on authorized users. 
What Is Bad Credit?
Having bad credit means creditors and lenders judge you to be a risky borrower. Your credit score, which ranges from 300 to 850, quantifies the risk. These numbers indicate the likelihood you will go into default within the next two years.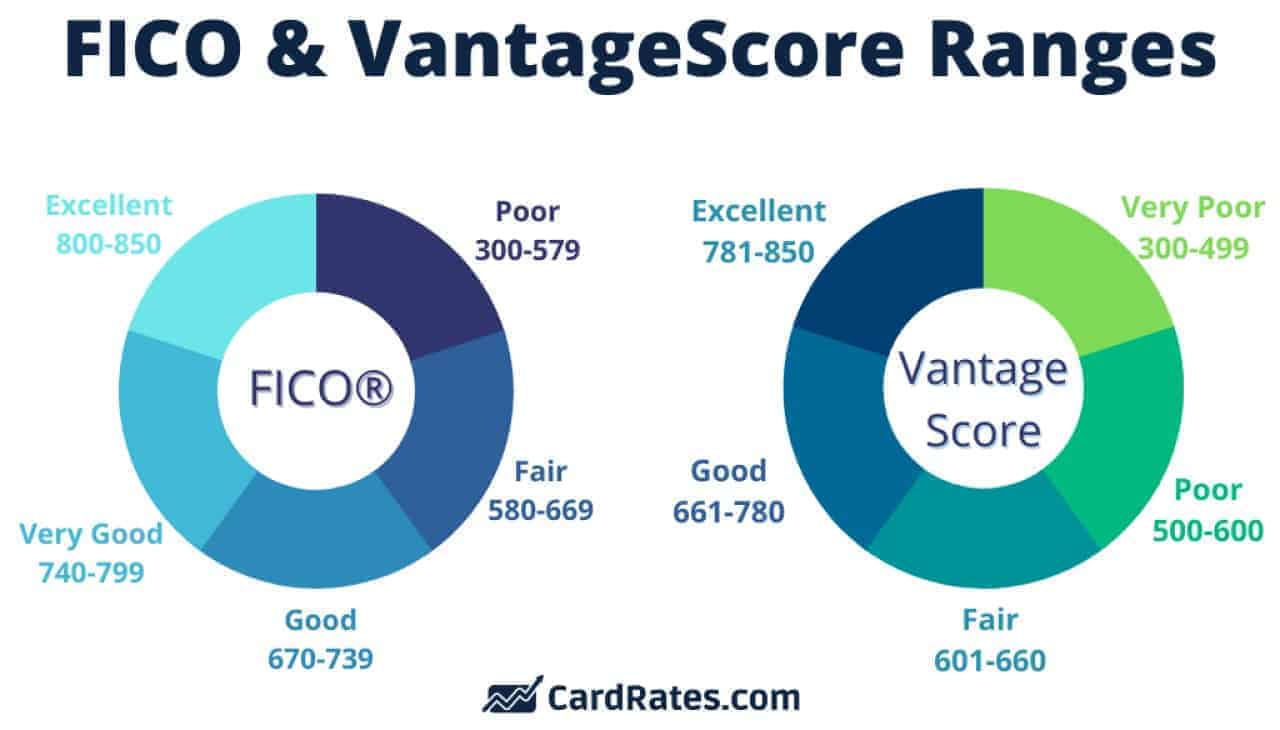 The average FICO score over the past decade has ranged from 694 to 716, with scores steadily rising over time. Scores below 580 indicate bad credit, although creditors can interpret the numbers however they wish. 
FICO and VantageScore are the two most commonly used credit scoring systems lenders use to judge default risk, with FICO being the predominant model. These models rely on the information in credit reports maintained by the three major credit bureaus — Experian, Equifax, and TransUnion.
Each credit bureau collects consumer financial information from data providers, including merchants, lenders, and credit card companies. The bureaus don't necessarily share information with each other, so your credit reports and scores may differ among the trio. 
Periodically, the bureaus recalculate your credit score based on the reported data and the scoring system's rules. Interested parties purchase credit reports and scores from the credit bureaus when they perform a credit check (i.e., when deciding whether to issue you credit, hire you, approve an application to rent an apartment, etc.).
The FICO system uses five major factors to evaluate credit:
Payment history (35% of score): The most significant factor affecting your credit score is your record of on-time payment of your bills to creditors and lenders. Items such as delinquencies (payments overdue by 30+ days), charge-offs, collections, bankruptcies, and foreclosures all count against you. Major negative items can remain on your reports for seven to 10 years. You should achieve a good credit score if you consistently pay your bills on time. Indeed, timely payments over a six-month to one-year period should help you build credit.
Amounts owed (30%): The second most significant factor deals with the total amount of debt you owe. Part of this category includes your credit utilization ratio (CUR), which is the relationship between your credit card balances and credit limits. That is, if you have a card with a $1,000 credit limit and a $300 balance, the card balance is 30% utilized compared with its available limit. The lower your credit utilization ratio, the better your credit scores. A study found that consumers with FICO scores of 750 and higher have an average CUR of only 7%. High CURs indicate possible financial distress that increases the likelihood of default.
Length of credit history (15%): You'll earn higher FICO scores when you have long-lived credit accounts, as they demonstrate your experience managing debt. FICO tracks the ages of your accounts and uses the average to calculate your overall score. Credit histories that average at least seven years have a positive benefit on credit scores. That means you may be well past graduation before you can really benefit from this category. Thankfully, it's only worth 15% of your total FICO score. This category also considers the age of each account and how long it has been since you've used it. You can support your credit score by keeping old credit cards open and occasionally using them.
Credit mix (10%): You can marginally improve your credit score by successfully handling several different forms of credit. The mix might include a credit card account, a personal loan, a student loan, an installment loan, a mortgage, a retail account, and a finance company account. You don't need all these accounts and shouldn't open one just for the sake of your credit mix. But if you require different types of accounts, FICO will reward you if you pay on time.

New credit (10%): Opening multiple accounts within a relatively short period may impact your credit score, as creditors may take it as a sign of financial distress. A lack of credit history makes matters worse. This factor tracks the number of hard credit inquiries recently made on your credit report. Inquiries are requests for your credit report resulting from your application for a loan or credit card. The new credit factor also includes how long it's been since you opened a new account. The net impact of new accounts depends on other factors, including credit mix, account age, and your CUR.

Note that this five-factor structure pertains to the FICO scoring system — other systems, such as VantageScore, work a little differently. Nonetheless, FICO controls the consumer credit reporting market and is reportedly used in 90% of lending decisions. 
Your ability to master the five credit-scoring factors determines whether your credit score will be good or bad. Over time, you can recover from even the worst credit by paying attention to these factors.
What Credit Score Do You Need For a Student Credit Card?
If you already have a FICO score, you want it to exceed 579, the delineation point between bad and fair credit. Ultimately, each card issuer determines what the minimum required credit score will be to approve a credit application, so some student cards may require scores of 670 or higher.
There is no universal minimum credit score every issuer will accept.
When applying for a student credit card, having no score is better than having a bad one. You can overcome a bad score by becoming an authorized user of a card account owned by someone with good credit, such as a parent or other family member. 
Alternatively, you will have a better chance of obtaining a secured credit card if you have bad credit. One such card — the OpenSky® Secured Visa® Credit Card — doesn't even require a credit check for approval, and your deposit will be refunded after a period of responsible use.
Can I Use My Credit Card For Rebuilding Credit?
Our discussion of FICO's five scoring factors clarifies how you can leverage your credit card to build or rebuild credit. The most important factor, payment history, demands that you consistently pay your bills on time. 
Virtually all credit cards have an interest-free grace period following the close of the latest billing period (i.e., the statement date). Grace periods establish an interim of at least 21 days before the statement date and the bill due date, by which time you must submit at least the minimum payment to avoid interest and a late fee.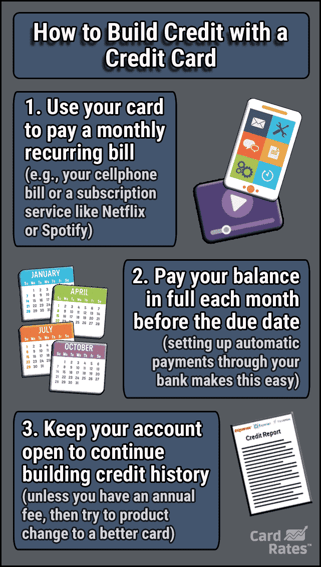 Credit cards charge a fee for late payments and may impose a penalty APR (typically 29.9% or higher) indefinitely. If you fall behind by 30 days, the credit card issuer will report your payment as delinquent to the bureaus, and your FICO score will suffer. 
The damage to your credit score worsens every 30 days that transpire without payment. After 180 days, the issuer will charge off the debt and close your account. Late payments and charged-off accounts remain on your credit reports for seven years. 
The debt will be sold to a collection agency, and you can expect hounding phone calls and letters in the mail for years to come. Depending on the amount of your debt, the issuer may institute legal action against you.
If you have a temporary problem making your credit card payments, contact the credit card issuer and explain the situation. You may be able to negotiate some type of relief, such as an extended repayment period or a lower interest rate. Doing this early on may allow the issuer to refrain from reporting your delinquency, thereby preserving your credit score. 
It's also to your benefit to repay bills even after the creditor has charged them off. Your credit reports will note the payment, and although it may not help your score, it will indicate to future creditors that you take your obligations seriously. This may help you get a loan when your credit score is marginal.
Consider working with a credit counselor if your financial difficulties are more severe. A counselor can help you set up a budget, consolidate debt, and live within your means. 
A more drastic approach is to seek debt relief (i.e., when a creditor forgives some of your debt in the hope of collecting the rest). You can use a debt relief company to arrange a settlement with creditors, but this approach is risky and potentially expensive, as debt relief companies are for-profit businesses.
You can also help your credit score by paying down existing debt, as it will lower your CUR. If you have multiple credit cards, consider transferring your balances to one card that you aggressively pay down. In the most favorable scenario, you can use a new credit card with a 0% intro APR on balance transfers (a fee will apply, typically 3% to 5% per transfer) for a set period, usually 60 days, following account opening.
Alternatively, you could take out a personal loan to consolidate your credit card debt. Your credit score should improve as your CUR ideally moves to 0%. It's best to refrain from using your credit cards until you've repaid your outstanding loan balance. 
The other three factors suggest that you postpone applying for new credit cards unless they increase your credit mix. Keep old credit card accounts open since this may help lift your credit average credit account age.
Is it a Good Idea to Get a Credit Card While In College?
Absolutely! After all, college presents many learning opportunities, and credit cards help you learn about personal finance. Unfortunately, most high schools don't address this topic, and many parents are negligent in teaching their children about money. 
It's also a good idea to create a budget when attending college. You can track your actual spending and hopefully discipline your behavior to live within your means. Developing responsible financial habits early on will prepare you for life after you graduate and start your career. 
Why Would a Student Be Rejected For a Credit Card?
The principal reasons credit card issuers reject applications from students include the following:
Insufficient income: You must show you can afford your credit card minimum payments, either through independent income or a cosigner.
Under age: You must be at least 18 years old to qualify for a credit card.
Residency: You must be a US citizen or resident with a Social Security number or equivalent. Some student credit cards waive the Social Security requirement and are good options for international students attending US schools.
Bad credit: You have an unfavorable credit history and a low credit score.
Attendance: You must currently attend a college or trade school on at least a half-time basis.
Even the best student credit card issuers reject some applicants. If you are in that camp, you should receive an Adverse Action Notice from the credit card issuer explaining why. You can use the information in the notice to address your credit deficiencies before reapplying.
If you can't qualify for a college student card because of a low credit score, consider getting a secured card instead. You don't need to attend college to get one, and bad credit is usually not an obstacle. Of course, you'll need to scrape up the security deposit, but that money is refundable and can save you from paying the high (non-refundable) fees on unsecured subprime credit cards.
What Happens to My Student Credit Card When I Graduate?
You cannot continue to use a student credit card after you graduate college. If you maintained a good payment record while in school, your card issuer will likely offer you a replacement card or automatically move you to one of its unsecured credit cards.
The new card will typically not have an annual fee, the same as your student card. You do not have to continue with the same issuer after graduation, and it makes sense to review all your options before deciding. 
Hopefully, you've built a good credit score during your undergraduate years and can qualify for the best cards bearing the Visa, Mastercard, American Express, or Discover logos.
You may want to own multiple cards with complementary rewards, such as a cash back card and a travel rewards credit card offering points or miles. Multiple cards help you extract the most value from all your purchases.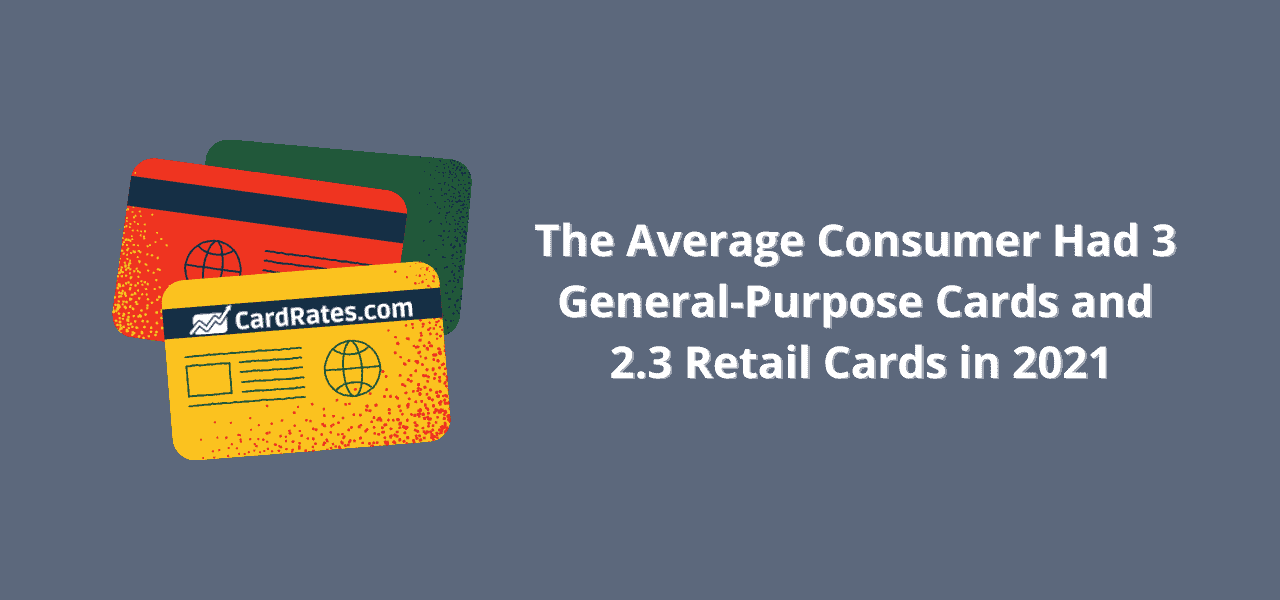 For example, you can use the travel rewards credit card for its travel benefits and another with a high cash back rate on, say, gasoline purchases or dining out. Naturally, your issuer hopes to retain a sizable portion of its student card customers, but the final choice is up to you.
Students of All Credit Types Have Card Options
Students with bad credit may not qualify for student-specific cards, but they can still apply for a secured credit card or a subprime unsecured card. If you are a student with less-than-perfect credit, you may have a greater chance of having your application for these alternatives approved despite your bad credit. We recommend secured cards because they are easier to get and cheaper in the long run.
A student credit card is excellent if you have no or limited credit history and meet the general ownership requirements. These cards offer several benefits you won't find on the typical subprime unsecured credit card and have much lower fees. They report your payments to all three credit bureaus, the most efficient path for building credit when you pay on time. 
By using your credit cards responsibly, you'll be well-positioned for post-graduate life – renting an apartment, buying a car, and getting a job – partly due to a high credit score and clean credit reports.
Final Notes on "9 Best Student Credit Cards For Bad Credit (Sep. 2023)"
We hope this guide "9 Best Student Credit Cards For Bad Credit (Sep. 2023)" has been a helpful resource for you in learning more about your financial options. In this guide, we've covered:
Best Overall Cards For Students With Bad Credit
Best Unsecured Cards For Students With Bad Credit
Best Cards For Students With No Credit
How to Qualify For a Card As a Student
What Is Bad Credit?
What Credit Score Do You Need For a Student Credit Card?
Can I Use My Credit Card For Rebuilding Credit?
Is it a Good Idea to Get a Credit Card While In College?
Why Would a Student Be Rejected For a Credit Card?
What Happens to My Student Credit Card When I Graduate?
Students of All Credit Types Have Card Options
To learn more about options not mentioned here, be sure to check out other popular reviews from our team of experts:
We also encourage you to check back at this URL regularly, as we update the offers listed in "9 Best Student Credit Cards For Bad Credit (Sep. 2023)" and other guides on a daily basis.
Advertiser Disclosure
CardRates.com is a free online resource that offers valuable content and comparison services to users. To keep this resource 100% free, we receive compensation for referrals for many of the offers listed on the site. Along with key review factors, this compensation may impact how and where products appear across CardRates.com (including, for example, the order in which they appear). CardRates.com does not include the entire universe of available offers. Editorial opinions expressed on the site are strictly our own and are not provided, endorsed, or approved by advertisers.